Though there is nothing surprising about unexpected battery drain issues on iPhone, the complaints from a large number of Spotify users about rapid battery drain on iOS caught my attention recently. While some claimed that Spotify gobbles around 30% battery life in merely half an hour, others reported that the music streaming app eats into more than 50% of battery life on their iPhone. The Spotify battery draining issue has been so rampant that the streaming giant acknowledged the problem and is now investigating the issue. It is more prevalent on recent iOs updates, including iOS 14.8 and iOS 15. While an official solution is a work in progress, check out these six tips to stop Spotify from draining your iPhone battery.
Prevent Spotify from Draining Your iPhone Battery (2021)
What could be the reason behind the rapid battery drain due to Spotify in iOS 15? A software bug seems to be the problem here. Therefore, nothing but a software update would offer a permanent fix to the issue. On the flip side, you shouldn't take your eyes away from the power-hungry features and outdated software that are well-known for triggering weird issues. Either way, there is no need to lose sleep over it as there are some effective methods to troubleshoot the issue. With that in mind, let's cut to the chase!
1. Disable Background App Refresh for Spotify
From what I can tell based on experience, background app refresh and battery draining go hand in hand. If you fail to manage this power-hungry feature, it can easily cause an unexpected battery drain on your iPhone. Don't get me wrong! Background app refresh exists for a reason, and it plays a major role in helping apps run smoothly on your iOS device. However, the continuous background refresh takes a toll on the battery (more so in the case of an aging iPhone), eventually causing issues like iPhone overheating and faster battery consumption.
Therefore, as suggested by Spotify forum moderators, you can disable background app refresh for Spotify to stop the battery drain issue on your iPhone. To do that, go to Settings -> General -> Background App Refresh and turn off the toggle next to Spotify.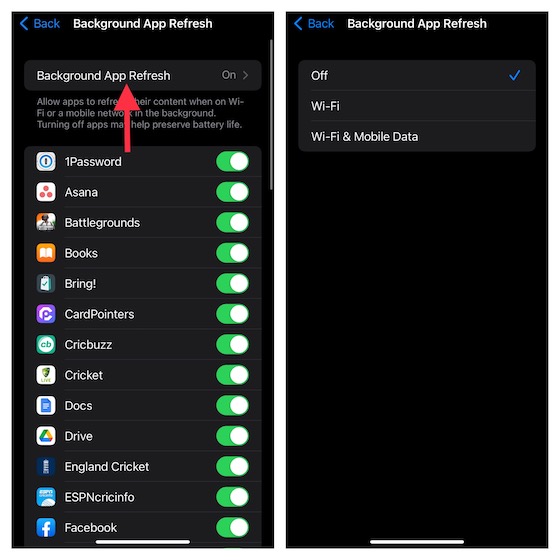 2. Force Kill Spotify and Hard Reset iPhone
If the first solution didn't fix the Spotify battery draining problem on iOS 15 or iOS 14.8, force kill the Spotify app (if it's open) and hard reset your iPhone.
On iPhone with Face ID: Swipe up from the home bar and stop along the middle of the screen. Then, swipe up the Spotify app card to force quit the app.
On iPhone with Touch ID: Double press the Home button and then swipe up on the Spotify app card to kill the app.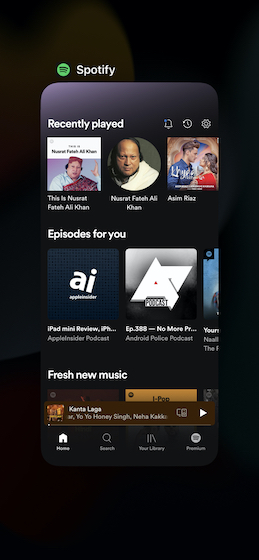 After that, we suggest you hard reset your iPhone without any data loss. Do not be surprised, as it has been a savior for fixing common iOS problems.
On iPhone 8 and later: Press and release the volume up button. After that, press and release the volume down button. Next up, hold down the side button until you see the Apple logo on the screen.
On iPhone 7/ 7 Plus: Press and hold both the side button and volume down button until the Apple logo appears on the screen.
On iPhone 6s/ 6s Plus: Hold down the side button and home button simultaneously until the Apple logo appears on the screen.
3. Declutter Spotify by Deleting Cache
I prefer clearing the cache of apps from time to time to stop my iPhone storage from clogging up. It not only keeps the clutter away but also helps in making apps run smoothly. I would recommend trying out this age-old trick to see if it solves the battery drain issue in Spotify on your iOS 14.8 or iOS 15 device. Bother not, it won't remove your downloads.
Head over to the Spotify app on your iPhone and tap the settings icon at the top right corner of the screen. Then, navigate to Storage -> Delete Cache. Tap on Delete cache again in the pop-up to confirm your action.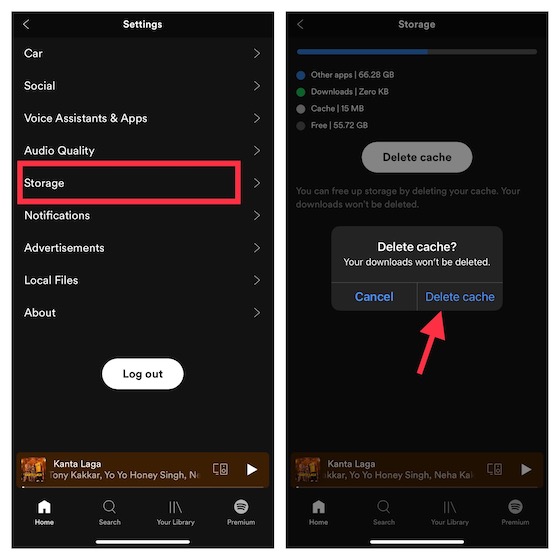 4. Update Spotify App on Your iPhone
If you haven't updated Spotify on your iPhone for a while, there's a good chance an outdated version of the app could be the root cause of the issue. If that's the case, we suggest you try updating the app to the latest version.
To do so, open the App Store and tap on your profile icon at the top right corner of the screen. Now, find Spotify and tap the update button next to it.
5. Delete and Reinstall Spotify
Another reliable solution you should try to stop the Spotify battery drain issue on your iPhone is to delete and reinstall the streaming app. Yeah, it's a radical solution but has the knack of fixing app-related bugs. Bear in mind that deleting the app will also delete its data. To go ahead with this process, long-press on the Spotify icon -> Remove App -> Delete App.
6. Update iPhone Software
Apple releases iOS 15 software updates to improve the overall performance and fix miscellaneous issues that crop up from time to time. So yeah, it's always better to keep the iPhone updated. If your device is still running iOS 14.8, make sure to upgrade to iOS 15 (Settings -> General -> Software Update) that was officially released in September 2021.
And if you are already on iOS 15, wait for the next update. Since Apple is consistent in terms of releasing updates, you may not have to wait too long.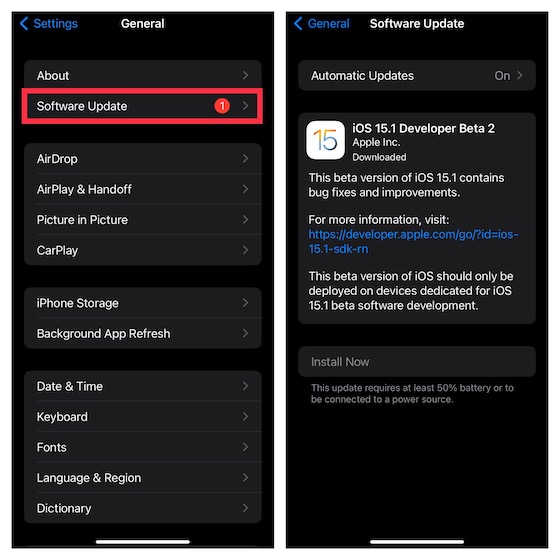 Troubleshoot Spotify Battery Drain Problem on iOS 15 and iOS 14.8
That's it! Hopefully, Spotify has started to behave normally and not causing any major battery drain issues on your iOS 15 device. Since the music-streaming giant has already acknowledged the battery drain issue, an official fix could be right around the corner. As soon as it's available, you can update the app to troubleshoot the issue. By the way, do you have any queries or doubts about the tips mentioned above? If so, feel free to let us know your thoughts in the comments section below.