Launched back in 2016, USSD 2.0 was proposed as a convenient way for feature phone users to transfer money in India without an internet connection. Fast forward to 2021, the service now has over 80 partner banks, 13 languages, and four telcos (Airtel, BSNL, MTNL, Vodafone Idea) under its belt. So if you ever want to transfer money and don't have a steady internet connection, you can use this nifty solution. We will teach you how to use the *99# service to send and receive money using UPI without an internet connection in India.
Transfer Money Using UPI Without Internet (2021)
The code to access NPCI's USSD-based mobile banking service is *99#. To get started, open your phone's dialer, enter this code and press the call button, and wait for the list of services to appear. The total amount you can send per UPI transaction is capped at is Rs. 5,000. The charge for the USSD service may vary based on the network operator, but TRAI has set a maximum limit of Rs. 0.50 per transaction. With that out of the way, let's have a look at this Internet-free UPI money transfer service.
List of Options Available in *99# Service
Send Money
Request Money
Check Balance
My Profile
Pending Transaction
Transaction
UPI PIN
Supported Banks, Telecom Operators, and Languages
List of Partner Telcos (October 2021)
These are the four telcos that support *99# service at the moment. As you can see, Reliance Jio is a notable omission and the service will not work if you are a Jio subscriber, at least for now.
Airtel
BSNL
MTNL
Vodafone Idea
List of Partner Banks (October 2021)
You can check if your bank supports NPCI's *99# service in the list below. Do keep in mind that this list is updated as of October 2021. New banks may join the service in the future, so make sure you check the official list if you're reading this after several months.
Axis Bank
Andhra Bank
Karnataka Bank
Union Bank of India
Vijaya Bank
Punjab National Bank
YES Bank
IndusInd Bank
Bank of Maharashtra
The Thane Janta Sahakari Bank Ltd(TJSB)
The Ratnakar Bank Limited
ICICI Bank
Canara Bank
UCO Bank
South Indian Bank
IDFC
IDBI Bank
Allahabad Bank
Kotak Mahindra Bank
Bank Of Baroda BARB
HDFC
State Bank Of India
Dena Bank
Karur Vysaya Bank
Standard Chartered
Indian Bank
Ujjivan Small Finance Bank Limited
Federal Bank
Paschim Banga Gramin Bank
Sarva Haryana Gramin Bank
AU Small Finance Bank
Himachal Pradesh Gramin Bank
Jana Small Finance Bank
Central Bank of India
Syndicate Bank
Indian Overseas Bank
Bank Of India
Punjab and Sind Bank
City Union Bank
The Lakshmi Vilas Bank Limited
G P Parsik Bank
Vasai Vikas Co-op Bank Ltd
Thane Bharat Sahakari Bank
Apna Sahakari Bank
Janta Sahakari Bank Pune
Rajkot Nagari Sahakari Bank Ltd
Punjab and Maharastra Co. bank
Jammu & Kashmir Bank
The Mehsana Urban Co-Operative Bank
Bandhan Bank
The Saraswat Co-Operative Bank
The Kalyan Janta Sahkari Bank
Kallappanna Awade Ichalkaranji Janata Sahakari Bank Ltd.
The Gujarat State Co-operative Bank Limited
The Hasti Co-operative Bank Ltd
The Mahanagar Co-Op. Bank Ltd
Airtel Payments Bank
J & K Grameen Bank
FINO Payments Bank
Kerala Gramin Bank
Pragathi Krishna Gramin Bank
Karnataka vikas Gramin Bank
Andhra Pragathi Grameena Bank
Prathama Bank
Maharashtra Grameen Bank
Purvanchal Bank
Rajasthan Marudhara Gramin Bank
Telangana Gramin Bank
Chhattisgarh Rajya Gramin Bank
Saurashtra Gramin Bank
Andhra Pradesh Grameena Vikas Bank
Uttarakhand Gramin Bank
Meghalaya Rural Bank
Mizoram Rural Bank
Vananchal Gramin Bank
Baroda Rajasthan Kshetriya Gramin Bank
Dena Gujarat Gramin Bank
Chaitanya Godavari Grameena Bank
Baroda Uttar Pradesh Gramin Bank
Baroda Gujarat Gramin Bank
Dhanlaxmi Bank
Punjab Gramin Bank
List of Supported Languages (October 2021)
You can use the *99# USSD UPI money transfer service in the following languages:
Hindi
Tamil
Telugu
Malayalam
Kannada
Gujarati
Marathi
Bengali
Punjabi
Assamese
Oriya
English
Urdu
Send Money Using UPI Without Internet
1. Dial *99# and type '1' to access the option to send money to others. You can send money by entering the mobile number, UPI ID, picking the saved beneficiary, or the account number with IFSC code. Type the number corresponding to the method you want to use and hit the 'Send' button. For instance, I will be choosing '3' for UPI ID here.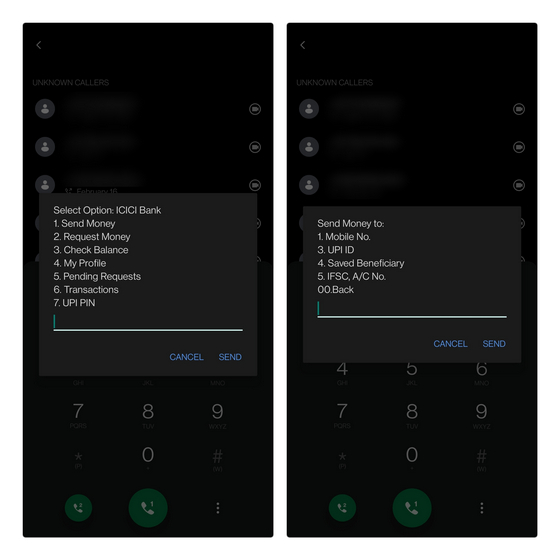 2. Enter the UPI ID of the recipient and press 'Send'. On the next screen, add the amount you would like to transfer to their account using UPI. Here, I have entered Re. 1 for demonstration.
3. Add a remark if you prefer or type '1' to skip. When the next pop-up appears, enter your UPI PIN to initiate the transaction.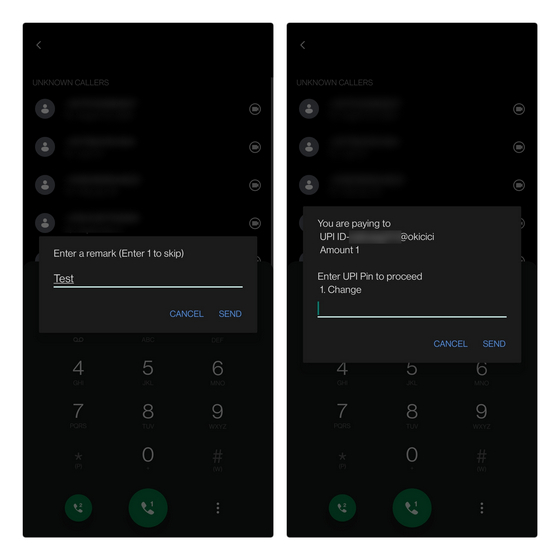 4. You will now see a confirmation pop-up indicating that you have successfully transferred the money to the recipient, all without having internet access. Yeah, it's that easy.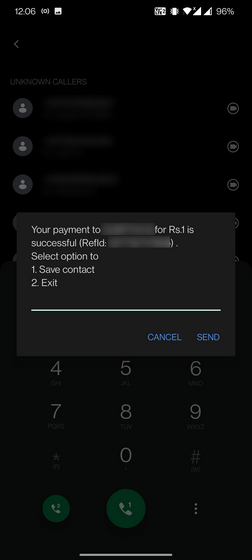 Request Money Using UPI Without Internet
Apart from the ability to send money using UPI without an internet connection, you can also use the *99# USSD service to request money from others. Here's how it works:
1. Choose 'Request Money' by entering '2' in the *99# pop-up and enter the mobile number or UPI ID of the person you would like to request money from on the next screen.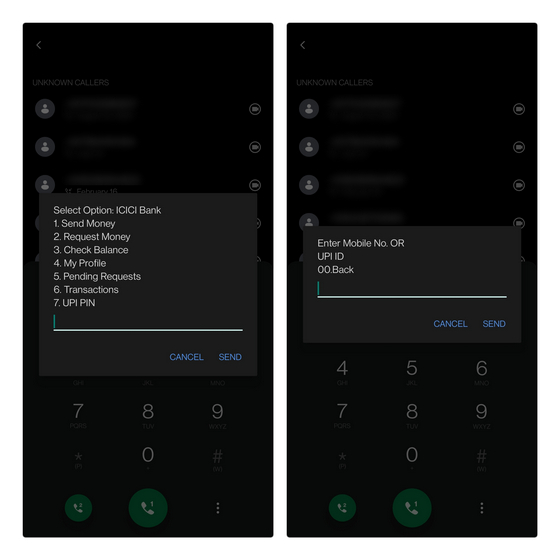 2. Enter the amount you would like to request and optionally add a remark if you prefer.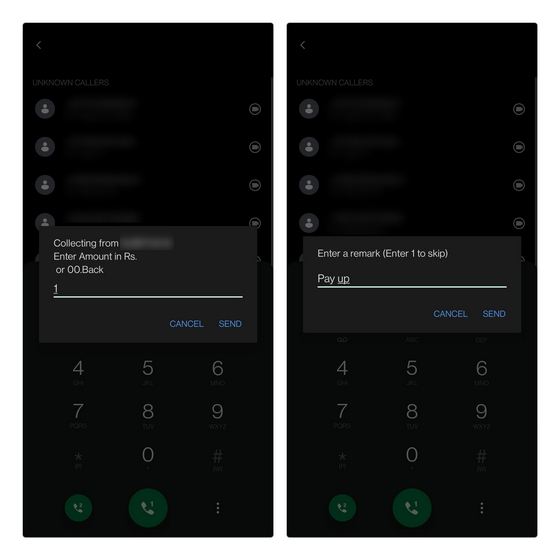 3. Up next, you will see a screen that asks you to confirm the payment request. Send '1' to confirm. You will then see a message stating that you have successfully initiated the collect request.
Check Bank Account Balance Using USSD
Another convenient option under the *99# service is the ability to check your account balance. After you dial *99#, send '3' from the main pop-up menu, and you will see the balance of the bank account linked to your phone number. Even if you are not interested in the ability to send money using UPI, the ability to check your bank account balance without an active internet connection is a nifty addition to the USSD service.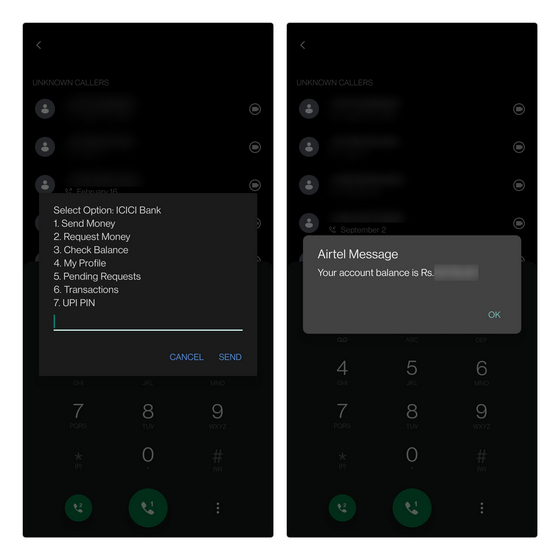 Manage Your Profile
From the 'My Profile' section, you will see a plethora of options, and we have listed them all down below:
Change the bank account linked to your UPI number,
Change language,
Manage beneficiary,
Check your UPI ID,
Merchant features, and more.
Pick the number corresponding to the options listed above to manage your profile accordingly.
Check Recent Transactions
You can also see a list of your recent transactions using this USSD service. Send '6' from the home menu to view your recent transactions. However, do keep in mind this only applies to UPI transactions (money you send and receive) via the USSD service without internet. Other transactions from UPI apps or different payment modes are not recorded here.
Change UPI PIN
Lastly, you can use the *99# USSD code to change your UPI PIN without an internet connection. Send '7' from the main menu to set, reset, or change your UPI PIN. As you can see in the image below, there are separate options to change or reset your UPI PIN.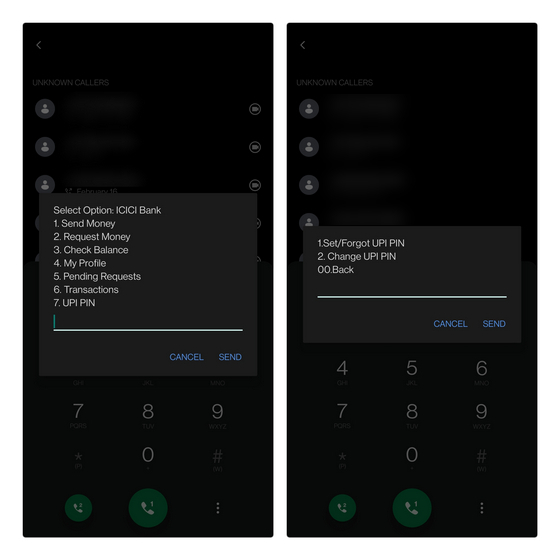 Make UPI Transactions Without Internet in India
So that's how you can send and receive money without an internet connection using UPI in India. If you prefer using a dedicated app for all your UPI payments, do not forget to go through our list of the best UPI apps in India. One likely issue that you may run into while using the service is the "External application down. Please try later" error. However, trying the service after a few minutes fixed it on my end. In case you face any other trouble using the *99# service, let us know in the comments below. We will try to help you out.
---
Load More