If you have ever tried recording your Mac's screen, you probably know that QuickTime is the best way to do it. It supports recording entire screens, selective regions, and even allows you to record voice overs at the same time, using your Mac's built-in microphones. However, there is one feature that is missing from the otherwise perfect screen recording solution, and that is the ability to record system sounds. I mean, sure, you could output the sounds to your laptop's speakers and hope to god that the mic catches it loud enough to be audible, but that's not really a solution. So, in this article, I'll be telling you exactly how you can record screen with audio on macOS computers.
Pass Audio Between Applications Using Soundflower
Soundflower is a Mac app that allows users to route audio from one application to act as the input for another application. Say, you're playing a song on iTunes, and you want that song to be recorded in a screen record. Soundflower can let you make the iTunes output act as the input to the QuickTime screen recording, without having to rely on the Mac's speakers and microphones (no matter how great they might sound).
In order to record both screen and audio on Mac computers, you will need to install Soundflower, first. To do so, simply visit this GitHub link, and click on the "Soundflower-2.0b2.dmg" link to download the installer for Soundflower.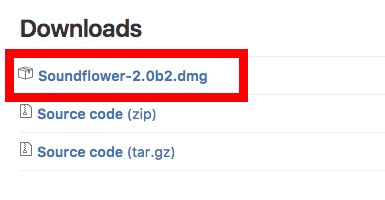 Once you have done that, simply install the app on your Mac.
Route Audio Between Applications
Now that you have installed the app on your Mac, you can start recording screen and audio. To do so, just follow the steps below:
First, press and hold "Option", and then click on the Volume icon on the menu bar. (On macOS Sierra, you can simply click on the menu bar.), this will expose a list of options for input and output devices. Under the Output Devices, select "Soundflower (2ch)".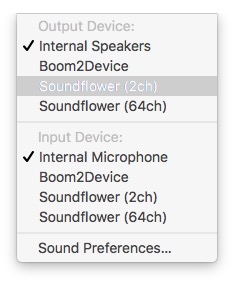 Now open QuickTime, and go to File -> New Screen Recording. Click on the little disclosure arrow on the side of the record button, and from the menu that pops down, select Soundflower (2ch) as the microphone.
Simply click on the record button to begin recording. Try playing a song on iTunes, and once you stop the recording, play it back, you will hear the sound as well.
So, what did Soundflower do? Soundflower simply took the audio that was meant to be output to the speakers (or the headphones), and routed it to QuickTime Player. The QuickTime Player, in turn, used the Soundflower channel as the microphone, so any sound that Soundflower sent was recorded in the screen recording.
Uninstalling Soundflower
While Soundflower is a really great app, there are some cases where the output gets set to Soundflower by default, leading to a lot of hassle, panic and basically unwanted frenzy. If you are facing a similar problem, you might want to uninstall the Soundflower app, but the app can't be found in the Applications folder on your Mac. That's because Soundflower is only a kernel extension, and not an application itself, which is why it is not that simple to get it off the system, but it's not too difficult, either.
If you look at the dmg that we downloaded to install Soundflower, there is a file in it by the name of "Uninstall Soundflower.scpt". This is an AppleScript that is meant to uninstall Soundflower, should you ever need to.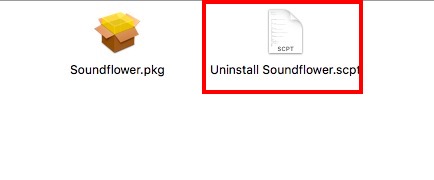 In order to use it, simply double click on the file name to open the script up in Script Editor, and click on the play button.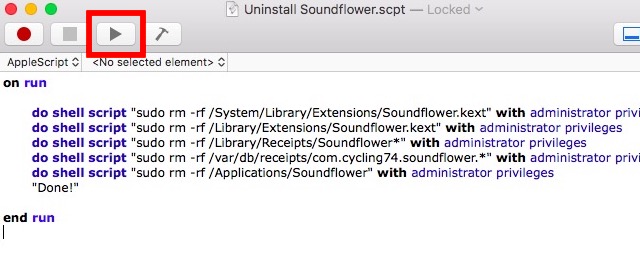 Key in your login password, and viola! Just like that, Soundflower has been erased off your Mac.
If you look at the sound options again, you will probably still see Soundflower as an available input and output. To fix that, you will need to restart your computer, and once you've done that, Soundflower will no longer vex you.
SEE ALSO: How To Use Windows 10's Built-in Screen Recorder
Record Screen with Audio on Mac
So that is how you can record both screen and audio on Mac computers. This will prove extremely handy to people who make screen recording videos for YouTube and other such video sharing platforms, especially people who record videos of gameplay, and would like to record the sounds in the game along with the screen recording, so that the viewer gets the full experience of watching the video. Soundflower fixes this exact issue with screen recording on the Mac.
Have you ever needed to record screen and audio on Mac computers? If so, what solution did you use? If you know of another, simpler solution to this problem than the one we mentioned in this article, do let us know in the comments section below.
---
Load More