Google recently added backup and sync capabilities to its Recorder app. With this feature addition, you can backup your recordings to your Google account. The software giant has also added a web interface to help you easily access your recorded clip on the web. In this article, we'll be discussing the steps involved to set up auto backup in the Google recorder app and how you can access your recordings using your web browser.
Play Google Recorder Clips on the Web
Google Recorder gained backup feature with its latest version 2.2 update. Hence, you should be on this version or newer to use this feature. You can grab the latest update from Google Play Store. Moreover, it goes without saying that this feature is limited to Pixel phones. You can sideload an older version of the Recorder app on your phone, but you can't use it to backup your recordings. With that out of the way, let's get started with the steps.
1. Open Google Recorder and tap on your avatar at the top-right corner. From the pop-up that appears now, choose 'Recorder settings.'
2. Locate 'Back up and sync' option under the General section of Recorder settings and tap on it. From the backup and sync page, enable the toggle. Your recordings will now be uploaded to your account.
3. Now that you've uploaded your recordings, here's how you access them. All you have to do is open Google Recorder's official website. You can then access your recordings on the fly. The best part is that you can also view the transcript alongside the recording. Although an export option is missing on the web (you can export transcripts from your phone), the text is selectable and you can manually copy the transcript if needed. Here's how the Recorder's web client looks: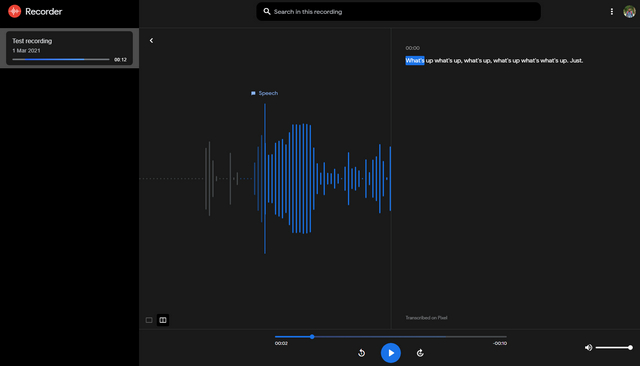 Access Google Recorder Clips from Your Web Browser
So, that was our short guide to help you access Google Recorder clips from the web. This is a neat quality of life improvement if you're a Pixel user as you no longer have to grab your phone to access an old recording. In case you're looking for the best call recorder apps, check out our list from the linked article.
---
Load More