To prevent nosey people from peeking at your personal messages, WhatsApp already lets you lock the app using a passcode or biometrics (fingerprint or Face ID). However, the messaging company is now expanding this feature to enable users to lock individual chats and hide them away from plain sight. What this means is that even if someone manages to get into your WhatsApp, they won't be able to see locked chats. That said, if you are someone who has been eagerly waiting for this feature, let's learn how to lock and hide WhatsApp chats on your Android and iOS phone.
Note: The Chat lock feature in WhatsApp has been officially announced by Meta CEO Mark Zuckerberg on May 15, 2023. It is no longer limited to beta builds. It is rolling out to every Android and iOS user right now.
How to Lock WhatsApp Chats on Android & iOS
For this tutorial, we tested this feature on WhatsApp for Android (version #2.23.9.22). The steps remain the same on iPhone, so let's look at how to enable the "Chat lock" feature on WhatsApp:
Open the contact's conversation you wish to lock on WhatsApp and tap on their name.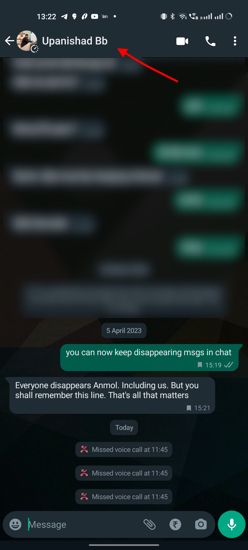 Then, scroll down and tap on the new "Chat lock" option.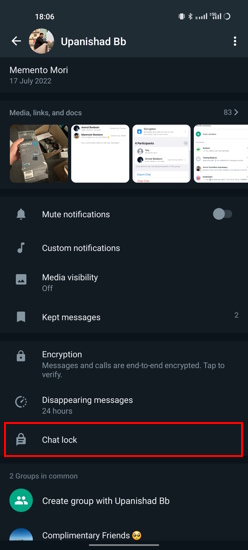 At this point, we want to tell you that archived chats cannot be locked. If you wish to lock an archived WhatsApp chat, you first need to unarchive the conversation.
Tap on "Unarchive" in the warning message if that's the case, else proceed to the next step.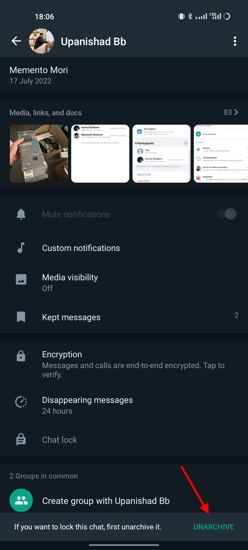 Once unarchived, enable the "Lock this chat with fingerprint" toggle on Android. You will see a similar Face ID-centric toggle on iOS.
WhatsApp will now prompt that your conversation will not be locked on linked devices. So, be careful when using the same WhatsApp on two phones. Tap on "OK" and confirm your fingerprint or Face ID to lock the chat.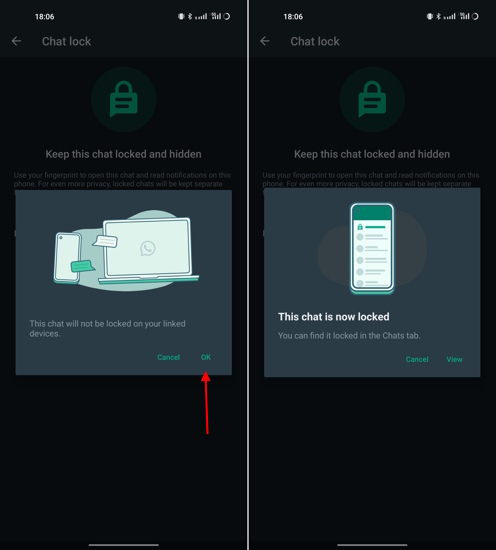 And that's it! You now know how to lock an individual WhatsApp chat without any app, and the app confirms the same with a pop-up message.
Moreover, you will still see a notification for new messages in locked chats, but these messages will be hidden in the notification area. That chat is hidden too, as we explain below.
How to Access Locked Chats on WhatsApp
Once you lock a conversation, WhatsApp hides them from the "Chats" tab in the messaging app. These conversations are now accessible within a hidden "Locked chats" section, which we will teach you how to access here. So, let's look at the steps:
Open WhatsApp and swipe down on the chat feed to reveal the "Locked chats" section.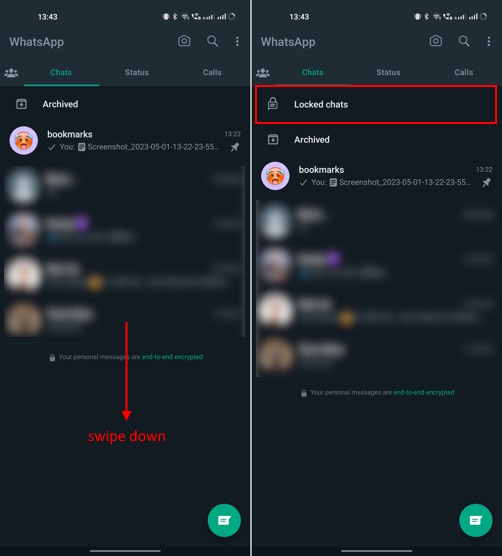 Now, tap the "Locked chats" option and use your fingerprint to unlock these hidden conversations.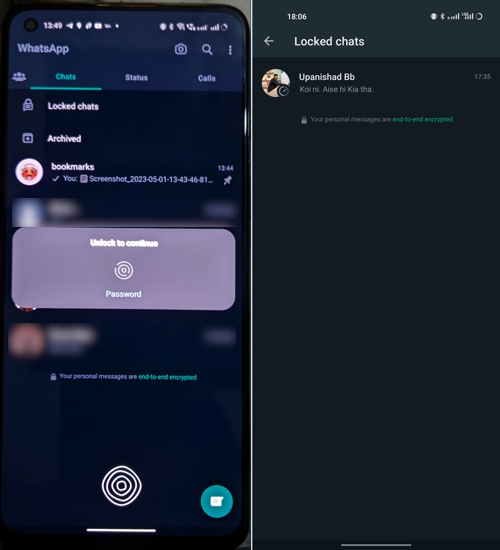 The "Locked chats" section in WhatsApp is locked automatically once you go back to the main chat screen.
Check out this short video demo for a better understanding of how you can access the locked conversations on WhatsApp:
How to Turn Off 'Chat Lock' for WhatsApp Chats
If you no longer want to lock and hide conversations within WhatsApp, it's easy to do so. Simply follow the steps below:
First, open the chat and tap on the contact's name.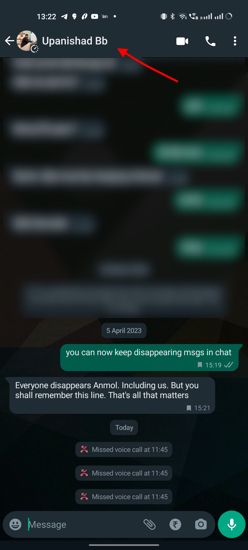 Scroll down and access the "Chat lock" feature. Here, tap the "Lock this chat with fingerprint" option and input your fingerprint to toggle off the feature.
Frequently Asked Questions
Can we lock a single chat in WhatsApp?
Yes, it is now possible to lock a single conversation in WhatsApp. The messaging app is testing a "Chat lock" feature in beta right now and will start rolling out the feature to all Android and iOS users soon. Then, you will be able to lock a single chat and hide them away from nosey people.
How can I lock my WhatsApp chat without archive?
You no longer need to archive chats to hide them from the chat feed on WhatsApp. The messaging is rolling out a new "Chat lock" feature to hide single chats on your Android phone and iPhone. And you will need to unarchive chats to use this feature, as these conversations live under a hidden "Locked chats" section.