Are you not using your Amazon Prime Video subscription to its full potential? Prime Video hosts enormous content on the platform. There are some great Amazon Original movies and TV shows. Besides, you can always find new content if you log into Prime Video from a different country. However, if you're trying to cut down on your uptime, and save a few bucks while you're at it, here's how to cancel your Prime Video subscription easily.
How to Cancel Prime Video (2022)
Amazon distributes the Prime Video subscription as an individual service in some countries and as a bundled package in others. The package usually consists of Prime Video, Prime Delivery, Amazon Music, and more. So, if you have decided to bid farewell to all these services, here's how to cancel your Prime Video subscription.
What Happens When You Cancel Prime Video Subscription?
Before we strip ourselves from Prime access to Amazon Services, let's see a few points to remember while changing your Amazon Prime Video membership.
If you are using a bundled package of Prime Services, canceling one subscription will also affect others. Consequently, you won't be able to use any Prime service unless you resume your plan.
Your Prime Subscription benefits won't lapse until the last date of your current subscription plan.
You can not cancel a subscription managed by a third-party service like a sim card company or a plan you got with a device. If you wish to cancel such a plan, please get in touch with the third-party company's customer service.
You can not end membership if you don't have recurring payments enabled. The service purchased with a one-time payment automatically ends when your current plan expires. So, there is no need to cancel it anyway.
Some countries like Canada have removed the option to cancel the Prime Video membership via the methods described below. In such cases, please get in touch with Amazon's customer care service for further assistance.
How to Cancel Amazon Prime Video Subscription on Web
All the primary account settings associated with your Amazon account require you to log in using a browser. Prime Video uses the same process as well. Even if you try to open settings on a Prime Video desktop application or website, it will redirect you to Amazon's main site at the end. So, we will start directly from there.
Open the Amazon website on your browser. Then, hover upon the Account and Lists option at the top-right corner and click on the sign-in button.
Fill in your login details and sign in to your Amazon account.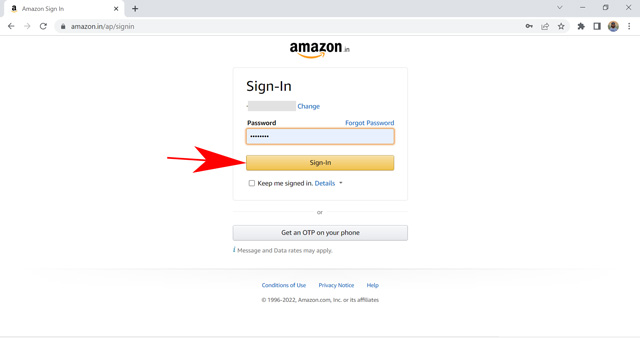 Now, hover again on Account and Lists and select Membership and Subscriptions.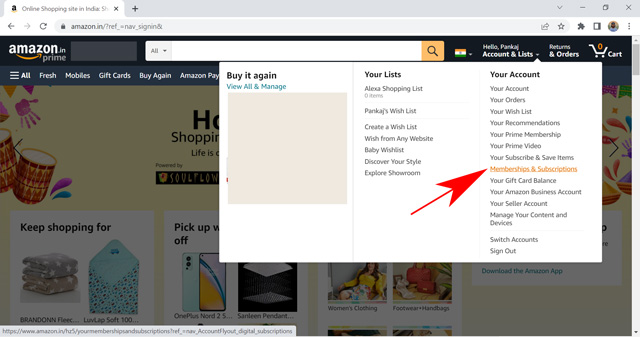 Click the Prime Membership Setting button from your account's list of subscribed services.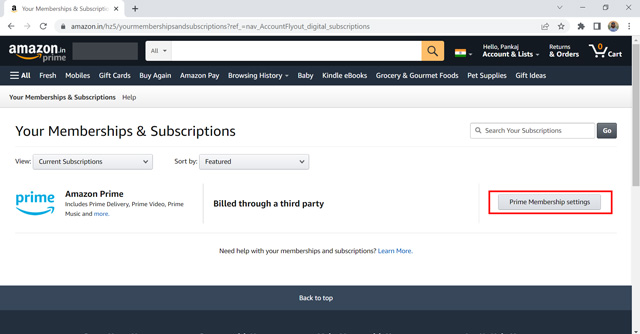 Now, click on the Manage Membership section at the top of your screen.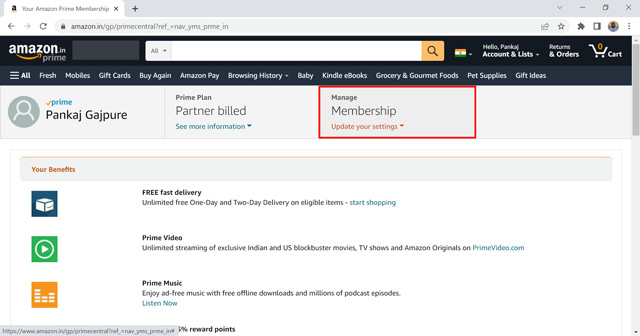 Finally, select End Membership.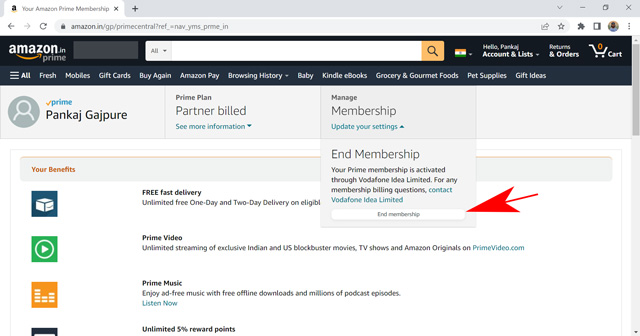 Amazon will ask you to confirm your choice of canceling the Prime Video membership. After confirmation, your subscription will be terminated and won't be renewed after the expiry of the current plan. You can still use the Prime Video platform until the last date of your billing cycle.
How to Cancel Prime Video Subscription using Smartphone App
Luckily, the Amazon app for Android and iPhone smartphones allows you to effortlessly change the Prime Video settings. The steps can slightly differ depending on your country and the device you are using. So, here is how to cancel your Prime Video subscription plan using a smartphone.
Open the Amazon app on your phone.
Now, open the Account settings by tapping on the profile icon.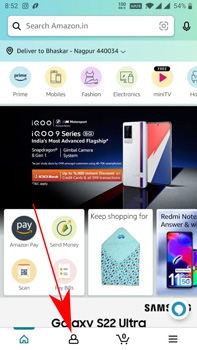 Here, select Membership and Subscription.
Now, tap on the Prime membership setting button from the available list of subscriptions.
Tap on the Manage membership option to open a drop-down and tap on Membership.
Lastly, click the End Membership button.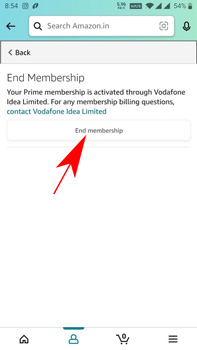 If asked, confirm your choice, and Amazon will terminate your Prime Video Subscription. You can check the last date of your current plan in the drop-down menu to know how many days are still available to benefit from the service.
Frequently Asked Questions
Can I cancel my prime video membership anytime?
Yes, you can cancel your Prime Video subscription anytime you want. In addition, if you have paid for the subscription using a credit card and cancel it within three days, Amazon will refund you all your money. Otherwise, you can use the Prime Video subscription until the last date of the billing cycle. Unfortunately, you can't directly cancel the plan if it is managed by a third-party service like a cellular data provider.
How do I cancel my free trial of Amazon Prime?
You can quickly unsubscribe from the Amazon Prime free subscription from the account settings on the Amazon website. Please read the detailed steps mentioned in the article for quick navigation. Amazon has recently stopped the free Prime membership service since the price hike at the end of 2021.
Why can't I see the end membership option on my Prime Video account?
The end membership option is unavailable under certain circumstances. You won't find the end membership button if you have used a single payment method and disabled auto-renewal. Similarly, you may also see cancel auto-renewal instead of end membership. By barring auto-renewal, you stop the payments, and your Prime Video subscription will be canceled by the end of the billing cycle automatically.
Cancel Amazon Prime Video Subscription Quickly
Amazon has made it pretty simple to cancel your Prime Video subscription using your Amazon account. Unfortunately, you can not open these settings from any device without a web browser for security reasons. We saw how to end your Prime Video membership and discussed some key points while doing so in this article. You can also read our guide on canceling a Netflix subscription if you are on a digital detox. I hope you find this article helpful. Please comment down any queries, and I will be happy to help.