A couple of weeks back, OnePlus announced that it will be releasing its popular and coveted Face Unlock feature which launched with the OnePlus 5T for its OnePlus 5 line of devices. As promised, now even OnePlus 5 owners will be able to use Face Unlock to unlock their device. Currently, OnePlus has launched this feature in beta with its OxygenOS Open Beta 3, which the company released on December 31, 2017. Aside from bringing performance and stability enhancement and December security patch, the OxygenOS Open Beta 3 for OnePlus 5 has also activated the Face Unlock feature.
When we reviewed the OnePlus 5T, we found Face Unlock to be an extremely fast and convenient feature and since this feature doesn't require any extra sensors like iPhone's FaceID, we would love to see it become a native feature of Android. While that might be a wishful thinking, at least OnePlus 5 users can enjoy this feature right now. So, if you own a OnePlus 5 and are looking to get your hands on the Face Unlock feature, here is how to do it:
Get Face Unlock Feature on OnePlus 5
Since the feature has launched with OxygenOS Open Beta 3, this update won't be similar to the stable over the air updates that you receive. You will have to flash the beta, so if you are not ready to do that, I recommend that you wait for the update to be released with the stable builds.
Note: Flashing may lead to loss of data and damaged hardware if not done properly. Please try this at your own risk and do remember to backup all your data. We tried this method with two OnePlus 5 devices in our office and the method worked perfectly on both of them.
First, download the OnePlus 5 OxygenOS Open Beta 3 file by clicking on the link.
Once downloaded, reboot your phone in recovery mode. To do this, first shut down your device and then turn it back on while holding the power and volume down buttons simultaneously.
3. In the recovery mode, choose your language and then tap on "Install from internal storage/Install from local" option. Here navigate to the downloaded file and tap on the "Install" button to confirm.
Now, wait for the phone to complete the installation. It can take anywhere between 15-30 minutes to complete the installation. Once the installation process is done, follow the below steps:
4. Open the Settings app and then tap on " Security & lock screen". Here scroll down to find the Face unlock option and tap on it.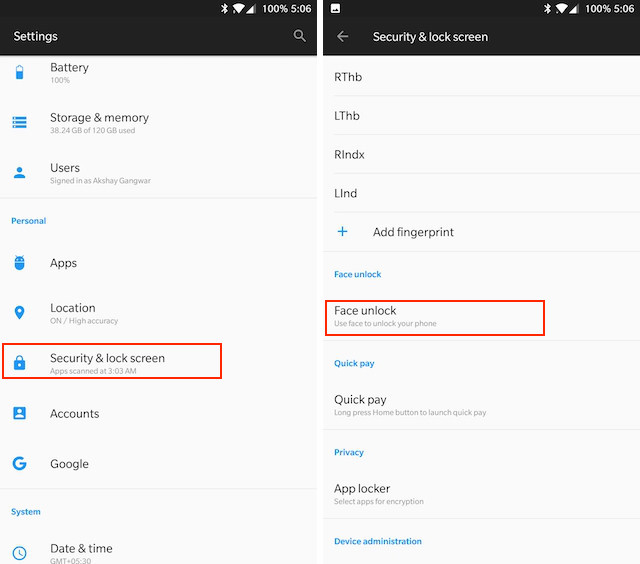 5. Here, tap on "Add face data" and then follow the on-screen instructions to set up the Face unlock feature.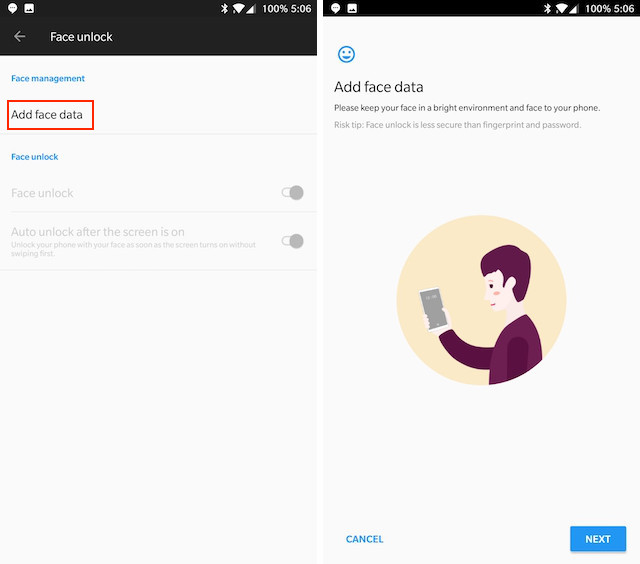 Congratulations, the Face Unlock feature is now working on your OnePlus 5. To use the feature, just raise the mobile to your face and press the power button. The front camera will recognize your face and will instantly let you in.
SEE ALSO: How to Buy and Sell Bitcoins in India (Guide)
Use Face Unlock on OnePlus 5
Personally, I love the new Face Unlock feature on the OnePlus 5. It might not utilize all the awesome sensors used by the iPhone X and might not be as secure, but it's fast and it's convenient. Also, I tried to fool the Face Unlock with my pictures but the phone didn't unlock. So, right now, I am happy with its performance. If you do decide to try this feature, do share with us your experiences in the comments section below.