With the value of Bitcoin rising exponentially in recent times, many retail investors are getting into the cryptocurrency sector for the first time. While investing at these levels maybe fraught with danger, the fact is, crypto-currencies are here to stay, and people around the world are only just starting to wake up to that fact. Here in India, much like the rest of the world, the lure of Bitcoins is getting harder to resist for the average citizen, and many have already started dipping their toes into the new but maddeningly confusing world of cryptocurrencies. Even the RBI was said to have been considering launching its own digital currency at some stage, although, the idea seems to have since been nixed. So if your interest in the subject has also been piqued and you want in on the action, here's how you can buy and sell Bitcoin in India:
How to Buy and Sell Bitcoins in India
Let's say you're a newcomer to the cryptocurrency scene, and want to know the ABCs of how to go about the whole thing. First things first, you'll need to identify a cryptocurrency exchange that you can buy your Bitcoin from. While some global exchanges do let you buy Bitcoins with Indian currency, the process is relatively more seamless on some of the India-based platforms, many of whom let you pay for your digital currencies with Indian bank accounts via online banking, NEFT or RTGS. There are many such new services seemingly mushrooming everyday, but for the purpose of this article, we'll register on Unocoin, as it is the largest Bitcoin platform in the country in terms of daily valume
How to Register on Unocoin (on Desktop)
First off, go over to the the Unocoin homepage to create an account. You'll need to use a valid e-mail ID and choose a secure password to get started.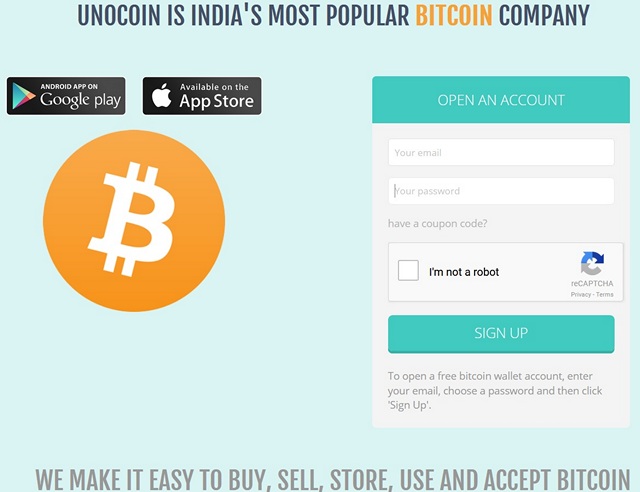 Now that you have an account, the first thing you'll need to do is furnish your bank details as well as your ID proof and PAN number, as you can see below.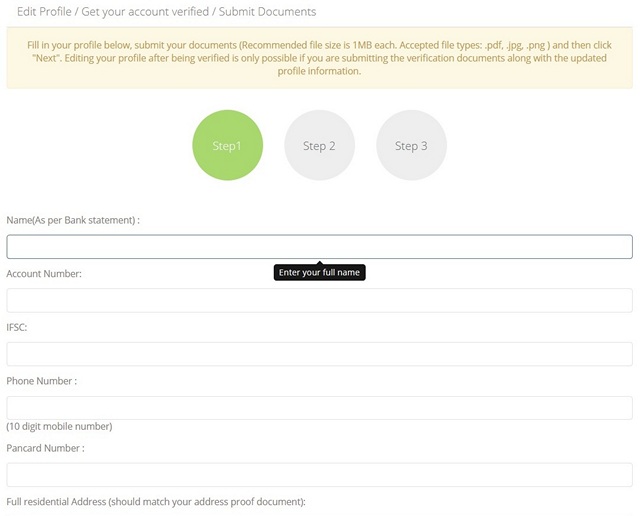 Once you provide all the details, it might take a few days for Unocoin to get your info verified, after which, you should be able to start trading in Bitcoins. Once you get the all-clear, you can transfer money from your bank account to Unocoin, and use that for a number of reasons, including of course, buying and selling Bitcoins.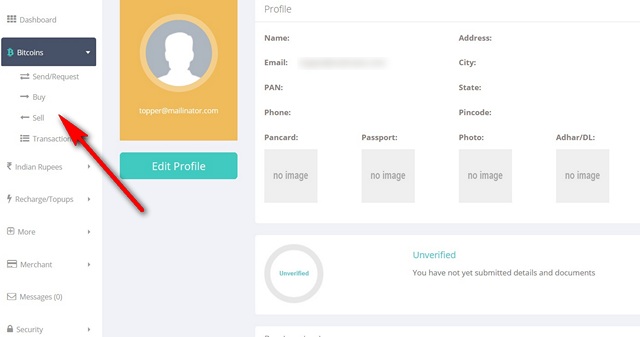 You can also convert your 'altcoins' to Bitcoins if you want. Unocoin currently supports only Litecoin, Ethereum Classic, Ethereum, Monero, Ripple, Lisk and Factom. You cannot, however, convert your Bitcoins into altcoins on Unocoins.
Unocoin also offers a wallet, but we don't recommend using hot wallets, so you'll need to move your e-monies to somewhere more secure sooner rather than later (more on that later).
How to Register on Unocoin (Mobile App)
Note: The official Unocoin app can be found on the Play Store as well as the App Store. We'll be using the Android app on our Pixel 2 XL for today's demo.
First off, download the Unocoin app on your device and fire it up. Once you go past the splash screens, you'll need to sign up with a valid E-Mail address. Once you furnish your e-mail and a secure password, you will get a verification mail that you'll need to click on to verify your mail ID. Next up, you'll need to do is set a 6 digit 'Passcode' of your choice.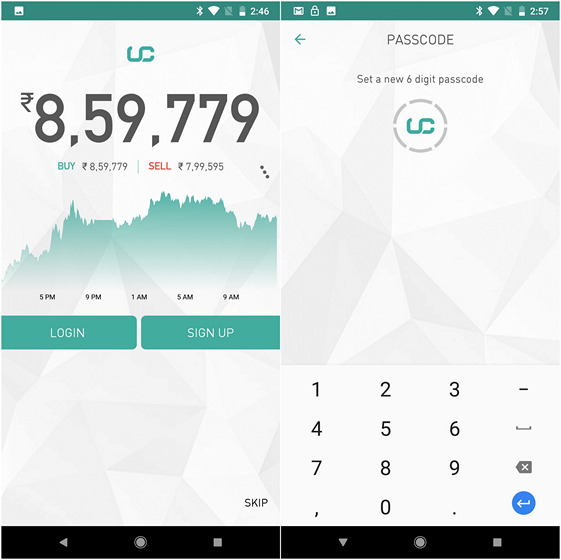 Note: This passcode is extremely important and you'll need it to use your Bitcoins once you have some in your possession. There will be no backup of this passcode anywhere, so if you forget it, you'll have to bid your crypto monies goodbye.
Once you confirm your Passcode, you'll immediately be prompted to verify your banking details. So tap on the 'Get Verified' prompt on the next screen and furnish your PAN card details, photo, address proof and ID proof. Unocoin says it might take a couple of days for it to go through the process as per the requirements of the RBI.
Once verified, you'll get the confirmation mail on your registered e-mail ID and you'll be ready to start trading in no time. At press time, the 'buy' value of 1 Bitcoin was just over Rs. 8,67,000, while if you're looking to sell one, you'll get around Rs. 8,00,000 only.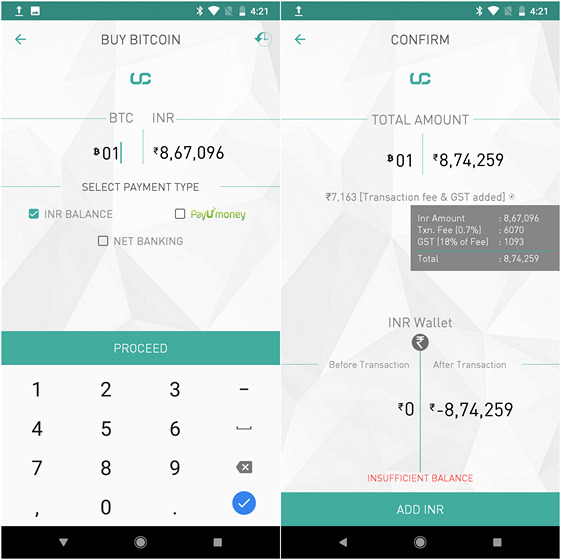 Note: Unocoin charges a 1% fee on every transaction that is further reduced to just 0.7% once you're upgraded to "Gold Membership" with sufficient trading volume. You'll also need to pay an 18% IGST (Integrated Goods & Services Tax) on the transaction fee.
Other India-based Bitcoin Trading Platforms
There are many other India-based cryptocurrency platforms, but we're only listing some of the relatively more established ones here as alternatives to Unocoin.
1. Zebpay
Zebpay is an India-based Bitcoin broker and, offers Android and iOS apps that make it easy to buy digital currency with a connected Indian bank account. It also offers additional services, such as mobile recharges and bitcoin gift vouchers. One thing that you do need to remember here is that Zebpay does not list its fees separately, but includes them in the buy/sell prices, making the whole process a little less transparent. Like Unocoin, it also offers you a hot wallet that you can use to store Bitcoins only on a temporary basis.
2. Coinsecure
Coinsecure is an Indian Bitcoin exchange and trading platform known mostly for its ridiculously low fees that, at just 0.3% per purchase, almost rivals the charges of mainstream stock brokerage firms. It also offers you a number of deposit options including NEFT, RTGS, IMPS and cash. However, the service is aimed at experienced traders for the most part, which means retail investors, especially new ones, might find the UI a bit confusing. Coinsecure does have an Android app, but is conspicuous by its absence on the App Store.
3. Koinex
Koinex advertises itself as "India's most advanced digital assets exchange". It just launched a few weeks ago and is still in beta, but has already gained quite a bit of traction through word-of-mouth publicity. It seems to work fine and a colleague of mine also vouches for its authenticity, which is why it finds itself on our list of trusted India-based Bitcoin platforms. Do remember, though, that Koinex is still a work in progress, so there's no mobile app as of now.
Advantages and Disadvantages of Using Indian Bitcoin Exchanges and Brokers
While India-based companies do make it easy to buy and sell Bitcoins, the major problem is that almost all of them are governed by Indian law, which is why you need to furnish a full-fledged KYC (Know Your Customer) form to get started. That pretty much defeats the whole purpose of using Bitcoins for transactions, given how the platform was created with privacy as its main focus. While that shouldn't really matter if you're just looking at Bitcoins as an investment, it should be a definite red-flag if you're looking to spend digital currencies privately.
In case privacy is your number one concern, the one platform that you should consider is a Finnish escrow service called LocalBitcoins that helps to match bitcoin buyers and sellers. While the most common method of payment is cash, users may advertise trades for whichever payment method they prefer. LocalBitcoins is kind of like a Tinder for digital currencies, hooking up potential Bitcoin buyers and sellers to other Bitcoin users in their town. Buying bitcoins via an in-person meeting is one of the fastest and most private ways to buy bitcoins in any country.
What is a Bitcoin Wallet and Why Do I Need it?
Strange but true, even before you buy your first bitcoin fraction, you have to set up a Bitcoin Wallet to store your digital cash. While it is not technically mandatory, it's just the best practice for securing your investment. That's because storing your Bitcoins on an exchange means that you don't actually have any control on your monies, leaving you at the mercy of the exchange's security infrastructure that has often proven to be the weakest link for the security of cryptocurrencies, with over $1 billion said to have been stolen, hacked or scammed from unsuspecting investors over the past few years. That is exactly why you need to use a 'wallet' to store your Bitcoins, and while there are many types of Bitcoin Wallets available at your disposal, we'll restrict ourselves to the most widely-used ones.
With a hardware wallet, you can secure your Bitcoins on your own hardware. It allows you to encrypt and make backups to ensure your Bitcoins are safe. Alternatively, you can also use online wallets that offer you an encrypted 'private key' that identifies you as the owner of your Bitcoins. Just remember that whoever controls the private keys controls the bitcoin attached to those keys, which is why you need to be extra cautious while storing them. Another point to note is that there's no way to 'recover' your private keys unlike your e-mail password. So if you happen to lose them or forget them, you can bid farewell to your Bitcoin stash for good.
What is the Difference Between 'Hot Wallets' and 'Cold Wallets'?
Hot wallets are Bitcoin wallets that run on computers, smartphones and other connected devices, which is why the private keys generated by them aren't 100% secure. While they do encrypt your keys with a password selected by you, the fact that those are stored online means that they are inherently insecure. However, they are still preferred by many because they do have the advantage of being accessible from anywhere via any net-connected device. You can get hot wallets on Windows, Android, iOS (software wallets), on the web (web wallets), as well as at various exchanges, but while you can keep a small amount of money in their hot wallets for convenience, we don't recommend using one to store large amounts of cash because of their inherent lack of security.
Instead, what you can use, are 'Cold Wallets', because that way, you get to keep the private keys in your physical control, which should keep cyber-criminals at bay. While there are different types of cold wallets, we will concentrate on hardware wallets for the purpose of this article, as they are the most secured ones by far. A hardware wallet is a physical device that stores your private keys, and can be plugged into a computer when you want to make a transaction. The specifically-engineered device comes with buttons that need to be pressed in order to authenticate every transaction, making them as hacker-proof as you can realistically expect.
Dangers Associated with Bitcoin Investment
The inherent danger with investing in cryptocurrencies is that they are not regulated by governments or by a central bank. While that brings freedom and privacy, it does compromise on security, and there's no real guarantee that your $10,000 Bitcoin will actually be worth something this time next year. Recently, the RBI (Reserve Bank of India) issued a statement warning people about the potential dangers of digital currencies. According to the central bank, "Any user, holder, investor or trader dealing with virtual currencies is doing it at their own risk". Well, we didn't know that already, so thanks for the heads-up, RBI.
SEE ALSO: 11 Best Bitcoin Wallets for Every Platform
Join the Bitcoin Gold Rush, But Mind the Pitfalls
Cryptocurrencies have a bright future; of that, there's little doubt. Even JPMorgan is considering getting into Bitcoin trading in spite of its CEO publicly calling the entire cryptocurrency phenomenon as a 'fraud'. However, as with any investment, you will need to know when to jump in and when to get out, which is a difficult proposition even for seasoned investors. With many Wall Street veterans and tech entrepreneurs expressing their discomfort with unregulated digital currencies, just make sure you research thoroughly before jumping on the bandwagon, because after all, it's your own hard-earned money we're talking about.