Launched in 2015 as the flagship feature on the iPhone 6s, Live Photos has been a notable camera feature in iOS for several years. Instead of freezing the moment, Live Photos snaps a 3-second moving image (1.5 seconds before and after you capture a picture) that comes to life with a long press in the Photos app. However, did you know that you can convert these Live Photos into GIFs on iPhone with ease? If you are fond of moving images, you may be interested in trying this nifty hack. So let me show you how to convert a Live Photo into a GIF on your iPhone in a few easy steps.
Convert Live Photos into GIFs on iPhone (2021)
Modern versions of iOS, including iOS 14 and iOS 15, offer an easy way to make GIFs from Live Photos. Hence, you don't need any third-party GIF makers for this task. However, if you want the desired control over your GIFs, edit the Live Photos with precision, and adorn them with cool stickers, effects, and even filters, there are some cool Live Photos to GIF makers for iPhone. We will explore these apps in this guide as well, so keep on reading.
Easiest Way to Turn Live Photos into GIFs on iPhone
1. To get started, open the Photos app on your iPhone.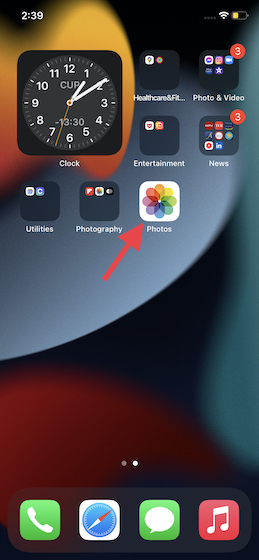 2. Now, navigate to the live photo you want to convert into a GIF. Or, move to the Albums tab at the bottom and scroll down to find the "Live Photos" category under "Media Types" and select it.
3. After that, select the desired image. Then, tap the "Live" button at the top left corner of the screen.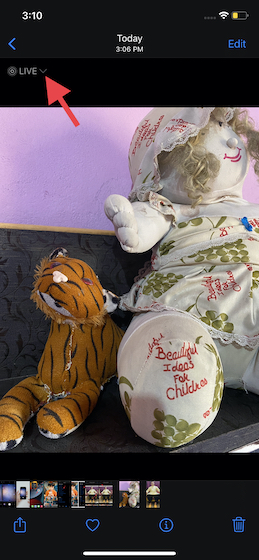 4. Next up, you will have four options to choose from:
Live: Already selected as the default option. And as explained above, you can long-press to see the 3-second clip captured while clicking the photo.
Loop: It lets you repeat the animation forever. In other words, it plays your live photo as a loop repeatedly.
Bounce: As the name itself suggests, it allows you to play the live photo forward, then backward, over and over again.
Long Exposure: This photography technique uses longer than normal shutter speed to blur the moving parts of a scene. Though the long exposure effect is mostly used in landscape photography, you can take advantage of it to smoothen up moving things such as water and clouds. While some folks use it to show the movement, others prefer it to simplify the scene.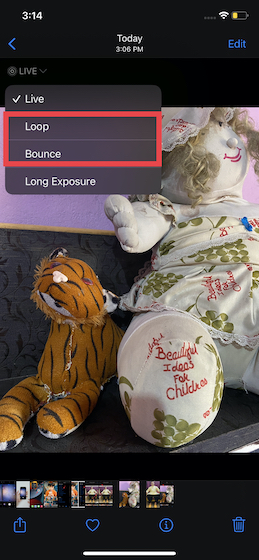 Now, if you want to turn a Live Photo into a GIF, we suggest you choose the loop or bounce options. And you are all set!
Best Live Photo to GIF Converter Apps for iPhone
If you want more tools to edit your Live Photos and turn them into GIFs, there are a couple of handy third-party iOS apps you can check out. They will give you enhanced control over your GIF creation process:
1. Lively – Photos to GIF
Lively is a feature-rich Live Photos to GIFs converter app for iPhone. So, if you are on the lookout for an app that can let you edit GIFs with enhanced flexibility, this one is worth trying out.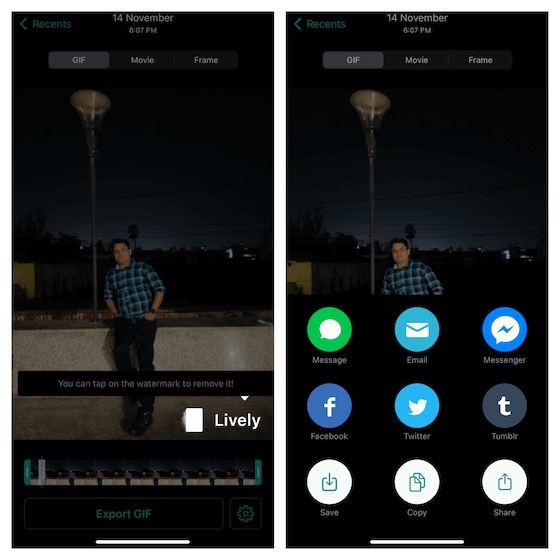 Apart from letting you convert Live Photos into GIFs with ease, Lively also lets you trim, play backward, auto-reverse, and fine-tune the speed to your heart's liking. Keep in mind that the free version of Lively exports your GIFs with a watermark. You will need to shell out $5 to remove the watermark.
Install Lively (Free, $4.99 for the full version)
Momento
Momento is a highly efficient GIF maker for iOS. Probably the best part about it is a huge library of fun-loving stickers, frames, effects, and AR filters which you can use to give a creative touch to your GIFs. Besides, it also provides handy tools for trimming, adjusting speed, and direction.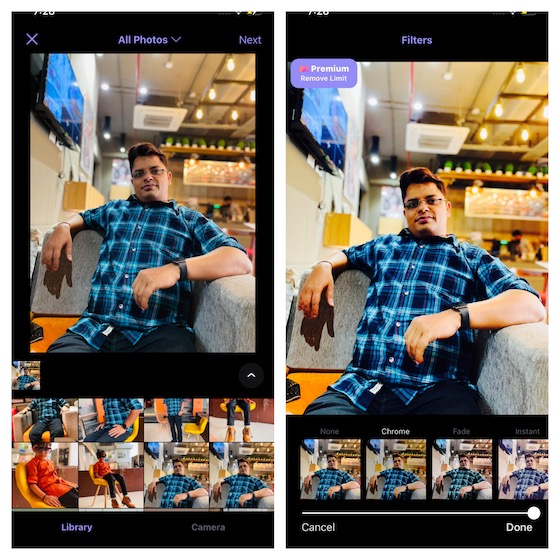 Moreover, Momento also lets you share your GIFs on several platforms, including Facebook Messenger, iMessage, Instagram, WhatsApp, and more. While Momento is available for free, you will need to spend $9.99/month if you wish to unlock all the goodies.
Install Momento (Free, $9.99/monthly)
Make Fun-Loving GIFs from Live Photos on iOS With Ease
Well, there you have it! Ever since Live Photos arrived in iOS 9 with iPhone 6s, I have loved using it. Apart from offering a nice way to relive the moment, the Live Photo also works as an eye-catching wallpaper. Being able to turn moving images into GIFs is yet another interesting benefit that comes attached with them. Anyway, with that said, let me know your thoughts on moving photos and whether or not you like to use them as wallpapers in the comments below.
---
Load More