iOS 16 is a significant upgrade for more than one reason. Among the many new features in iOS 16, there are more home screen widgets and the option to customize the iPhone lock screen with widgets, fonts, and colors. So, you can go even further with your custom home and lock screen designs. Speaking of a customized screen layout, the wallpapers you choose for your iPhone are a huge part of your design and feel. So, whether you're looking for some stunning backgrounds to design your home screen to your heart's content, or just looking to grow your library of themes and wallpapers, here are the 12 best live wallpaper apps for iPhone.
Best Live Wallpaper Apps for iPhone (2023)
In this article, we have included iPhone live wallpaper apps for AMOLED screens, anime wallpapers, and apps that you can use to create your own live wallpapers as well. Plus, we will also be talking about native live wallpapers on iPhones. As always, you can use the table of contents to navigate through this article easily.
1. Live Wallpapers Forever
One of my favorite live wallpaper apps for iPhone is the Live Wallpapers Forever app which brings a healthy selection of live wallpapers that ranges from muted to exuberant. The app is very well developed and features a lot of categories to help you find your favorite live wallpapers.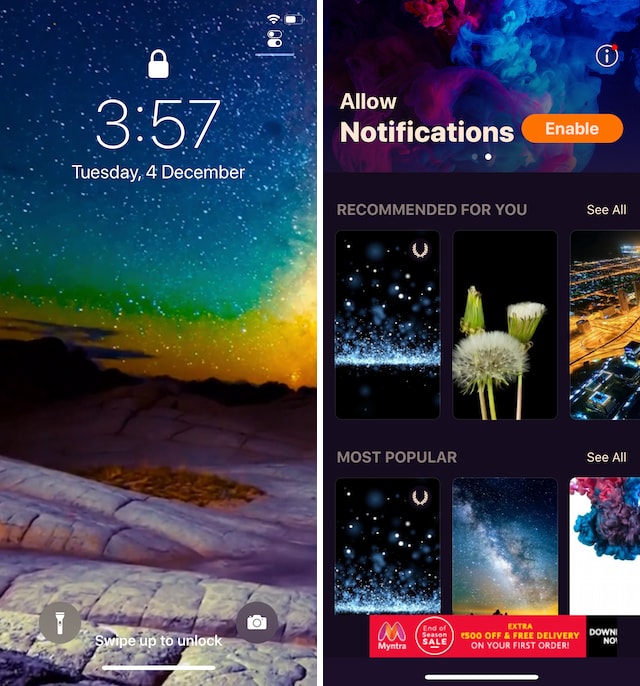 The categories include a For You section along with Most Popular, Free, Trending, Abstract, Animals, and more. Overall, the wallpaper selection here is pretty good. So, you can count on this app to provide a curated collection of wallpapers. Besides, it also offers special content with motivational quotes and quotes from famous people to help you remain motivated. The only problem I have with this app is that it is a bit costly to unlock the pro version which removes the ads and gives you access to all the premium wallpapers.
Install: (Free, $7.99/month)
2. Black Lite – Live Wallpapers
If you own the latest iPhone X, iPhone XS, iPhone XS Max, iPhone 11 Pro, iPhone 12 Pro, iPhone 13 Pro, or the latest iPhone 14 Pro models, then this might be the best live wallpaper for you. Since all these smartphones sport an AMOLED screen that features individually lit pixels, a black wallpaper generally results in better battery life and looks really good. The Black Lite – Live Wallpapers which I am featuring here brings a set of completely black wallpapers with a live morphing gem in the middle.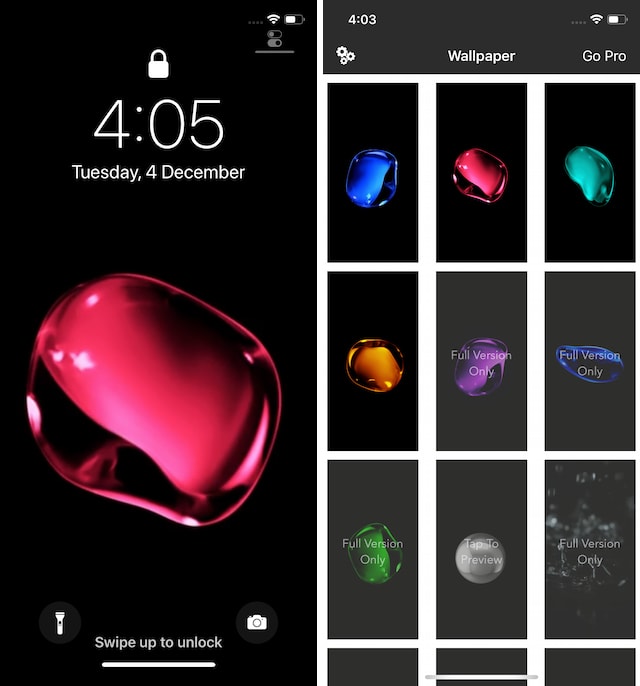 The wallpaper just looks gorgeous on the AMOLED screens. There are a few free wallpapers while the rest are hidden behind a paywall. Thankfully, the pro version is pretty well-priced so you don't have to spend too much money.
Install: (Free, $0.99)
3. WOW Pixel
If you are into retro images, then this live wallpaper will fall right into your alley. The WOW Pixel live wallpaper app features wallpapers showcasing 8-bit adventures. There are a few select heroes, each having their own story arc which is displayed in the live wallpapers. The live wallpapers here focus on displaying emotions.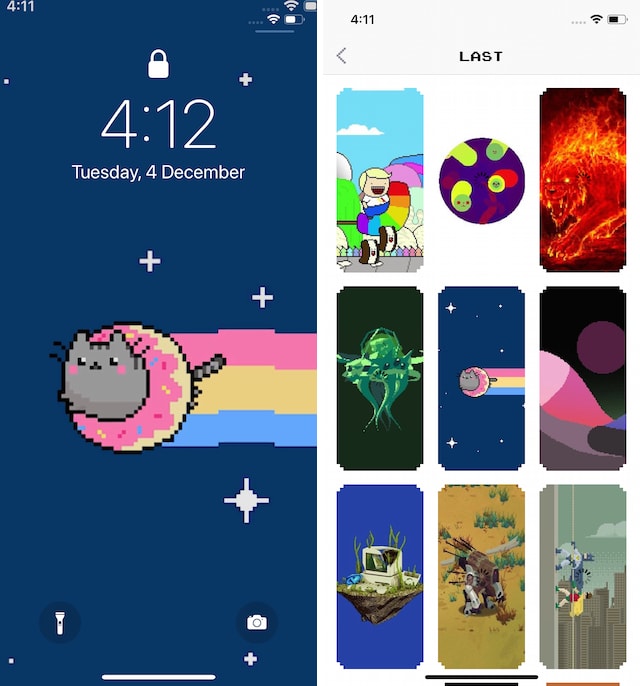 Whether you are angry, sad, or happy, there is more than one wallpaper to express your emotions. The best part is that not only do these live wallpapers look good on the iPhone X line of devices but even on the older iPhone 6s and above models including iPhone 7, iPhone 8, and more. However, the app is quite expensive, with weekly subscriptions starting at $3.49.
Install: (Free, $19.99/year)
4. intoLive
If you are someone who likes more control over their wallpapers, check out the intoLive app which is a live wallpaper maker app that allows you to turn your videos and GIFs into live wallpapers. You can use any video or GIF that you like and convert them into live wallpapers which look really awesome. Or you can create GIFs on your Mac and use them to create live wallpapers. The good thing about this app is that it takes just a few seconds to create live wallpapers. The live wallpapers created using the intoLive app look great on any iPhone model starting from the iPhone 6s to the latest iPhone 14 and 14 Pro models.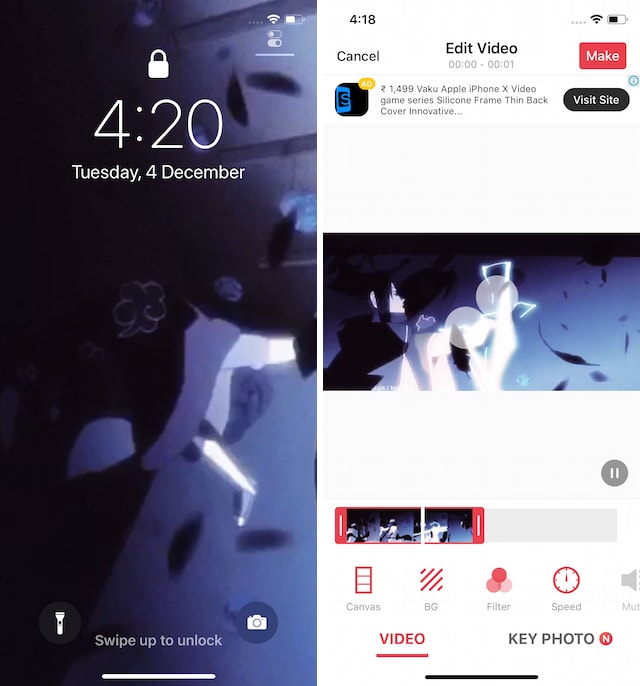 Install: (Free, $19.99/year)
5. Zedge
Zedge is a very popular name in the wallpaper world, and the Zedge app on iPhone offers plenty of free iPhone wallpapers for you to use. There are a lot of live wallpapers on Zedge, however, most of them aren't free to download. You'll need 10 Zedge credits to get live wallpapers from Zedge. Now, the app gives you 10 credits for free, so you can get one live wallpaper without spending a dime, but you can buy more credits to download even more wallpapers. The credits aren't very expensive either, you can get 500 credits for just $0.99.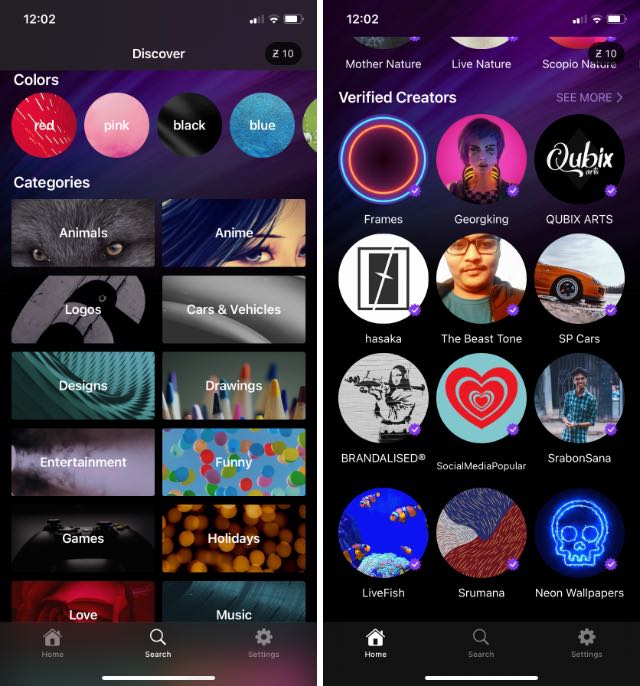 Zedge's live wallpapers are made by verified creators and the app offers a truly huge catalog of wallpapers to choose from. So no matter your mood, you will definitely find live wallpaper for your iPhone in this app. That aside, the app also comes with a solid collection of icon packs to let you customize app icons. And if you are fond of setting custom ringtones, chances are you would appreciate its special roster of ringtones.
Install (Free, $0.99 for 500 credits)
6. Live Wallpapers for Me
This offering from Apalon Apps has got one of the largest collections of wallpapers. From dynamic wallpapers to gorgeous live wallpapers, it's got both the variety and impressive design to find a safe spot in your catalog. You will definitely find wallpapers of your choice in this app. Moreover, the app releases new animations and dynamic themes weekly so that you will always have a ton of cool images to choose from.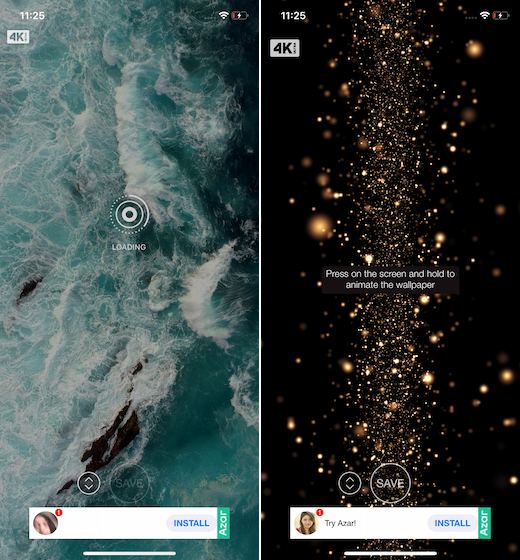 With a timely notification, "Live Wallpapers for Me" keep you in the loop as soon as the latest wallpapers hit the library. Although this live wallpaper app for iPhone comes for free, you will have to spend some bucks to unlock all the eye-catching wallpapers.
Install: (Free, $7.99/month)
7. Live Wallpaper Maker
Just a look at Live Wallpaper 4K's offerings and you'd know that they are spot-on for your iPhone! Yeah, this app scores pretty well in most aspects like variety and stunning design. Whether it's the beautiful collection of nature live wallpapers for iPhone, the cool catalog of animal wallpapers, or the enviable library of animation wallpapers, it's got you fully covered.
What grabbed my attention in this app are the amazing thematic categories and the special collection with inspiring quotes. With trendy patterns, they look pleasing to the eyes. Even though the $24.99/year price tag for the pro version is a bit expensive, I consider it worth giving a shot, and certainly one of the best live wallpapers for the iPhone right now.
Install: (Free, $4.99/week)
8. Live Wallpapers Plus HD 4k
If you want to have one of the finest catalogs of live wallpapers for iPhone, you should definitely check out "Live Wallpapers Plus HD 4k". The app is second to know when it comes to having a large assortment of moving backgrounds and themes. They are beautifully designed by professional artists and boast all sorts of ingredients to enhance the look of your iPhone's home/lock screen.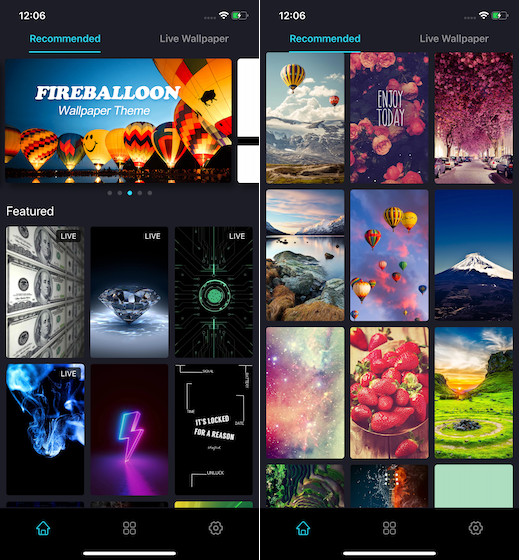 As for my top picks, they are anime, galaxy, and superhero wallpapers as they look amazing and stand out from the rest. At $12.99/month or $29.99/year for the premium version, Live Wallpapers Plus HD 4k is on the higher end of the spectrum. But if you don't mind shelling out a few extra dollars, it wouldn't be a bad choice.
Install: (Free, $29.99/year)
9. Live Wallpapers & HD Themes
Another great live wallpaper app for your iPhone is the Live Wallpapers & HD Themes app which brings a number of pretty cool-looking wallpapers. I really like this app as the live wallpapers featured here are pretty unique and you won't find most of them on any other app.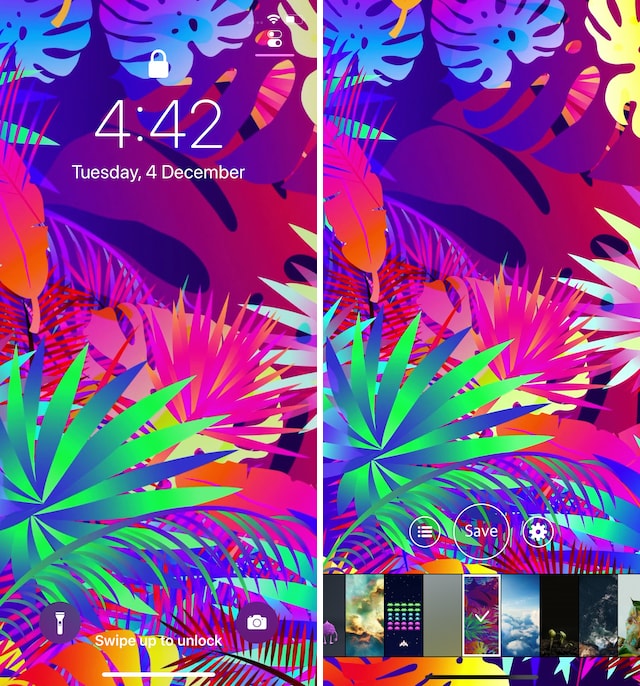 That being said, the constant pop-up to become a pro member is really annoying as it pops on every touch of the app. You can become a pro member, however, that might be too costly for a lot of users. That's why I only recommend this app to users who are looking for unique wallpapers and have the patience to stand ads. Or you can use the free trial period to check out the app and then decide whether you wanna pay for it.
Install: (Free, $29.99 for 3 months)
10. Kappboom
Kappboom is another live wallpaper app for iPhone that you can check out. The app brings a bunch of really nice live wallpapers for iOS devices. Whether you're looking for space live wallpapers, cityscape wallpapers, animals, or anything else, Kappboom probably has a live wallpaper that's got you covered.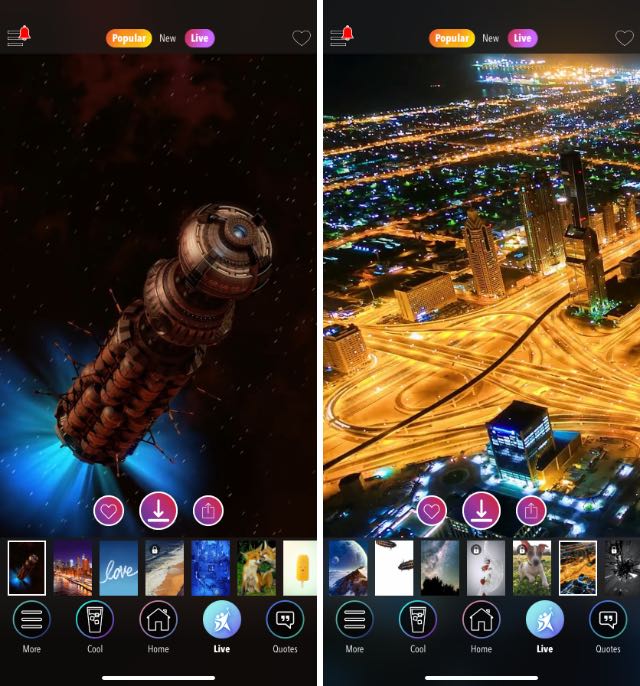 Apart from getting amazing free live wallpapers for iPhone, the app also brings a ton of other wallpapers, including wallpapers for motivation and inspiration that you can use on your iPhone to keep yourself motivated. It's a nice app, and while it's completely usable for free, you can subscribe to get even more wallpapers, and remove ads from the app.
Install: (Free, $49.99/year)
11. Wallcraft
Wallcraft has got one of the largest collections of 4K live wallpapers for iPhone. Unlike many other apps, it provides a different set of wallpapers for each iPhone model. Therefore, finding live wallpapers that can suit the resolution of your device becomes a bit easy. Whether you have an iPhone 6s or iPhone 13, you will have a special collection of backgrounds to choose from.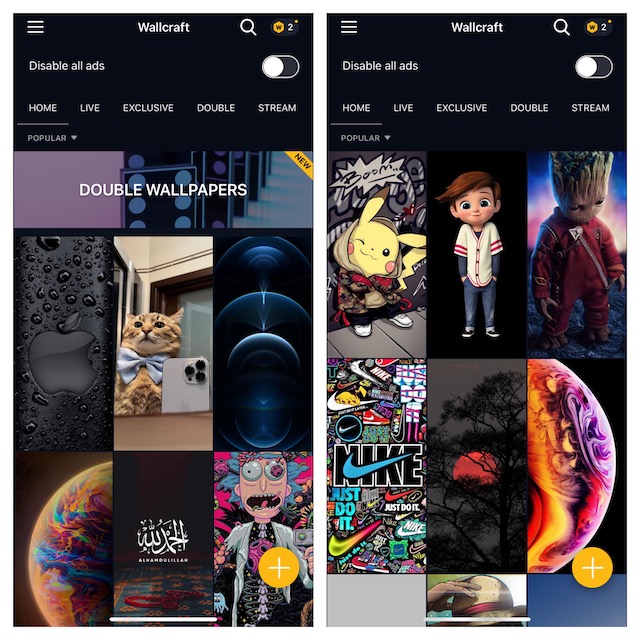 Wallcraft's 4K live wallpapers have been categorized into several different categories including 3D, fantasy, anime, space, technology, nature, and more. Furthermore, it also has a pretty solid collection of music wallpapers which could easily appeal to those who are fond of music. That's not all, the quote backgrounds are no less impressive. Wallcraft provides a limited freemium version, while the premium version is available for $0.99/month.
Install: (Free, $0.99/month)
12. Live Wallpaper Maker 4K: Life
Apart from offering a large collection of live wallpapers, "Live Wallpaper Maker 4K: Life" also lets you create custom live wallpapers. So, if you want to customize your iPhone lock screen with custom-made wallpapers, you should keep it in your mind. Notably, it also provides some cool widgets to let you design your home screen to your liking.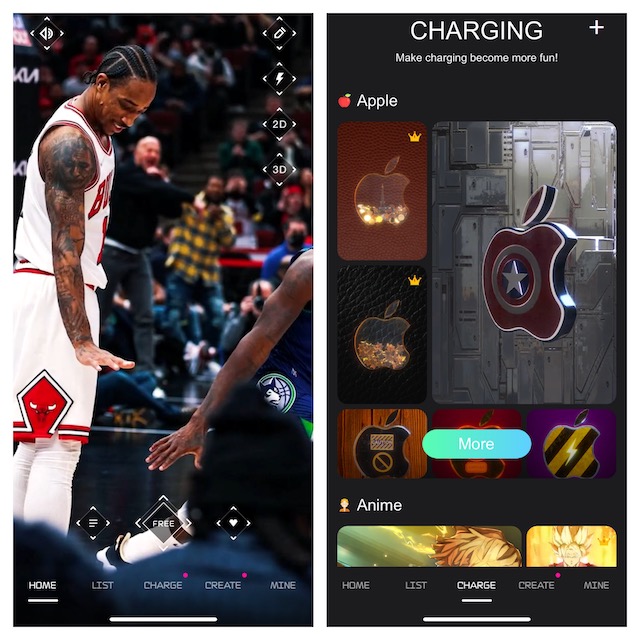 As for the wallpapers, they are from several different categories such as nature, abstract, fashion, travel, sports, entertainment, and more. The 4K live wallpapers are beautifully crafted and they animate on the lock screen with the long-press gesture. Lastly, "Live Wallpaper Maker 4K: Life" is available for $7.99/week with a free trial of 3 days.
Install: (Free, $7.99/week)
Bonus: Live Wallpapers ‪X‬
Live Wallpapers X is another iPhone wallpaper app that has got a massive library of beautifully designed backgrounds and themes. Whether it's the eye-catching night cities, fascinating animal backgrounds, or calming sceneries, it has got the variety to let you design your home or lock screen with the desired liberty.
Beyond a huge collection of wallpapers, the app features a neat interface that's easy to navigate. So, you can save all the stunning backgrounds that catch your eyes and access them with ease. However, this app is not for everyone because the pricing puts it well past 'reasonable' for a live wallpaper app.
Install: (Free, $99.99/year)
How to Make Live Wallpapers on iPhone
From time to time Apple releases its own set of live wallpapers which you can apply to your lock screen. While they are small in numbers, they are created by Apple so they are highly optimized for your iPhone. If you don't know how to use these wallpapers, here is how you can use native live wallpapers on iPhone:
Open the Settings app and then tap on "Wallpaper". Here, tap on Choose a New Wallpaper.
Now, tap on "Live" and then tap on the wallpaper that you want to use.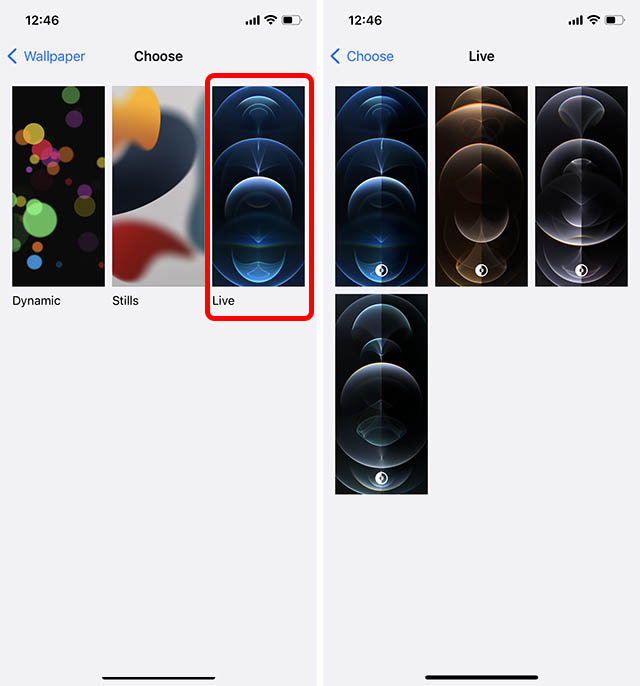 On this page, first, tap on "Set" and then choose "Set Lock Screen" from the resulting menu. That's it, your live wallpaper is now set.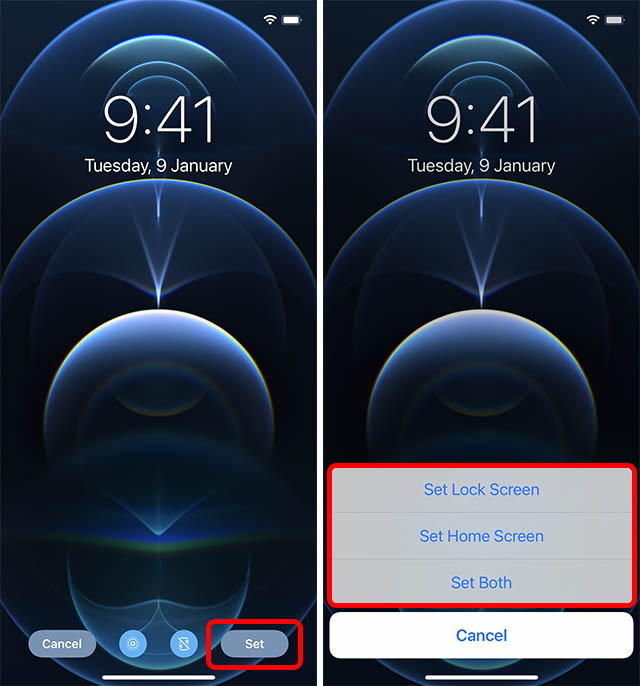 Note:
Alternatively, you can head over to the Photos app and find the image you want to set as wallpaper. Then, tap on the Share button and choose Use as Wallpaper. Then, tap on Set. After that, select from the three options: Set Lock Screen, Set Home Screen, or Set Both.
Which iPhone Models Support Live Wallpapers?
Live wallpapers came into being with the introduction of the iPhone 6s and 6s Plus (2015). The whole idea behind creating live backgrounds for iPhone was to take advantage of the 3D Touch technology to make the live images animate with a touch-and-hold gesture.
With the arrival of the iPhone XR, Apple introduced Haptic Touch aka long-press gesture instead of 3D Touch. It was rumored that the tech giant wanted to make more room for a larger display and also fit into a bigger battery by removing the 3D Touch technology.
To use live wallpapers, you need either the 3D Touch equipped model or the haptic-touch/long-press supported device.
3D Touch Supported iPhone Models: iPhone 6s, 6s Plus, iPhone 7, 7 Plus, iPhone 8, 8 Plus, iPhone X, iPhone Xs, and Xs Max.
Haptic Touch/Long Press Supported iPhone Models: iPhone 11, 11 Pro, 11 Pro Max, iPhone 12, 12 mini, 12 Pro, 12 Pro Max, iPhone 13, iPhone 13 mini, iPhone 13 Pro, and iPhone 13 Pro Max, iPhone 14, iPhone 14 Plus, iPhone 14 Pro and iPhone 14 Pro Max.
Unfortunately, the iPhone XR and iPhone SE (1st and 2nd generation) don't support live wallpapers.
Frequently Asked Questions
Q. Do live wallpapers have a time limit?
Yes, live wallpapers do have a time limit. With most apps, this is around 5 seconds for a live wallpaper. However, some apps do allow longer live wallpapers (up to 30 seconds) for Pro users.
Q. Are live wallpapers bad for the iPhone battery?
Live wallpapers do have an effect on the battery life of your iPhone. However, it's usually not very drastic, or anything that will end up really concerning you. That said, if you do long-press the live wallpaper to animate it very frequently, you might notice a drop in battery life.
Q. Do live wallpapers work on iPad? Are these apps compatible with iPad?
Unfortunately, live wallpapers are only available on iPhone, even though you can view Live Photos and such on the iPad as well. As such, the apps on this list are not compatible with iPad and will not let you use live wallpapers on iPad.
Customize Your Lock Screen using These iOS Live Wallpapers
So those were the 12 best live wallpaper apps for iPhone that you can check out for all your live wallpaper needs. Even though there are quite a few live wallpaper apps you can choose from, these are the best ones based on our testing, and you should definitely take a look at them. That said, if you have a personal favorite live wallpaper app that you think should be on this list, do let us know about it in the comments below.
---
Load More