One of the major problems with Live Photos on iPhone was that you could not edit them. Fast forward to 2019 and things are looking a lot better for the moving images – at least in the editing department. Much to the delight of users, Apple has added a bunch of tools to edit Live Photos on iPhone. Whether it's a variety of filters or the instant effects, the stock photos app seems more than competent to allow iOS users to fine-tune moving pics. Also, there are various third-party apps which allow you to edit Live Photos. So, here are some tips that you can use to edit Live Photos on iPhone Like a Pro.
Tips to Edit Live Photos on iPhone
Aside from enhancing the editing ability, Apple has also made it a tad easier to share live images in the form of a three-second video. So, unlike before, your Android buddies ( or anyone with the incompatible device) can also see your live photos. Just in case you want to dive deeper and give those pics a pro touch, there are quite a few handy photo editing apps to let you adorn your shots.
Launch Photos app on your iPhone. Then, tap on the Albums tab at the bottom.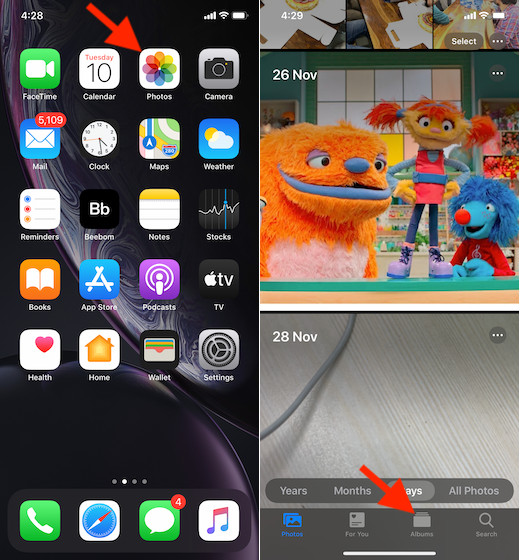 2. Now, choose the Live Photos album under the Media Types section. Then, head over to the image you want to edit.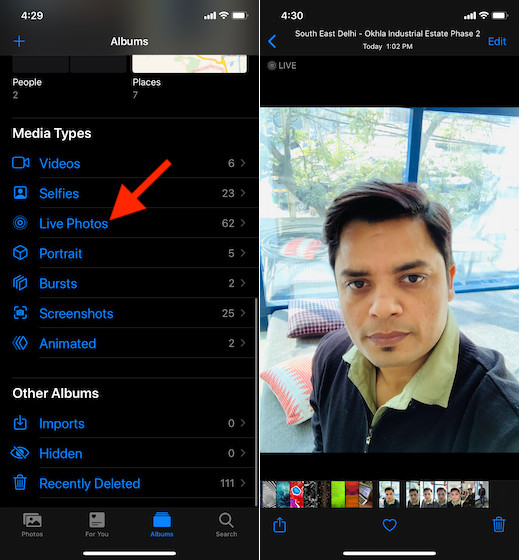 Choose Live Photo Effects
Once you have found the Live Photo, you can design it with a wide range of editing tools. One of my favorite ways to enhance live images is by using readymade effects. Simply swipe up on the screen and then choose from three options: Live, Loop, and Bounce. By default, Live is selected.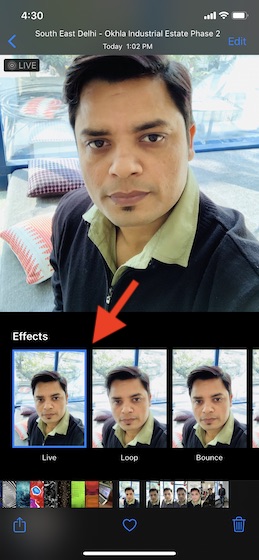 Fine-Tune Live Photos Using Crop, Filters, and Adjustment Tools
When you have found the image you wish to edit, tap on the Edit option at the top right. Now, it will open the gate for a host of tools.
Simply tap on the crop button at the bottom right corner and then use the handle to remove the unwanted part. Also, check out the three adjusting tools at the bottom. You can use them to ideally align your image in the frame. The rotating and flip tools are located at the top left corner of the screen. In the end, make sure to tap on Done to finish.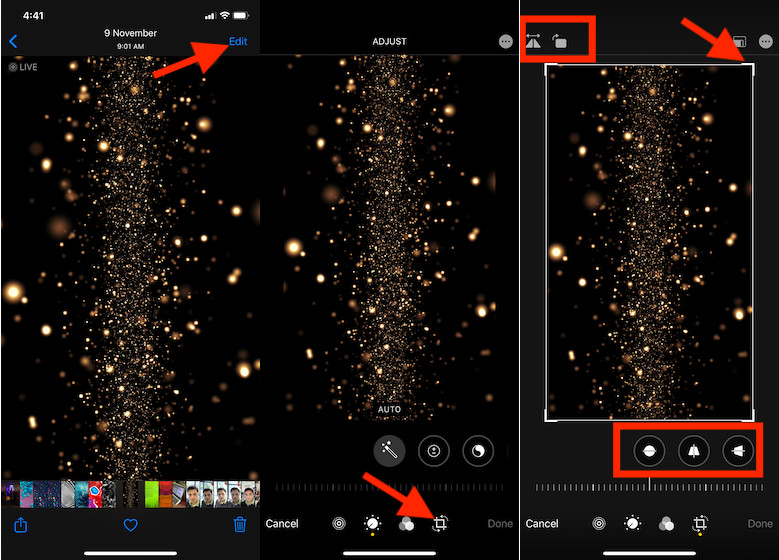 Note: If you want to convert the live image into a still photo, make sure the "live photo" icon is selected at the bottom. Then, tap on Live at the top to turn it off/on. 
Tap on the filter icon at the bottom. After that, swipe left/right on the filters to cycle through them. Currently, there are 10 options (excluding the original) like vivid, vivid warm, vivid cool, dramatic and more. Select the one that goes along nicely with your pic. Then, hit Done at the bottom right corner to confirm.
Adjust Exposure, Contrast, Brightness, and Reduce Noise:
If you want to further enhance the quality of your image, tap on the tiny icon that looks like a clock. Now, cycle through the host of available options and choose the preferred tool. The first one is the Auto tool. Swipe left on the icons to reveal more options. Once you have adjusted all the essential things, make sure to tap on Done to finish.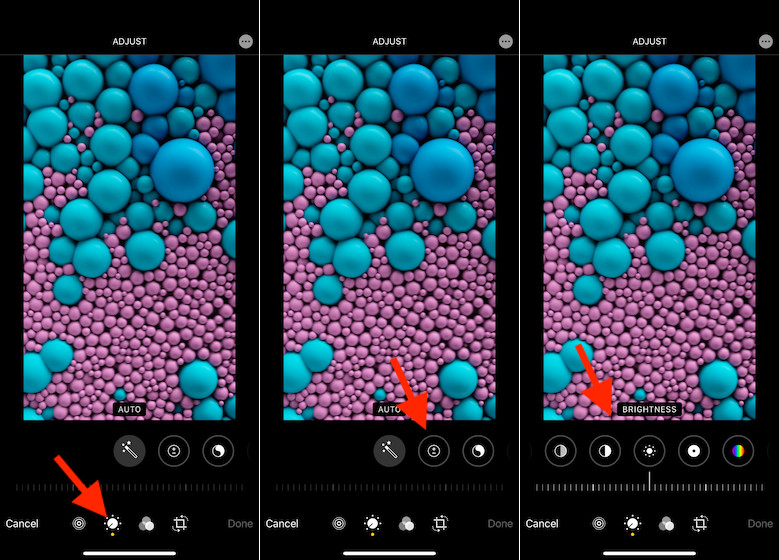 Note: If you ever want to revert changes, simply open the live image > Edit. Then, tap on Revert at the bottom right corner and select Rever to Original in the popup.  
Turn Live Photos into A Video
With iOS 13 or later, you can convert your live photos into 3-second videos. Save it for the times where you don't want incompatibility to prevent you from sharing your images with friends or loved ones. If you ever want to transform any moving image into a video, simply select it > share button > choose Save as Video in the share sheet.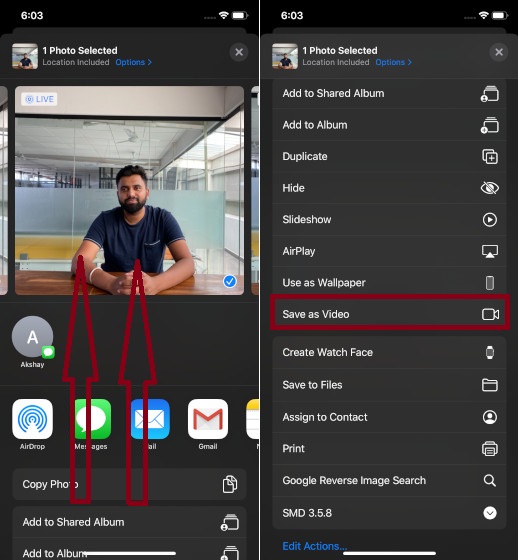 Best Third-Party Apps to Edit Live Photos on iPhone
Apart from the native editing tools, you can also use third-party editing apps to enhance your Live Photos. Here are some of the best live photo editors on the App Store:
1. Enlight Pixaloop
Lightricks' Enlight Pixaloop has always been one of the best photo editors for iPhone and iPad. So, I don't think many of you would be surprised to see this powerhouse right at the top. The app comes with a boatload of editing tools, allowing you to take control of things like brightness, saturation, contrast, and more. With several professionally designed effects and overlays at the disposal, you can design your pics with aplomb.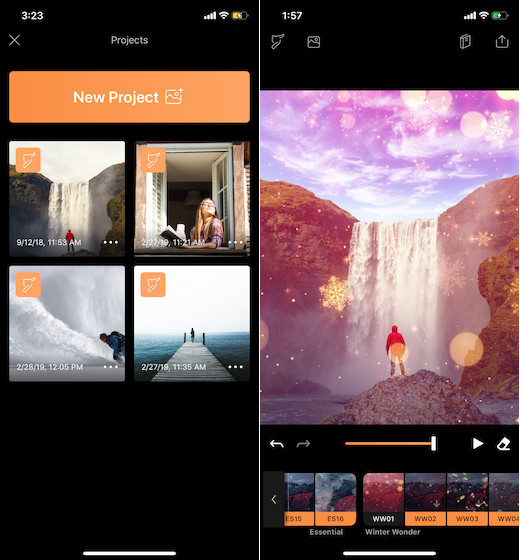 My favorite features of this app are the AI-powered water animation and a variety of automated skies that bring plenty of fun elements into the mix. Keep in mind that Enlight Pixaloop's freemium version has several limitation. If you want to unlock all the editing tools and effects, you will need to subscribe to the premium version that starts at $3.99.
Price: Free, in-app purchases available 
2. Photo Editor
Claiming to be an all-in-one photo editor, this one has got you fully covered. Whether you like to try out real-time filters or use instant effects to beautify your pics, it has got enough tools to live up to your demand. That aside, you can add bone-tickling stickers and draw on your live images. Just in case, you don't want blemishes to destroy your shots, there are quite a few blemish removal tools as well. Keep in mind, some packs require in-app purchases that start from $0.99.
Price: Free, in-app purchases available 
3. LIVE
Should you want to have a lightweight photo editor that can also double up as a GIF converter, "LIVE" should be a fine contender. You can use this app to easily transform your moving images into fun-loving GIF and videos. Besides, it also lets you convert live pics into still images. As for editing, the app comes with a large collection of eye-catching filters which can go a long way in enhancing the look of your shots.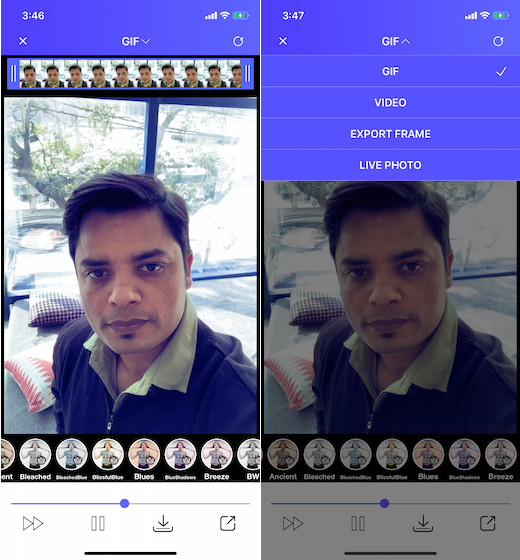 Price: Free, $1.99 for the premium version 
Edit Live Photos with Ease on Your iPhone
Though Live Photos haven't yet been completely unchained, they have become more accessible and editable with time. The new Photos app is quite powerful and even brings some handy video editing tools. So, it seems that Apple is ready to invest in making Photos app more editing friendly. Do use all these editing features and let us know if you like them or not.