Playing games on the PS5 is a lot of fun, and the new DualSense controller with its haptics and adaptive triggers is a big part of that excitement. However, if you're like me, chances are you like playing a lot of mobile games, and a myriad of smartphone games support controllers on phones, which is amazing. So, if you're looking to play Call of Duty: Mobile on your iPhone or Android phone with a controller, here is how you can connect the PS5 controller to your iOS and Android devices.
Connect PS5 Controller to iOS/Android Device
In this article, we will discuss how you can connect the new DualSense controller with both iOS (or iPadOS) devices as well as Android smartphones and tablets. Depending on which device you want to connect your PS5 DualSense controller with, you can use the table of contents below to skip over to a relevant section.
Connect PlayStation 5 Controller to iPhone/ iPad
If you are using an iOS or iPadOS device, here's how you can connect your DualSense controller to your iPhone or iPad.
Press and hold the PS button and the new Create button on the PS5 controller until the light starts flashing.
On your iPhone (or iPad), go to Settings -> Bluetooth. You will see the 'DualSense Wireless Controller' in the list under 'Other Devices' here. Just tap on it to connect the PS5 controller to your iPhone.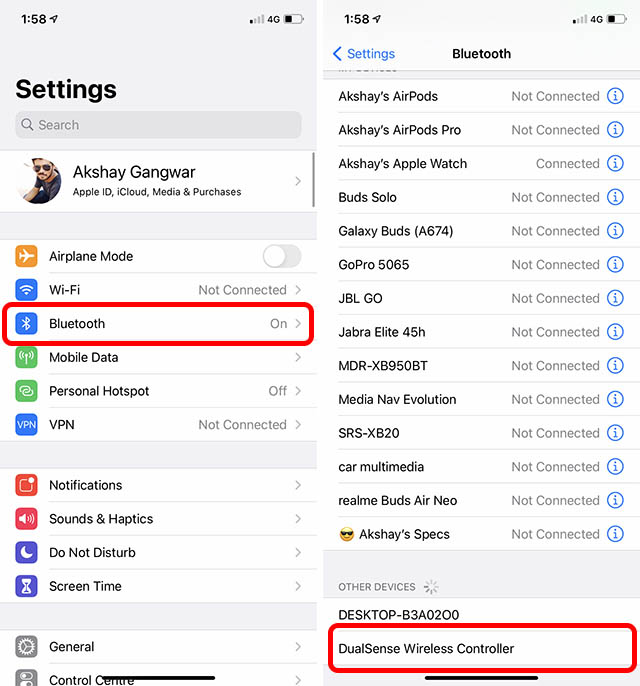 Once you have connected the controller with your iOS device, you can jump into any game you want to play on your iPhone and use the controller to play the game. It's that simple. Pretty cool, right?
Connect PlayStation 5 Controller to Android Device
On the other hand, if you're using an Android phone or a tablet, the process is pretty much the same, but I will mention it here for clarity.
Press and hold the PS button and the Create button on your DualSense controller.
On your Android device, go to 'Settings -> Bluetooth & Device Connection' and tap on 'DualSense Wireless Controller' from the list of available devices.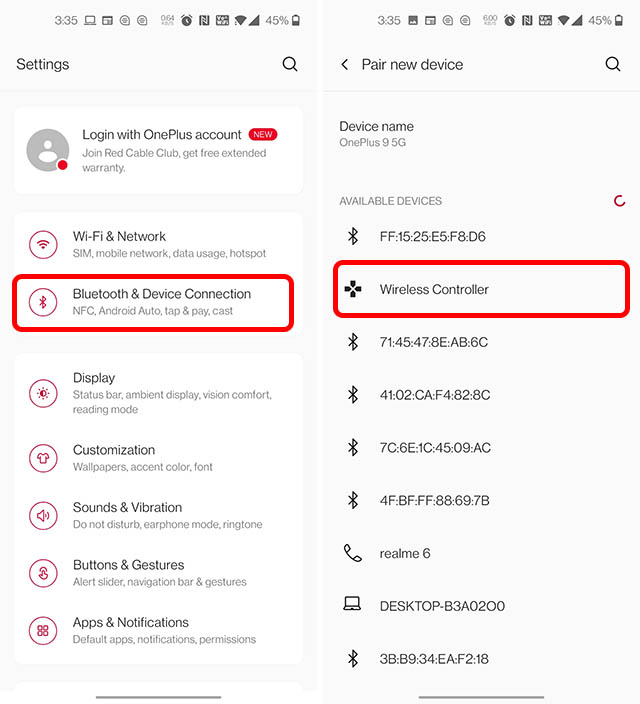 This method will pair the controller to your Android smartphone or tablet. You can now play any compatible game with your PS5 controller on your Android phone.
List of Mobile Games with Controller Support
In case you're wondering whether your favorite game supports the PS5 controller on iPhone and Android, here is a list of games with controller support that you can try.
iOS and Android Games with Controller Support
1941 Frozen Front
Adventures of Mana
Adventures of Pip
Altered Beast Classic
Another World
Aralon: Forge and Flame
Arcane Soul
Arteria
Asphalt 8
Astro Duel
Badland
Bladelords
Bloo Kid 2
Boulder Dash
Call of Duty: Mobile
Castlevania
Comet Racer
Commander Cool
Commander Pixman
Cows in Space
CraftedBattle
Crash Drive 2
Crashlands
Crazy Snowboard
Crazy Snowboard Pro
Crusaders of Light
Dandara
Dark Echo
Dead Cells
Dead Trigger
Death Point
Death Road to Canada
Deathsmiles
Disgaea 1
Don't Starve: Pocket Edition
DOOM
Dragon Mania Legends
Dust
Edge Extended
Eswat City Under Siege
Evoland
FEZ Pocket Edition
Fly Away
Fortnite
Frogbert
Goat Simulator
Golden Axe Classics
Grand Mountain Adventure
GRID Autosport
Grimvalor
Groove Vortex
GTA: Chinatown Wars
GTA: San Andreas
Gunslugs
Gunslugs 2
Heavy Blade
Hyperburner
I Am the Hero
Impossible Road
It's Full of Sparks
Jade Empire
Jetpack Joyride
Jump Drive
Kingdom: New Lands
Leo's Fortune
Lichtspeer
LIMBO
Lineage 2
Little Big Adventure
Man Man
Mars: New Home VR
Max Payne Mobile
Metal Slug 3
Minecraft
Modern Combat Versus
Muffin Knight
Neon Chrome
Oceanhorn
Oddmar
Oddworld
Off Road Rumble
Overkill 2
Paracute
Pilot Ace
Portal Knights
Post Brutal
Reckless Racing 3
Retroid
Samurai Showdown II
She Wants Me Dead
Sky Gamblers
Sniper Fury
Soul Knight
Space Grunts
Space Harrier II
Space Marshals 2
Sproggiwood
Star Warfare 2
Stardew Valley
Stay
Staying Together
Stickman Base Jumper 2
Stickman Basketball
Stickman Basketball Blitz
Stickman Battlefields Premium
Stickman Disc Golf Battle
Stickman Soccer
Suzy Cube
Tail Drift
Tank Ace
Terraria
Teslagrad
The Binding of Isaac
The Deer God
The East New World
The Rocky Horror Show
The School
The Swords of Ditto
Thimbleweed Park
Time Recoil
Top Gear: Extreme Car Parking
Transistor
Trigger on the Road
Turbo League
Turtle Tumble
Venture Kid
Wonder Boy
Apart from these mobile games, you can even use the PlayStation 5 controller to play PC/ console games via Xbox Cloud Gaming on your Android device. Sadly, the same is not true for iOS users as Microsoft is still attempting to bring xCloud to Apple's devices.
Use PS5 Controller with Android and iPhone
So that's how you can connect a DualSense controller to your iPhone, iPad, or Android smartphone/ tablet. Playing games with controllers is something that many people prefer due to the better tactile control or more screen real estate on offer to enjoy the gameplay. So, which games would you like to play with the PS5 controller connected to your phone? Let us know in the comments section.
---
Load More