One of the things that aren't immediately clear in the "Finder way of doing things", is how to rename multiple files at once. Say you have a lot of pictures, and you just want them to be renamed. You could do it one by one, but what if you had a hundred images? Suddenly, renaming them one by one doesn't seem all that good. So, what do you do if you want to rename multiple files at the same time? Well, don't worry, here's how you can bulk rename files on a Mac:
Batch Rename Files in macOS Sierra
As it turns out, it isn't difficult to rename multiple files at the same time. The Finder has a really easy way you can use, so you don't even need any other file rename utility. Simply follow the steps below, to bulk rename files on Mac:
Note: To illustrate, I will rename 50 image files, such that they are renamed in the format "IMG1, IMG2, IMG3, and so on".
1. In Finder, select all the files that you want to batch rename. In my case, I have selected the 50 images that I want to rename. Then, go to "File -> Rename 50 items…".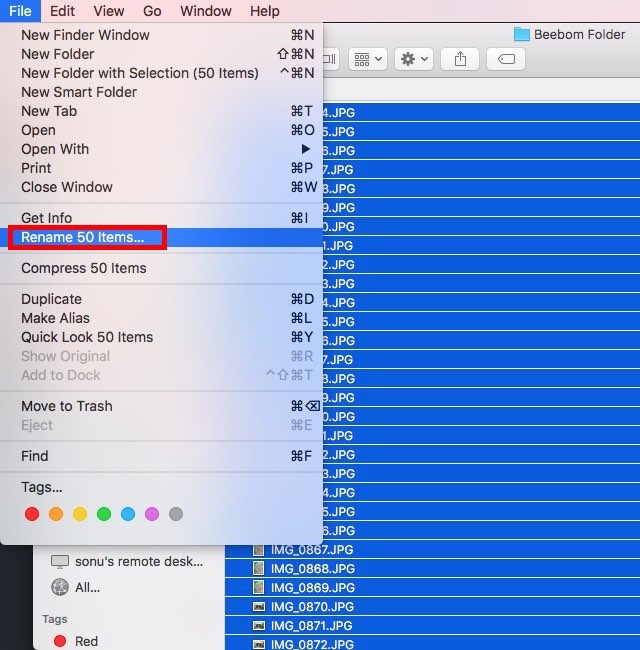 2. In the dialog box that opens, you can use a number of different settings to rename files exactly the way you want to. Click on the first drop down box, and select "Format".
3. In the "Name Format" drop-down box, select "Name and Index", and in "Where", select "after name".

4. Next, in "Custom Format", type "IMG" (or whatever you want the filename to be), and in "Start numbers at", type "1"

5. Once all that is done, simply click on "Rename".
All of the selected files will now be renamed in the format "IMG1, IMG2, IMG3, and so on". It's really very easy, renaming multiple files in macOS Sierra. The function works the same in older versions of macOS, as well, so even if you're not on the latest version of the desktop operating system, you should be fine.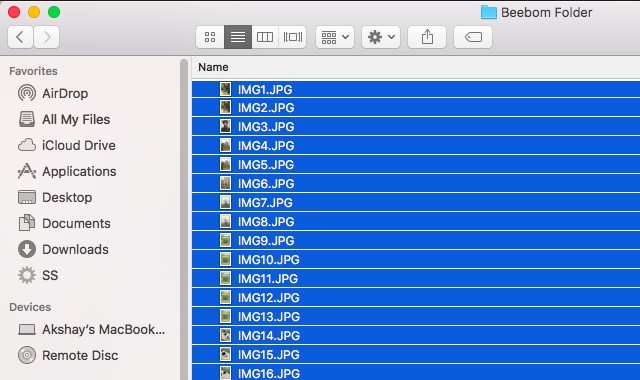 There are a lot of other settings in the batch rename menu, that you might find useful, depending upon what you want to do with the files. Other options that are available to you in the rename menu are "Add Text", and "Replace Text". Add text lets you append or prepend text to the existing file name. It can come in handy in situations when you want to add words to the end, or the beginning of multiple file names.
Replace Text, on the other hand, works kind of like "Find and Replace". You type in the word that you want to replace, and the word you want to replace it with. When you click on Rename, all the file names get changed according to your settings.
The batch rename tool in macOS' Finder is very great, and flexible. So, the next time you want to rename multiple files in one go on your Mac, look no further than "Finder.app".
SEE ALSO: How to Open Apps from Unidentified Developers in macOS Sierra
Easily Rename Multiple Files in Mac
Renaming files is one of the basic functionality that people expect from a computer, and with this, you can now rename multiple files at the same time. This will definitely make it easier for you to manage multiple files, quickly, and efficiently.
So, did you know about this method for renaming multiple files on Mac, or were you using another method? We'd love to know your thoughts. Also, if you have any issues, or if you know of any other methods to rename multiple files on macOS Sierra, do let us know in the comments section below.
---
Load More