Most of us miss phone calls on a regular basis and it's nothing new. This usually happens because of the fact that we're busy with some work or we're just a tad late when it comes to picking up the call. Personally, I've missed so many calls while I'm eating just because my hands were too dirty to pick up the phone right next to me on the table. Well, it looks like Apple has provided a solution with their new iOS 11 update that arrived earlier this week. They've introduced a new feature that's hidden deep inside iOS settings, and once it's enabled, your iPhone will automatically pick up all the incoming calls after a certain time duration which you can set accordingly. These include calls via your carrier network as well as VoIP calls, which is impressive to say the least. Well, if you're keen on using this feature, let's take a look at how to auto answer phone calls in iOS 11:
Note: I tried this on my iPhone 7 Plus and iPhone 6s, however it should work on older iPhones as well as the new iPhone 8, 8 Plus and iPhone X.
Enable Auto Answer Calls in iOS 11
As mentioned earlier, this nifty new feature is buried deep inside iOS settings, but you'll be able to easily enable it in a matter of seconds if you follow the steps carefully:
Go to Settings on your iPhone and head over to the "General" settings. Once done, tap on "Accessibility".
Here, scroll down a little bit in the accessibility section and tap on "Call Audio Routing". Now, you'll be able to proceed to the "Auto-Answer Calls" section.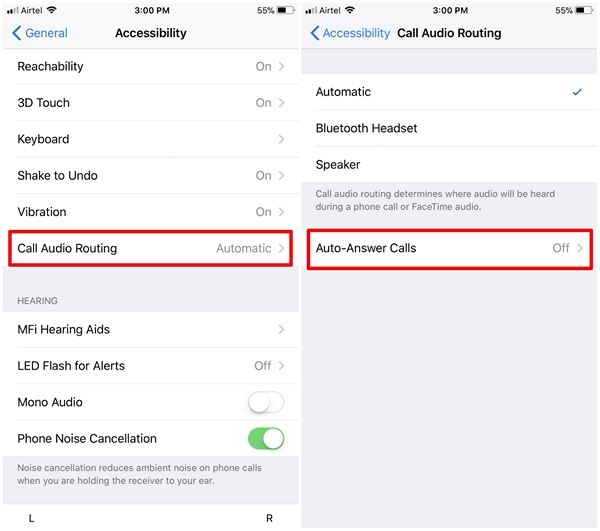 In this menu, you can use the toggle to enable or disable "Auto-Answer Calls" feature. Once you've enabled it, you can adjust the duration of the time your iPhone should wait until the call is auto-answered. By default, this is set to 3 seconds, but you could choose anywhere from 0 to 60 seconds by simply tapping the "+" and "-" icons.
SEE ALSO: How to Offload Apps in iOS 11 to Free Storage
iPhone Can Automatically Pick Up Your Calls With This Feature
Apple has introduced plenty of new features in iOS 11, and personally I've found this feature to be one of the most useful. From now on, you don't have to worry about the dirty hand that was stopping you from picking up a phone call from your boss or loved ones. Also, if you're too lazy to pick up phone calls, this is a great feature that you can take advantage of. The ability to customize the time duration that your iPhone should wait before it picks up the call is what makes this feature stand out. That being said, we'd have loved it if there was a quick toggle in the Control Center to quickly enable/disable it, instead of having to dig deep inside the iPhone's settings. So, have you guys enabled Auto-Answer calls, or am I the only lazy person here? Do let us know in the comments section down below, as we'd love to know what you guys think.
---
Load More