Finding a good website that gives you access to royalty free music might not seem hard at first, but ask anyone who has been down the road, and they will tell you that it is not as easy as it looks. Most websites that claim to offer royalty free music have several conditions and fine-print clauses that defeat the purpose of using their music. But fret not, as today, we are going to share with you a service that provides royalty free music to the masses. It's called HookSounds, and in this article, we are going to talk all about it.
Key Features
In this section, we are going to take a look at all the key features of HookSounds, so you have an idea, what this service brings to the table. After that, we are going to talk about its pricing to see if the service makes financial sense for you or not. So, without further ado, let's get started:
1. Exclusive Content
The biggest USP of the HookSounds is that it features exclusive music. It means you won't find HookSounds music anywhere else on the internet other than in the HookSounds website. All the music featured here is composed by talented production teams, specifically for the website.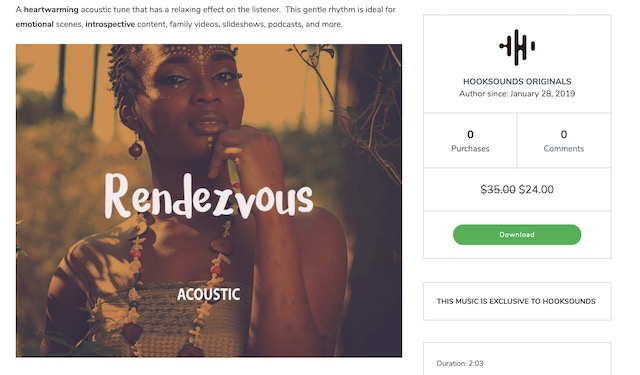 This has many benefits. The first and obvious one is that you are getting new and exclusive music that's not available anywhere. Second, you know that you are not getting ripped off. You don't have to do heavy research to see if the music here is being sold at cheaper rates somewhere else.
2. Music Quality
Since the music that you get from HookSounds is created by talented professionals and goes through a meticulous high curation process, you are only getting quality music. Most other websites that offer royalty free music like to bombard users with infinite content without any curation process. That leads to users wasting time searching the catalog for finding a good piece of music for their work.
HookSounds reduces that time by giving you access to only high-quality music. If you know what kind of music you are looking for, you won't have to waste time looking through a pile of trash. Don't believe me? Well, you can listen to all the music on HookSounds for free, so give it a try, and see for yourself.
3. Access the Full Library
One of the best things about HookSounds is that it gives you access to its entire library with no limit on downloads. If you get the subscription plan, you get access to the entire library with unlimited downloads. You can download as many tracks and sound effects as you want.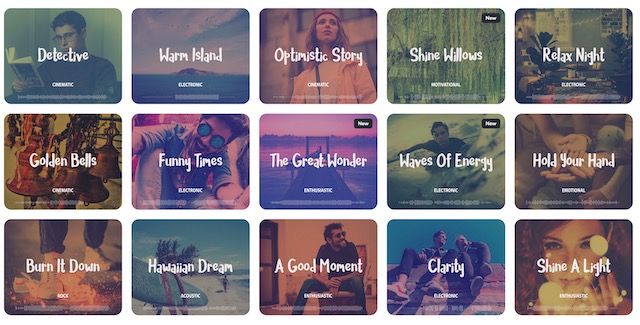 4. No Copyright Claim and Royalty Fees
One of the problems with several royalty free music providers is that they have hidden clauses that they can use to nefariously put a copyright claim on your videos to get your royalties. This is bad for content creators, who depend on the video revenue for their income.
With HookSounds, you get a PDF license certificate with lifetime license validity for downloaded music. Also, HookSounds owns the copyright for all the music on its platform. So, if you come across any issue they will handle it directly for you, without the need for any other party involved.
5. Sound Effects
One of the most recent additions to HookSound's website is "Sound Effects". Now, apart from regular music pieces, you can also download royalty free sound effects. This is good news for video creators that are always on the lookout for good sound effects.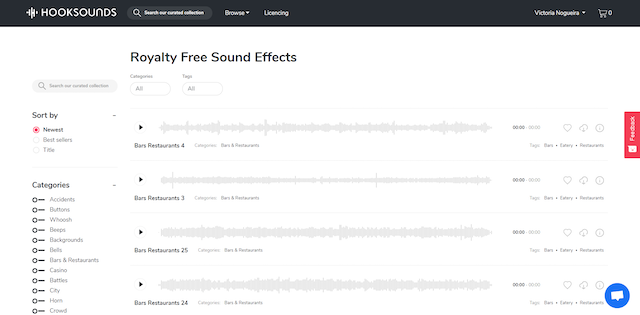 User Interface and Ease of Use
The website is easy-to-use and navigate. You can browse the catalog by music, artists, tags, moods, and more. There's a search bar at the top which you can use to search for music. There's also a "Browse" button that you can use to get to the entire library.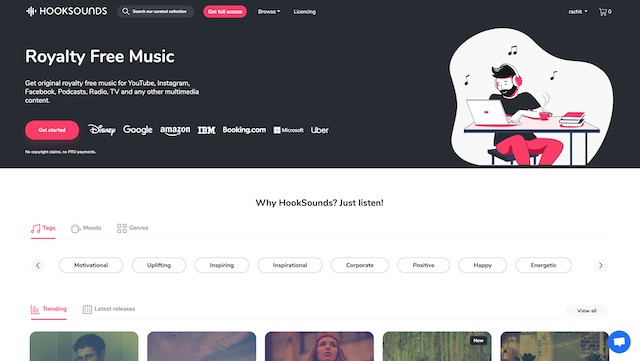 I love the card view of the music tracks. You can hover over them to display the download and details button. You can also play any music track by clicking on the play track button on the card. Currently, HookSounds is in the process of updating their website. I am using the new one and I am loving the redesign.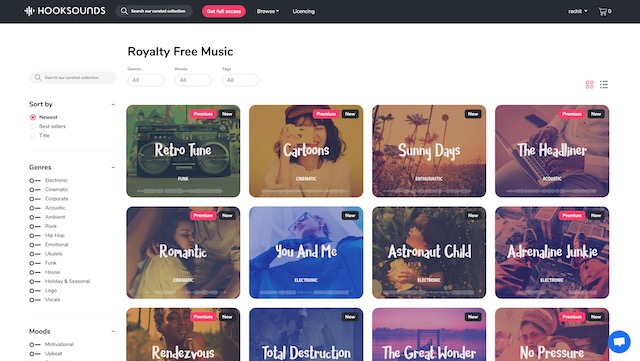 Overall, I would say that HookSounds offers a simple and functional user interface. The UI feels fast, easy-to-use, and serves its purpose. The original website was  a little low on the features, but since the new update, it offers everything that I wanted.
Pricing and Availability
One thing that I like about HookSounds is its pricing strategy. Depending on your requirement, you can choose between different pricing options. If you are someone who needs new music tracks regularly, the best option is to buy a monthly subscription that costs $29/month – billed annually ($69/month – billed monthly). With the subscription, you get access to the entire library with unlimited downloads.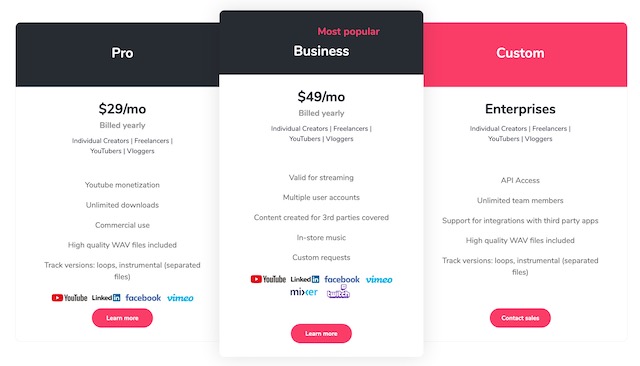 If you need a track for a single product (ex: video), then you can buy individual tracks. There are several pricing options for individual tracks based-on usage. First, there is a free option that lets you download tracks for non-commercial use. That means you can either use them in personal videos or for the online content that you create, provided that you are not monetizing the content and adding proper attribution.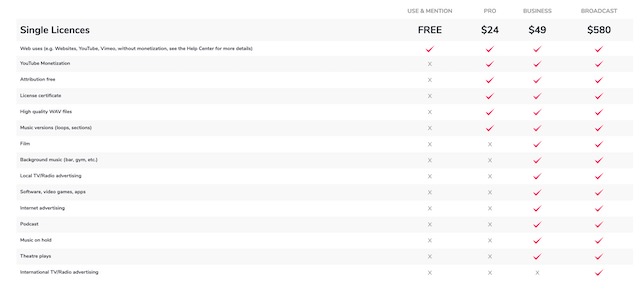 If you want to monetize the content, you can start with the Pro license that costs $24. This allows you to use music for commercial projects including YouTube videos with al lifetime license. In this tier, you can't use the music for promotional projects like advertisements. If you want to use HookSounds' music in ads (only local and regional mediums), you will have to buy the Business license that costs $49.
Finally, there's the Broadcast license that lets you use the music on national and international TV and radio advertisements. You can even use music in movies and TV-series. As you might have guessed, it's costly and will run you down $580. Remember that a track that you buy using a single-use license can only be used for one end-product. You cannot use the same track for multiple videos or ads.
HookSounds: Get Access to Royalty Free Music
Now that you know about the service, its key features, and pricing, I hope you can see that HookSounds is one of the best, if not the best websites to get royalty free music for your projects. You get access to exclusive music with lifetime rights for a fair price. Do check out the service and let us know if it meets your royalty free music needs or not.