When we talk about gallery apps on Android or iPhone,you'd agree when I say that Google Photos is arguably the best solution. It packs in some really cool features, like unlimited free backup to Google Drive (in limited resolution), great search capabilities, ability to create movies & collages, a trash folder etc. While there's no doubt that Google Photos is the most intelligent gallery app out there, the app does have its share of problems. For instance, people have reported delayed backup bugs, along with a problem when it comes to downloading specific photos. So, if you are someone who wants a more simpler gallery app, we have you covered. Here are the top 5 Google Photos alternatives you can use on your Android device or iPhone/iPad:
1. Prime Photos from Amazon
The Prime Photos app from Amazon is the best Google Photos alternative out there. The app mimics a lot of useful Google Photos features. If you are Amazon Prime member, the app lets you store unlimited photos and you can share the photo storage with up to 5 people. Just like Google Photos, Prime Photos does not require any tagging and lets you find photos by searching for people, location or even things. It even lets you upload photos from anywhere. Another feature similar to Google Photos is its grouping of photos through face recognition.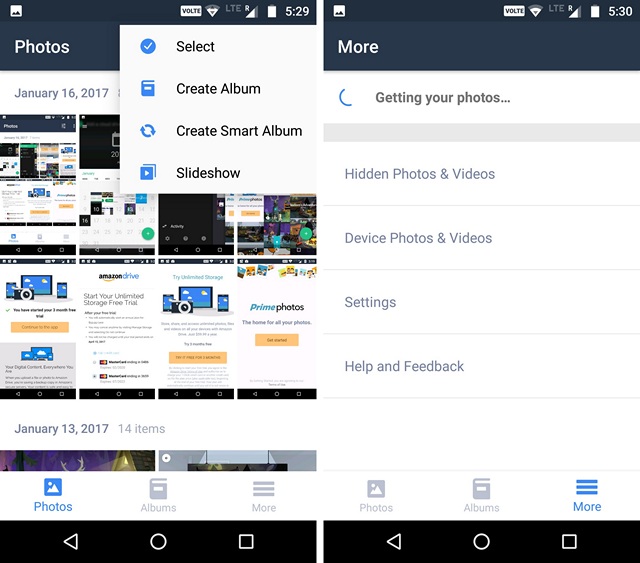 To sum things up, Prime Photos is very similar to Google Photos and in fact, the interface is pretty similar too. If you are not an Amazon Prime user, the app offers a free 3-months trial for unlimited storage, after which you will have to pay $59.99/year.
2. Piktures
If you find the Google Photos app tough to navigate, you'll definitely find the Piktures app a lot more intuitive. The Android-only app is arguably the best third party gallery app on the Play Store. The app supports various cool gestures to navigate the app, along with different views like calendar view or location view. While the app lacks the intelligent search features or unlimited free backup, it does bring some really cool features. Piktures features Dropbox integration, so you can backup photos on the cloud.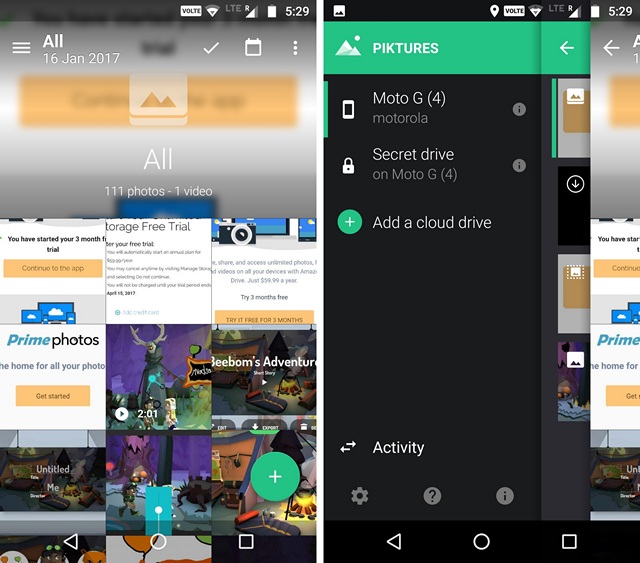 There's also the ability to hide photos or albums, save photos in a PIN-protected Secure Drive, view EXIF data and support for GIFs. Plus, all of that in a beautiful interface, so what's not to like.
Install: Android (Free with in-app purchases)
3. Flickr
Flickr isn't really a gallery app like Google Photos but if you liked Google Photos because it allowed you to store unlimited photos in the cloud, then Flicker is a viable Google Photos alternative for you. Flickr offers users 1000 GB of free cloud storage, so that you can store your photos and videos with ease. Plus, the app organizes your photos and lets you tweak your photos. Then, there's the great Flickr community, which should be a great bonus if you are a photography enthusiast.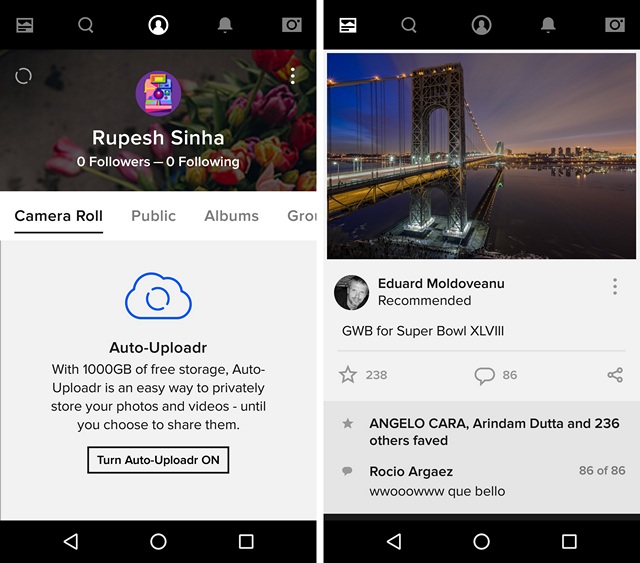 4. QuickPic
QuickPic is one of the most popular gallery apps on Android, thanks to its very extensive feature list. The app does like a simple photo management app on the outset but it's so much more. First, it supports auto backup with a ton of cloud storage services like Google Drive, OneDrive, Dropbox, Flickr etc. along with its own CM Cloud service. So, no matter what cloud storage you use to store your data, QuickPic has you covered.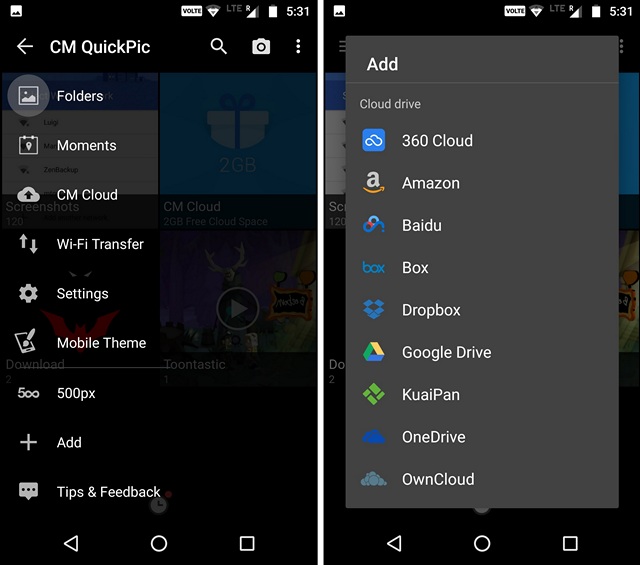 There are also features like the ability to lock private photos and videos with password, decent photo editor, app customization and more. While it cannot compare to Google Photos in terms of features, QuickPic holds its own as a great gallery app for Android.
Install: (Free)
5. A+ Gallery
A+ Gallery app is another popular gallery app on Android and rightly so. The app might not really be an alternative to the Google Photos app but if you are just looking for a replacement gallery app, the A+ should be a good choice. The app features a UI which is a mix of Material Design and iOS' style. A+ automatically organizes your photos and lets you view them by date, location or year. It features integration with Facebook, Dropbox, and Amazon Cloud Drive, so you can store or sync photos to the cloud with ease. Other features of the app include ability to search by color, favorite albums, editing and more.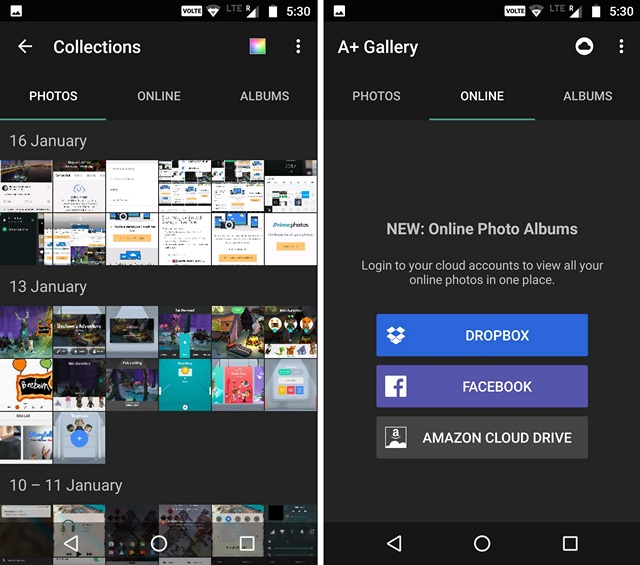 Install: Android (Free with in-app purchases)
SEE ALSO: 8 Best Gallery Apps For Android To Manage Your Photos Better
Try these Google Photos alternatives on your device
As you might have noticed, our list only features a couple of apps for iOS and that's because the Apple App Store lacks decent gallery app. However, if you are an iPhone or iPad user, the built-in Photos app is a decent app and includes features similar to Google Photos. On the other hand, Android users have some decent Google Photos alternatives that they can use. So, try out the aforementioned apps and let us know your thoughts on the same in the comments section below.