It's funny how a single missed message can wreck a havoc in one's life. You need to send an important message to someone sometime later in the day, and you are so sure you will send it at the right time. Only, when the right time comes, you forget to send it. Depending on the importance of the message you forgot to send, you may suffer anywhere from nothing to a concussion. If only there was a way to schedule your messages, as you could do with your emails. Well, if you are using an Android phone, you can. Whether you want to send that message later to that special someone, or just want to send a reminder text to your friend, this feature will always come in handy in such times. So, if you are suffering from the "forgot to send the message" syndrome, here's how to schedule text messages on Android in 2020.
Schedule Text Messages on Android in 2020
To schedule an SMS on Android you can use two methods. The first involves the use of third-party texting apps that can be used to schedule text messages on any Android smartphone. The second is to use the built-in functionality that certain Android OEMs like Samsung, Xiaomi, and LG offer. We have included both these methods so you can skip to the section you want to read.
Send Messages Later Using Third-Party Apps
There are some OEMs that include this feature natively in their smartphones, but for the most part, you will have to use a third-party app to make use of this feature. The advantage of using third-party messaging clients is that not only they bring the ability to send messages later but also include a ton of other features which makes messaging fun and easy. The apps will bring theming capabilities allowing you to change anything from color scheme across the app to the fonts and its sizes. The only thing to remember is that we are focusing on scheduling messages hence other specific feature sets will not impact the ranking of the apps.
1. Textra
Textra is one of the most popular third-party messaging apps available on the Play Store. Although the app is known for giving the users the ability to customise the look and feel of the messaging app, it can also perform a lot of cool functions which your native messaging app cannot. One of those features is the ability to send scheduled messages. To schedule a message using Textra, when you are composing a message, hit the plus button and tap on the clock icon as shown in the figure.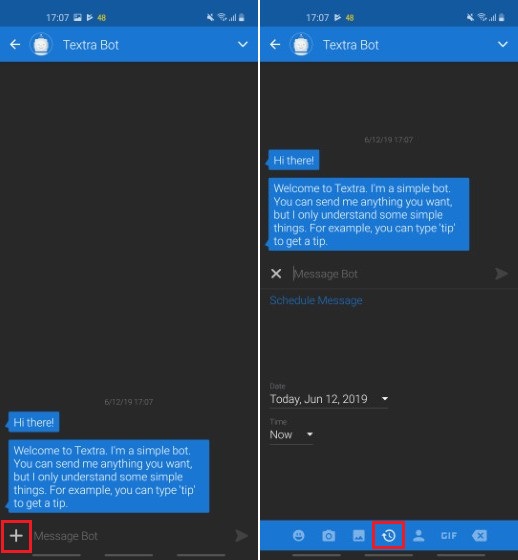 Here, you can select the Date and the Time when you want your message to be sent from your phone. One neat thing I like about Textra is that it marks the scheduled messages with a green clock icon. When you tap on the icon, you will be able to see the time stamp (when it is scheduled to be sent) for that message. For the most part, the app is free to use with in-app purchases to unlock some extra features.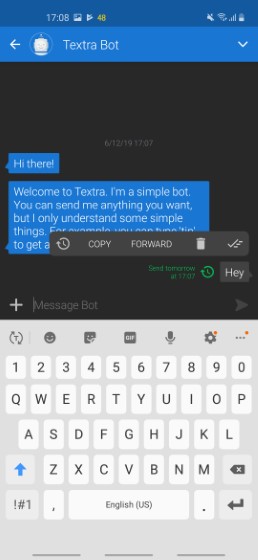 Install: (Free, In-app Purchases)
2. Pulse SMS
Pulse SMS is one of the few messaging apps which is really innovating the way people use regular messages. The app brings many cool and unique features which can enhance your messaging experience. One of those features is the ability to schedule text messages. To schedule a message, when you are in a conversation, tap on the 3-dots menu present at the top right corner of the app. On the drop-down menu, tap on the "Schedule a message" option and then enter the date, time, and the content of the message. When you are done, hit send.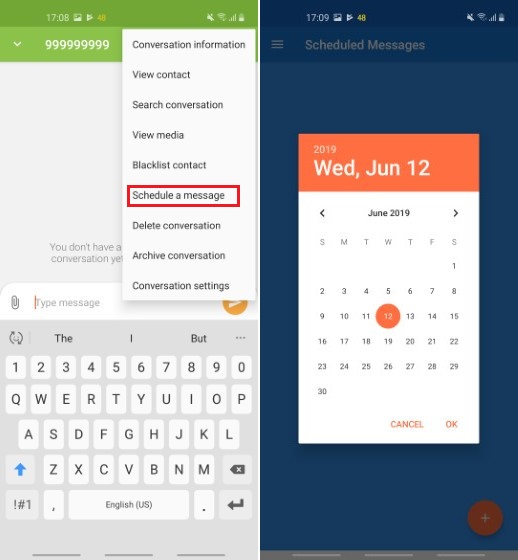 However, one thing which I don't like about this app is the way it stores your scheduled messages. The scheduled SMSs are not stored inside the original conversation rather they are stored in their own folder. Although I don't like this approach, many people might love it as it also gives you the ability to see all your scheduled messages in one place. To find all of your scheduled messages, open the hamburger menu and then tap on "Scheduled messages". Here, you can view all your scheduled messages. 
Install: (Free, In-app Purchases)
3. Do It Later
Do It Later is one of the newest message scheduling apps on the Play Store and it's also one of the best. The app not only allows users to schedule text messages but also emails, calls, and tweets. If you don't want to schedule messages but just want to get reminded of them, you can also set reminders right inside the app. What I love most about this app is how easy it is to use. Just launch the app and then tap on the "+" button. You will see all the scheduling options that can choose from including messages, emails, Twitter, and more. Since we want to schedule messages, we will tap on the messages icon.
Once you do that, you can add contacts (single or multiple) and draft your message. Below, you can either decide the exact time of the message or select a time range. Finally, you can set the message to repeat. The time range feature is especially useful if you are sending repeat messages as it sends the message at a random time so that they don't see automated. There's also a button which once checked will ask your permission before sending the message. The app is completely free to use with ads with an in-app purchase option to remove them. If you want all these features, definitely try the app out.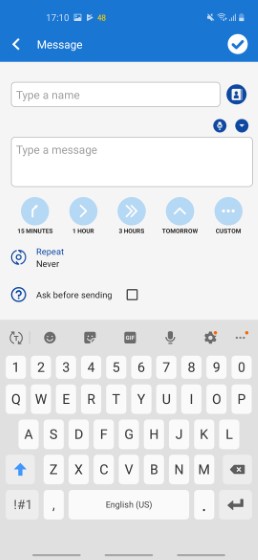 Install: Free, in-app purchases
4. Schedule SMS
If you like your stock Android Messaging app and don't want to switch to another app, you can use this app as an add-on, as this is only used for sending scheduled text messages. To schedule a text message, launch the app and then hit the plus button to start composing the message. Here, you can schedule a message by assigning the date and time to it. The app is very light and quick. However, the UI does feel a little old. The app is free to use with ads. But, the good thing is that you will only see the ads once you hit the send button.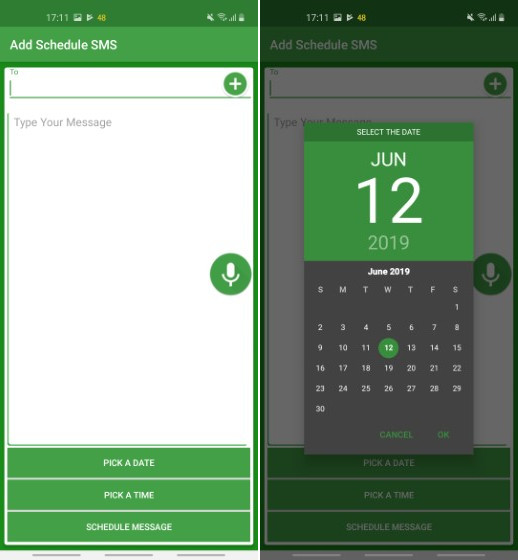 Install: (Free)
Using the Inbuilt Message Scheduling Feature (Samsung, LG, and Xiaomi)
As I mentioned previously, some of the OEMs do include this feature natively. Samsung, LG, and Xiaomi are known to include this feature on their handsets. However, one thing to keep in mind is that not all of their offerings get this feature. Also, if you have purchased a carrier-locked phone, the native integration of this feature will also depend on your mobile carrier.
To check if your smartphone has this feature or not, open any message or conversation inside the native messages app, and tap on the plus button and then tap on "Schedule Message" option. For example, on my Samsung Galaxy M40, when I tapped on the plus button, I got an option to create a schedule message. The picture above depicts the same.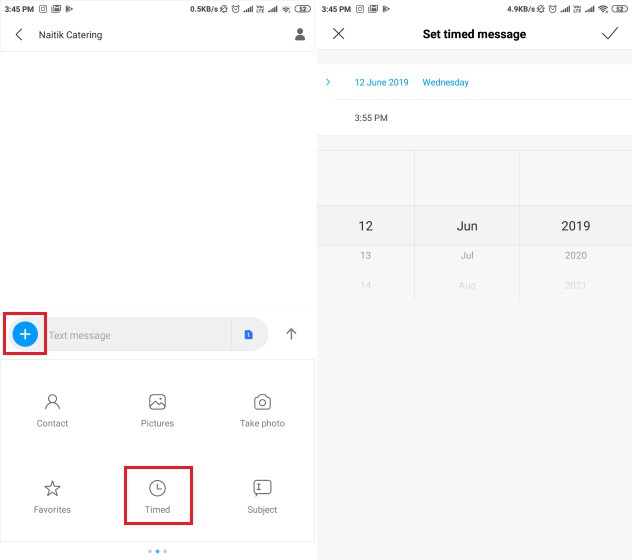 Xioami does it the same way. You will need to hit the "+" button beside the compose window. From here, you will select the "Timed" option to schedule your message. If you cannot find a scheduling option on your Android device by either of these methods, you can do a simple Google search and you will find if your OEM supports it or not. Or you can just use any of the above-mentioned apps to schedule messages.
Note: If your Samsung device has not been updated to One UI, you can find the scheduling SMS feature by clicking on the three-dot menu at the right in the messages app.
Schedule Text Messages on Android With Ease
I cannot tell you how many times I have used this feature to save myself. The human brain (at least mine) has a tendency of forgetting things when it's the right time. Use this app to solve the forgetfulness problem and schedule text messages on Android to deliver them on time. Similary, you can also learn how to schedule messages on WhatsApp. Share with us your stories, when you forgot to send someone an important message at the right time. Also let us know if you know a better app which does the same but is not on the list, in the comment section below.