It's been three years since Google launched its Project Fi service which aimed to change the way users can access the mobile network connection. After being in beta for almost three years, Google is finally thinking of taking the service mainstream. Not only the company has re-branded the service as Google Fi, but it has also made it available for more devices including the iPhones. Google Fi is an excellent service on paper and if you are thinking of making a switch to it but are not sure what you are going to get, then this is the article for you. In this article, we are going to take an in-depth look at Google Fi so that you know what you are getting into. So, here is everything that you need to know about Google Fi.
What is Google Fi?
In our quest to understand Google Fi, let's start with a simple and basic question, "What is Gooogle Fi?". Well, if we are going by definition, Google Fi is a mobile virtual network operator (MVNO) service provided by Google. In layman's terms, what this means is that Google Fi uses pre-existing carrier networks to give its users access to mobile and data connectivity. At the time of publishing this article, Google is using three-different carriers including T-Mobile, Sprint, and U.S. Cellular. Apart from these carriers, Google is also using open and secure WiFi networks around the world to strengthen its already strong presence.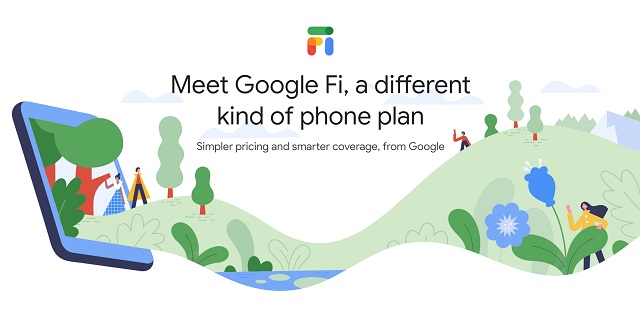 The benefit of using three different carriers is that your phone will always receive constant connection as Google Fi will intelligently switch to the network that is the strongest in your area. When it comes to coverage, Google Fi promises network connectivity in more than 170 countries and territories. That's a great news for people who travel a lot as the won't have to worry about connectivity even when they travel a different country.
How Does Google Fi Works?
As mentioned above, Google Fi uses three-different carriers and millions of open and secure WiFi network around the world to give users access to mobile connectivity and internet access. If your phone is designed for Google Fi, it will be able to switch between these network connections to get you the best possible connection in your current area.
Make no mistake, on the surface, Google Fi works like any other carrier service that you are used to, which means, you will have a number which can receive phone calls and text messages. In fact, you can even bring your current personal number with you to Google Fi. On the flipside, if you get a new number with Google Fi, you can switch it to other carriers if you decide to leave the service. Everything else that I mentioned happens in the background so you as a user don't feel the difference.
Google Fi Supported Devices
There are two kinds of device that support Google Fi. The first is the devices that are designed for Google Fi and can access all the features of the service. The second type is the devices that are not designed for Google Fi but can access some of its services. Basically, the phones that are not designed for Fi will not be able to intelligently switch between the networks automatically. They will also not switch to open WiFi networks automatically. You can still manually do that but only the phones designed for Google Fi supports automatic switching of the networks.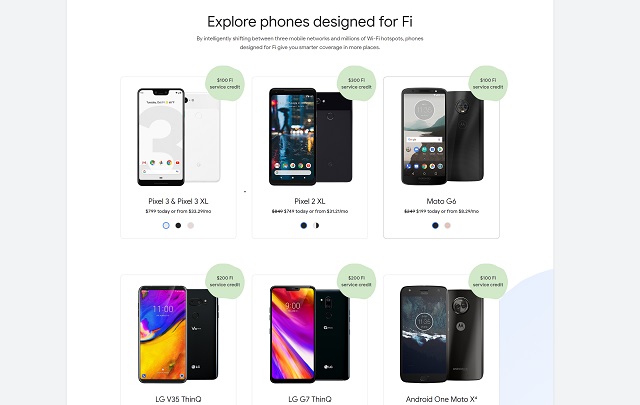 The phones that are specifically designed for Google Fi include the Pixel phones, Moto G6, LG G7 ThinQ, LG V35 ThinQ, and Android One Moto X4. Apart from these phones, there is a huge list of Google Fi phones which support the service which can be checked by clicking here.
Google Fi Network Coverage
As I mentioned before, Google Fi covers more than 170 countries and territories around the world. That said, currently, you can only register for the service if you live in the United States. If you have a Google Fi connection you can travel to any of the 170 countries such as England, Germany, Australia, India, and more and you will receive a constant connection. That said, international roaming rates will apply. We will talk about rates in the coming sections. You can check Google Fi's coverage in the United States by clicking here.
Google Fi Pricing Plans
One of the biggest benefits of using Google Fi is its straightforward pricing plans. While all the other carriers bombard you with a plethora of different pricing plans, Google has made it very simple. The base plan starts at $20/month which includes unlimited domestic calls and messages along with unlimited international messages. You can also add up to 5 more people to your plan for just $15/person/month.
When it comes to data, users play a flat $10/GB fee for up to 6 GB of data. Your bill will be capped at $60 after which you will not be charged no matter how much data you use. Google calls it the "Bill Protection" plan which ensures that you don't pay more than $80/month for data, calling, and texting combined. The best part here is that the billing is done as per 100 MB of data used. So if you used only 1.4 GB of data in a month, you will only have to pay $14 for data and not $20.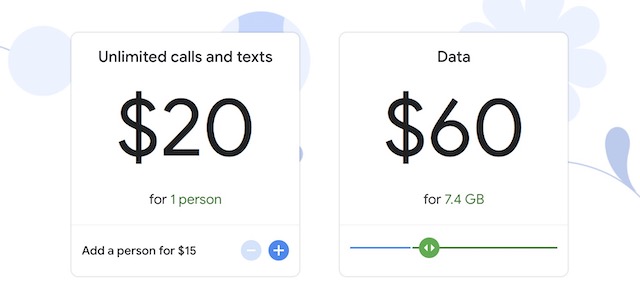 The only restraint here is that Google will slow-down internet connection once you cross the 15 GB of data usage per month. If you hate slow internet speeds and want to keep your access to high-speed LTE access intact, you can keep on paying $10/GB of data after you have consumed your monthly limit of 15 GB data. It's one of the best and certainly the simplest billing plans that you can get from any carrier.
Finally, when you are traveling to a Google Fi covered country or territory, you won't have to pay anything extra for the data that you use. You will only have to pay $.20/minute for any voice calls that you make. Unlimited texting will still be included in the plan.
How to Set Up Your Google Fi Connection
Settings up your Google Fi connection is pretty easy. However, before you start the sign-up process, make sure that you are eligible for the Google Fi program by following the points below:
Make sure that your phone supports Google Fi. You can check the list of supported phones by clicking here.
Make sure that the home address that you enter is in the U.S.
You must also be 18 years or above to apply for a connection. You can provide connection to younger users by including them in your family plan.
You must have a valid Google account to access the service.
Once you have fulfilled the above criteria, follow the steps to set up the Google Fi service on your phone:
First, sign up for the service by going to fi.google.com and signing in with your Google account.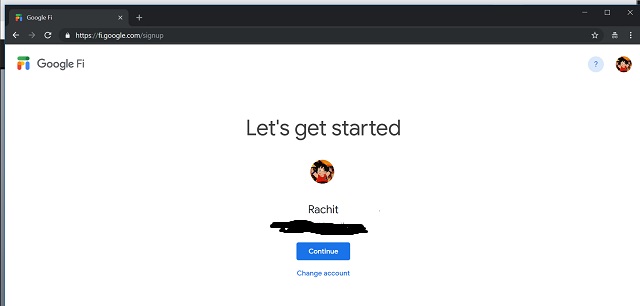 2. On the next page, you can choose to bring your own phone or buy a phone designed for Google Fi. Let's say we want to use our own phone.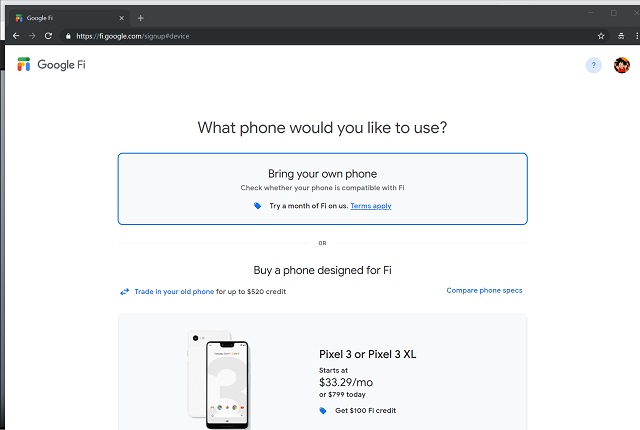 3. Now, follow the steps to verify that your phone supports Google Fi by first selecting the manufacturer and then your phone model.
4. Once your phone model is verified, click on the "Continue with this phone" button.
5. On the next page, Google will show you the plan details. Just click on the "Next" button and accept the terms and conditions.
6. The last thing that remains is to enter your home address and the current number that you are using if you want to port it to Google Fi. If you want to apply for a new number, select the Get a new number option.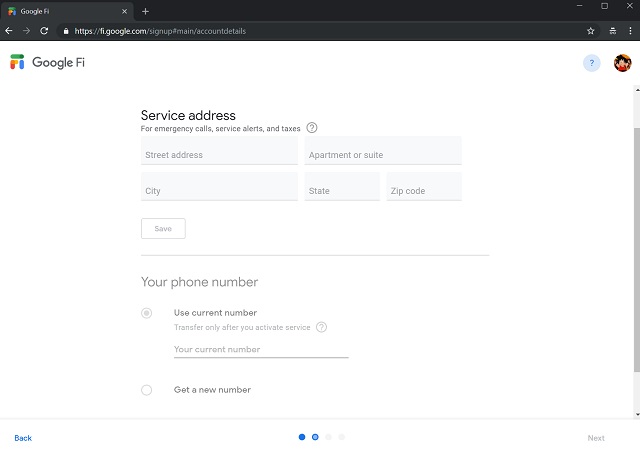 Now, follow the on-screen instructions to complete the sign-up process. After you have completed the steps, your Google Fi kit should reach you within a few days.
SEE ALSO: Netflix Download Limit: What Is It and How You Can Get Around It?
Ready to Switch to Google Fi?
As you can see, Google Fi offers a number of advantages over your traditional carriers. Even if you don't care about its intelligent technology which switches network to get you the best speeds, its simpler billing plan is enough to convert many users. That said, I want to hear from you guys. Do you think Google Fi offers enough benefits to make you switch from your current carrier? Let us know your thoughts in the comments section below.
---
Load More