Google finally gave an indication that its popular Project Fi, which is the company's SIM free mobile service, is going to stick around for years to come. Apart from updating the name of the service from Project Fi to Google Fi, Google has opened the service for a bunch of new devices including the iPhones. This means that the service is finally ready to take off and become mainstream. Till now, Google was treating its Project Fi as a beta program and the service has finally matured enough to be released to the masses. While Google has increased the number of supported devices significantly, not all smartphones support Google Fi, which might be a bit confusing for prospective consumers. In this article, we want to tackle that problem as we show you the list of Google Fi phones. So, here are all the smartphones that support Google Fi.
List of Google Fi Phones
Before we take a look at the list of smartphones that support Google Fi, first let's take a look at the service itself and see if its worth your time or not.
What is Google Fi?
Google Fi which was previously known as Project Fi is a mobile virtual network operator (MVNO) service provided by Google. Basically, Google has tied up with carriers around the world to provide you with a single solution for all your mobile connection needs. So, you don't need to switch carriers if you are thinking of traveling to a place where your current carrier is not supported as Google Fi will automatically switch your connection to another carrier.
Benefits of Using Google Fi
Apart from the obvious benefit of using a single network provider anywhere in the world to get a mobile network connection, Google Fi also offers clear and affordable data plans which makes it easier to know how much the service will cost you. Let's talk about the connection first and then we will move on to the pricing benefits:
Google Fi Connectivity Benefits
Thanks to its tie-up with major carriers around the world, Google Fi allows users to always remain connected to a mobile network and access the internet in more than 170 countries and territories around the world. Also, if you have a phone designed specifically for Fi (for example, Pixel phones), your phone will be able to intelligently shift between the networks to get you the best connection speeds. Also, in future, Google Fi supported phones will be able to automatically connect to millions of secure Wi-Fi hotspots for faster data, calling, and texting.
Google Fi Pricing Benefits
For me, the biggest benefits of using Google Fi is its pricing structure which is both clear and flexible. Unlike carriers which bombard you with hundreds of different price tiers with small plan differences, Google Fi gives you a very simple pricing structure so you are always in control of your bills. It all starts with a simple $20/month plan which gives you access to unlimited calling and text messages. For data, you pay a flat fee of $10 per 1 GB of data.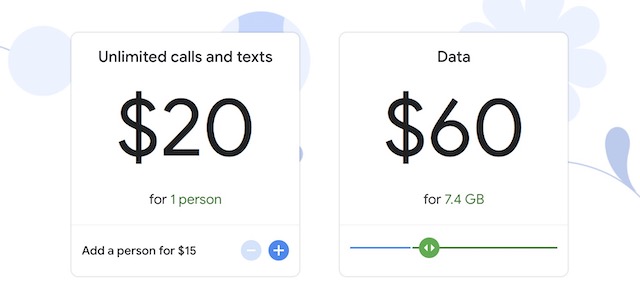 The best part is that your bill is capped at 6 GB which means you won't pay over $60/month for data even if you use more than 6 GB of data. Google does slow down the speed after you have crossed the 15 GB upper limit, however, you still don't pay anything extra. The kicker here is that you don't have to pay any roaming charges even when you are traveling to a different country. As you can see, Google Fi offers the most simplified plan that you can find on the planet.
List of Phones with Google Fi Support (Regularly Updated)
Now that you know a little bit about Google Fi and its corresponding benefits, let's see all the smartphones that are supported by Google Fi. You will see a "Designed for Fi" tags in some of the devices. These devices are manufactured while keeping the capabilities of Google Fi in mind. Basically, the phones that are not designed for Fi will not be able to intelligently switch between the networks automatically. They will also not switch to open WiFi networks automatically. That said, you will be able to manually connect to Google Fi approved WiFi networks.
Note: The list displays the supported devices which were purchased in unlocked conditions. If you purchased a carrier-locked device, click here to confirm if it's compatible with Google Fi or not.
Device Manufacturer – Apple
Device Manufacturer – Google
Device Manufacturer – Samsung
Device Manufacturer – Huawei
Device Manufacturer – LG
Device Manufacturer – Motorola
Device Manufacturer – OnePlus
Device Manufacturer – Nokia
Other Smartphones
SEE ALSO: How to Install Android P Emojis and Fonts on Any Android Device
Here Are the Phones That Support Google Fi
That ends our list of the devices that support Google Fi. Do note that this is an ever-changing list and we will keep updating it as more and more phones are added to the list. Do check out the list and see if your current phone is on the list or not. Also, tell us your thoughts about Google Fi by writing in the comments section below.