Google Analytics is the most widely used tool for measuring and analyzing a website's traffic. According to a report published on TechCrunch, more than 10 million websites use Google Analytics for analyzing their traffic, but the majority of websites are accessing GA's free version only, because its paid version starts from flat $150,000 USD a year, which isn't affordable for all.
So, for those who don't want to use Google Analytics' free version, either because of its limited features, its complexity, privacy issues or any other reason, here I bring some really good alternatives to Google Analytics.
Some of the tools mentioned in this post are completely free, open source or freemium while others offer free trial options and affordable pricing schemes, check them out,
1. Clicky
Clicky offers almost all the features that you will find in Google Analytics, but apart from that, there are a few added features in Clicky which you won't find in any other tool of the same league. Let's find out what Clicky has to offer,
Here's the demo link, in case you want to see how it works.
Why you should choose Clicky over GA?
Easy to use, affordable premium account, and added features like Heatmap and Twitter analytics makes Clicky an all rounder tool for many applications.
2. Piwik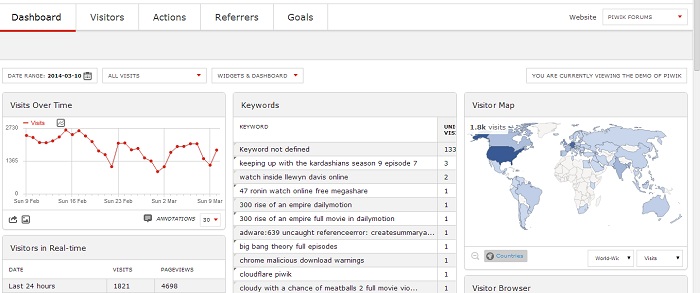 Piwik is a completely free (GPL liscensed) and open source tool, It provides almost all the features that you find in GA, but the plus point is that it works on self hosted servers (unlike GA, which is a remotely hosted service) and hence, It gives complete control over the data which you can access using Piwik APIs. Let's find out the prominent features of this tool,
Why you should choose Piwik over GA?
If you are having privacy issues with GA then the best alternative for you would be Piwik, because first of all, It is completely free, and secondly, It would be installed on your own server therefore you will have complete control over your data.
OpenWebAnalytics is again an open source and completely free analytics tool, very much like Piwik. Let's check out the features of this tool,
Why you should choose OpenWebAnalytics over GA?
Completely free, no privacy issue, since the tool is self hosted, and extra features such as Heatmap and tracking of mouse movement.
4. Kisssmetrics

Kissmetrics is entirely different from Google Analytics or any other tool mentioned in the list, because it doesn't take page views in to consideration. This tool tracks the behavior of people landing on the website.
Why you should choose Kissmetrics over GA?
If you are selling any service/software or you have an eCommerce website then Kissmetrics would be much more helpful than Google Analytics.
5. Mixpanel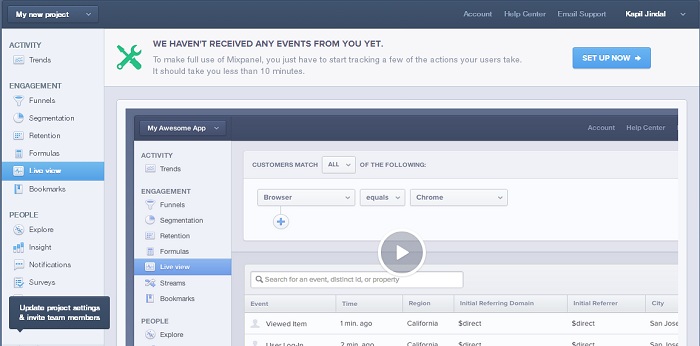 Mixpanel is again an entirely different tool from GA. It doesn't measures the page-views rather it measures the action taken by a visitor.
Why you should choose Mixpanel over GA?
For an eCommerce website or for tracking activity of a visitor, Mixpanel is a much better tool than Google Analytics.
SEE ALSO:
12 Skype Alternatives For VoIP, Video Calls and Conferencing
If you have any suggestion or query, feel free to write in comments.