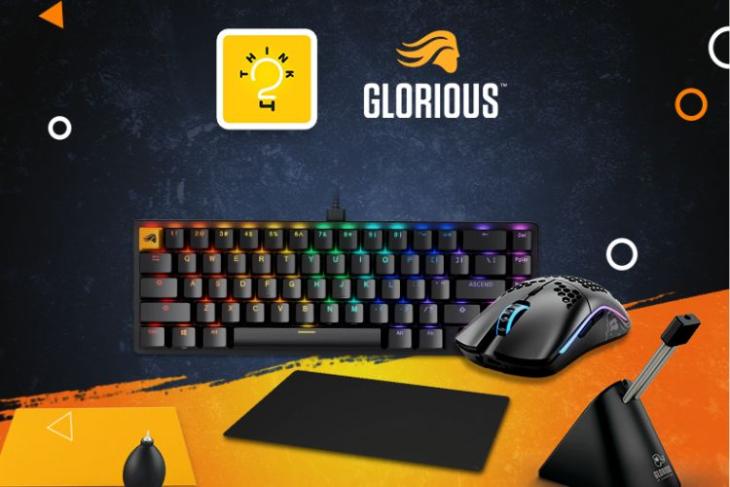 Glorious Gaming, the USA-based peripherals brand, is officially expanding to India. This is great news for PC hardware enthusiasts, as the company has a somewhat unique gaming peripherals product portfolio. They manufacture all sorts of peripherals and cater to the needs of PC enthusiasts. Glorious Gaming is launching a series of mousepads, keyboards, and mice (along with other PC accessories) in the country today.
The authorized retailer for Glorious Gaming products will be Think 24 India, which is a subsidiary of WB Technologies (Kuwait-based IT distributor). The products will be available to purchase via Amazon India, Flipkart, and a few selected retail locations.
The product portfolio offered by Glorious Gaming is impressive. This includes their highly specific mouse shapes available across different gaming mice, mousepads made of unique materials, and mechanical keyboards with Glorious-exclusive mechanical switches. In terms of other PC hardware accessories, they also offer wrist rests, keycaps, mechanical switches, coiled cables, mouse feet, bungees, and more.
Esports games have been officially recognized as a "multi-sport event" by the Indian government, and the competitive video gaming industry in Asia (along with the rest of the world) is definitely moving forward at an ever-growing pace. This has increased the product demand for gaming accessories since the number of professional & casual gamers who want these products is increasing every day. The gaming accessories industry has a forecasted projection of $14.4 billion by 2030, as per a market report by Allied Market Research.
Here's what B N Suramani, the Business Development Manager of Think 24 Trading India, said regarding the launch of Glorious Gaming peripherals in India: "What sets Glorious Gaming apart is their best-in-class variety of products that offer gamers the freedom to design their ideal gaming experience. The keyboards, mice, and mousepads allow each and every user to enjoy gaming to the fullest. We are committed to providing the premium products of Glorious Gaming in order to cater to every gamer's diverse needs."
As for those wondering about after-sales support, you can contact Think24 here for sales inquiries or product support, which now includes the Glorious Gaming brand.