One of the things players look out for before a new Genshin Impact version arrives is how many primogems they can get from the version so that they could wish for their favorite characters in the game, especially if they're free-to-play players. Genshin Impact 4.0 has arrived and now's a good time to talk about how many Primogems you can save in 4.0 to wish for your favorite character or weapon. Here's the total amount of primogems you can get in Genshin Impact version 4.0.
For those new to the game, Primogems is Genshin Impact's main currency to get limited characters and weapons. Using Primogems and a bit of luck, you can wish to obtain characters from both Limited and Permanent banners (never pull on permanent banners using Primogems). There are many ways to earn Primogems — completing Quests, opening chests, exploration, events, gifts from Hoyoverse, web events, etc. If you are confused, check out our guide on how to redeem free Primogems in Genshin Impact.
Genshin Impact 4.0 Total Primogems Count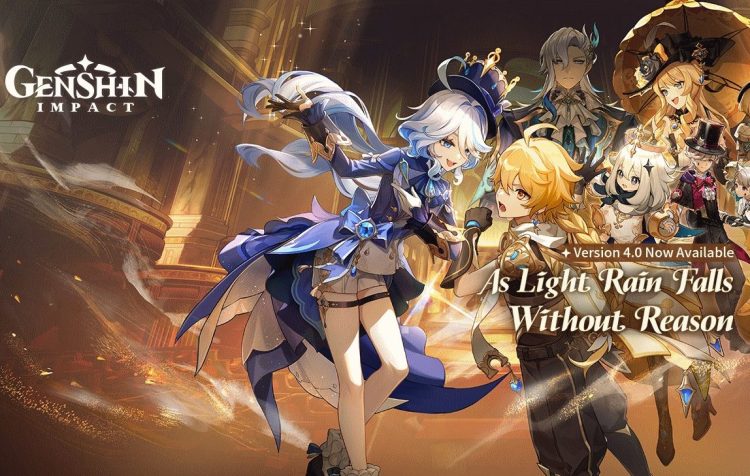 In Genshin Impact 4.0, you could get 13,000+ primogems by participating in new events, opening new chests in Fontaine, completing the Archon and World quests, and completing daily commissions, and achievements. To sum it up and for the short answer, here's the number of primogems you can get in Genshin Impact 4.0.
Free-to-play players can get a total of 13,340 primogems which translates to 83 Intertwined Fates.
Players with Welkin Moon can stack up a total of 17,540 primogems which translates to 109 Intertwined Fates.
Finally, those with Welkin Moon and Battlepass can obtain a total of 18,860 primogems or 117 Intertwined Fates.
Here's a comprehensive breakdown of how we claim these Primogem figures. The data was taken from Hu Tao Lover, one of the most popular leakers in the community. Also, since the info about the events and quests is already here, we can take our guesses and arrive at a number.
| Event/Quests/Exploration | Total Primogems |
| --- | --- |
| 4.0 Exploration (Quests, Chests, Statues, Waypoints, Domains) | 4285 |
| Limited Content (Events) | 2160 |
| Dailly Commissions | 2520 |
| Stardust Exchange | 800 |
| Test Runs | 80 |
| Spiral Abyss | 1800 |
| Achievements | 515 |
| Tutorial | 30 |
| Hoyolab Login Bonus | 80 |
| 4.1 Livestream | 300 |
| 4.0 Update maintenance | 600 |
| Codes | 60 |
| Web Event | 80 |
| Total | 13,310 |
Do note that the calculations are for both phases combined. The big number comes out to be over 13000 primogems considering you participate in the events, complete Fontaine's Quests and Fontaine's Map exploration while completing daily commissions and getting all the achievements. Again, Genshin Impact 4.0's total primogems count depends on how actively you complete the things mentioned above.
13000 primogems is 81 Intertwined Fates, hence 81 wishes, which can get you a limited event character from the Genshin Impact 4.0 character and weapon banners. Considering you started saving a month before Fontaine, you could have over 20,000 primogems or over 115 wishes for the next banners that will feature other Fontaine characters. Perhaps you'd be pulling for Lyney or Yelan or will be waiting for other characters? Let us know in the comments section below.