Genshin Impact is one of the most successful action games right now, and it's all set to get even more content and people excited with a new area in the upcoming version 4.0. The two-time award-winning game for the best ongoing game recently revealed a few details about the upcoming region Fontaine, the nation of justice, and the information is pretty sweet. Now, in an official stream, HoyoVerse has confirmed many details, so here's a compilation of everything you need to know about Genshin Impact 4.0 Fontaine.
Genshin Impact 4.0 Release Date and Trailer
Considering the Genshin Impact 3.8 release arrives on July 5th, everything goes according to the schedule, and each patch is 42 days long, you can expect the Genshin Impact 4.0 release date to release on the 16th of August. Check out our Genshin Impact 4.0 release date and time countdown to know when the update will arrive in your region/country.
Here's the first trailer of Genshin Impact 4.0 Archon Quest "As Light Falls Without a Reason."
Genshin Impact 4.0 Banners
The first half of Genshin Impact 4.0 banners will feature the sibling duo from Fontaine — Lyney and Lynette, and Yelan. Lyney is a 5-star Pyro Bow user and Lynette is an Anemon Sword user. The second half will feature Zhongli and Tartaglia.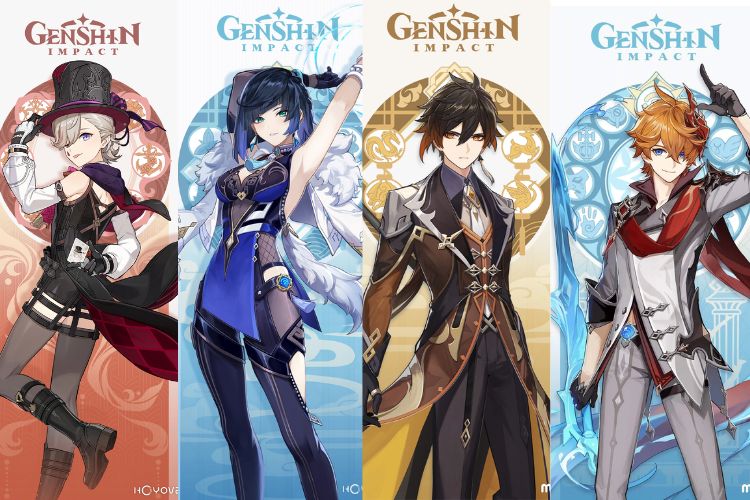 As for the four stars that will appear on the banner, the first half will feature Lynette, Sayu, and Xingqiu, whereas the second half will feature Freminet, Noelle, and Xinyan.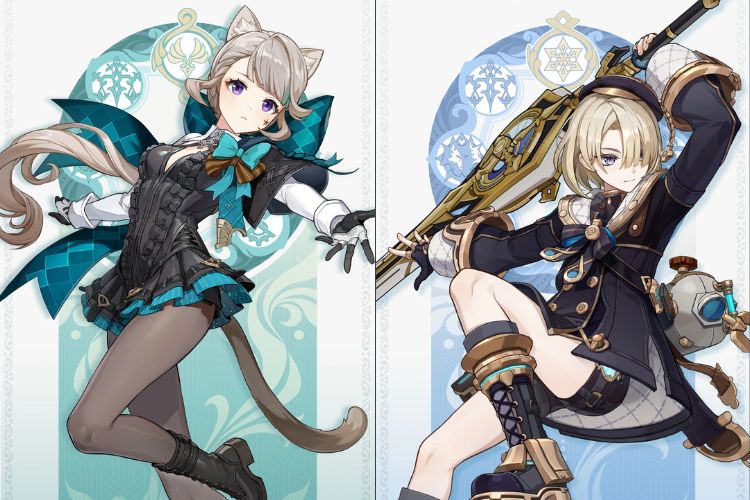 Genshin Impact 4.0 Upcoming Characters
Lyney
Lynette
Freminet
Wriothesley
Neuvilette
Chlorinde
Furina
Clorinde
Navia
Sertice
Sigewinne
One of the things that players look forward to the most in new versions are the upcoming characters pertaining to the new region, and most of them will arrive as the Fontaine story progresses and a bunch of them will arrive in the subsequent 4.1, 4.2, and 4.3 updates.
Lyney and Lynette were the two characters that were first introduced in the Teyvat Chapter Storyline Preview video, and they're the first bunch of Fontaine characters who'll meet us as we travel to the Nation of Justice in the Genshin Impact 4.0 update. Lyney is a 5-star Pyro Bow user, whereas Lynette is a 4-star Anemo sword user.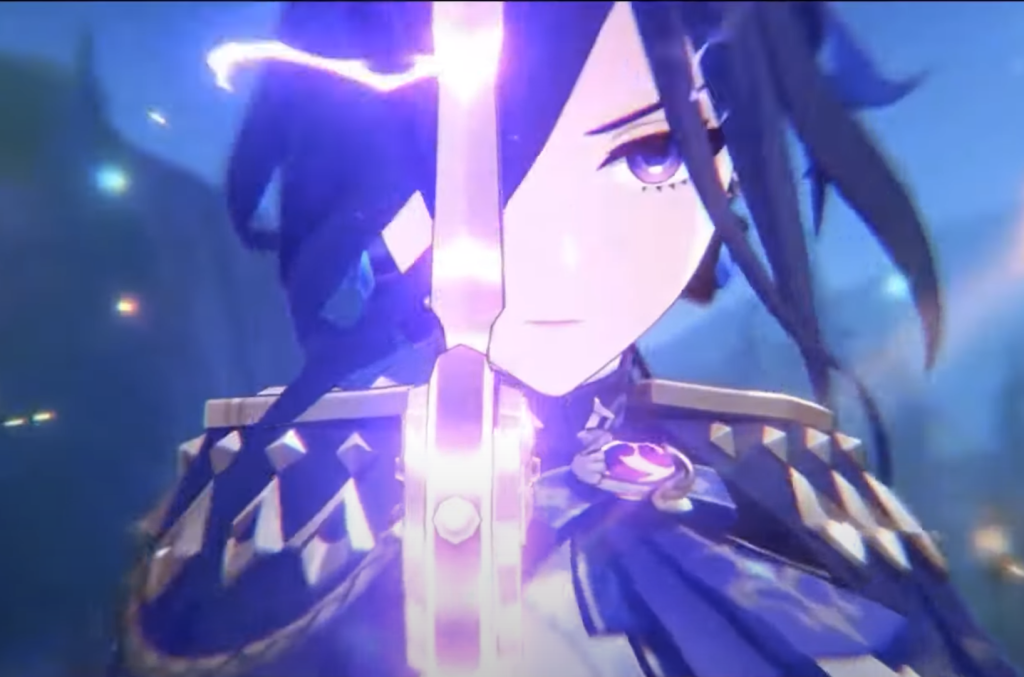 Besides, we'll also see the likes of Focalors, Childe, Navia, Neuvilette, Charolette, and Chlorinde in the Archon quest as it's scheduled to run three versions until 4.2.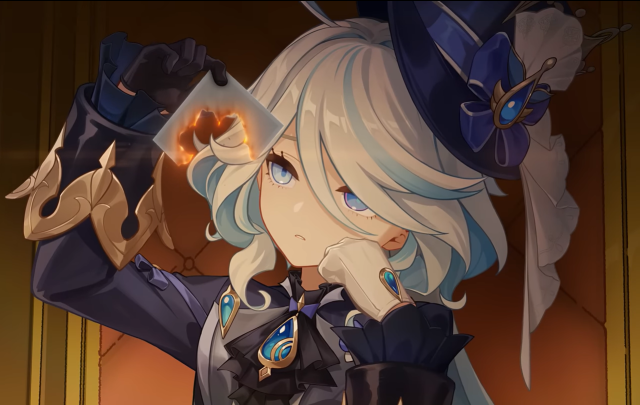 The Hydro Archon aka Focalors aka Furine will be a sword user as previous leaks suggested, and she'll be a support/buff character debuting soon in the 4.2 updates, according to the leaks. Again, since the information has leaked almost four months before Fontaine, which is enough time for Hoyoverse to change the course of character releases, we suggest you take this info with a pinch of salt. It looks like Navia will also be playing a huge role in the Archon quest.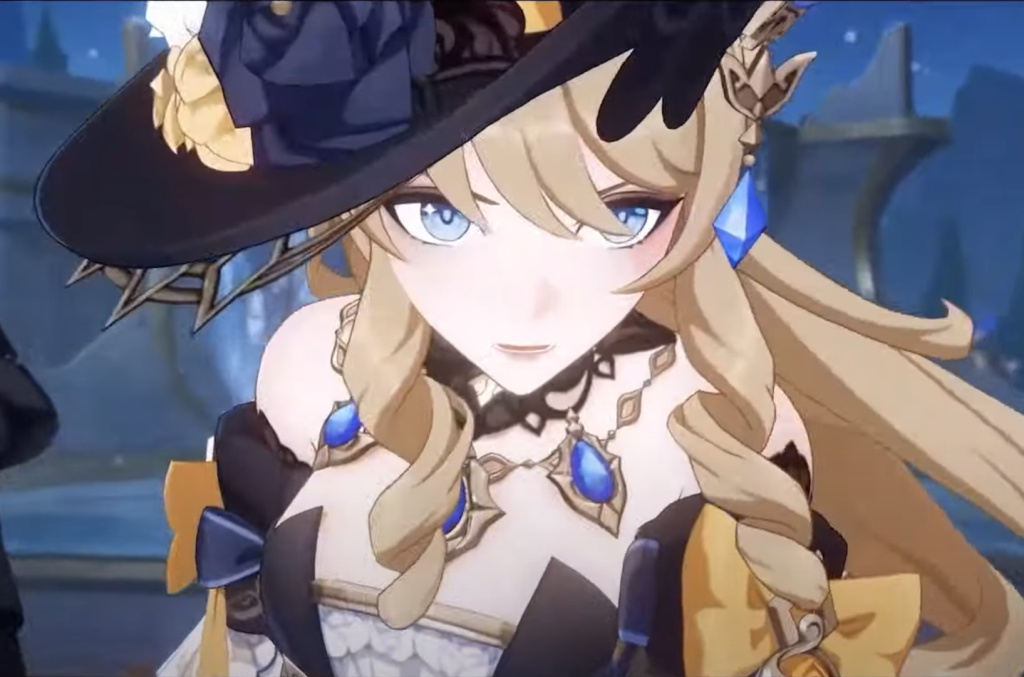 Besides Fontaine characters, there are also a few characters appearing from Sumeru, Inazuma, Liuye, and Mondstadt. Also, Arlecchino, one of the 11 harbingers of the Fatui, should be making her debut in Fontaine, just like Wanderer (Scaramouche) debuted in Sumeru.
She's supposedly a Sworld-wielding 5-star character (of course) with Pyro delusion (rumored). However, there's still not enough evidence to suggest that she'll be a playable character, although, going with Hoyoverse's track record, she could be playable in 4.6 or 4.7 updates, which also tells us she will not be playable this year.
Other leaks and rumors reveal a few things about Arlecchino and the future of the Fatui Harbingers both lore-wise and playability-wise. Some of the recent TC (Theorycrafting) folks predict that the Northern region of Mondstadt which was due to release in the Genshin Impact 4.3 (according to leaks) is delayed. Instead, it will be replaced by Port Baydha in Sumeru, which will take us to Fontaine. As lots of NPCs suggested, there are many ways to Fontaine.
According to TC, Arlecchino will be playable and the overall lot is a bit abstract at the moment. AHQ predicts not all Harbingers will join the playable pool and, **Spoiler alert** some are going to die in Genshin Impact 4.0. As for her kit, a leak suggests it'll be related to "puppeteering."
---
The 4.0 live stream didn't reveal much about characters other than the sibling trio, hence we'll still have to hold on to leaks about the Hydro traveler. Coming from a reliable source, Hydro Traveler's kit has leaked and it looks pretty promising.
A long time ago, during the previous Lantern Rite in version 3.4, stories of Madame Ping, Guizhong, and Cloud Retainer were revealed, and immediately after, players started demanding playable Madame Ping, Cloud Retainer, and Guizhong characters. Players who wanted the same to happen, rejoice! Reliable leakers "Hutao Lover" and Uncle suggest the three of them will be playable later in the game.
Genshin Impact 4.0: Events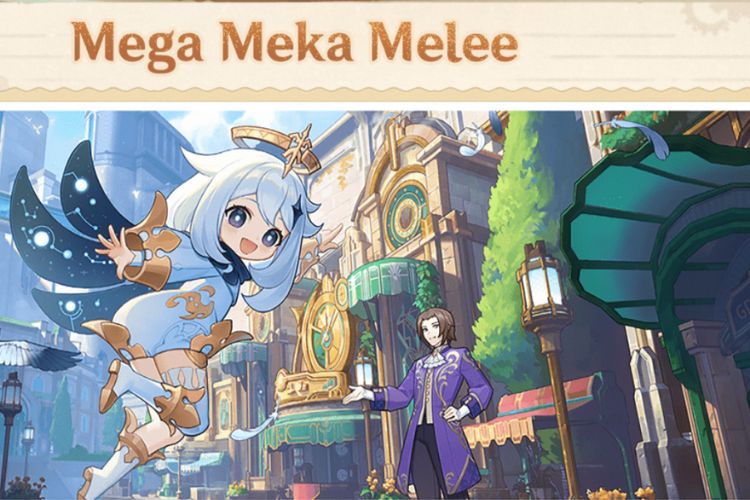 The main event in 4.0 will give players a free Bennett. This is also presumably because Bennett buff characters and Lyney is supposed to be a Pyro DPS and will go well with Bennett (?). Players with adventure rank 25 and above will also be getting a free Lynette. Here are all the Genshin Impact 4.0 Events.
Mega Meka Melee – Underwater Parkours, Combat Challenge, and Rhythm Game
Relic Records: Creations of the Hydro Nation – Exploration and Collection Challenge
Studies in Light and Shadow: A Fontaine of Enchantment – Photography Challenge
Verdict of Blades – Combat Challenge
Lay Line Overflow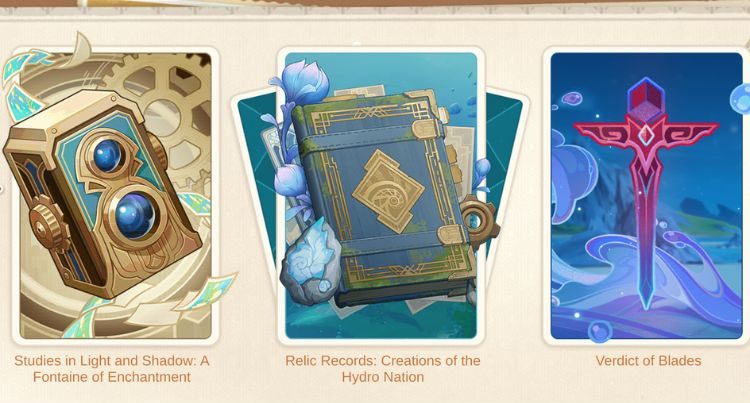 Genshin Impact 4.0 Fontaine Weapons and Artifacts
In Genshin Impact 4.0, we'll be getting The First Great Magic, Lyney's signature weapon, and the first Fontaine weapon to set foot in the game. Besides, we also have a four-star weapon which is a sword, presumably for Lynette and it's called Fleuve Cendre Ferryman.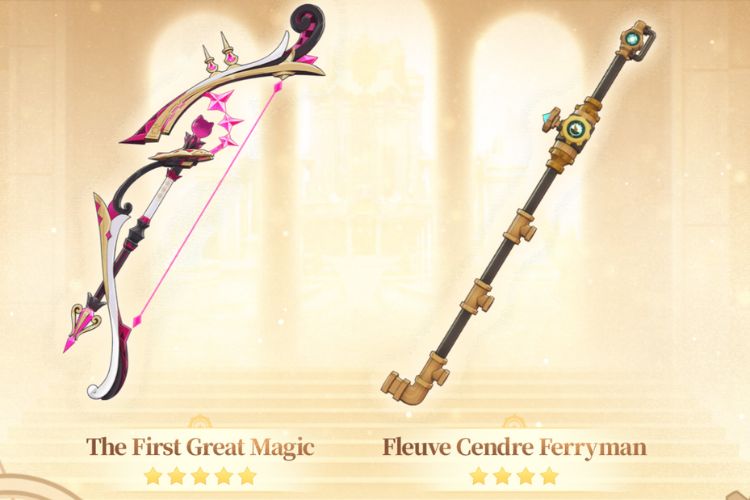 Besides, there's another set of weapons that could possibly be craftable weapons and their names are Flowing Purity, Finale of the Deep, Rightful Reward, Tidal Shadow, and Song of Stillness. The stats of the same are still unknown but 4.0 isn't that far.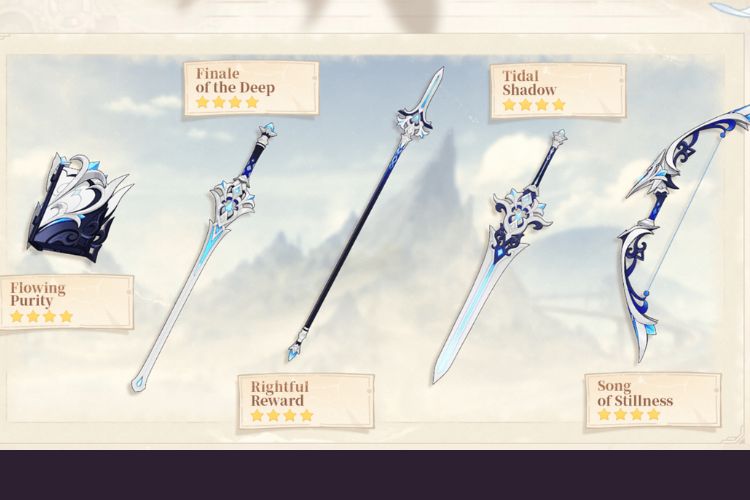 We are finally getting a new set of battle pass weapons, and like the existing ones, all of them scale off of Crit percentage. The names of the weapons are Scion of the Blazing Sun (Bow), Wolf-Fang (Sword), Talking Stick (Claymore), and Ballad of the Fjords (Polearm).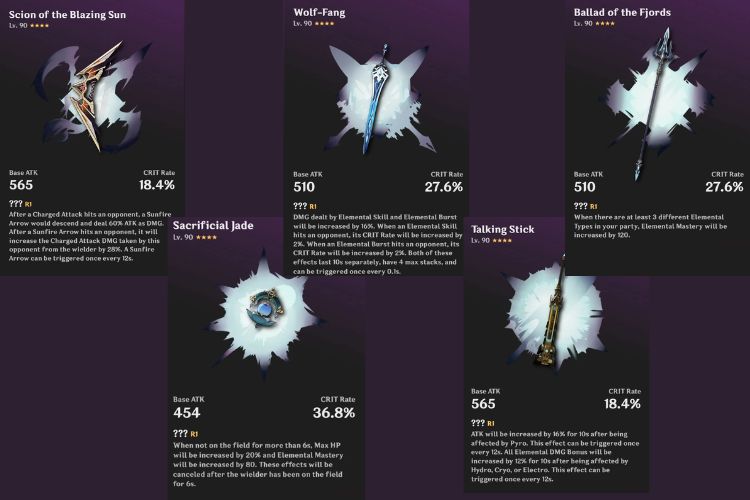 As for the artifacts, there are two new ones — Marechaussee Hunter and Golden Troupe. The former gives the character 15% increased attack damage and increased crit rate, whereas the latter increases Elemental skill damage by 20% and 25%. Marechaussee Hunter is a great artifact set for Lyney.
Genshin Impact 4.0 Fontaine Map
Previews of the underground maps have been revealed in the Genshin Impact 4.0 live stream but it's still unknown as to which one belongs where. The Nation of Justice is located more toward the north of the desert, and while there's still no official map, we saw from the leaks that there is a lot of space between Sumeru and Fontaine. Perhaps, the upcoming areas of the map will fill the void.
That said, the Fontaine map looks relatively smaller or arguably the same size as Sumeru's rainforests. It's pretty much confirmed that the point of entry is more than one and different places should all lead to Fontaine. One of them is where we meet the injured Fontaine NPC Julien.
---
Hoyoverse pushed a new trailer which gives us our first glimpse at the inner construction of the court in the nation of wisdom, alongside the first official appearance of Focalors, the Hydro Achon, Wriothesley, the police officer, Neuvilette, the president of the supreme court, Charolette, Waghild, the nurse, and Navia, associated with the navy. Besides, we also got a brief look at Arlecchino, one of the upcoming playable harbingers.
---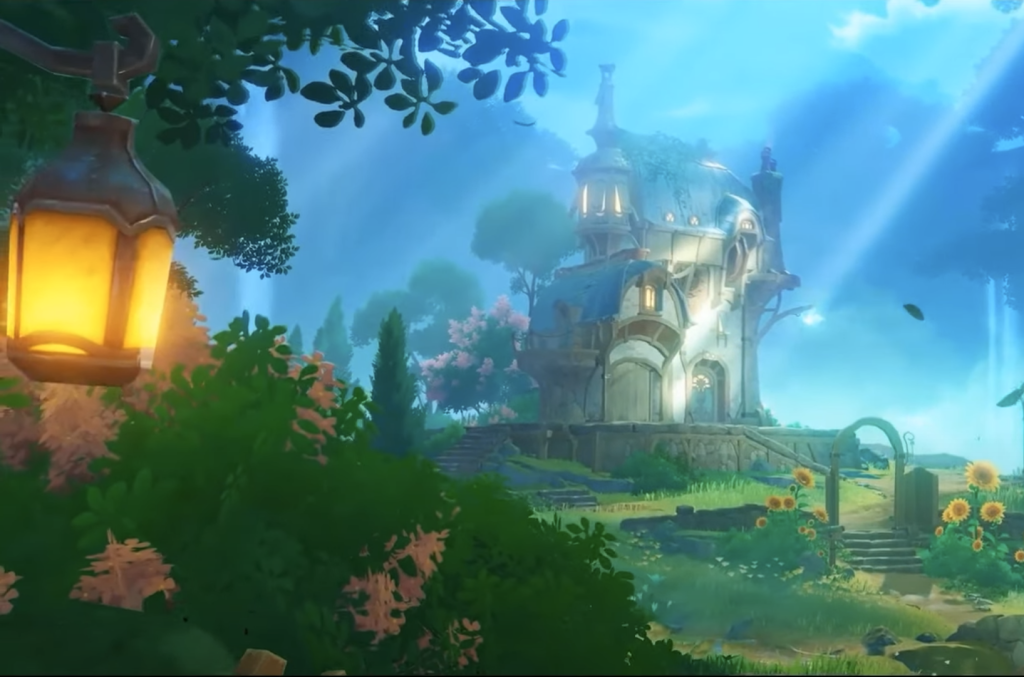 Fontaine's exploration will be both on the ground and underwater. Characters will have an oxygen bar underwater and can stay underwater for some time. It's not confirmed if this will be fixed throughout the game or will increase based on the statue of the seven's level, or if it will depend only on the level of Fontaine's statues. It's distinct and blue in color. The official images give us a good look at underwater exploration.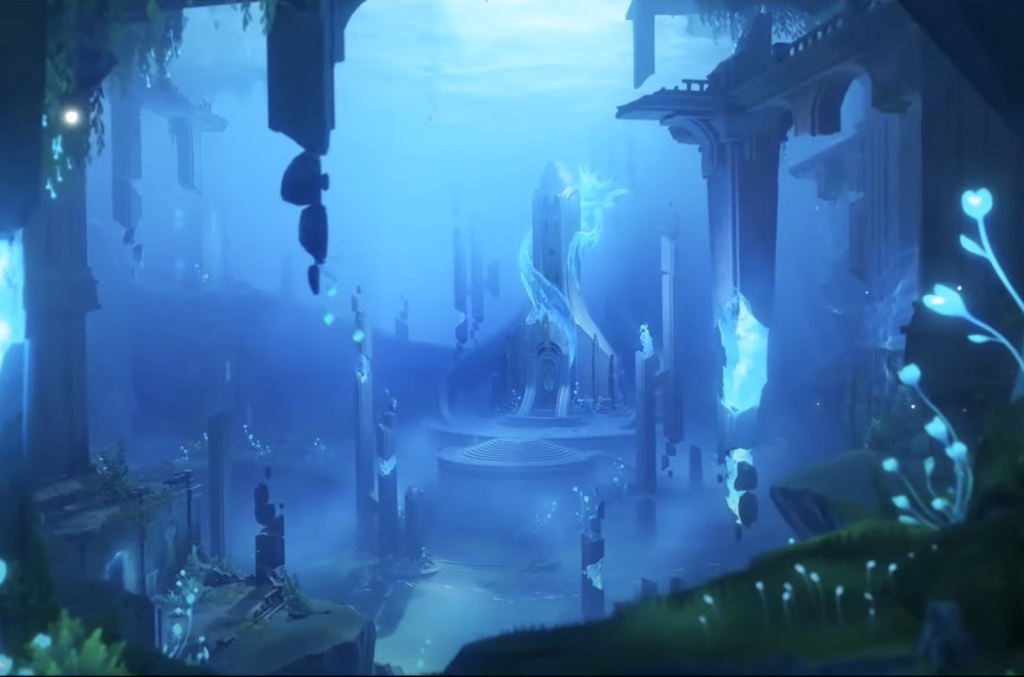 As for the main region on the ground, there are two parts to this — the region above with the Fontaine court and high-rise buildings where the rich people reside, and the underground region occupied by the poor people of Fontaine.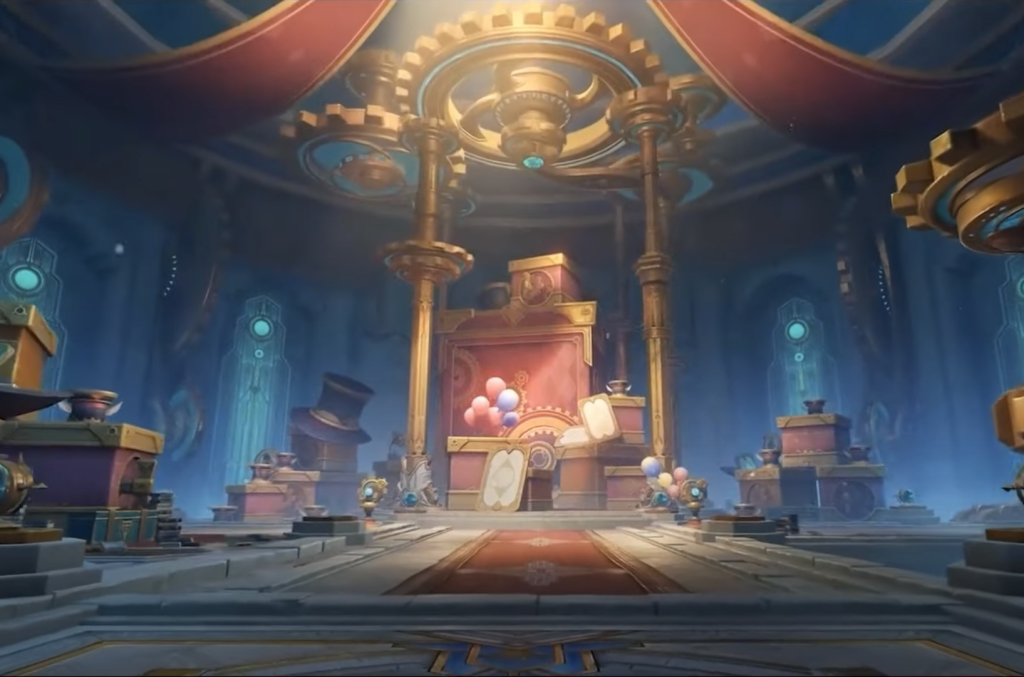 It doesn't rain in Fontaine, but **spoiler alert**, the Archon quest preview suggests that Fontaine is sinking due to some factor. The 4.0 trailer opens by Navia saying "It's raining."
In another leak by a reliable person, here's a version-wise release schedule of Fontaine areas. Although, not much was revealed about these during the live stream.
4.1: Prison
4.2: Research Institute
4.6 Dungeon
Genshin Impact 4.0 Fontaine Exploration Mechanics
The teaser showed us the Traveler using his Hydro abilities which he'll probably gain by touching one of the statues of the sevens in the nation. Since the teaser showed us the traveler exploring the underwater realms, this led a lot of people into believing that it may not be possible to explore with other characters. However, that doesn't seem to be the case as revealed by one of the prominent Genshin leaker StepLeaks.
As for what the Traveler is doing underwater, releasing slashes to unlock chests, it doesn't look like their ability but rather a gadget, or a universal exploration mechanic that becomes active as soon as a character goes underwater.
Not much is known about the exploration and not much was shown in the 4.0 live stream since we're still one month away from Genshin Impact 4.0 release. However, more things should unwind as we get closer to the official release.
Genshin Impact 4.0 Bosses
Genshin Impact 4.0 live stream confirmed two bosses: One of them gives Azdaha vibes and the other one is a dual boss like the Bathysmal Vishap Herd. The name of the dual boss is Icewind Suites and the orange boss is Emperor of Fire and Iron.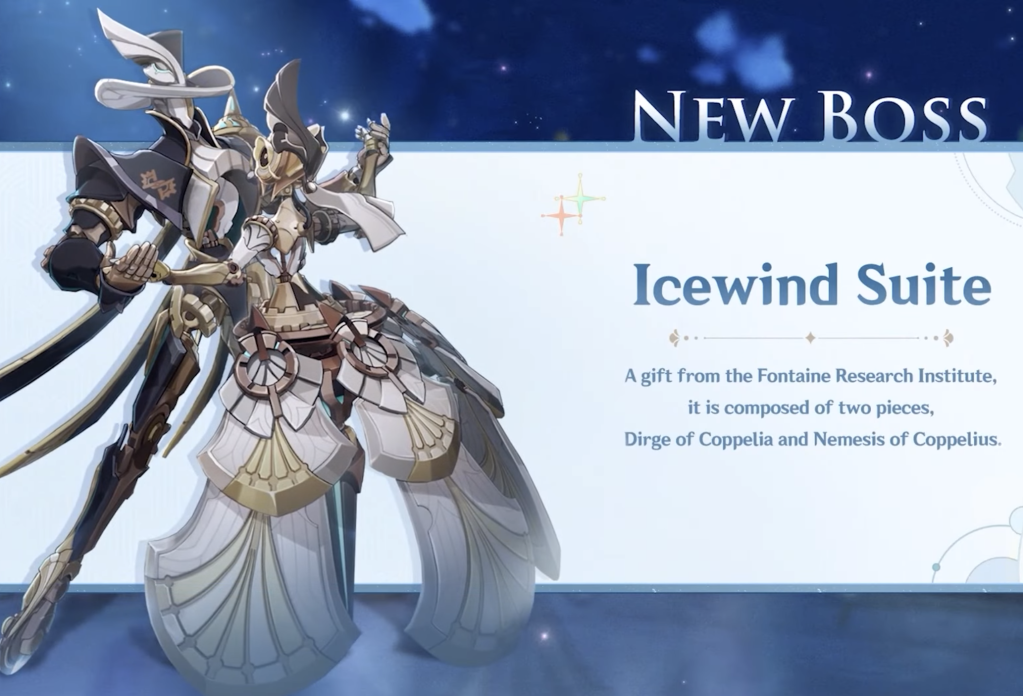 While the purpose of materials from the first boss is still unknown, the second one will drop ascension materials for Lyney.
Genshin Impact 4.0: New Features and Upgrades
A few new quality-of-life features were added in version 3.8, and it looks like Hoyoverse is not done yet. Here are the changes coming later in Genshin Impact 4.0, according to the leaks.
Increased Inventory Storage Limit
Following 4.0's release, the storage limit of Artifacts will be increased from 1500 to 1800, which is quite a bump. This should give you more space to farm for upcoming Fontaine artifacts, which have also surfaced in a recent leak.
New Artifact Strongboxes
A new leak suggests that we might be getting new artifact strongboxes — Tenacity of the Millelith, Shimenawa's Reminiscence, Pale Flame, Husk of Opulent Dreams, Vermillion Hereafter, Echoes of an Offering, Ocean-Hued Calm, Emblem of Severed Fate. It should become easier to farm for required artifacts by giving away the ones that are of no use to you. Pretty sweet.
Observe TCG Duels
Another great addition to Genshin Impact 4.0 is the feature that allows players to watch TCG duels of their friends. Although, if you don't want people to check out your hidden strategies you could disable this feature and make your duels private.
New Party Animations
Genshin's party UI has been pretty tasteless, but not for long! Leaks suggest that version 4.0 should bring changes to the "Edit party" UI and new animations to the characters that join your party.
Although, the new animations seem to be limited to certain characters for now. Either way, we suggest you take this information as a grain of salt.
A new leak gives us new information about the upcoming party UI, and it looks like players can change the background of the same. Here's how it looks.
Frequently Asked Questions
When will Genshin 4.0 release?
Genshin Impact version 4.0 is all set to release on August 16th
Will Arlecchino be a playable character?
There's no official confirmation from Hoyoverse if Arlecchino will be playable; however, more leaks point toward her being a playable character in the future.
What are the characters in 4.0 banners?
4.0 will feature Lyney as a 5-star character and Lynette as a 4-star character. Besides, there's it will also feature Yelan, Zhongli, and Childe with their signature weapons.
Who is on the 4.0 banner in Genshin Impact?
Genshin Impact 4.0 banners will have Lyney and Yelan in the first half and Zhongli and Childe in the second half.