Genshin Impact 4.0 was finally announced in a live stream a few days ago and it brings a new region Fontaine, the nation of justice, new characters, quests, and a few limited time character banners with new characters and old character re-runs. Given the long list of Fontaine characters, expect lots of banners in the future too. Although, here's how things are kicking in with Genshin Impact 4.0 banners.
How do Genshin Impact Banners Work?
New character banners in Genshin Impact with two exclusive characters would be added to each version. There'd be two phases, each lasting 15 days and one phase having just one banner.
However, as the character rooster grew and players demanded reruns of their favorite old characters, Genshin Impact added a second banner in each phase and now two exclusive characters appear in each phase. The pity is shared, meaning, if you're at 40 pity and wish on banner one, a wish on banner two would count as your 42nd wish.
Each Genshin Impact version lasts 42 days give or take and that time is equally divided between both the character banner phases, i.e., 21 days or three weeks for one phase and the same duration for the other banner. Although, there has been an instance where new banners weren't added and players were stuck with the Ayaka banner for months, and that was due to the Covid breakout in China.
As for the weapon banner, each phase still only has its own weapon banner with the signature weapons of both characters in each phase. Besides, the permanent banner remains the same.
Genshin Impact 4.0 Banners
| Phase | Characters/Weapons | Start and end date |
| --- | --- | --- |
| Phase 1 | Lyney, Yelan / The First Great Magic, Aqua Simulacra | August 16 – September 6 |
| Phase 2 | Zhongli, Childe / Vortex Vanquisher, Polar Star | September 6 – September 27 |
| Phase 1 / Phase 2 four-star characters | Lynette, Xingqiu, Sayu / Freminet, Noelle, Xinyan | August 16 – September 27 |
Like in the previous banners, Genshin Impact 4.0 banners are divided to appear in two phases. The live stream revealed that phase 1 will feature Lyney and Yelan along with Lynette and two other four-star characters Xingqiu and Sayu. This phase will last for 21 days and is expected to end on 6th September. It will be replaced by phase 2 characters starting September 6.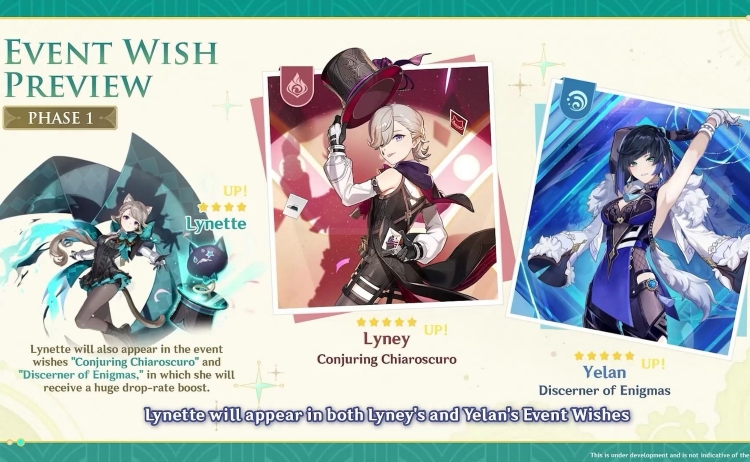 Phase 2 will feature character re-runs of Liyue characters Zhongli and Tartaglia (Childe) starting September 6 to September 27 alongside the four-star characters Freminet, Noelle, and Xinyan.
As for the signature weapons for phase 1, they're The First Great Magic and Aqua Simulacra. The phase 2 weapon banner should feature Zhongli's and Childe's signature weapons — Vortex Vanquisher and Polar Star. As for the four-star weapons alongside them, they're still unknown.