In today's fast-paced digital world, our iPhones have become an indispensable part of our lives. They help us stay connected, informed, and entertained, making them more than just a phone; they are lifeline. But, there may come instances where your iPhone can suddenly fall victim to the dreaded "iPhone 14 black screen of death." Yes, it does feel like a heart-stopping moment considering the cost of a new iPhone. If your iPhone's screen has suddenly gone black, you've arrived at the right place. This post provides step-by-step troubleshooting tips to revive your cherished device, and why this problem occurs.
Note: This post is sponsored by TensorShare, the creators of the ReiBoot – iOS System Repair & Recovery tool. We thank them for sponsoring this post.
iPhone Black Screen of Death Causes
The iPhone black screen of death is a perpetual issue that has baffled countless iPhone users. It's that moment when your once vibrant-looking iPhone screen goes pitch black, refusing to respond to your touch or voice commands. While there are ways to fix this issue, which we have explained below, the real question is, why does this issue occur in the first place?
Here are some possible causes:
Software Glitches: A minor or major software glitch can often make the iPhone display go black. This might be due to an issue with software updates, apps, and other system problems.
Hardware Problems: Physical damage to your iPhone's screen, internal components, or water exposure can lead to the black screen issue.
Battery Drainage: There are times when your iPhone battery is completely drained; this way, it will not have any power to display anything on your iPhone screen.
Malware or Virus: Although the chances of this happening are very thin, your iPhone can get affected by malware or viruses that can disrupt its normal functioning or potentially cause the iPhone's black screen of death.
Jailbreaking: While Apple has always advised against it, many users still jailbreak their iPhones to gain unauthorized access. This can cause instability and software issues, resulting in a black screen.
Tips to Fix iPhone Black Screen of Death
Now that you know the possible reasons why your iPhone's screen has suddenly gone black, it is time for you to try our troubleshooting tips to combat this issue. Here's how you can fix the iPhone 14 black screen of death:
1. Check your iPhone's Brightness
Does the Siri on your iPhone seem to respond to your voice commands, but the screen feels like your iPhone has become a victim of the black screen of death? While this can occur due to a software glitch, there is also a high probability that the brightness level of your iPhone has fallen too low that the screen has become completely dark. So, before trying out any other method on this list, we suggest you check if the black screen of death on your iPhone is due to the brightness level.
2. Charge your iPhone's Battery
Your iPhone's battery capacity gradually diminishes with regular use, which results in a decreased battery life. Eventually, a time may come when your iPhone's battery becomes incapable of providing enough power to keep your iPhone functioning, leading to various issues, the black screen of death being the most prominent one.
To fix this issue, connect your iPhone to a power source using only an Apple-certified cable and adapter, and leave it to charge for at least 15 to 30 minutes before trying to power it on. If battery draining was the issue, the iPhone should start normally; it is time for you to replace your iPhone battery.
3. Check for Physical Damage
Carefully inspect your iPhone for any sign of physical damage, such as cracks or dents on the screen if you have the iPhone dropped now screen is black, or even for water damage, as physical or water damage is the biggest enemy of your iPhone. If you find any damage after inspection, it might be why your iPhone's screen has gone black, and we suggest you opt for a professional repair at the earliest.
4. Use a Third-Party Repair Tool like Tenorshare ReiBoot
If the above-stated solutions solve your issue, it is well and good, but if this black screen of death iPhone keeps coming back to haunt you, then you need an iOS repair and recovery tool like Tenorshare ReiBoot. The app is available on both Mac and Windows and can easily resolve your most common iPhone concerns. While the app is free, you will need to upgrade to the premium version to access advanced features.
Once you connect your iPhone to your Mac or Windows PC, the ReiBoot application scans your iPhone to detect any possible issues that could cause the black screen of death. In some instances, the app will fix the issue immediately or it will walk you through a step-by-step recovery process for other issues.
One of the most appealing features of Tenorshare ReiBoot is that it lets you recover your device without causing any data loss. This is an important feature, given that, in most cases, you might have to factory reset the iPhone to restore it.
Here's how you use Tenorshare ReiBoot on your Mac or Windows PC to fix the black screen of death iPhone 12:
Download the Tenorshare ReiBoot app on your Mac.
Connect your iPhone to your Mac using an Apple-certified lightning cable. Unlock the iPhone if it is possible.
Now, open the ReiBoot app, and click the Start button on the app's home screen to start the iOS repairing
Here, choose and click the Standard Repair tab. Make sure not to choose the Deep Repair method, as you will lose all your iPhone data if you do so.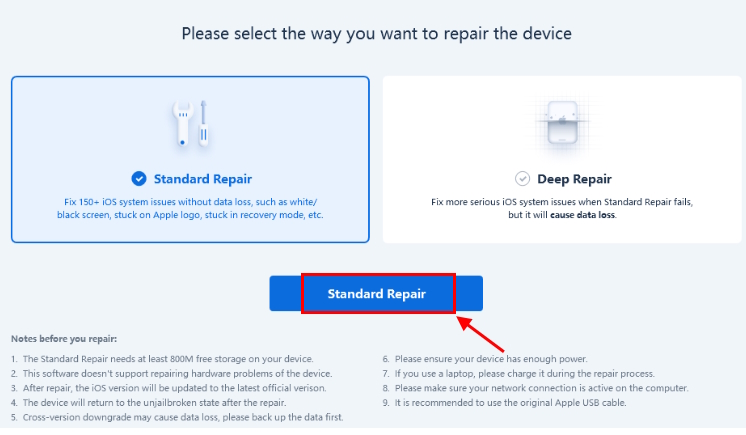 If the system does not recognize your iPhone, make it enter the Recovery Mode.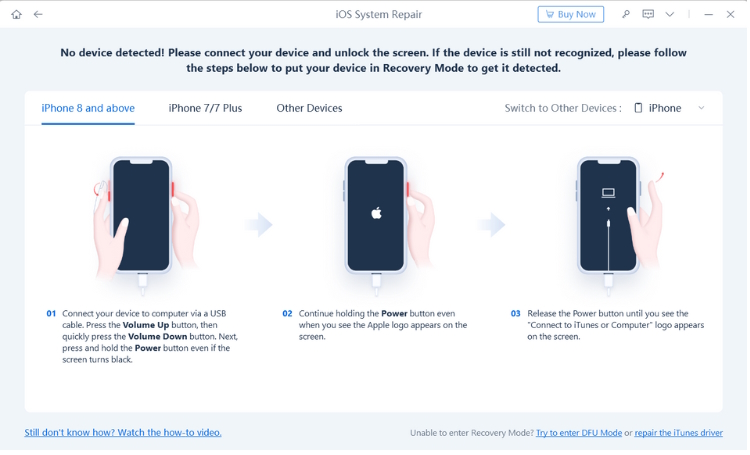 Once the iPhone is in Recovery mode, the system will recognize it.
Now, click the Download button and the app will start downloading the latest available firmware available for your iPhone.
Wait until the app downloads the firmware.
Once the download completes, click on Start Standard Repair to begin the process.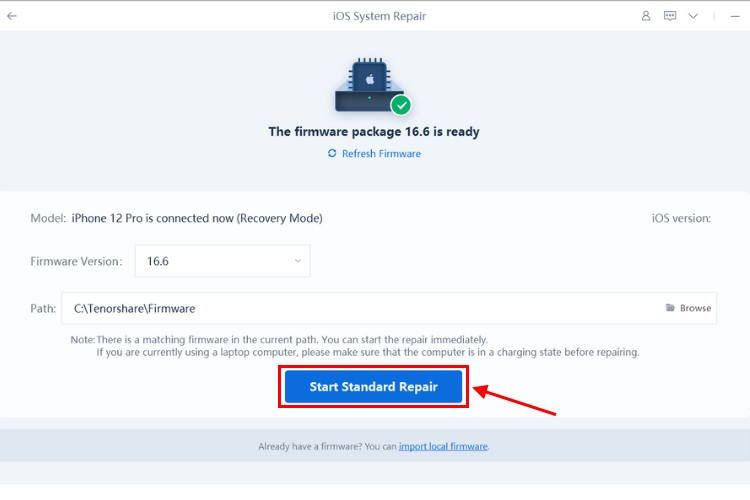 Be patient while the Standard Repair process is in progress.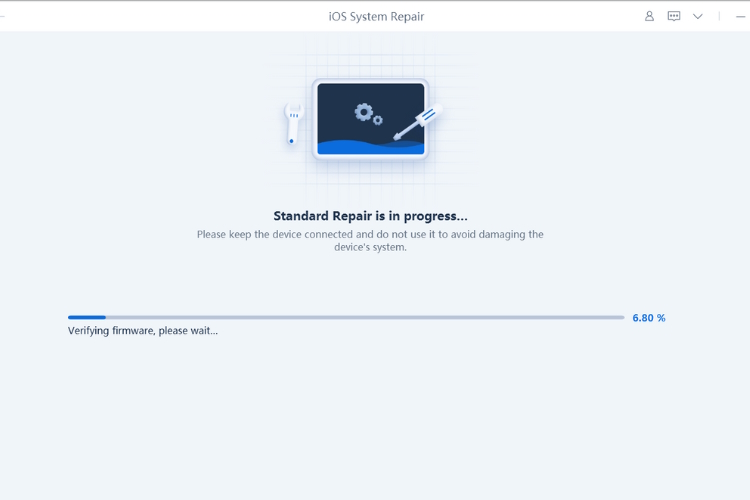 Once the process completes, click the Done button and reboot your iPhone.
5. Force Restart your iPhone
So, your iPhone has become the victim of the black screen of death, and you are already done trying to restart it, but all have gone in vain. In that case, you can try force restarting it. This method is different from normal reboot as this will even work when you can't shut down your iPhone normally. Also, the force restart method requires you to press a combination of buttons, which varies depending upon the model of the iPhone you own.
Here's how you can force restart an iPhone 8 or later models:
Press and release the Volume Down button.
Press and release the Volume Up button.
Press and hold the Side button (Power button) until the Apple logo appears on the screen.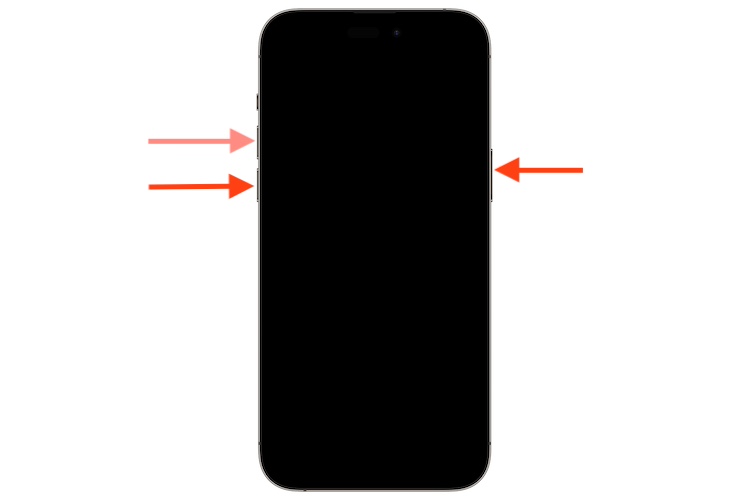 6. Update Your iPhone with Latest Firmware
If your iPhone boots up after the force restart, we suggest you check if any iOS update is pending on your iPhone, and if yes, you should download and install the update right away. This is because Apple frequently releases software updates that include bug fixes and security improvements, which can prevent you from the black screen of death iPhone 12 problem in the future.
7. Restore Your iPhone with Finder or iTunes
There are high chances that using Tenorshare ReiBoot will solve the problem, if not, you can also try restoring your iPhone using Finder on your Mac or iTunes app on your Windows PC. Restoring your iPhone will factory reset it and might remove any software glitch your iPhone is facing. Here's how:
Connect your iPhone to your Mac using an Apple-certified cable.
Now, make your iPhone enter Recovery mode, by pressing & releasing the volume up & down button in quick succession, and pressing & holding the side button.
Open the Finder on your Mac, and click on your iPhone tab on the left window pane.
Here, click the Restore iPhone option.
Now, click the Restore and Update button on the pop-up dialog box and your iPhone will start restoring.
8. Contact Apple Support
So, you have performed every method we discussed thus far, and none worked for you. In that case, it is time for you to pay a visit to the Apple service center, and if there isn't any authorized service center near you, you can also visit an Apple Store or mail your iPhone directly to Apple.
Tips to Avoid iPhone Black Screen of Death
While there are many causes of the iPhone 14 black screen of death issue, which are beyond your control (such as hardware failures), here are some tips following which you can reduce the likelihood of encountering not only the black screen of death iPhone but other issues as well.
Keep the iOS updated
Keep all your apps updated
Use only Apple-certified accessories
Avoid jailbreaking your iPhone
Protect your iPhone against physical damage
Monitor the battery health of your iPhone
Revive Your iPhone's Screen
Tackling the dreaded Black Screen of Death iPhone does not have to be a nightmare for you. By following the troubleshooting steps outlined in our guide, you can, most of the time, revive your iPhone and restore it to its former glory. Whether it is a software glitch, a faulty app, or a more complex issue, the Tenorshare ReiBoot has a solution within reach. Unlike the factory reset method, you won't have to say goodbye to your important data either. All this makes the ReiBoot app the most optimal choice for dealing with any iPhone issue. Also, remember to stay patient and methodical in your approach and always seek professional help if your iPhone drops and the screen is black.
Frequently Asked Questions (FAQs)
How do you know if the LCD is broken on your iPhone?
The LCD screen on your iPhone is most likely to be broken if the iPhone has a blank and black screen and refuses to restart. Unusual discoloration or blurring on the screen also indicates a broken LCD screen.
What happens when your iPhone screen goes black but still works?
If your iPhone screen has gone pitch black but is still working, you have become the victim of the dreaded black screen of death. The potential reason behind this issue could be a software glitch caused by a specific app or in the iOS itself.