If you're someone who prefers to buy premium laptops that are a powerhouse but can also perform, the Dell XPS series has got to be no stranger to you. The Dell XPS series is known for combining the best of mobile hardware into an ultra-portable and super premium package with stellar looks. The Dell XPS 13 was one of the company's best products till date, and the Dell XPS 13 9370, which is the 2018 refresh, seems to be better than ever. But is the quality and performance able to justify the price tag of Rs. 1,64,990? Let's find out as we take an in-depth look at the Dell XPS 13 (9370) in our review:
Dell XPS 13 9370 (2018) Specs:
Before starting off with the actual review of the device, how about we discuss the kind of horsepower that the XPS 13 comes with. The Dell XPS 13 9370 packs in the latest 8th-gen i5 or i7 processor, coupled with up to 16GB RAM. There's 512GB of SSD storage for super fast read/write speeds. The display has been the biggest talking point of the Dell XPS 13, and you get to choose between either a 1080p Non-Touch display or a 4K UHD Touch display. Below is the detailed list of the hardware powering the Dell XPS 13 9370:
| | |
| --- | --- |
| Dimensions | 7.8-11.6mm x 302mm x 199mm |
| Processor | 8th Gen Quad Core Intel® Core™ i5-8250U/ i7-8550U processor |
| Memory | Up to 16GB LPDDR3 2133MHz |
| Storage | 1TB HDD + 128GB SSD |
| Display | 13.3'' FHD (1920 x 1080) InfinityEdge display or 13.3'' 4K Ultra HD (3840 x 2160) InfinityEdge touch display |
| Graphics | Intel® UHD Graphics 620 |
| Wireless | Killer 1435 802.11ac 2x2 and Bluetooth |
| Ports | 1x USB 3.0, 2x USB 2.0, 1x USB 3.1 Type-C, HDMI Output 1x Card Reader |
| Weight | 1.21 Kg |
| Operating System | Windows 10 Home Plus Single Language, English |
| Battery | 52 WHr |
Now that we've got that out of the way, let us get into the actual review of the device.
Design and Build Quality
Let's kick things off with the design of the Dell XPS 13 9370. We got to review the Rose Gold and White variant of the laptop, though there's also one in black color available.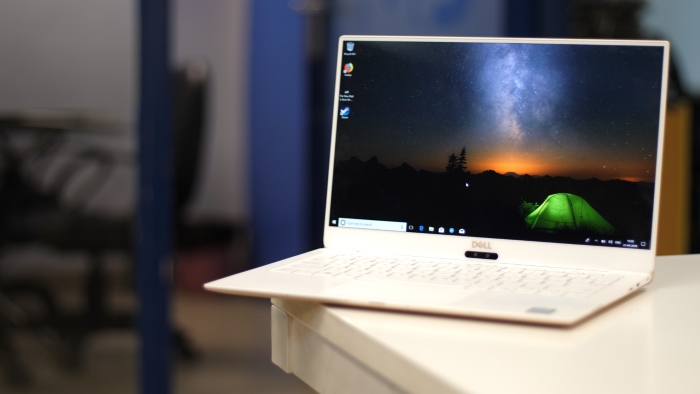 The Dell XPS 13 2018 version now comes in a 23% smaller casing, and still maintains a solid premium feel. The carbon fiber finish on the body is something that's new to me, and also something that I feel more laptop makers would follow. Unlike the aluminum palm rest or the C-side that while looking premium also doubles up as a fingerprint magnet, the alpine white woven glass fiber (carbon fiber on the black variant) provides a redefined sense of premium while removing the fear of fingerprints sticking on the surface. Additionally, Dell claims that the body has a UV coating on it too, and you can even wipe off permanent marker off of it.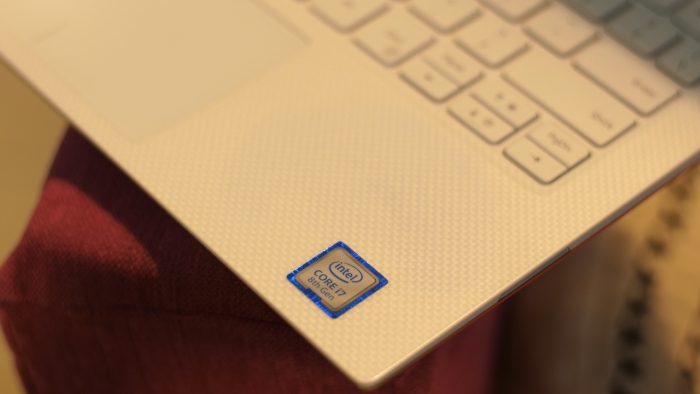 The body in itself is quite sturdy, and I could feel absolutely no flex anywhere. The design is almost perfect in almost every way. Except for the webcam that is awkwardly placed at the bottom of the screen (which we'll be talking about in a while), all the ports have been laid out well. The keyboard is well designed, the touchpad is big enough and well located, and the InfinityEdge display is packed inside a slim profile ultrabook that weighs just 1.21 kg.
The power button is placed right next to the keyboard and offers another feature than what meets the eye. Embedded under the power button's surface is the fingerprint scanner, which makes use of Windows Hello to allow for biometric login. Personally, I felt this was a nice and subtle addition, unlike other manufacturers who include a fingerprint sensor that usually occupies unnecessary space.
All in all, the design of the Dell XPS 13 is super premium, and it is a no-brainer as to why this laptop was praised by many at CES 2018. It looks fresh, neat, simple, and elegant. All while maintaining the look as well as feel of being a premium product. The Dell XPS lineup is known for providing a superior sense of quality, and the Dell XPS 13 9370 has managed to raise the bar to new heights.
Ports and Connectivity
The Dell XPS 13 is a laptop that is future-ready, and it shows with the company's choice of port selection. The Dell XPS 13 offers only USB type-C ports for its users, which, even though is in line with the current trend of living in a world with a single type of USB port, might upset a few users.
On the left side of the laptop, you'll see the Noble lock slot, followed by 2x Thunderbolt 3 USB ports and a battery gauge meter with 5 LED lights.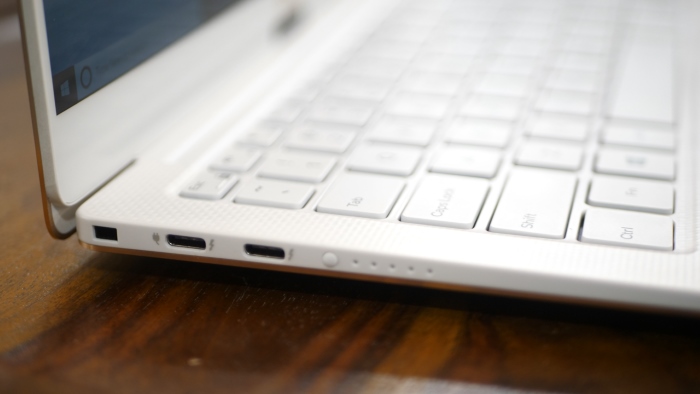 On the right side of the laptop, you get a 3.5mm headset jack, 1x USB-C 3.1 port, and a microSD card reader.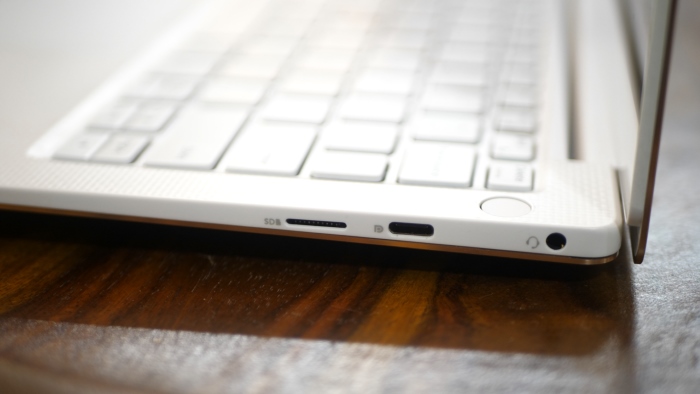 All three USB ports come with PowerShare & DC-In & DisplayPort support. Additionally, Dell understands that not everyone has moved on to the Type-C bandwagon yet, and they have been generous enough to include a Type-C to USB-A adapter in the box.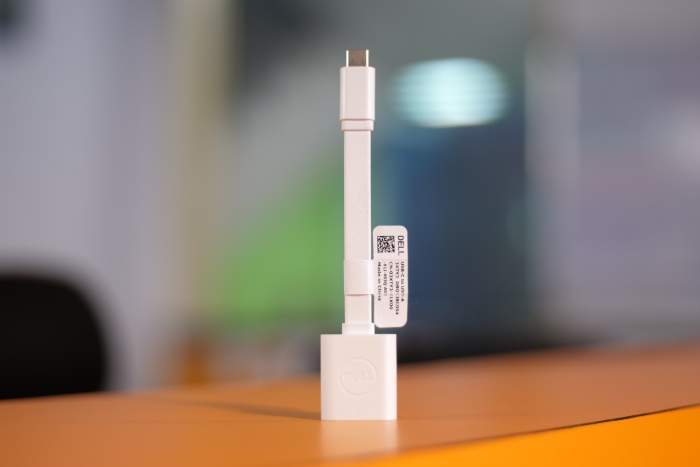 Designed with portability in mind, I can accept Dell's omission of HDMI ports and a full-fletched SD Card reader, though I still feel they could have at least incorporated a single USB 3.0 port on the body.
Display
The display is the biggest talking point of this ultrabook, and for all the right reasons. Thanks to the InfinityEdge technology, Dell has managed to fit in a 13.3-inch display inside the body of an 11-inch laptop.
The non-touch variant of the laptop offers Full HD (1920x1080p) resolution with 100% sRGB coverage. But it is the touch display that steals the limelight. The 13.3-inch UltraSharp 4K Ultra HD (3840×2160) display comes with a capacitive touchscreen with the support of up to 10 fingers.
Apart from being beautiful in itself, the display allows the content to look great as well. Yes, there is a sense of saturation in the colors, but you can always adjust it to your liking. There's 1500:1 contrast ratio and the display is anti-reflective with 178° wide viewing angle. Also, the 400-nits display is super bright. In most cases, scaling the brightness to halfway should be enough for most users.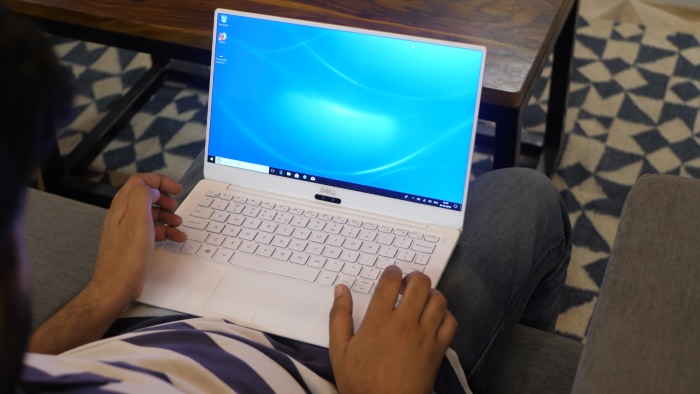 However, all this comes at a cost. Despite being super slim and featuring tiny bezels, the display panel in itself is quite thick. Coupled with the aluminum plating, the display does feel pretty thick. That being said, I wouldn't really consider it a con, since it offers a much sturdy overall build to the display, making it feel all the more premium.
The Dell XPS 13's display in itself makes you question whether you really need that second kidney.
Bottomline, the Dell XPS 13 features the best display I've ever tested, and I would recommend the laptop solely for its display only. It has the kind of display that makes you question whether you really need that second kidney or not.
Keyboard
Dell has managed to fit in a lot of features into the 11-inch sized chassis, and they've done a decent job with the keyboard as well. While almost everything is perfect on this, there is one slight complaint that I have with Dell's design of the keyboard.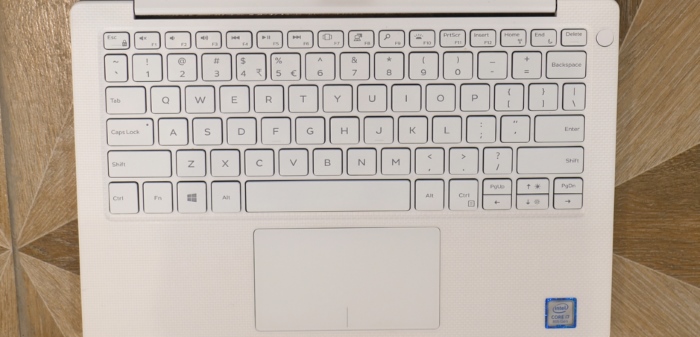 Let's talk about the positives first, shall we? The full-size backlit keyboard offers a great user experience, and typing feels mostly natural. It has a chicklet keyboard with 1.3mm key travel. I could experience the slightly cranky feedback while typing on the keyboard, and it feels really good. In fact, this review in itself is written on this keyboard. There is also a white color backlight beneath the keyboard which adds on to the premium feel.
Yes, it takes time getting used to that design language and placement of keys, but after 15-20 minutes of missing keystrokes here and there, I finally managed to get the hang of it.
Talking about the design and key placement on the keyboard, while everything else is laid out perfectly, I personally had an issue with the arrow keys. Now I understand the concept of using half up and down arrow keys to preserve space, and that's alright. What I do not approve of is the way they've merged the PageUp and PageDown keys with the left and right arrow keys respectively. Yes, they may seem different keys in the images, but trust me, once you're in the habit of typing without looking at the keyboard, 90% of the times you're going to assume them to be the same key. And that really seems to be an issue for me, as I'm constantly scrolling up and down my screen due to a wrongly pressed key. For a company that has designed such a beautiful product, something like this really disappoints me. It isn't a major flaw or a deal breaker, but certainly something that I wish Dell sorts out in the future.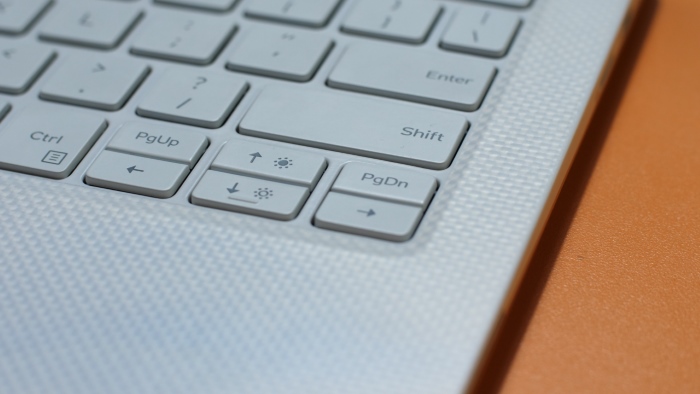 Apart from that minor flaw, everything about the keyboard is great. Another noteworthy feature that Dell has done with the XPS 13's keyboard is that it has provided the user with the option of switching between the priority of the function keys and hotkeys from the keyboard itself. As opposed to going to the BIOS to change your preferred settings, simply pressing the "Fn" and "Esc" key together allows you to switch between Hotkeys or Function keys. Yes, it is a small addition, but something that really adds on to the user experience.
Touchpad
The Dell XPS 13 features a glass touchpad which is one of the best touchpads I've personally used. The surface is super smooth, and thanks to Windows Precision Touchpad drivers, the entire user experience is great. I can make use of multiple gestures along to navigate and switch between various desktops and open windows. In fact, I dare say that the touchpad on the Dell XPS 13 is as good as the one on the MacBooks out there, if not better.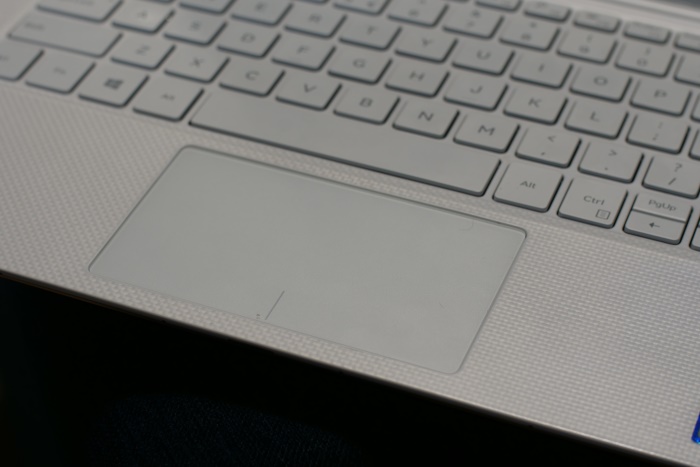 The touchpad is laid out well, and there is enough area to carry out all your essential actions. A lot of companies have tried to incorporate the left and right click buttons onto the touchpad's surface only, but none of them offer the experience like the XPS 13.
Audio
Now, audio is a segment of this laptop that literally blew me away. Before I get to the actual quality of it, let's discuss the size and placement of the speakers, shall we? The Dell XPS 13 features dual speakers on each side of the laptop and both are as compact as a speaker can be. Heck, they look almost reminiscent of the speaker grill on the Nexus 5X. Yes, that's right. The speaker is actually that compact.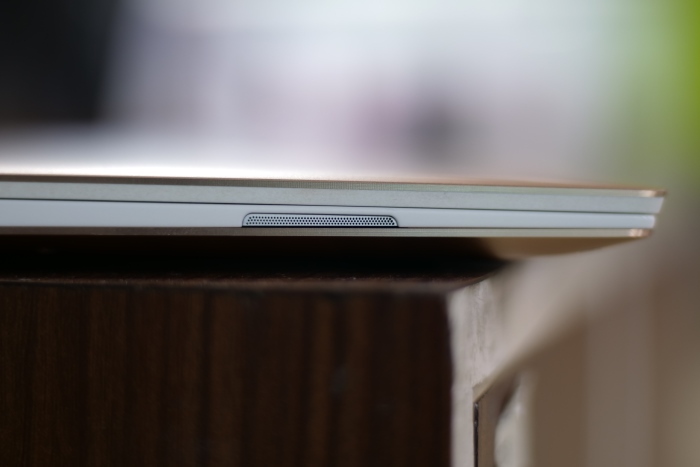 However, Dell has done no compromise on the quality of it, these things are way loud! Professionally tuned with Waves MaxxAudio® Pro, the dual firing speakers offer volume levels that are way higher than most laptops out there. Heck, the speakers on this device beat the max levels of the Acer Predator Helios 300 in our office. That being said, everything is not merry with the laptop. While the vocals and highs are great, the mids are kind of shaky. Oh, and the lows? They practically just don't exist.
But let's be honest, the Dell XPS 13 offers an audio quality that surpassed my expectations by a mile, so I don't really have any major issues here. Additionally, the Dell XPS 13 also features 4 Digital Array Microphones, that allows the user to interact with their device using Cortana from quite a distance.
All in all, Dell has managed to bundle a lot of audio related hardware into the machine in such a compact frame that really exceeds expectations.
Camera
Considering the targetted audience of business users and users who prefer to use their ultrabooks on-the-go, the camera plays a crucial role in determining the overall user experience of the device. But before even starting off with the actual review of the camera, one can understand where things are going, considering the rather absurd placement of the camera.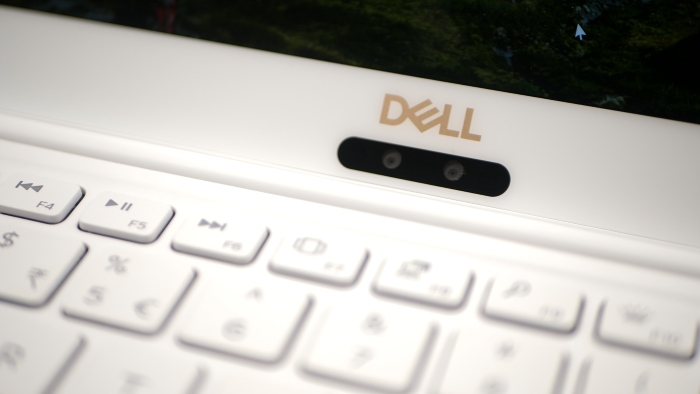 The Dell XPS 13 comes with a 720p webcam which is a Windows Hello compliant infrared camera. While the performance of this camera is decent, the placement of it really ruins the whole experience. The camera is almost always looking up your nose, and it isn't a body part which I'd rather flaunt. The overall quality is good and is up to the mark of what you'd expect from a 720p camera. Even for Windows Hello, the camera is super fast and was able to identify my face quite quickly. However, it did require me bending my body or adjusting my face in a rather weird way in order to allow Windows to do its magic.
All in all, while there are no complaints with the hardware of the camera, the placement of the webcam is something I do not really like. I hated it on the LG Gram, and I still hate it on the Dell XPS 13, despite the much better performance. But I guess that's the price you have to pay if you want a slim bezel-less display on your device.
Windows Hello might comply, but I don't think a lot of users would like to show their face to someone with the camera right up their noses.
Dell's Bundled Software/Bloatware
I've used a lot of Dell Laptops in the past, especially their Inspiron lineup, so I am no stranger to the bloatware that comes pre-installed on Dell's laptops. Luckily though, most of it is uninstallable, so it is not really an issue. However, some features are kind of merged into the Operating System, which does offer a different user experience altogether.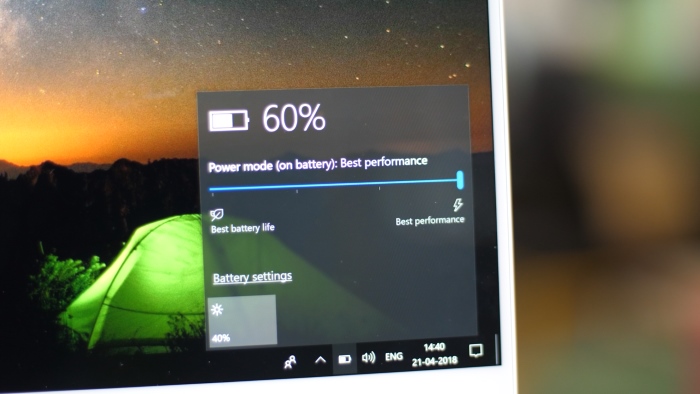 For instance, on any Windows 10 laptop, you get a Balanced and a Power Saving battery profile, and if you wish to create a high-performance mode, you are required to create a separate power plan. However, with the Dell XPS 13, one needs to simply tap on the battery icon in the bottom tray, and you can switch between various power modes, as suggested by Dell. Personally, I felt this is a really nice touch, but something that also needs to be advertised more since most users are viable to not notice these under-the-hood changes to the overall Windows experience.
Speaking of software, the biggest addition to Dell's lineup of laptops is the Dell Mobile Connect. The free software, that comes pre-installed on all laptops sold after January 1, 2018, is a Universal Windows Platform (UWP) app and allows you to seamlessly connect your Android or iOS device with the laptop. Dell Mobile Connect works with any phone running Android 5.0 or iOS 10 and higher. As such, you can use the software to make and receive calls through the XPS 13, use a file manager, and even mirror your Android device. While there are other software out there that allow you to link up your smartphone with your device, Dell utilizes a combination of Bluetooth to pair, but Wi-Fi Direct for data. You can check out more about Dell Mobile Connect here.
Personally, the software in itself is a great tool and opens up new dimensions for you to interact with if you operate your smartphone a lot while using your laptop.
Talking about Dell's own software, another great feature to be included with the Dell XPS 13 is Dell Cinema. Basically, it's an immersive cinematic experience delivered by allowing the user to experience life-like color, resonant sound, and uninterrupted streaming. This is all made possible with the merging of three technologies, namely, CinemaColor, CinemaSound, and CinemaStream.
Essentially, the user has the option to tweak the Dell XPS 13's panel to display a superior dynamic range, which delivers the deepest blacks along with better details and a wider color spectrum. Then there's the CinemaSound, which the user can use to tune the Waves MaxxAudio speakers into various modes such as Movies, Games, and more, to get the best-desired output. Lastly, the Dell XPS 13 also takes advantage of the Killer Wireless card on board, that channels maximum bandwidth to your videos or music for a seamless, stutter-free experience. Personally, I feel that the combination of all these three technologies is great and widely helps the user to better enjoy movies or watching TV shows on Netflix or Amazon Prime Video.
Performance
If I had to describe the performance of the Dell XPS 13 in one word, I'd go with "astounding". The ultra-portable and super-sleek ultrabook packs in a beastly combo of the latest 8th-gen Intel CPUs coupled with up to 16 gigs of RAM. I could throw almost anything at this laptop, and it would perform well, without breaking a sweat. The 512GB PCIe SSD included onboard is quite fast as well, and aids in the super-fast performance of the device.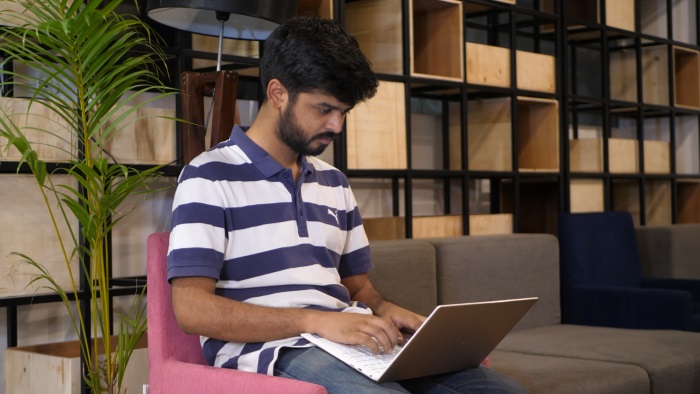 For our testing purposes, Dell provided us with the i7 variant. That being said, I'd expect the overall performance to remain more or less the same on the i5 variant since it does not have to handle the added load of the 4K display. And speaking of that, one thing that I noticed with the Dell XPS 13 was the fact that there seems to be some sort of lag or stutter while switching between various desktops. But apart from that, the performance has been buttery smooth.
The Dell XPS 13 does not feature a dedicated graphics card, but that did not stop me from experimenting gaming on the ultrabook. The gaming performance was just as I expected – pretty bad. I barely managed to touch 60 fps and 90 fps in Rocket League and Counter-Strike: Global Offensive, respectively, with all the settings turned down to low. Moving on to a graphics-intensive title, PlayerUnknown's Battlegrounds only managed 22 fps while playing on a 720p resolution with everything turned set to very low. Bottomline, the Dell XPS 13 is not built for gaming, but then again, you'd be stupid to expect great gaming performance from this tiny machine in the first place.
For me, the Dell XPS 13 offers great hardware that provides superb levels of performance while ensuring portability and premiumness.
Thermals
Yes, the laptop looks super premium thanks to the carbon or glass fiber finish on the inside and the aluminum plates on the outside. However, the inclusion of aluminum does come at a hefty price, and that is thermals. The laptop does get quite hot, and mostly becomes uncomfortable to use. Allow me to explain how.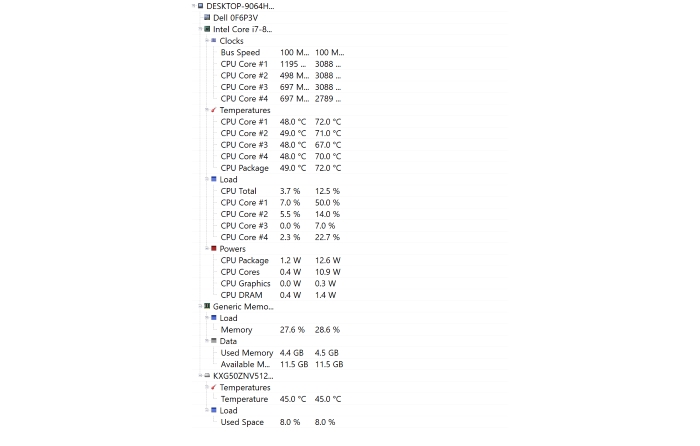 You see, an ultrabook that comes in a frame of an 11-inch size laptop is meant for portability. Yes, you can always use it on a desk, but your heart knows that this laptop is meant to be used on a lap. Sadly, that's one place where I cannot recommend you placing this laptop. The bottom surface of the laptop features the thermal exhaust accompanied by the aluminum plate to spread the heat. However, all this heat is directly thrown on to your legs. Trust me, that's a lot of heat. Even while browsing through multiple tabs on Google Chrome, temperatures reached a high of 72-degrees Celcius, which is quite a lot. With all that heat being thrown on my legs, I couldn't use the ultrabook on my thigh for more than 20 minutes.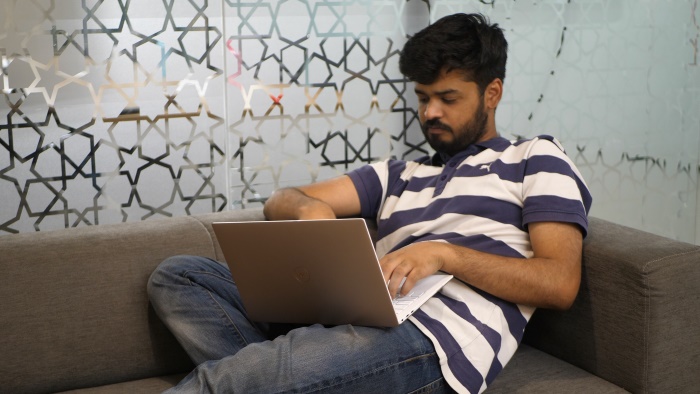 It is quite sad, because mostly, whenever I talk about a laptop being uncomfortable to use it is either due to the weight, or the keyboard getting quite hot. In this case, it is neither, but the heat being thrown on your lap which is a dealbreaker for me. It is great for people who intend to use it in board meetings, in the office, while traveling in flights, and more. As long as you're not going to place the laptop on your thigh, the Dell XPS 13 is a great machine. Sadly, due to its thermals, it is an ultra-portable, lightweight laptop that you can't use on your lap.
Due to its thermals, the Dell XPS 13 is a Lap-top that you can't use on your lap.
Battery Life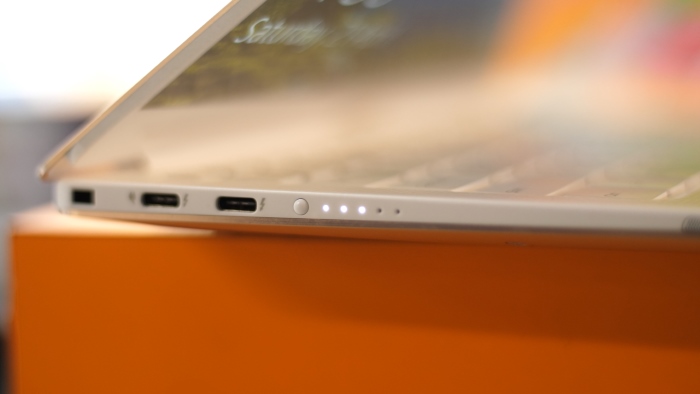 The Dell XPS 13 packs a 52WHr battery, that is pretty good for a laptop its size. The company claims that the laptop should last you for about 13 hours or so. In my testing, I was able to squeeze out a comfortable 8 hours of battery life from the device. However, do note that this is the 4K panel device that I am referring to. Judging by the power efficiency of the 8th-gen Intel Core series along with the results I got from my testing device, one can expect an easy 10 hours of battery life from the non-touch 1080p display.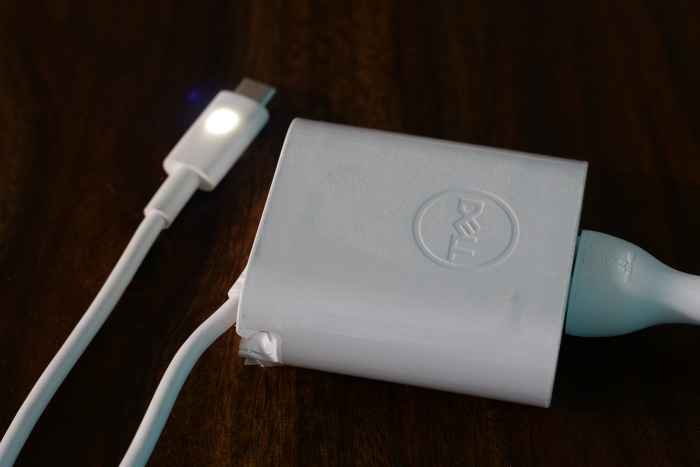 As for charging, Dell has bundled a teeny-tiny 45W USB Type-C Charger. Furthermore, all 3 Type-C ports on the Dell XPS 13 can be used for charging the device. Personally, though, I'd prefer sticking to the Thunderbolt 3 ports on the left side of the device, since charging via the standard USB 3.1 Type-C port resulted in slower charging speeds. In my testing, I was able to entirely charge the device in under 2 hours, which seems to be quite good enough.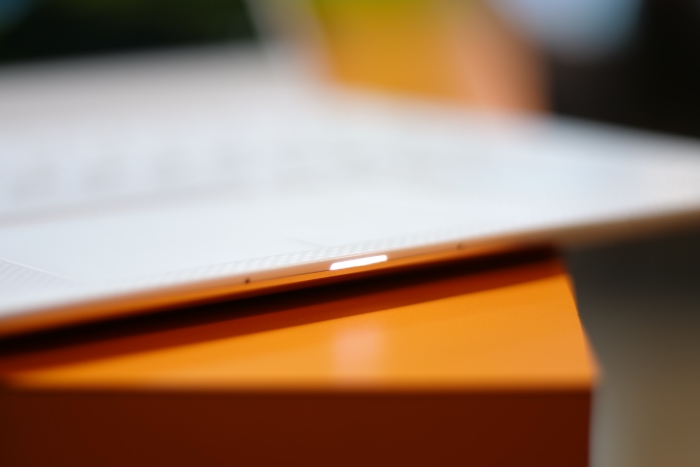 One thing to note is that both the ultrabook and the charger carry their own LEDs for indicating current. While the charger's LED light's up whenever it is connected to an active power port, the laptop's charging LED, located silently in the front of the device, lights up, when, well you guessed it, the charger is connected to the device. While it does look good, I personally would have preferred just a single LED to indicate charging. I don't really what Dell really understand the concept of it, because while it does look good, it kind of seems pointless, to be honest.
Dell XPS 13 9370 (2018): Premium Looks for a Premium Price
Starting at 98K, you can get yourselves a taste of the i5 variant of this device, coupled with 8 gigs of RAM and a Full HD display. However, we had the fully decked out variant with us, offering an i7 processor with 16 GB RAM and a stunning 4K display. Whether it is the smaller version or the maxed out variant, Dell has managed to create an ultrabook which is hard to complain about. The performance is great, there is premiumness flowing all over the body, and boy oh boy, the display undoubtedly steals the show. As for the cons, I personally don't really use my camera a lot, but I can imagine that the targetted audience of this laptop would certainly rely on it. Furthermore, the thermal section is something that restricts me from using this for long hours. All in all, the Dell XPS 13 9370 (2018) is a fantastic laptop, with only a couple flaws. Nonetheless, the level of premiumness that the device offers is unmatched and gives the Hp Spectre line-up a run for its looks as well.
The Dell XPS 13 is meant for those who don't mind paying a premium and offers almost everything that they would ask from their daily driver.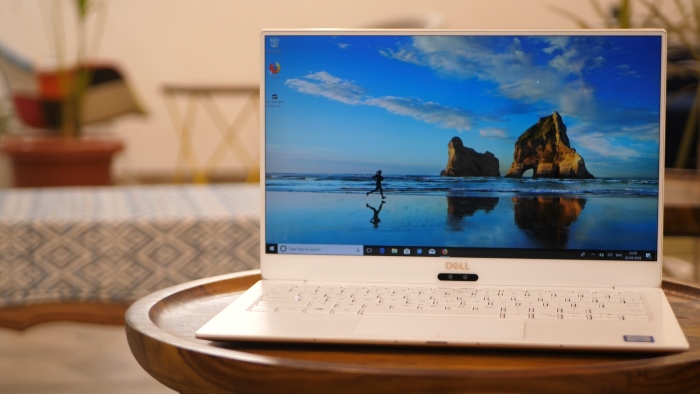 Pros:
Super Premium Look and Feel
Fast Performance
Touchpad and Keyboard work very well
Outstanding Audio quality
Great Battery Life
Cons:
Highly Expensive
Awkwardly placed Camera
Bad thermals make the laptop tough to use on the lap
Buy Dell XPS 13 9370 (2018) from Dell Store: (Rs. 97,990, i5-8250U, 8GB RAM, 1080p Display; Rs. 1,45,990, i7-8550U, 16GB RAM, 1080p Display; Rs. 1,64,990, i7-8550U, 16GB RAM, 4K Display)

SEE ALSO: Asus VivoBook S15 S510UN Review: A Complete Package!
Dell XPS 13 9370 (2018) Review: Quality Doesn't Come Cheap
So, would I recommend the Dell XPS 13 to you? Well, if you're someone who doesn't mind paying the extravagant price tag of the premium device, then this ultrabook is for you. You get a premium device with all the latest hardware which performs great all-day long and is also something that you can flaunt. The only thing you'll have to get accustomed to is the camera always looking up your nose, and the level of heat thrown on your lap, which depends on the load you put on the system. However, if you're someone who prefers to purchase value for money devices, the Dell XPS 13 is definitely not for you. It is outrightly overpriced, and packs in an LPDDR3 RAM.
The Dell XPS 13 is not meant for every user. But for those willing to pay the extravagant price tag will certainly be rewarded with an unmatched level of premiumness.
REVIEW OVERVIEW

Design and Build Quality

9.5

Ports and Connectivity

7.5

SUMMARY

The Dell XPS 13 9370 (2018) is one of the best ultrabooks out there. It packs in the latest 8th-gen Intel processors along with up to 16 GB of RAM. The sleek 11-inch chassis packs in a stunning 13.3-inch InfinityEdge Display. The Dell XPS 13 is almost perfect, with a couple of minor flaws. However, the users who can shell the extravagant amount of cash on this ultrabook wouldn't really be disappointed.