The affordable and entry-level mid-range notebook segment is chock-full of SKUs and variants from every PC brand out there. It's an ocean and choosing your device can become very confusing. Of course, your eyes and brain might naturally gravitate towards the more renowned notebook series such as Dell's Inspiron lineup or HP Pavilion, because of how long they have been around — I remember seeing these brands back in the late 90s — but there are plenty of options these days in the affordable segment, which makes the buying decision that much harder.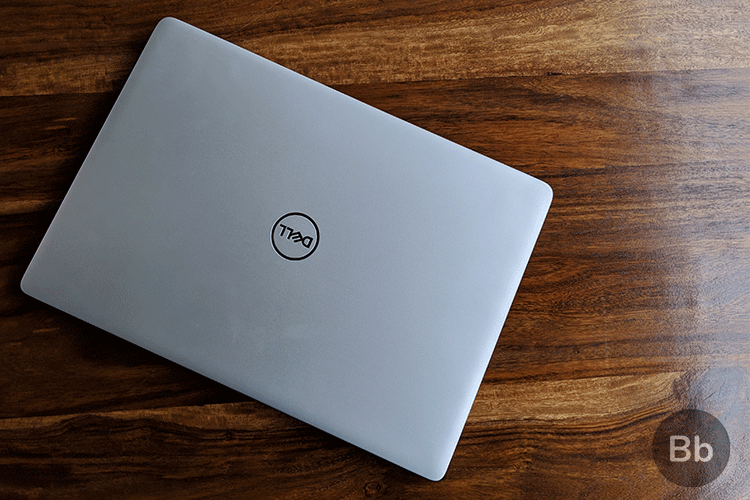 It helps when you see a laptop with the latest 8th-Gen Intel processor and in a very portable form factor, such as the Dell Inspiron 5480. When it come to the outside alone, the latest 14-inch Dell Inspiron 5480 is ahead of the competition in my opinion, but it's what inside that counts. We have reviewed the Asus VivoBook series, which directly competes against Inspiron, and we have always found them to be reliable performers, if not the best looking laptops. So let's see if the Dell Inspiron 5480 can fight on both fronts?
Dell Inspiron 5480 Specifications
The first thing you need to know is what powers the Dell Inspiron 5480 and what to expect in terms of hardware. You can obviously look at the various SKUs for this model on Amazon and Flipkart as well as Dell's official website, but our test unit had the following specs:
| | |
| --- | --- |
| Name | Dell Inspiron 5480 |
| Dimensions | 19.1 x 324.3 x 232mm |
| Weight | 1.49kg |
| Display | 14-inch FHD (1920 x 1080) IPS display |
| CPU | 8th Generation Intel Core i5-8265U (6MB Cache, up to 3.9 GHz) |
| GPU | Intel UHD Graphics 620 |
| RAM | 8GB (2x4GB) DDR4 2400MHz |
| Storage | 1TB 5400 RPM HDD |
| Ports | SD Card Reader; USB 2.0; RJ45; Wedge-shaped lock slot; USB 3.1 Gen 1 Type-C (DP/PowerDelivery); HDMI 1.4a; 2x USB 3.1 Gen 1; Combo headphone / microphone jack |
| Connectivity | 802.11ac 1x1 WiFi and Bluetooth |
| Battery | 42 WHr |
| Operating System | Windows 10 Home |
As you can see one or two things stick out as being holdouts from another era, such as the 5400 RPM spinning HDD, which could drastically hamper performance. We will get into that later in the review. For the above configuration, Dell's asking price is Rs 48,990 plus 18% GST, which is just about par for the course in the entry-level mid-tier segment.
Dell Inspiron 5480 Design & Build Quality
Like I mentioned above, I really like the overall look and handling feel of the Dell Inspiron 5480. The laptop is very easy to tote around, and you can even carry it one-handed without hurting your wrists, if you have your hands full otherwise. The light-gray silver color is not too flashy, and fits right in any office, and the same color runs along the side for a more seamless look, unlike the Dell XPS lineup, which has a clear difference on the side.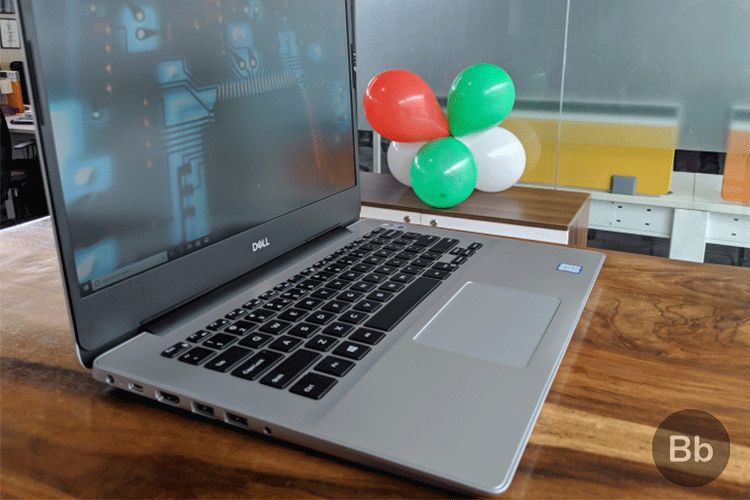 As you expect in this price range, Dell has gone with a plastic build for the entire chassis. It's not a bad thing by any means. Despite it not being metal, the top deck, the lid and the bottom rarely flex, which is what we want in a laptop anyway. The build feels reassuring, with the only slight being the slightly mushy quality of the fittings near the hinges when the laptop is closed. You can gently depress this area without much pressure, but it's a minor flaw in an otherwise tightly-built laptop.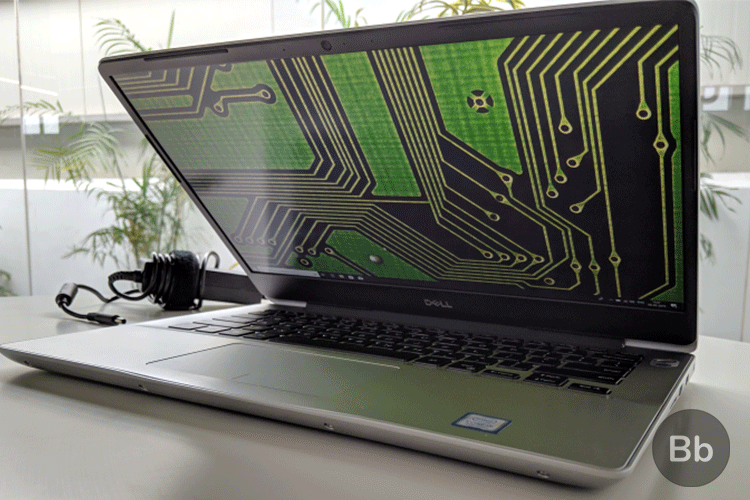 It's 0.75-inch at its thickest and has a starting weight of 1.48kg, which is pretty good in this segment. You won't find ultra-light options such as Asus ZenBook or Dell XPS 13 without paying a pretty penny.
Dell Inspiron 5480 Ports & Connectivity
When it comes to ports, Dell isn't limited by the thin form factor, so there's plenty of room to fit a lot of I/O options. Dell doesn't disappoint and you have everything you need here. On the right, you will find a full-sized SD Card Reader, along with a USB 2.0 port, RJ45 Ethernet jack, which uses a hinge-style port, and a wedge lock slot.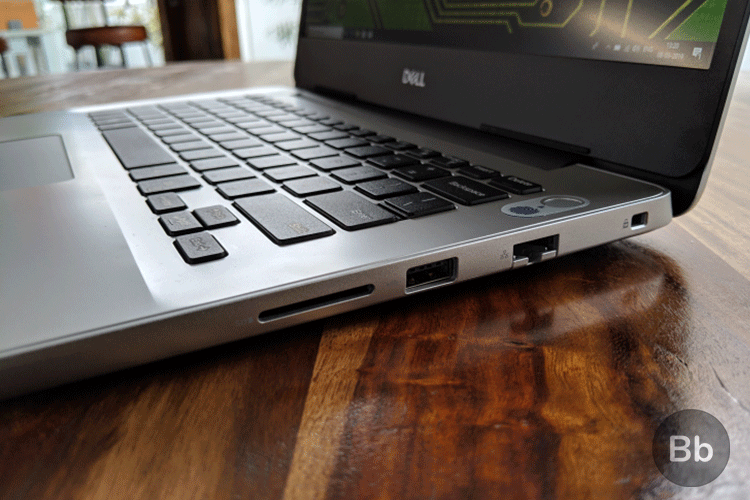 The left side has the barrel pin port for power, a USB 3.1 Gen 1 Type-C port for display out and power delivery. We loved the fact that you can charge the laptop with a Type-C pin and don't need the barrel pin at all times. Also on the left side are the HDMI 1.4a port, two USB 3.1 Gen 1 ports and a combo headphone / mic jack.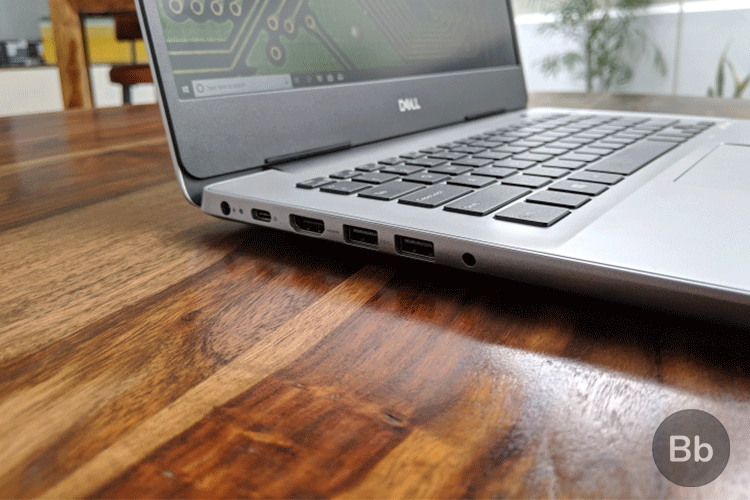 Overall, I am very happy with the port selection on the Inspiron 5480. That includes the fingerprint scanner on the power button, which is just the best place for it on a laptop. It works as advertised, and logs you in super quickly. You can even wake the laptop directly from sleep to the unlocked state by placing your finger on the button.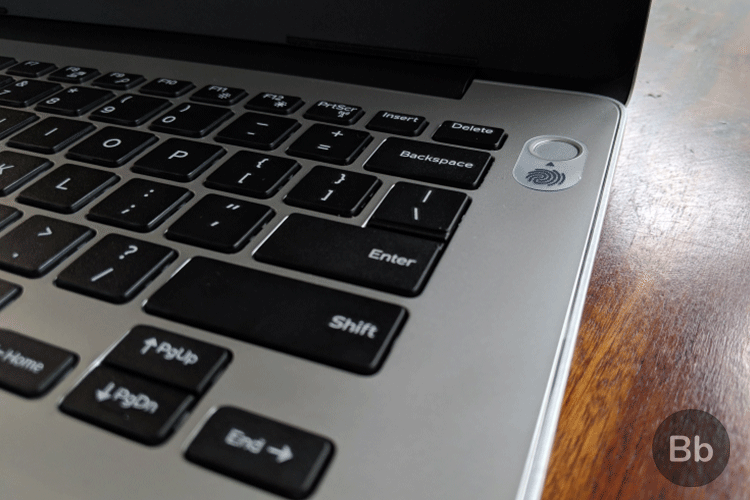 Dell Inspiron 5480 Display
While the panel on the Inspiron 5480 is bright and has a great viewing angles, I found it to be a bit lacking in terms of dexterity and text rendering. For example, I use the Win+D shortcut practically every 20 minutes to access files from the desktop, and also as a way to fidget around during my thinking process. In the Inspiron 5480, the display takes a fraction longer to show the text in the right place. There's some text ghosting before this happens. It's a bit jarring as you can see in this clip below:
Other than this annoyance, the display on the Inspiron 5480 is really good. The narrow bezels lend a modern feel to the panel and it's nice to see this trend coming to the affordable and mid-range segment as well. The 'chin' or the area below the display is quite large though, so it's a bit like cheating if you ask us.
When it comes to brightness and usage under sunlight, the Inspiron 5480 does just about as well as the competition in this segment. You won't find that rich contrast in bright sunlight, but you can definitely use it. There's some color shifting at the wider viewing angles when using it in sunlight, so it's not the best for group usage outdoors.
Dell Inspiron 5480 Performance
I was expecting some great performance from the Inspiron 5480, as the 8th Gen Intel Whiskey Lake processors are amazing value and offer excellent everyday performance. The Core i5 8265U processor is a quad-core power-efficient chip and produced in 14nm process (14nm++) and offer higher clock speeds than Kaby Lake, which introduce quad-core ultrabook processors. The i5-8265U offers a Turbo clock speed of 3.9 GHz for single core (3.8 for two cores, 3.7 GHz for all four cores) and had the Intel UHD Graphics 620 integrated. Our particular unit comes with 8GB of DDR4 RAM as well.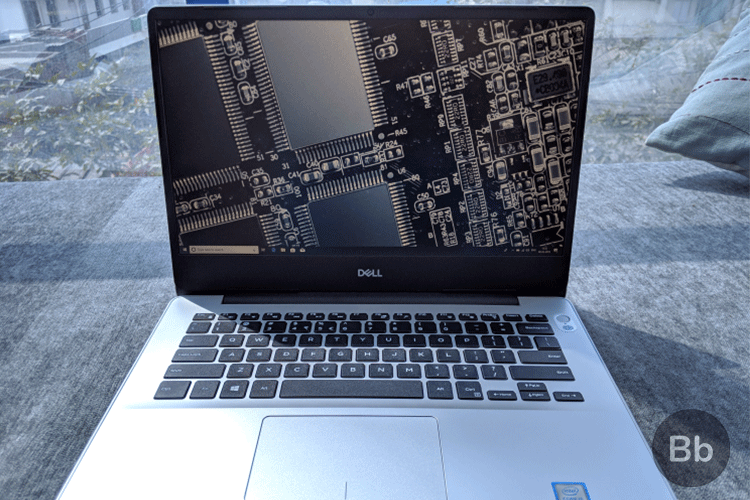 All of this should have delivered the goods, but the Dell Inspiron 5480 we tested had a serious stumbling block: The HDD. The 1TB spinning hard drive was a 5400 RPM unit, which is simply not acceptable. We would have liked to see at least a 7200 RPM HDD or a 256 GB SATA III SSD to really take advantage of the performance benefits of the i5-8265U. You might wonder why it matters, so let me tell you a little bit about my usage experience.
The slow hard drive hampered most operations including opening and closing the Start menu. Windows hotkey shortcuts took a second or two to complete every time; this includes the Win+A shortcut which opens the Action Center. This should take no time at all, but the Inspiron 5480 is laggy and annoying for someone who is so used to Windows menus opening in a flash on PCs with SSDs. In contrast, the experience on our particular unit was stutter-central. Once I reset my expectations and allowed the laptop those fractions of seconds more to respond, the experience was less jarring.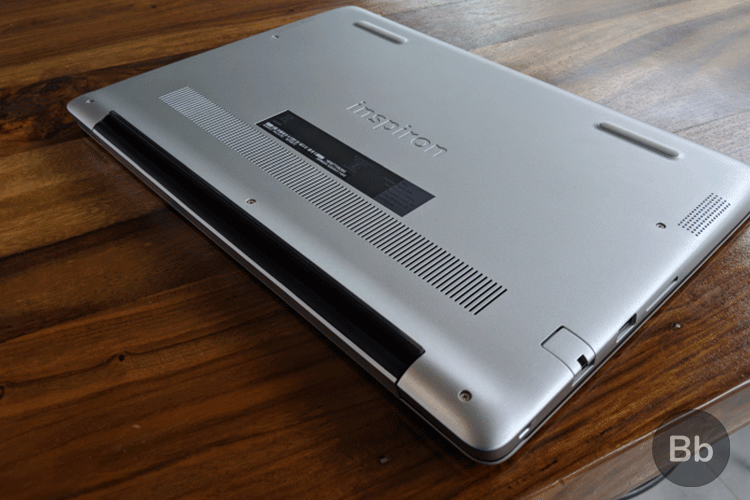 Even though Dell's competition also does not offer any notebooks with SSDs in this price segment, we didn't experience such laggy performance on the cheaper Asus VivoBook X505, which has a Ryzen processor, or the much-cheaper VivoBook X507, which was launched in early 2018 and features the slightly older Intel Kaby Lake quad-core processors.
If anything the i5-8265U should be faster as the benchmarks indicate. In nearly every benchmark, the 8265U is better than the 8250U, offering up to 15 percent improved performance with more power savings. In PassMark, the Core i5-8265U comes in with an average score of 8,180, which is just a bit better than the Core i5-8250U, which hovers around the 7,600 mark. It also offers better single-thread performance, which is crucial for home and office productivity apps. It also offers up to 7-10 percent faster quad-core performance, even in Turbo.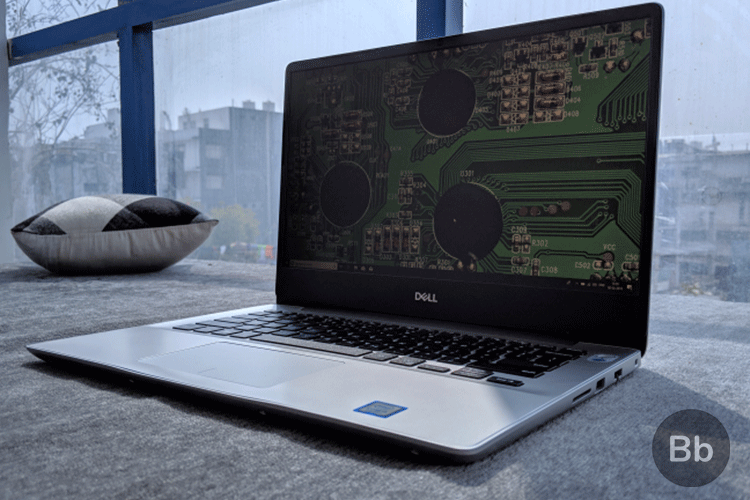 I can't help but feel the HDD is hampering the performance on the Inspiron 5480 in a big way. It certainly seems like the only demerit in an otherwise excellent laptop. The Inspiron 14 in the UK supports a M.2 PCIe NVMe SSD, which could be possible on the Indian unit as well. We are awaiting an official confirmation from Dell India on this particular point. Unfortunately, we didn't have the laptop long enough for me to dig around inside and the Indian SKUs don't show an SSD.
In any case you can swap the HDD for a 2.5" SSD, such as this one from Crucial priced at around Rs 6,500 for a 500GB unit.
Dell Inspiron 5480 Keyboard and Touchpad
The 14-inch notebook form factor is the middle-child in the laptop world – they can't get a full-sized keyboard, and the just barely wider footprint than a 13-inch laptop means a more cramped-feeling keyboard, without the ultraportability of the 13-incher.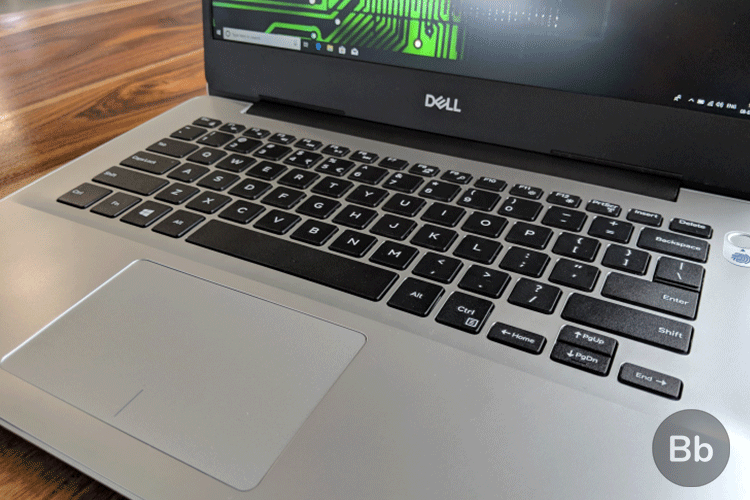 The keyboard here feels crammed, even though the typing experience is excellent. I liked the travel of these keys, which was shallow but not too shallow, and typing on this deck wasn't hard on the fingers either. The layout is similar to a 13-inch ultrabook, which is to say the direction keys are narrow and flat. Thankfully, the Shift keys have not been trimmed, so if your job involves a lot of typing, you are good to go on this keyboard.
The large touchpad supports Windows Precision drivers and did a decent job for basic clicking, zooming and scrolling. There's nothing particularly remarkable about it. It's a regular touchpad that works as intended and sometimes that's exactly what you want. I certainly didn't have any problems using the gestures or with dragging and double clicking.
Dell Inspiron 5480 Battery Life
With a 42wHr unit, we didn't expect outstanding battery life from the Dell Inspiron 5480. But it delivers a solid 6-7 hours of usage in good 70-80% brightness with all the wireless connectivity options on. That's good enough in our estimate for continuous usage, and you will easily get enough to squeeze out 8-plus hours with a wired connection and at lower brightness.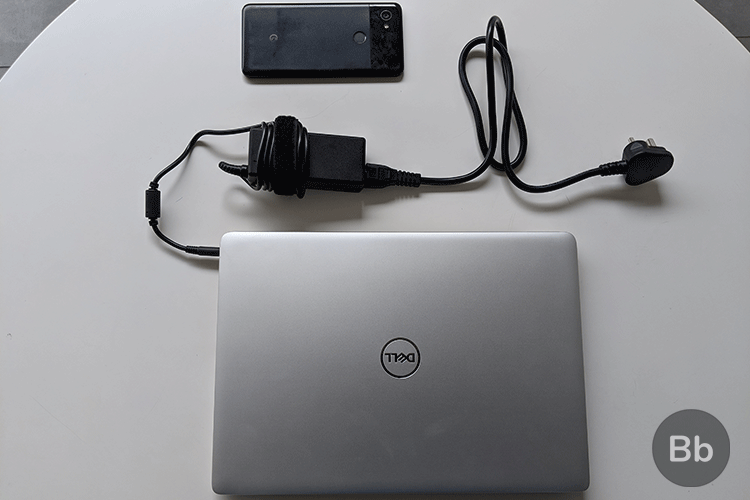 Charging is easy thanks to the USB Type-C support, which is not something many budget laptops support. I loved the ease of use which means I could charge the laptop with a Type-C charger, but do note that a regular phone charger will barely supply enough power to keep the 15W CPU powered, so you will be using more power than the charger supplies. Instead you should invest in a reputed Type-C charging power adaptor — like this 90w charging adaptor from Nekteck — which can also be used for other devices such as tablets, smartphones or power banks.
Dell Inspiron 5480: What's Good and What's Bad
Here's a sum up of what we liked about the Inspirion 5480 entry-level mid-ranger and what didn't quite get our thumbs-up.
Pros
Pleasant design and build quality
Bright display with narrow bezels
Excellent keyboard and trackpad
Lots of ports and Type-C charging
Fingerprint reader
Cons
A bit chunky
Terrible performance with default HDD
Slow display
Middling battery life
Slightly pricier than rivals
Dell Inspiron 5480: Best Entry-Level Mid-Ranger?
We can't attest to the performance of the many other laptops in this price range, but we have tested the latest direct competition from Asus. Many of Dell's competitors have options at a lower price than Rs 55,000+ price tag of the Inspiron 5480.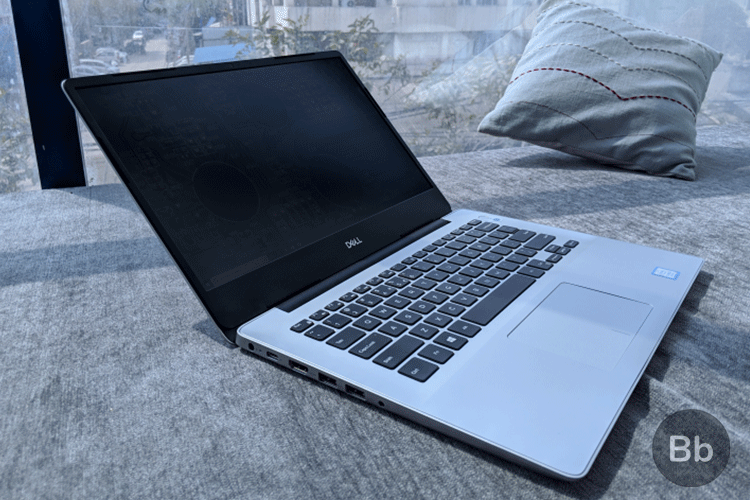 The VivoBook X505, powered by the AMD Ryzen 5 2500U, and priced at around Rs 37,000, is an obvious alternative and we can vouch for the Ryzen 5 performance as well. It's got better graphics performance too thanks to the Vega 8 integrated graphics. If you are wondering this too had a spinning HDD.
The Asus VivoBook S14 series starts at Rs 54,990, which is still cheaper than the Dell Inspiron 5480 after GST. It offers an SSD and a similarly bright display as we saw in our review. Plus it does have a unique ErgoLift hinge for improved typing.
Other competition includes the likes of the HP Pavilion series, which has a much higher starting price tag of Rs 60,000 or the Acer Aspire 5 (Rs 45,000 onwards) which also has options with discrete GPUs for less than what Dell is asking for the Inspiron 5480.
When I first saw the Inspiron 5480, I really wanted it to succeed because it had a clean, accessible design and it was very pleasing on the eyes. I also liked the display when I booted it up, but the performance after that left a sour taste; it's the only real flaw, and a major one at that. The battery life and connectivity options are again excellent on this laptop and once you install an SSD, performance would be improved by several leagues. But that's not ideal and it's an added expense, which given the already high price tag, is a big downer.
---
Load More