The market for thin and light laptops only grew more confusing for buyers in 2018. With the arrival of featherweight notebooks to business-savvy Ultrabooks as well as affordable gaming laptops, there are more notebooks on the thin-and-light aisle now than ever before. Many of these don't come cheap, so if you don't have deep pockets, then you are faced with even more questions, thanks to loads of affordable options from the likes of Dell, ASUS, HP, Acer and more.
On the same lines, today we'll be taking a look at the Asus VivoBook S14 S430UN, which is packed with the latest tech, features a sleek design and comes in quirky colors. With a price tag of Rs. 64,990, the VivoBook S14 S430UN doesn't burn a serious hole in your pocket as well. However, here's an important question – is it worth your money?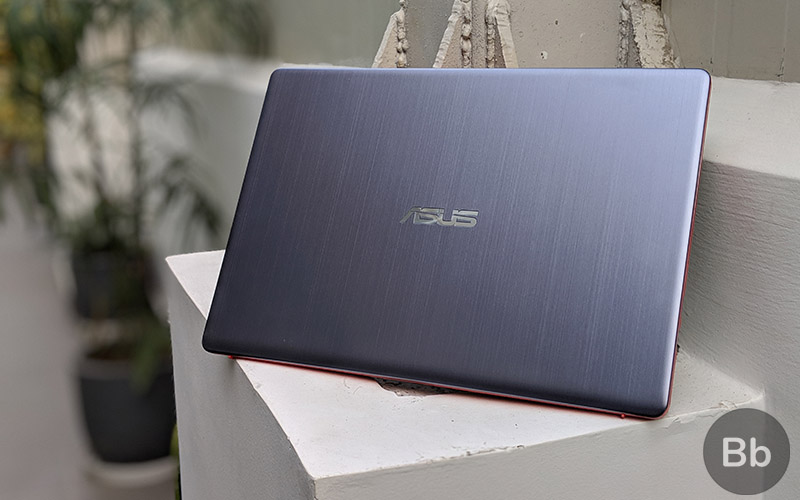 Well, I've been using the VivoBook S14 as my primary laptop for the past couple of weeks, and I think I can answer that question for you. So read on, as we take an in-depth look at the ASUS VivoBook S14.
Note: We had the S430UA-EB152T variant of the laptop with us for review, which has a Core i5 8250U processor. It's priced at Rs. 64,990. However, you can get it in a variety of different configurations, starting at Rs 54,990. The performance of the higher-end variants powered by the Core i7 processor will definitely be an improvement.
ASUS VivoBook S14 S430UN Specs
Before we jump into the review, I'd like to talk about the specifications and get that out of the way. The ASUS VivoBook S14 packs in the 8th-gen Core i5 processor, coupled with 8GB DDR4 RAM. It also packs 256GB SSD and 1TB HDD storage. While this particular variant of the laptop only has Intel HD620 graphics, the higher-end variants also pack in an MX150 GPU for improved graphics performance. Here's a quick look at the hardware that's powering the ASUS VivoBook S14 –
| | |
| --- | --- |
| Dimensions | 32.34 x 22.55 x 1.8 cm |
| Weight | 1.4 kgs |
| Display | 14-inch LED-backlit Full HD matte display, with 1920 x 1080 resolution |
| Processor | Up to Intel Core i7-8550U, clocked at 1.8GHz |
| Graphics Memory | Up to Nvidia GeForce MX150 (2GB) |
| RAM | Up to 16GB 2400MHz DDR4 |
| Internal Storage | 256GB SATA SSD + 1TB HDD |
| Connectivity | Dual-band Wi-Fi 802.11 b/g/n/ac, Bluetooth 4.2 |
| I/O Ports | 1 x USB Type-C, 1 x USB Type-A 3.1, 2 x USB 2.0, 1x HDMI, Combo audio jack, MicroSD card reader |
| Operating System | Windows 10 Home |
| Battery | 42Wh 3-cell lithium-prismatic, 45W charger |
| Colors | Icicle Gold, Gun Metal, Silver Blue, Star Grey, Firmament Green |
ASUS VivoBook S14 S430UN: Design and Build
If you are familiar with ASUS' VivoBook lineup, or if you've ever used one before, then you might already be aware of the superb build quality that these laptops bring to the table. I mean, even some of the more affordable VivoBooks like the budget VivoBook X505, which we really liked has an appealing design.
I am happy to report that the VivoBook S14 S430UN, which I have here with me is no exception. It's a well-built laptop that'll immediately catch your attention. The metal lid on the top has a brushed aluminum finish, giving it a premium look. The laptop weighs under 1.5 kg, which also means that it's very portable. It's also hard not to appreciate the VivoBook S14's sleek design as it only measures 18mm in thickness. It'll conveniently slip into your backpack, and you won't even notice its presence. I am coming from a hefty gaming laptop, so I was relieved to give my shoulders some rest from all the heavy lifting.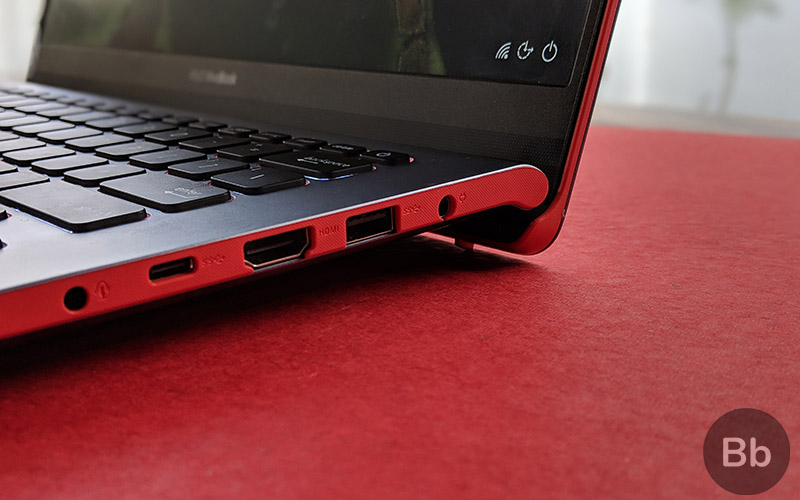 I hate to admit this, but I accidentally dropped the VivoBook S14 notebook once from my bed, and I was surprised to see that the laptop made it out without a single scratch or a dent. My personal gaming laptop, which also took a fall from the same height is now suffering from serious hinge issues. So believe me when I say that the VivoBook S14 is a well-built machine.
Another interesting design aspect about the VivoBook S14 is its ErgoLift hinge. If you're not familiar with the ErgoLift hinge, it basically lifts the laptop by 3.5° when it's in the open position. The advantages? Well, it helps the laptop cool more efficiently and makes it more comfortable to type. I am a huge fan of this implementation, and I wish more laptops would ship with this kind of hinge. C'mon ASUS make it happen, please.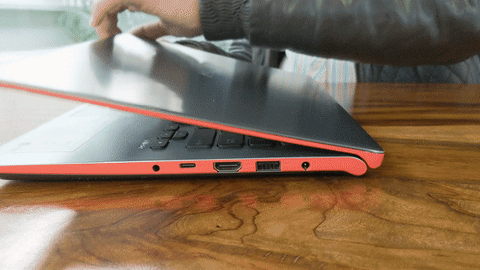 The VivoBook S14 is available in a variety of different color options. As you can see, I've been using the Star Grey version that has red accents along the flanks. 'Icicle Gold' and 'Gun Metal' are also some of the best looking colors in my opinion, but I think you can't go wrong with any of them. Just pick the one that suits your personality best.
The ASUS VivoBook S14 has an amazing build quality and the ErgoLift hinge makes it stand out from the sea of other thin and light laptops.
ASUS VivoBook S14 S430UN: Display
The VivoBook S14's display deserves a special mention too. It's a 14-inch FullHD LED panel, and it looks absolutely gorgeous. It's got a matte finish that eliminates glare and reflections, and makes it easier on your eyes. The bezels around the panel, as you can see, are very minimal, and it's a joy to look at it. According to ASUS, it's a three-sided NanoEdge display with an 84-percent screen-to-body ratio. Despite the slim bezels, I am glad that the webcam is placed exactly where it belongs.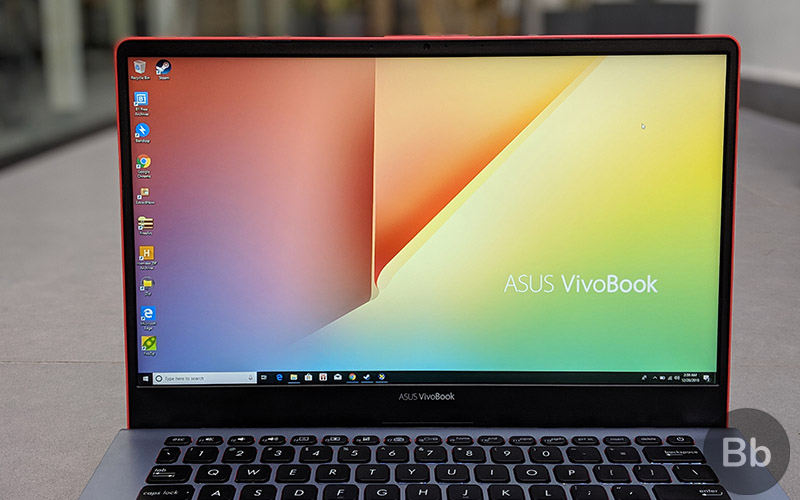 You are looking at an LED panel, so the colors are nice and vibrant. You'll have a great time editing images on Photoshop and Lightroom or casually chopping up some videos. The colors are full of life, and the experience is truly immersive. Be it watching videos and TV shows or simply browsing the web, I had a blast using this display. I'd also like to point out that the display has really good viewing angles. This is definitely one of those laptops which you can use to consume content with your friends or flat-mates.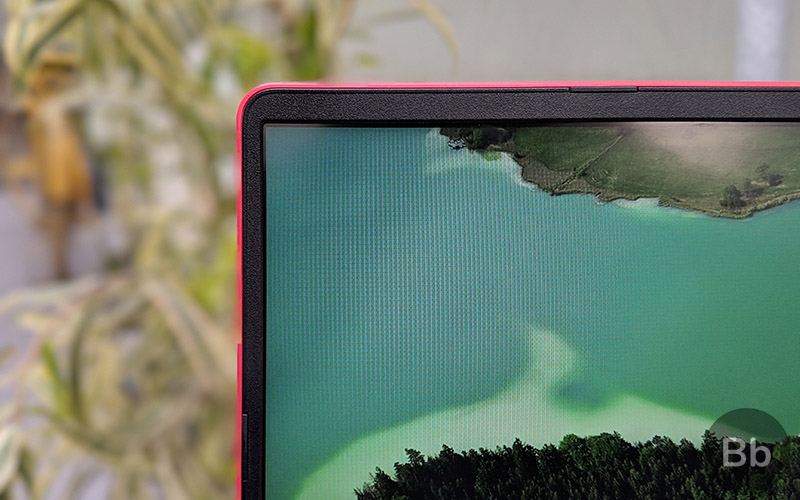 ASUS VivoBook S14 S430UN: Ports and Connectivity
The ASUS VivoBook S14 has a good port selection. It's got three USB Type A ports (2 USB 2.0 and a USB 3.0), one Type C 3.1 port, an HDMI port, a 3.5 mm headphone jack, and a microSD card slot. Unlike some older VivoBook models, the ports on the VivoBook S14 S430UN are evenly distributed on both sides, so I have no complaints there.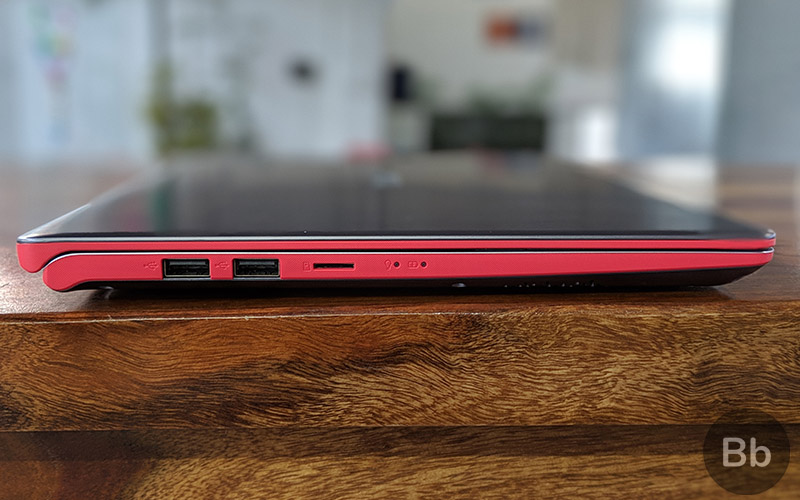 If I have to nitpick, then I'll say that it would have been nice to have a full-sized SD card slot instead of the microSD option here. It's not a deal-breaker by any means, but it's definitely worth making a note of, if you plan to use the laptop for editing photos from your DSLR.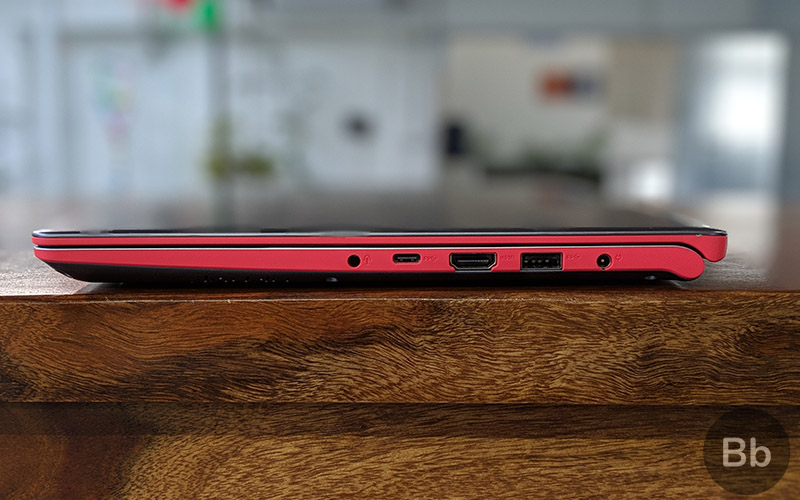 In terms of wireless connectivity, the VivoBook S14 sports Dual-band 802.11ac Wi-Fi with advanced Wi-Fi Master technology and Bluetooth V4.2 support. I personally had no connectivity issues whatsoever while using both the Wi-Fi or a Bluetooth peripheral.
The ASUS VivoBook S14 comes packed with a good selection of ports. I am happy to report that there's no need to embrace the dongle-life with this laptop.
ASUS VivoBook S14 S430UN: Keyboard
The VivoBook S14 is fitted with an awesome keyboard. I am not too sure if it's because of the ErgoLift design, but it's undoubtedly one of my favorite keyboards to type on. As a professional writer, I've used a lot of keyboards throughout my career, and the one on the VivoBook S14 is certainly one of the best I've used.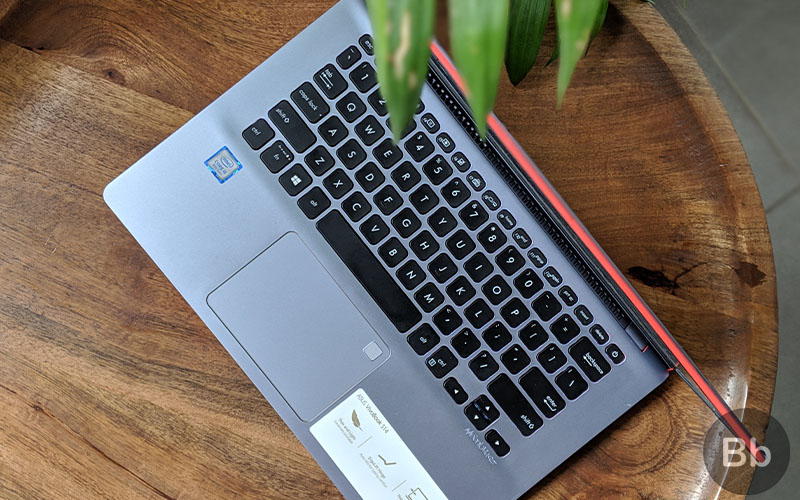 The keys have 1.4mm of key travel, which is pretty good for my liking. They also have a matte finish, and there's little to no flex on the deck. I also love that there's enough space between the keys. Getting used to different keyboards is one of the major gripes that I have while reviewing laptops, but my writing speed wasn't affected even a little bit while testing out the VivoBook S14. That's how good the keyboard really is.
One of the major complaints that my colleague Anmol had with VivoBook X505 was the fact that there was no LED notification light on the Caps Lock key. Well, that truly is an absurd decision, and I am glad that I didn't have to put with that, as the VivoBook S14 has one. However, I'd like to point out that you won't be getting a full-sized keyboard, so you'll still be reaching out for the number keys on the top.
Anyway, did I tell you that the keys are backlit and they have red accents? Yes, they look really pretty at night. Here, check it out –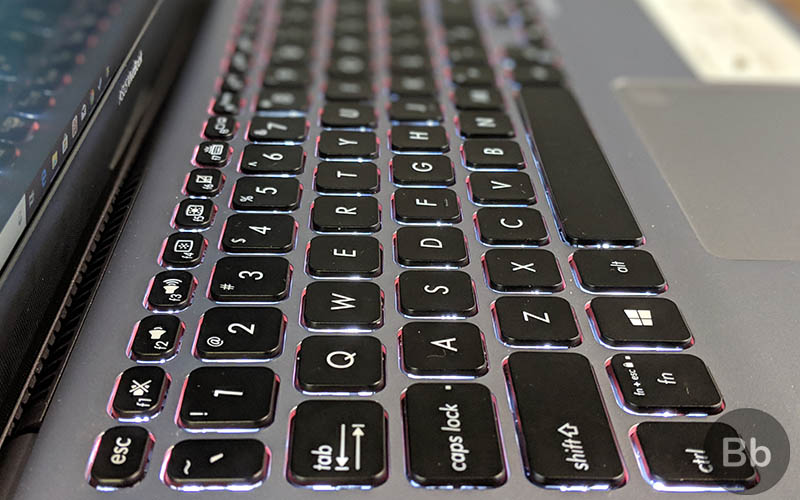 Overall, typing on the VivoBook S14's keyboard is a breeze, and Ergolift hinge makes it that much better. It's easily one of the best keyboards that I've ever used!
ASUS VivoBook S14 S430UN: Touchpad
A touchpad, in my opinion, can make or break your experience with a laptop. That's one thing that you'll find yourself using the most to interact with the laptop after all. Fortunately, the ASUS VivoBook S14 has a really good touchpad. It makes use of the Precision drivers on Windows 10, which is always a positive sign.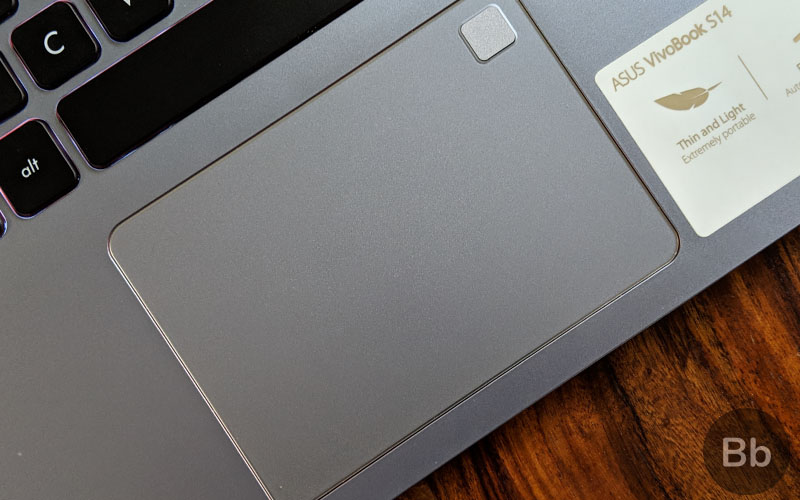 The touchpad is spacious enough to let me use all the gestures, which, by the way, are really responsive. I wish it had two separate clickable buttons, but I guess those are not cool anymore. In terms of the look, the smooth touchpad is pretty basic. There's also a fingerprint scanner on the right-top corner, that makes use of the Windows Hello feature. It's definitely not as fast as a smartphone fingerprint scanner, but it works really well and I find myself using it all the time.
Overall, the touchpad on the VivoBook S14 is really good. The added fingerprint scanner is also a nice touch.
ASUS VivoBook S14 S430UN: Audio
I am not an audiophile by any means, but I believe that you don't need to be one to figure out that the audio playback is one of the major let-downs of this particular laptop. I for one was really excited about the 'SonicMaster' branding on the deck. But after listening to a couple of songs on my playlist, I had heard enough to realize that it's not up to the mark.
First off, I'd like to talk about the placement of the speakers. They're positioned literally at the bottom of the laptop, which makes absolutely no sense. Yes, the ErgoLift hinge does help a little, but I can't stress enough about how easy it is to muffle the sound. Look, the speakers are meant to be either on the top facing upwards or on the front, facing the user. Any other placements are a big no for me.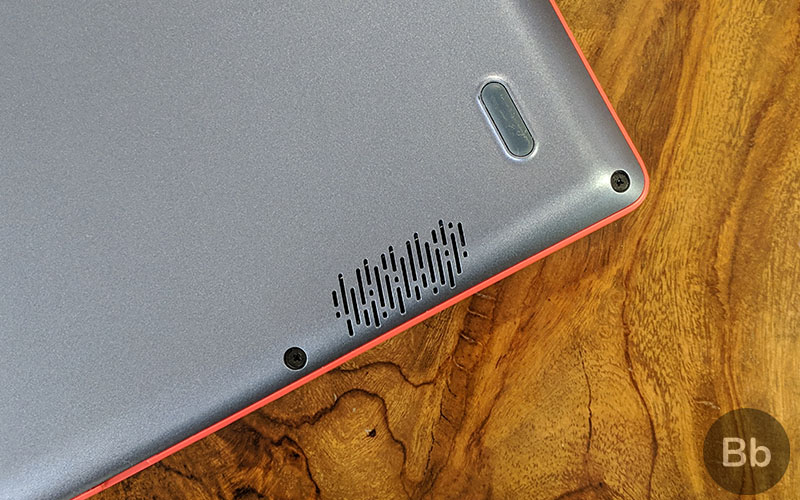 By now, I wasn't expecting the speakers to be exceptional, but sadly, they're not even enough for casual listening. This one time, I remember watching an episode of Joe Rogan's podcast (an awesome YouTube channel BTW), and I wasn't even able to hear what the people in the video are saying. I had to go looking for my headphones in just a couple of minutes. The audio output is very low, it's not well-balanced, and lacks bass as well. Yes, the output is slightly better when you're placing the laptop on a table or some other flat surface, but I find myself using my laptop on my lap (duh!), so it is indeed a deal-breaker for me.
The VivoBook S14 is not the only VivoBook to be plagued by the poor audio quality. Some other VivoBooks that my colleagues have reviewed here at Beebom also had similar experiences.
ASUS VivoBook S14 S430UN: Camera
I am yet to use a decent webcam on any laptop, and the one on the VivoBook S14 is no exception. ASUS says that it has bundled the laptop with an HD webcam, but it really is just a normal webcam that still has a sub-par picture quality. Here, check out the quality yourself –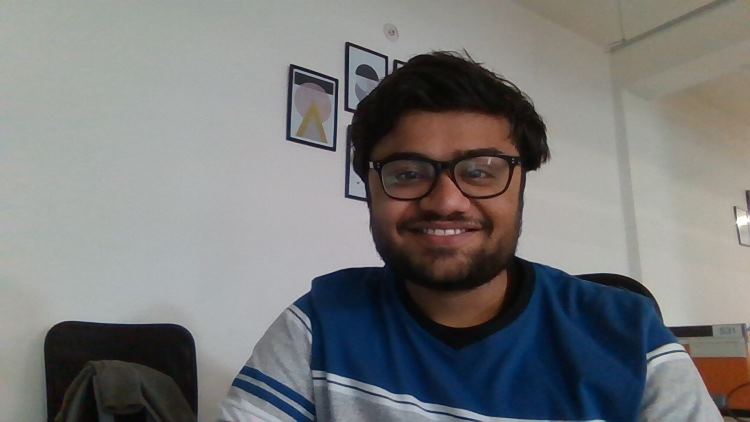 But as I had mentioned earlier in this review, I am glad that ASUS decided to place it in the right spot despite having smaller bezels. I personally don't use the webcam on a laptop for anything, really. I handle all my video calls on the phone. But if you are someone who is looking for a good quality webcam then you'll have to look somewhere else.
ASUS VivoBook S14 S430UN: Performance
For the price tag of Rs. 64,990, you'll be buying yourself into a laptop that's powered by an 8th generation Intel Core i5 8250U processor clocked at 1.6Ghz. It comes with Intel's UHD Graphics 620, and also 8GB RAM. You're also getting a dual-storage machine that comprises of a 256GB SSD and 1TB HDD. Of course, there's always an option to spend more and get a variant with better internals.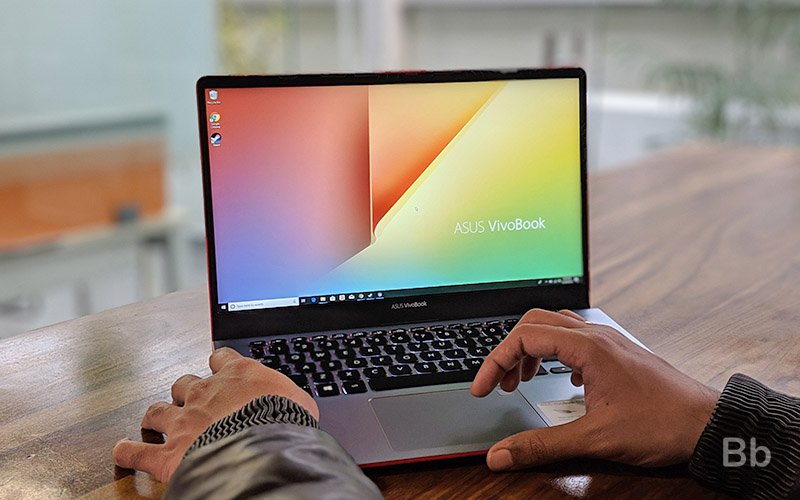 ASUS VivoBook S14: Benchmarks
Before I talk about my day-to-day experience, let's take a look at some numbers, shall we? Much like any other laptop that I've reviewed, I did run a few benchmarks on the VivoBook S14. Well, here's how it performed –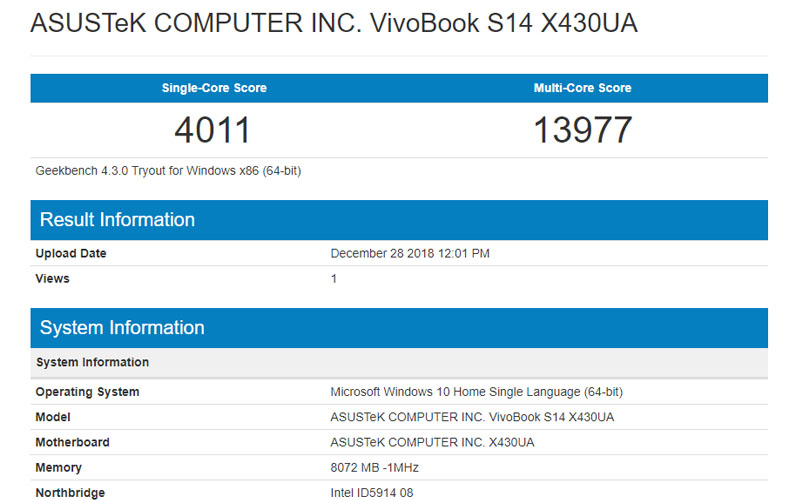 I started off with the 3DMark's Fire Strike test, in which the laptop managed to score 940 with a graphics score of 1,011, and a Physics score of 8,049. In the GeekBench test, the 8th Gen Core i5 processor managed to get 4,011 on the single-core score, and 13,977 on the multi-core score.
The VivoBook S14 also managed to post decent results, getting 52.7 fps in Cinebench R15's OpenGL test. The laptop was also able to render an image from the Blender video archive in under 15 minutes, which is better than the VivoBook X505 that's powered by the Ryzen 5 2550U chipset.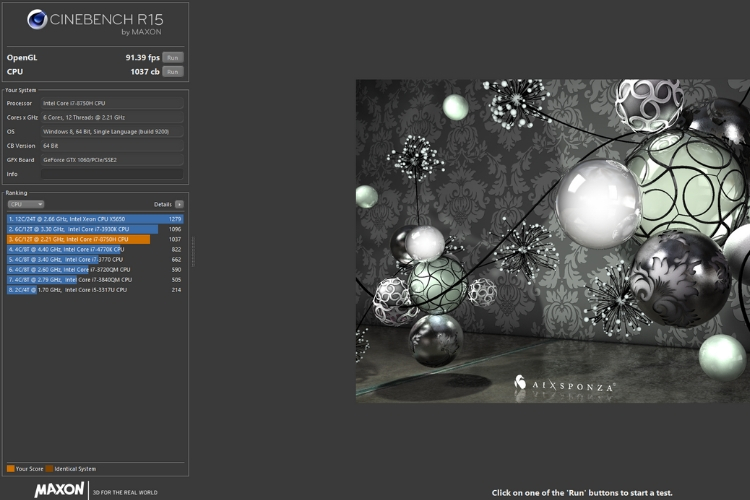 ASUS VivoBook S14: Day-to-Day Performance
But does the benchmark results translate to real-world performance? Well, I'd say yes. This super-portable laptop was able to power through most of my day-to-day tasks without breaking a sweat. Thanks to the SSD, the laptop was very quick at booting Windows every single time. Needless to say, it also allows for a super-fast performance when it comes to system related tasks.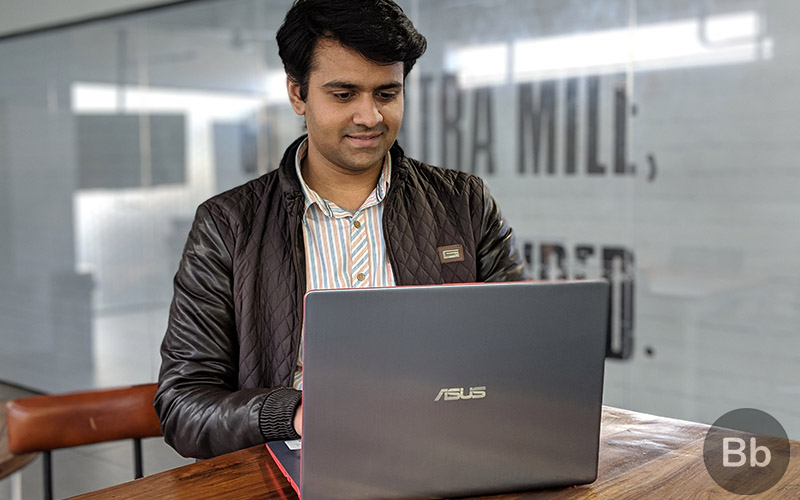 During my review period, I used the laptop to draft articles, web browsing, image editing in Photoshop, etc., and I had no complaints whatsoever. And as you probably already know, the Intel UHD 620 Graphics is not ideal for gaming. Yes, it can handle some light games, but there's absolutely no point trying to run a AAA title, pushing the laptop to its limits.
However, I did play some popular titles like Fortnite and Counter-Strike: Global Offensive, and I was only getting mediocre frame rates even while running the said titles in low-settings. I also tried playing PUBG Mobile on the VivoBook S14 using an emulator, and I was able to get playable frame rates with everything set to low.
Overall, I'd say that the VivoBook S14 is a solid performer when it comes to day-to-day usage. However, you might want to the buy the Core i7 variant of the laptop with MX150 GPU to satisfy your gaming needs.
ASUS VivoBook S14 S430UN: Thermals
When it comes to thermals, the VivoBook S14 managed to keep things cool throughout my usage. I faced no throttling issues whatsoever, which is always a good sign. The laptop was constantly running at around 40 degrees Celsius, which is pretty normal.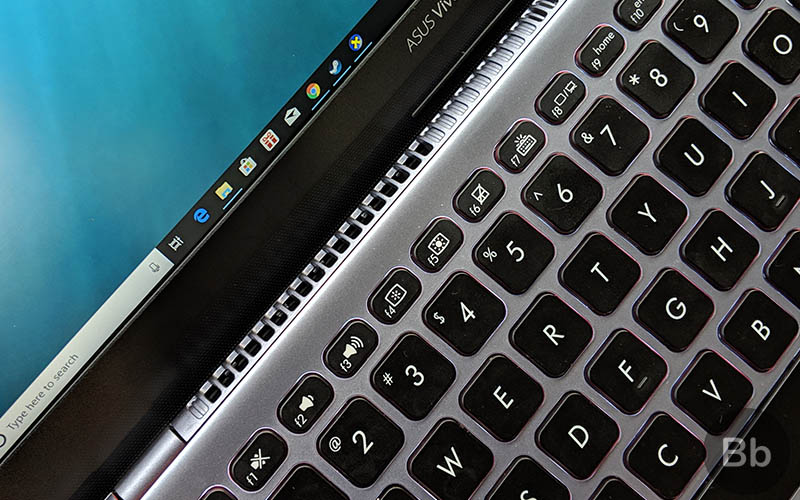 As you can see, the VivoBook S14 has vents on top of the keyboard deck where the hot air is thrown out of the laptop. The fan only kicks-in when doing resource-intensive tasks such as gaming or running benchmarks. However, it doesn't really get loud, so no complaints there as well.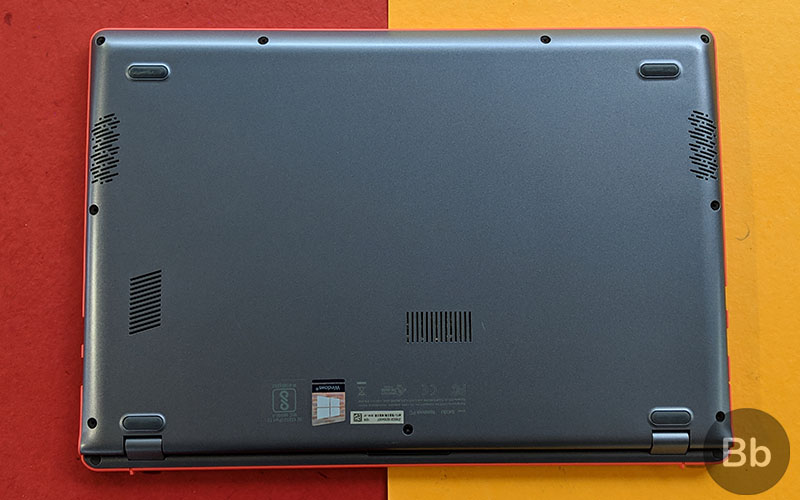 ASUS VivoBook S14 S430UN: Battery Life
The VivoBook S14 has a decent battery life, and you won't find yourself hugging a power socket all the time!
The VivoBook S14 has a 42Whr 3-cell lithium-prismatic battery. According to ASUS, the laptop should last you for about 7 hours of usage. However during my usage, I only managed to get around four and a half hours of on time while using the laptop in performance mode, and around six hours while using it in the power-saving mode. Given the VivoBook's portable form-factor, I'd say that's sweet, but other laptops such as the Asus Zenbook 13, which starts at the same price as our unit, offer you longer battery life.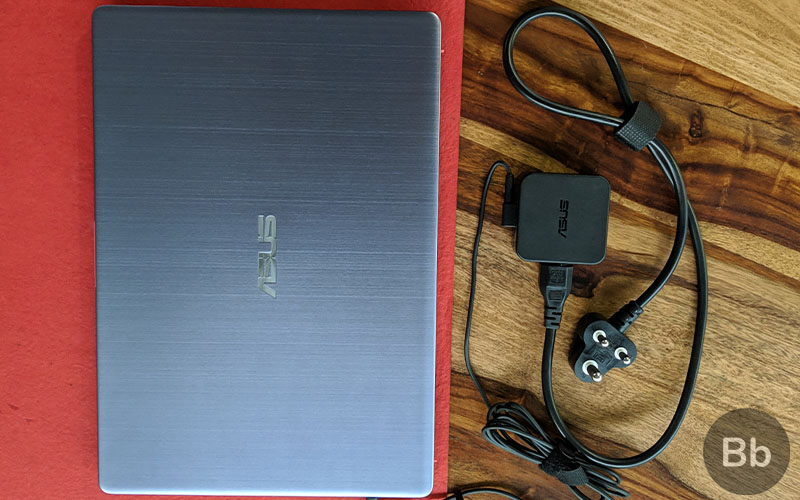 It is also worth pointing out that the VivoBook S14 supports fast-charging, so you'll be able to fully charge the battery in about an hour. Now that's a relief considering the fact that you won't be hugging a power socket all the time.
ASUS VivoBook S14 S430UN: Pros and Cons
Now that we've discussed almost everything about the VivoBook S14, let me give you a quick overview by pointing out the pros and cons –
Pros
Beautiful design and amazing build quality
Super-portable form factor
The keyboard is a joy to use
Really good display
Cons
Speakers are disappointing
No Ethernet port
The battery is decent at best
SEE ALSO: Asus VivoBook X505 Review: Ryzen-Powered Versatile Machine
ASUS VivoBook S14 S430UN: Should You Buy it?
The ASUS VivoBook S14 is a really good laptop that offers a display, has an amazing design and build quality, and an excellent keyboard. It can also handle your day-to-day tasks with ease. The highlight of the laptop, however, is its portable form factor.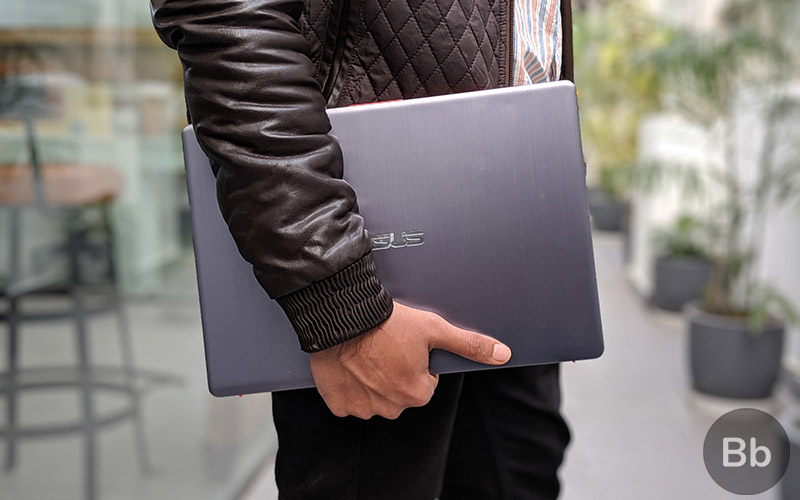 With a price tag of Rs. 64,990, it's safe to say that the VivoBook S14 is locking horns with the likes of the Lenovo 330S (starts at Rs. 55,990), HP Pavilion X360 (starts at Rs. 51,290) and more. However, all these laptops are unique in their own way. Some offer better performance, while others have good looks. The Asus ZenBook 13 (starts at Rs. 64,490) is a really good option, and so is the Dell Inspiron 13 (starts at Rs. 68,990). They both have a very portable form factor and are powered by Intel's 8th gen processors as well.
The ASUS VivoBook S14 is a really good laptop for its price. Yes, you can't play games, but it's a great machine that's capable enough to compete with other laptops in this price range. Add the ErgoLift hinge and quirky color options to that, and you've got yourself a laptop that looks just as pretty as other expensive Ultrabooks in the market.
Buy ASUS VivoBook S14 s430UN from Flipkart (Rs. 64,990)
REVIEW OVERVIEW

SUMMARY

The ASUS VivoBook S14 is a really good laptop for its price. Yes, you can't play games on it, but it's a great machine for everyday usage at work or in your classroom. It's capable enough to compete with other laptops in this price range, and you get the unique ErgoLift hinge for extra cooling, quirky color options and a very good keyboard. It looks just as pretty as other expensive Ultrabooks in the market. It's great for casual users or students, in my opinion.