With malware and bloatware becoming an increasing problem on Android, it is more important than ever to ensure that the apps you're downloading are not a threat to you or your device. Google removes many adware and spyware apps from the Play Store from time to time, but what about some of the most popular apps that aren't outright malware per se, but can be major privacy nightmares nonetheless? Here, we tell you about the 8 most dangerous Android apps that you should stay away from if you value your privacy.
Dangerous Android Apps You Should Stay Away From
Google Play is a great place for discovering wonderful new apps, but it's important to be cautious before downloading new apps because of potential security consequences. Even older and well-established apps can prove to be privacy nightmares if you're not careful. Some apps can collect the data from your phone and share your personal information with third-party advertisers for money. Which is why, we've come up with a list of the 8 most dangerous Android apps you should delete from your phone right now.
1. UC Browser
Developed by UCWeb, a subsidiary of Chinese tech giant, Alibaba, UC browser is one of the most downloaded web browsers on Android. However, cybersecurity analysts say that it does not adequately protect its data transmissions, which can leave your personal data at risk of being intercepted by hackers and intelligence agencies. According to researchers, the browser uses weak cryptography, and sometimes no encryption at all, when it transmits keystrokes over the web. This makes it a dangerous, unsecured app that should be deleted from your phone ASAP.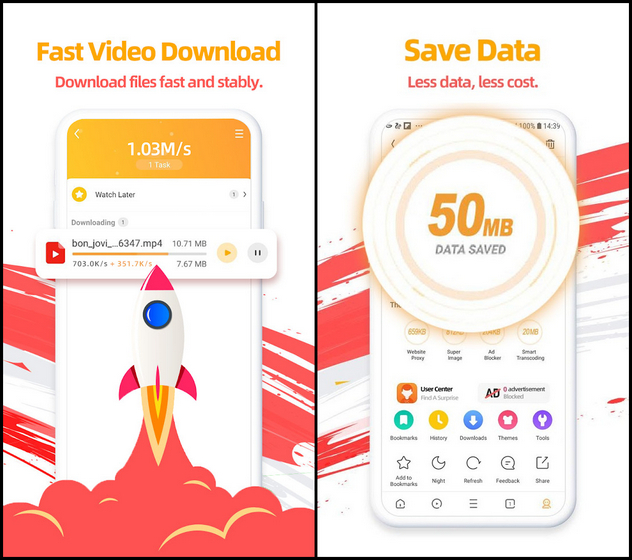 Alternatives: Mozilla Firefox (Free), Google Chrome (Free), DuckDuckGo Browser (Free). Privacy-conscious users should also check out Firefox Focus (Free) – the open source privacy-focused browser that uses 'Private' or incognito mode by default. There's also the Tor Browser (Free) if you're an advanced user and know what you're doing.
2. CLEANit
CLEANit claims to be a junk file cleaner that has millions of downloads on the Play Store. The app not only needs a ton of permissions, it also advertises services that are frivolous in modern Android devices with powerful hardware. In fact, some of them can even be detrimental to your phone.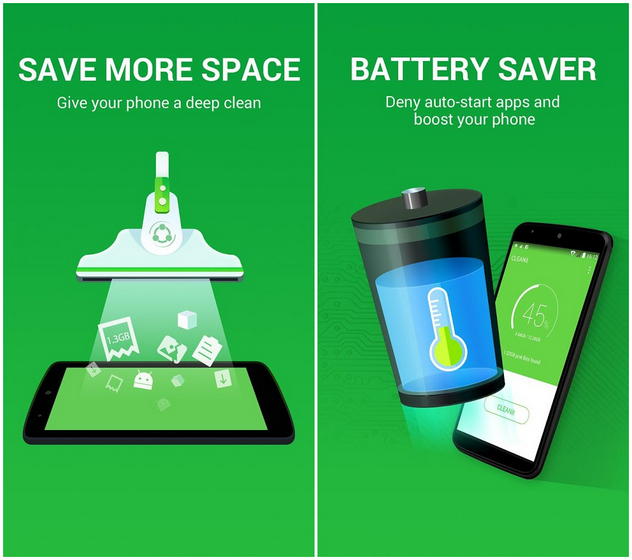 For example, clearing the cache will only slow down your phone when it needs to be rebuilt, while killing background apps does not make any real-world impact on battery-life. Unless of course, these apps are playing music or scanning for files in the background, in which case, you don't want to kill them anyways.
Alternatives: Greenify (Free), CCleaner (Free)

Note: If you have a relatively new Android phone, you should skip these 'cleaner' and 'optimizer' apps entirely. They do not help improve your phone's speed and often create complications by changing core settings, etc. That said, if you must use such apps, you should stick to the two mentioned above.

3. Dolphin Browser
Dolphin browser is yet another wildly-popular third-party browser app that promises a lot but delivers very little. It is a flash-supporting browser that is a tracking nightmare and should be uninstalled immediately. According to multiple reports over the years, not only does Dolphin save your incognito mode browsing sessions, but also reveals your original IP address even while using a VPN. It also comes with a bunch of additional 'features', like video players and speed boosters that only add to the bloat.
Alternatives: Mozilla Firefox, Google Chrome, DuckDuckGo Browser (see [1] above for download links)

4. Virus Cleaner – Antivirus Free & Phone Cleaner
An app with over 14 million installs, Virus Cleaner – Antivirus Free and Phone Cleaner from Super Cleaner Studio is exactly what's wrong with the Android eco-system. It comes with a ton of ads, many of which are for services and brands of questionable repute. What's more, it promises to be an "efficient security master, phone junk cleaner, WIFI security, super speed booster, battery saver, CPU cooler and notification cleaner", none of which can actually be achieved to any perceivable degree by any software. Personally, I'd skip any app that promises to be a 'CPU cooler'.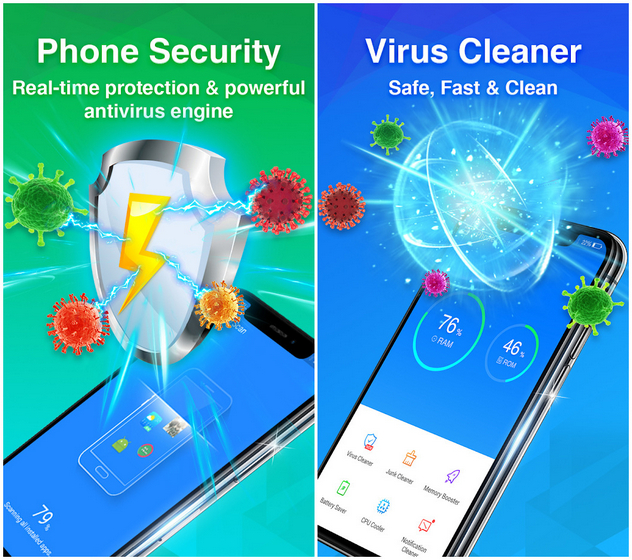 Alternatives: Avast (Free), AVG (Free), Kaspersky (Free).

Note: It's best to skip the category entirely, as the best anti-virus tool on Android is Google Play Protect, which is enabled by default on all Android phones.

5. SuperVPN Free VPN Client
With over 100 million installs, SuperVPN is one of the most used VPN apps on Android. However, cybersecurity analysts earlier this year claimed that the app includes critical vulnerabilities that could allow hackers to carry out MitM (Man-in-the-Middle) attacks, potentially stealing personal info, including credit card details, photos and private chats. According to reports, criminals can also exploit the vulnerabilities to hijack a user's connection to malicious websites that could further endanger user privacy and security.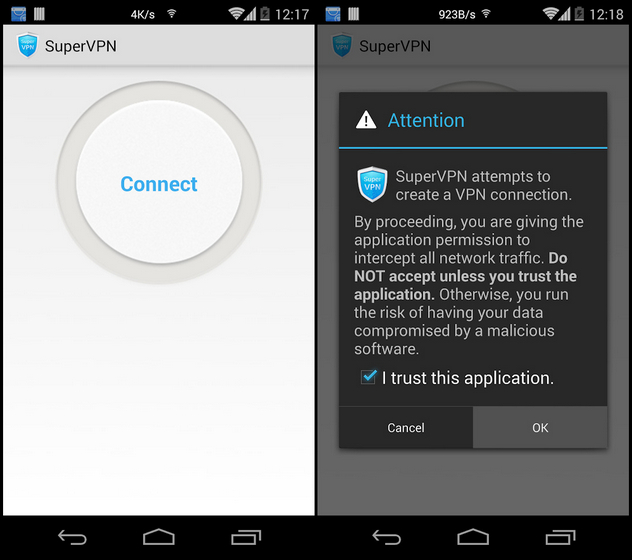 Alternatives: Express VPN (Free), Nord VPN (Free), SurfShark (Free). You can also take a look at our detailed list of the best VPN apps on Android.
6. RT News
Funded by Kremlin, Russia Today (RT) is the official mouthpiece of the Russian government. The network offers news channels, blogs and multiple mobile apps in English, aimed at western audiences. In spite of its claims of being a quality journalistic endeavor, it's often used as a propaganda outlet for the Vladimir Putin government and, has been cited by western security agencies, like the CIA and MI6, as a major source of disinformation on US politics and Brexit. It's a news app that's best avoided if you don't want to be bombarded with fake news.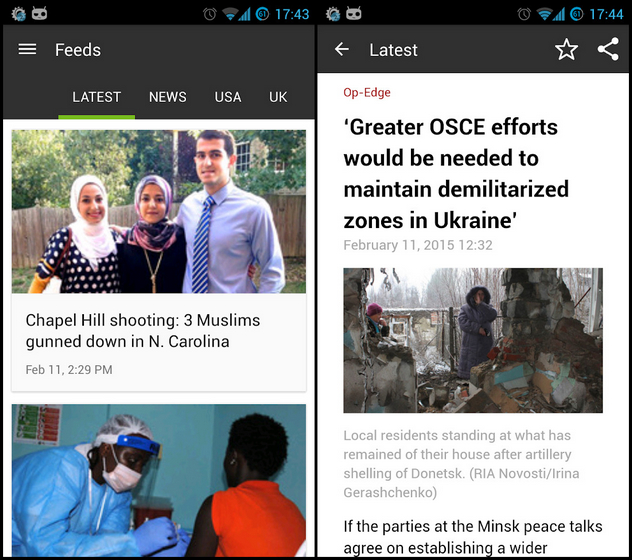 Alternatives: CNN (Free), BBC (Free)
7. Super Clean – Master of Cleaner
Yet another 'cleaner' app that simply had to be on our list because of how popular it is. Super Clean by Magical Dev has registered more than 26 million installs on the Play Store, but like most other cleaner apps, it does precious little by way of actually speeding up your phone. As with other apps in its category, it promises to optimize battery usage, clean junk files and boost memory, none of which requires a third-party app. In any case, most Android vendors bundle a security/cleaner app with their phones, which should do the job more often than not.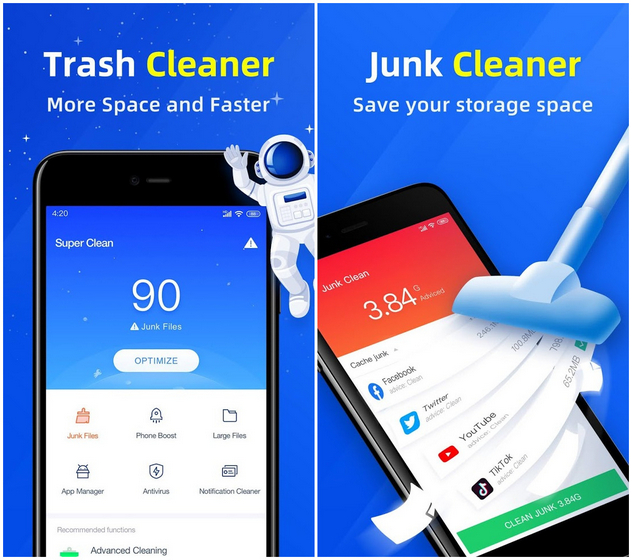 Alternatives: Greenify and CCleaner (See [3] above for download links).

Note: As mentioned earlier, 'cleaner' or 'speed booster' apps do more to harm your phone than help it. To truly boost your phone's speed, uninstall apps that you aren't using and remove multimedia files to a fast, Class 10/U3/V90 card if your phone supports microSD. Else, transfer them over to your PC or USB drive to regain space on your phone.
8. Fildo Music
The penultimate app on our list is Fildo, which was once an illegal music downloading app disguised as a local music player. The app has since discontinued the music downloading functionality after coming under the scanner, and has now reoriented as a music management app.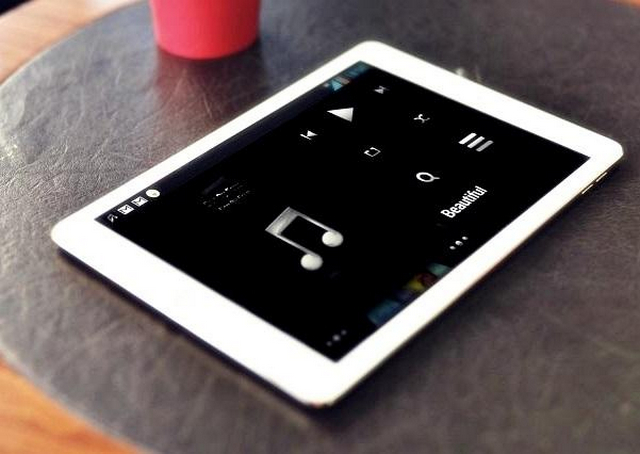 However, we're skeptical about apps that promise something and do something else. It also reportedly has ties to a controversial Chinese entertainment company, Netease, which should be yet another red flag for users. It's best that you shift to a different app for your music playing needs.
Alternatives: VLC (Free), AIMP (Free), Poweramp (Free)

Bonus: S.M.T.H. (Send Me To Heaven)
Last, but not least, there's S.M.T.H. It is actually a cool little game app, but is harmful to your phone in ways that you might not have expected. The app uses a smartphone's built-in sensors to measure how high you can throw your phone. Yup, you need to throw your phone high in the air for the game to even work.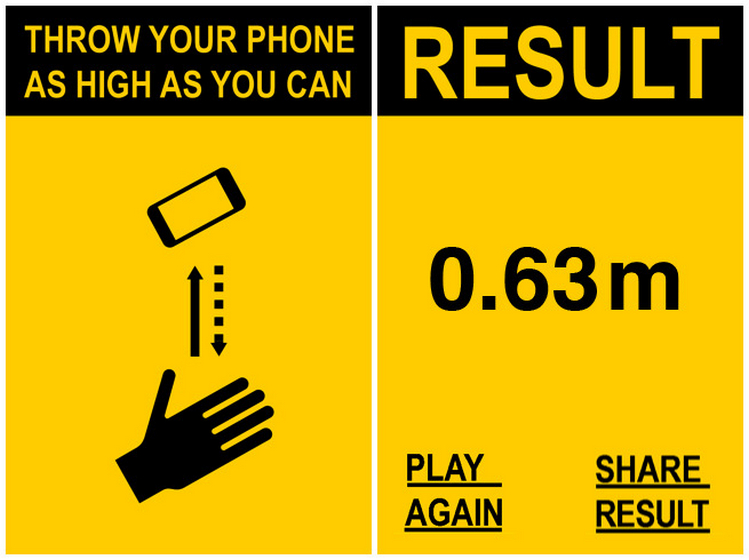 The app got a lot of attention when it was first released almost a decade ago. To be honest, the game can be good fun, but numerous devices have breathed their last because of this app for obvious reasons. You can install it at your own risk, but don't say we didn't warn you!
Other Dangerous Apps You Should Not Install
For the above list, we only picked apps that are currently available on the Play Store. However, there are hundreds more apps that have been banished from the Play Store for click fraud, illegal data mining, 'disruptive ads' and more. Those include Clean Master, DU Battery Saver, ES File Explorer, Quick Pic Gallery and a whole host of other software, many of which are from the notorious Chinese developer, Cheetah Mobile.
Many of these are still available for download as APKs from various sites and third-party Android app stores. So if you're unsure about the background of a particular app or its developer, it's best to avoid downloading it on your device.
How to Tell Useful Apps from Potentially Harmful Ones
It's sometimes difficult to tell good apps from malicious ones. However, the one tell-tale sign that should always raise concern is the number of unnecessary permissions an app asks for. Does a flashlight app need your location permission? Does a cleaning app require camera and/or microphone access?
Is a photo-editing app asking for phone or SMS permissions? If they are, it's best to steer clear of such software. While asking for additional permissions isn't a definitive indication of a dangerous app, you should always do your research before installing them on your phone.
As a rule of thumb, it's best to steer clear of cleaners, anti-viruses, RAM boosters etc., because they hardly offer any real-world performance improvements in most cases. Other apps one should be careful about are weather apps and scanner apps that can potentially collect sensitive location information and personally identifiable data from your phones.
And yes, many emoji apps and photo filter/editor apps are nothing more than glorified adware, if not worse. All said and done, it's best to avoid apps that ask for a ton of permissions for things that are unrelated to their advertised functionality.
Make Android Safe by Staying Clear of These Apps
In spite of persistent efforts from Google, you can find thousands of risky apps on the Play Store, including malware, adware, spyware and bloatware. However, the aforementioned ones are among the most widely-used dangerous apps on Android, which is why they have made their way to our list. So if you have any of the above most dangerous Android apps on your phone, do uninstall it now and download an alternative instead.