Probably one of the hardest things to do today is to follow a workout routine to get and retain a fit body. Doesn't matter if you are rich or poor, a fit body always seems to be an elusive goal for the most of us. The will power required to hit the gym every day diminishes daily from the day you start. And I will be the first one to tell you that getting an app on your Android smartphone is no solution for that at all. Yet for those of us who have the inner motivation and just need something to keep us accountable and track our goals, to those of use who cannot afford a personal trainer and don't know how to start and to those of us who like to follow a program, a good workout app can come in real handy.
If you are someone who fits this description and were looking for some good workout apps to get you started on this journey to the elusive fit body, here are 12 best workout apps on Android you can use:
Note: The apps are in no particular order, as the workout levels and equipment required varies a lot depending upon the type of exercises mentioned in the apps. Read the entire article to find out which one meets your criteria.
1. Nike+ Training Club
The first workout app, Nike+ Training Club on this list is made by the popular sports company Nike, and they have done a damn good job. The app is responsive and fluid with a very modern design. They have categorised their workouts in four main categories i.e. Yoga, Strength, Endurance, and Mobility. The name itself suggests the outcome you should expect by completing the exercise. There are over a 150 exercises each with downloadable videos tutorials of the highest quality. You start the app by entering your age, weight, and all other basic details required by the app to suggest you suitable exercises for you.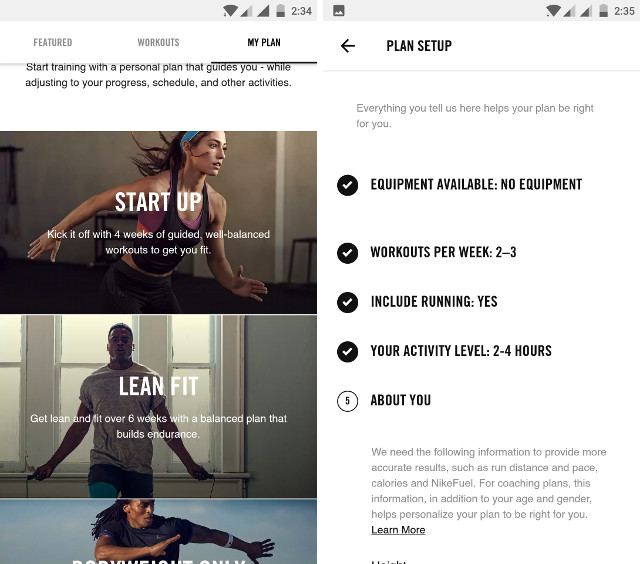 You can tweak the exercise routine based on the time available to you, which I think is a good option for people with less time on hand. There are many full-body, body-weight exercises, so that even the people with no equipment access can start their journey towards their goal. However, the app is only good for beginner to intermediate level. Also, I felt that a proper routine is missing, as you will keep hopping from one exercise regimen to other. For these flaws, I can only recommend this app to people who are just starting out or are at the intermediate level.
Install: (Free)
2. 30 Day Fitness Challenge
The 30 Day Fitness Challenge app has been designed for those people who have less time and are unable to go to the gym. The app's motto is that it will help you burn fat, build strong muscles, and stay in shape in just 30 days. You can choose between a variety of exercises, either focusing on full body or a part of it. You can select the intensity and the toughness level of exercise depending upon your current status. This is really good for those who like to follow a process, as it will guide you with animated exercises throughout the month. Since all these are home-based exercises, you also do not need any equipment for the same. It is free to use with ads or you can buy the Pro version to get an ad-free environment.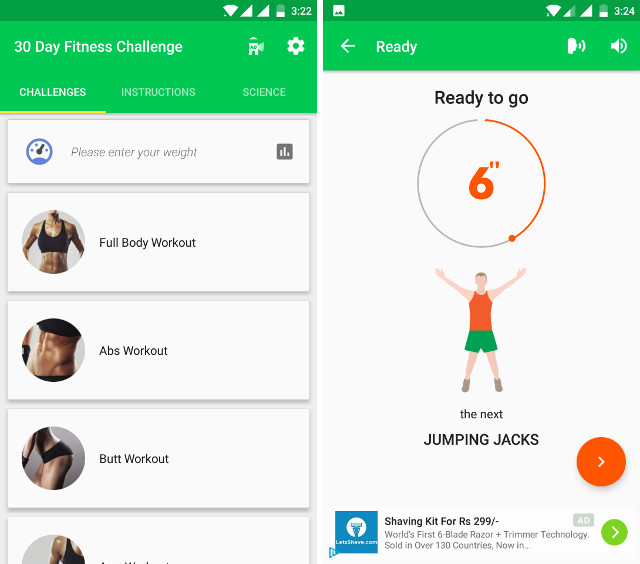 Install: (Free/$2.99)
3. Fitness & Bodybuilding
The Fitness & Bodybuilding app is a full package and is well suited for people who are well past the beginner's stage. You can choose the workouts based on either the muscle group you want to work on or on the end results you aspire to achieve (bodybuilding, fitness, etc). Every workout is supported with a video tutorial. You will need various types of equipment to carry out most of the exercise. Hence, it is for someone who goes to the gym but does not have access to a personal trainer. This app will work as a personal trainer for you.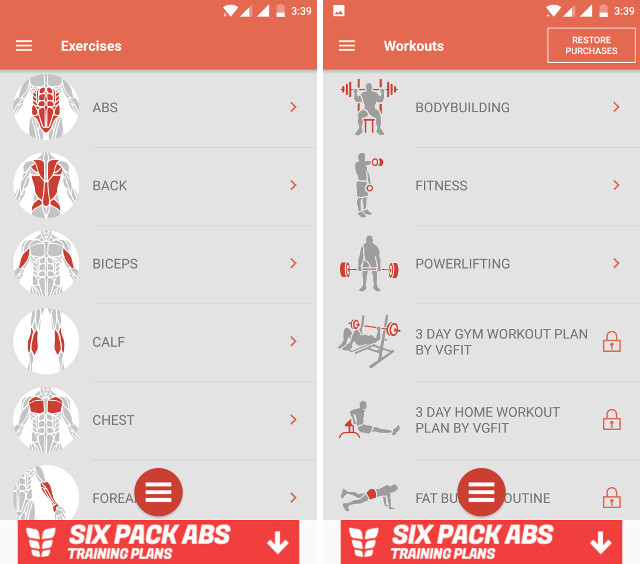 The app is free to install and use, with various exercises hidden behind pay walls. This is the only thing I hate about this app, as I would rather make an upfront payment to unlock everything. Apart from that, the app is gold.
Install: (Free, with in-app purchases)
4. Gym Workout Tracker & Trainer
The app does exactly what its name suggests, it acts as your personal trainer and helps you to get the most out of your exercise time, by suggesting exercise regimens based on your condition and requirement. This is a direct competition to the third app on our list. The app opens with a body picture highlighting all the muscles area you can work on. Tapping on the muscle area will show the exercises related to that specific muscle. There are also different exercises aimed at making you fit or strong or lean, depending on your requirements. However, like before, all the major exercise are hidden behind a pay wall. Having said that, you do get the option to make a one-time payment to open everything.
Install: (Free, with in-app purchases)
5. Freeletics Bodyweight
Freeletics Bodyweight is a dream app for people looking to get fit using only their bodyweight. Some people prefer to go to the gym, some prefer to workout using only their bodyweight, as they do not want to bulk up and just want to get lean and fit. This one is for them. With over 900+ exercises that use only your bodyweight, this is one of the best apps you can get. The only drawback of the app is the setup process which can be a little bit lengthy and frustrating. It downloaded my training program after a couple of tries but it was worth it.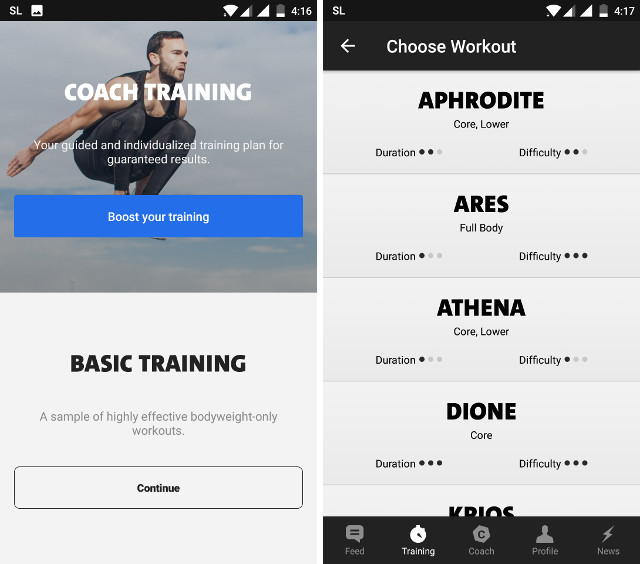 You can use the inbuilt exercises on your own or you can hire a training & nutrition coach which will help you achieve your goals. I like this approach of pricing, because if you want to use it on your own, you do not have to pay anything to use this app, however, if you need help, it is available to you at a cost.
Install: (Free, with in-app purchases)
6. Convict Conditioning
I really recommend Convict Conditioning, not for its exceptional tracking abilities, or built-in coaching, or a great UI but because this app gets the basics right. No matter how much you workout, you will never achieve the desired results unless your posture is perfect. Hell, you will most probably hurt yourself, if you are not doing the exercises with a proper posture. This is what this app teaches, the proper way to do an exercise. The app is pretty simple with a set of basic exercises including pushups, squats, pull-ups etc. Each exercise is supported by a text-image combo explanation and a corresponding video which plays on the YouTube app.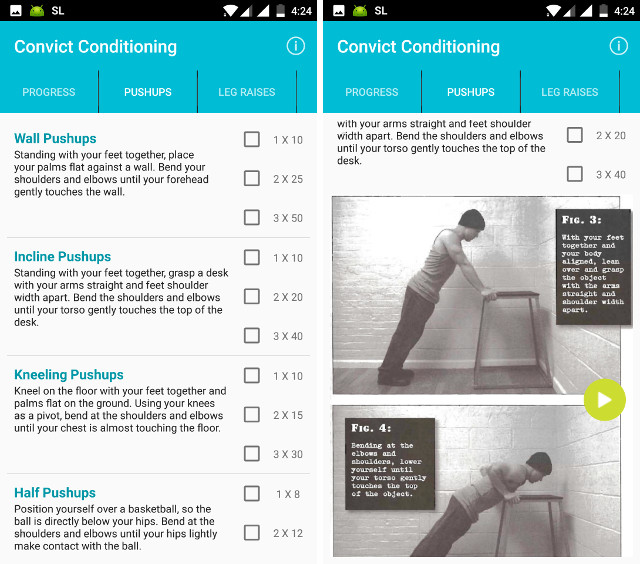 If you want to do the basics right, give this an app a try. No matter at which level you are, you will learn a thing or two.
Install: (Free)
7. JEFIT
JEFIT is probably the app with one of the strongest features set among all the apps on this list. It has over 1300 exercises for you to choose from. You can start with one of the built-in exercise routines or you can create and customise your own routines. The app also tracks your progress and let you see all your stats in one place. There's also a social mode, where you can compete with your friends over different challenges. Every workout has a cool animation to show you how to do the exercise. However, if you want video tutorials you will have to pay for the yearly subscription.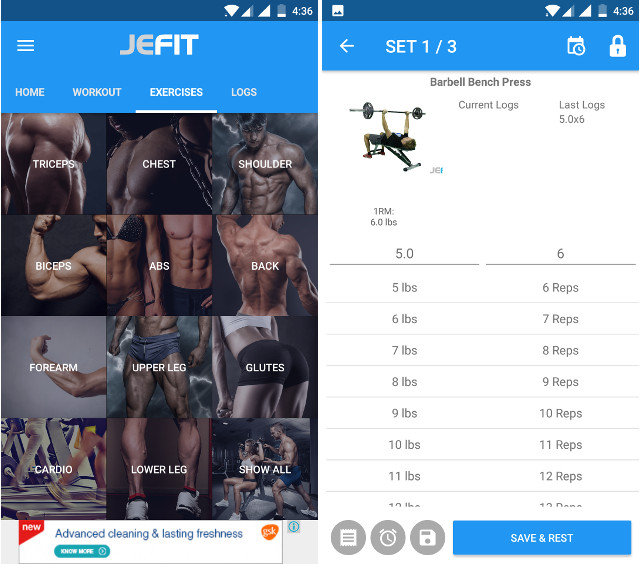 There are two tiers of subscription, the lower tier one removes the ads and adds a little extra functionality, while the Prime one to open the doors to everything the app has to offer.
Install: (Free, $4.99/year, $39.99/year)
8. Sworkit
If you can afford to spend some money, this app is one of the best workout apps in my opinion. It has easy to follow programs aimed at making you thinner or fitter or stronger. Its programs are one of the best-designed programs I have used. All the exercises are aimed at your bodyweight, so you can do them essentially anywhere. As mentioned earlier, their programs feel like they are designed by best fitness coaches in the world. If you want, you can even create and customise your exercise routine.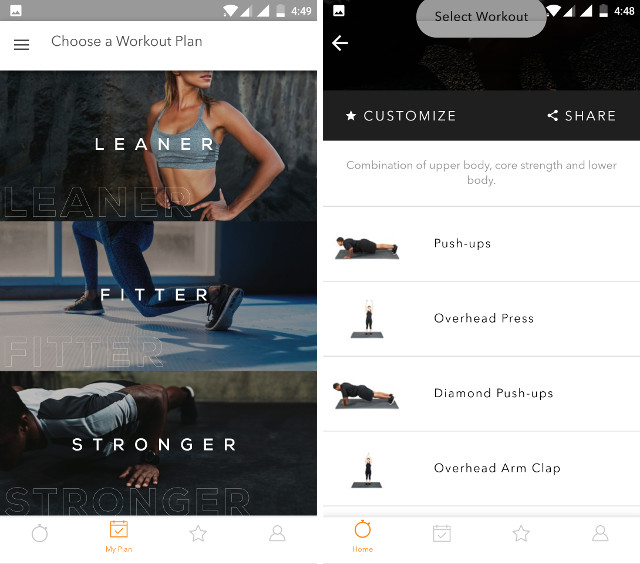 Sworkit is also very well designed with smooth UI transitions. If you are ready to buy the yearly subscription of the app, you should definitely try this.
Install: (Free, $2.99-$59.99/Year)
9. 100% Army Fit
We all have felt a little guilty and jealous of army people when we see their dedication to fitness and its results on their body. If only we also had a trainer who could show us the secrets of their workout routine. Well, there's an app which does just that, developed by the British Army, the 100% Army Fit is a free app which boasts workout tutorials which feature army personnel as trainers. All of the exercises are bodyweight, so you can perform them anywhere. You receive medals and level ups as you keep completing the challenges. There are 6 levels to unlock with and additional two elite levels. The workouts are supported by videos and some of the best encouraging voice-overs. So, if you want to get yourself to the level expected of an army soldier in the training, you should definitely give this workout app a shot.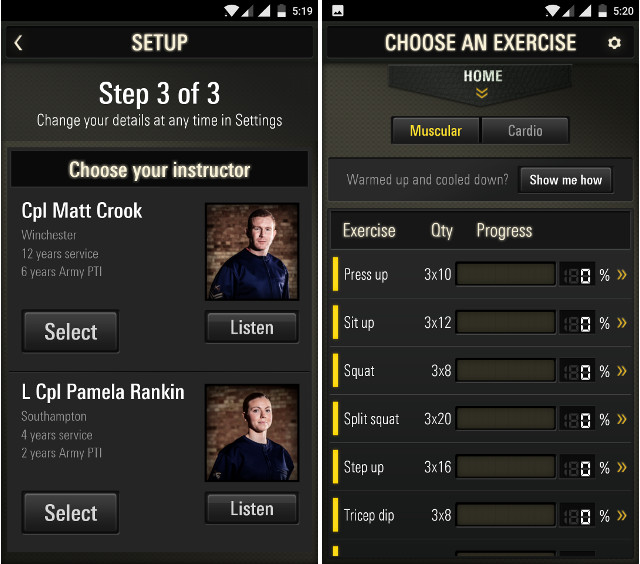 Install: (Free)
10. Just 6 Weeks
Just 6 Weeks, as the name suggests, is a very straightforward app which aims to increase your stamina in 6 weeks, so that you can do more of the same exercise in one go. There are 7 exercises it focuses on, including pushups, sit-ups, squats, and pull-ups. It is a fairly simple app which tracks your progress over the weeks and shows you the details in a nifty chart. However, there are no tutorial videos or anything like that. It is the only app on this list which demands an upfront payment, however, I do not think, it does something different to command its price.
Install: ($1.99)
11. Workout Trainer
Workout Trainer is a fairly good workout app on Android with a great selection of exercise tutorials and boot camps. It could be good for someone who is already used to workout but fell of the wagon somewhere. The only thing I hate about this app is that there's little to no material for free users and yet the app is flooded with advertisements. If you really want to use this app, you will have to buy the subscription. The app is so bad in the free version, that I had to use my willpower only to use the app when I was testing it. So, if you are looking for a good paid app, you can compare it with other apps on the list and then buy. It gives you a 7-day trial version to do that.
Install: (Free trial,  with in-app purchases)
12. Progression
Progression is a really great workout app and the only reason it is at the bottom of our list is because it is technically not a workout app. It is basically a fitness tracker app, which tracks your progress over time. You can use this app in conjunction with your primary workout app to track your progress. You can also customise the program to include your routine and enter the data to see how far you have come over time. This is one of the best fitness tracking apps you can use today.
Install: (Free, with in-app purchases)
SEE ALSO: 10 Best Fitness App For Your Android Wear
Use The Best Workout Apps on Android To Get Your Fitness Game Strong
As I said earlier, no app can help you get off your bed and start exercising. What they can do is bring a process to your workouts which you can follow, if you have already decided to get fit. It's not going to be an easy road, believe me. But, it will be worth it and these 12 best workout apps available on Android will definitely help you with it. So, check out these apps and let us know your favourite ones in the comments section below. Also, tell us about any workout apps we might have missed.