Nintendo launched the "Switch" gaming console globally in 2017, and the portable gaming console has been a massive hit. In fact, according to reports, it beat both the PS4 and the Xbox One in global sales in 2018, which is insane. So, if you have been using a Switch for some time now, or if you just gave in to the temptation and bought yourself a new one recently, it's probably a good idea for you to enhance your experience further with the best Nintendo Switch accessories.
Amazing Accessories for your Nintendo Switch
In this extensive Nintendo Switch accessories roundup, we have included a variety of accessories. From a robust battery charger to handy playstand to a massive power bank, it's got you fully covered. So, it doesn't matter what fits your choice of accessories, you will find the right one that can get along elegantly with your Switch. Now that you know what this lineup has in store, let's get started!
1. Nintendo Switch Pro Controller
For many people, the joy-con controllers which come out of the box are more than satisfactory for gaming on the Nintendo Switch. They are ideal for on the go gameplay and when you are playing games like 1-2 Switch. But for people looking for a more traditional approach, the Pro controller is for you.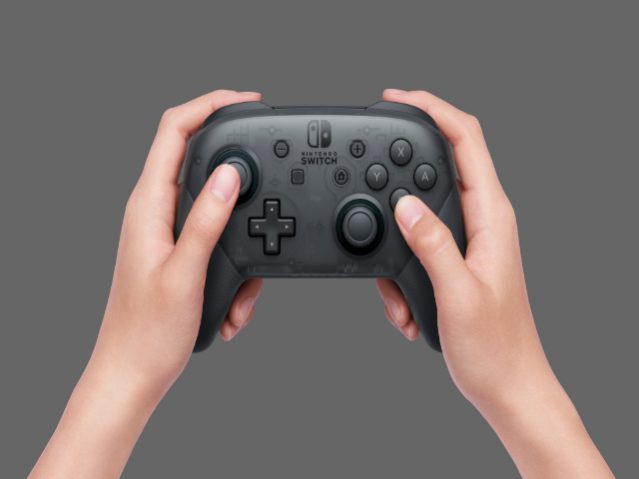 It resembles an Xbox controller, with the placement of its dual thumbsticks and D-pad, but overall provides amazing gameplay, thanks to its durability and build quality.
Pros: 
Modern-looking design
Built-in amiibo functionality
Pretty responsive buttons
Cons: 
Buy From Amazon: $102.75
2. HORI Compact Playstand
The Nintendo Switch comes with a kickstand for all your portable needs. A nice addition, but the pre-equipped kickstand is nothing special. It is made of plastic which might be prone to a little wobble, and also covers up the charging port. The Playstand from Hori solves this by having a really good build quality while having no obstructions to the port.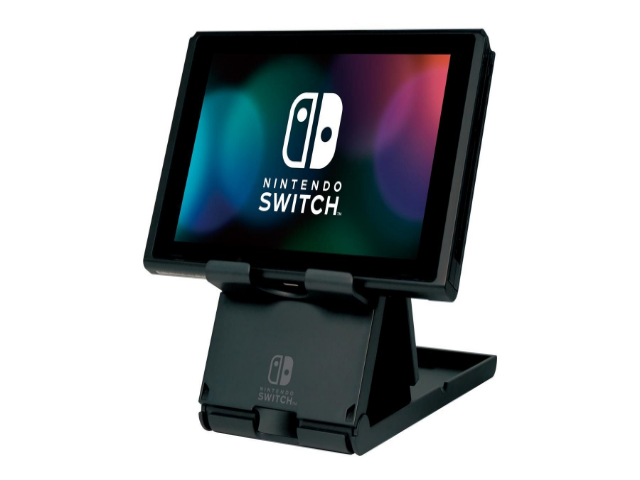 The Playstand is made up of a hard plastic which offers more stability. Also, the stand offers multiple viewing angles, and the ability to fold completely flat for the ease of portability. It also makes for a good desk accessory. And the best part? It is only $13.
Pros: 
Lightweight design
Multiple viewing angles
Much-improved grip
Cons: 
Build quality seems poor due to cheap plastic
Buy From Amazon: $12.99
3. Anker PowerCore 26800
The Nintendo Switch comes with a USB type C port, which means it can be easily recharged by a power bank. But the condition is that the power bank must provide at least 5V 3A, or the Switch would still lose charge. The Anker PowerCore 26800 is a massive power bank with a 26,800 mAh battery.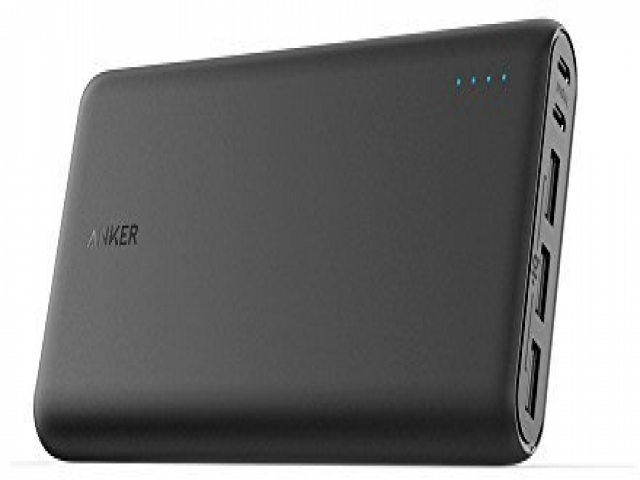 This means you can get 6 charges for the Switch from the power bank, and since it provides 5V 3A, it is ideal for the switch. The PowerCore is a great accessory to maximize the gameplay period of the Switch, albeit a little expensive.
Pros: 
26,800 mAh battery
Secure charging
Protection from overheating and short-circuiting
Cons: 
Buy From Amazon: $65.99
4. Anker Powerline+ USB Type-C Cable
As we have mentioned, the Nintendo Switch has USB type C instead of some proprietary connector. This allows for a lot of third-party Type-C accessories to be used with the Switch. The Powerline+ is a USB Type-C cable. Now, you might find this odd that we have a USB C cable on this list, but if you own any other device you would know how easily the OEM cables break.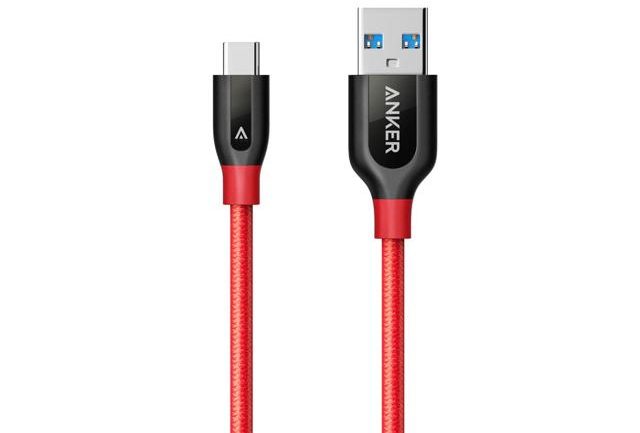 The Powerline+ from Anker is a great USB cable. It is made of Kevlar (a material used in bulletproof vests) and is nylon braided. This gives the cable serious strength, and this cable might be the only cable you will need for the switch. It can be paired up with the power bank we mentioned earlier, and it will ensure proper connection throughout. Overall, Anker Powerline+ is one of the best Nintendo Switch accessories.
Pros:
Offers SuperSpeed transfer of 5 Gaps
Double-braided nylon exterior
Laser-welded connectors
Cons: 
Doesn't work older Android devices
Buy From Amazon: $12.99
5. Hori Game Card Case
This is one of the simple solutions to a problem most Switch users might encounter. The cartridges that come with Nintendo Switch are small, quite small, and if Switch owners prefer hard copies of games rather than digital, the probability of losing a cartridge would be quite high.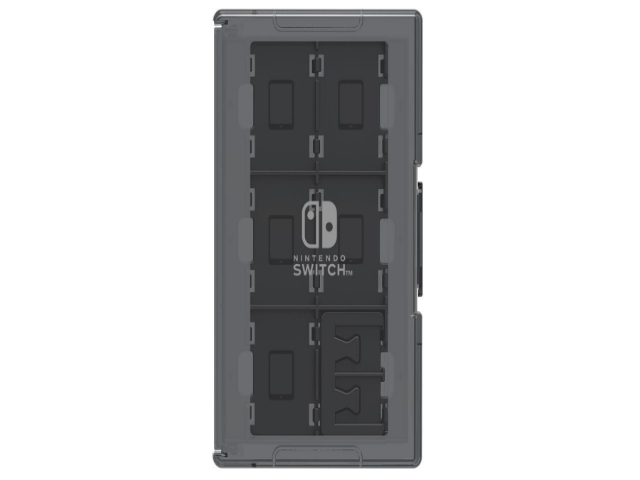 To combat this issue the Game Card Case comes into play. It is a simple Nintedo Switch case with slots for the cartridges – 24 in total, along with space for microSD cards. This would also be great for traveling, as a user can easily travel with the Switch without the bulky game cases and instead use this portable case.
Pros: 
Compact design
Allows you to store up to 24 game cards
Memory card holder
Cons: 
Buy From Amazon: $9.99
6. Amazon Basics Vault Case for Nintendo Switch
I love Amazon Basics products as not only they are of high quality but they also are quite cheap when compared to the competition. The Amazon Basics Vault Case for Nintendo Switch is a heavy-duty hard shell cover designed to protect your console when you travel.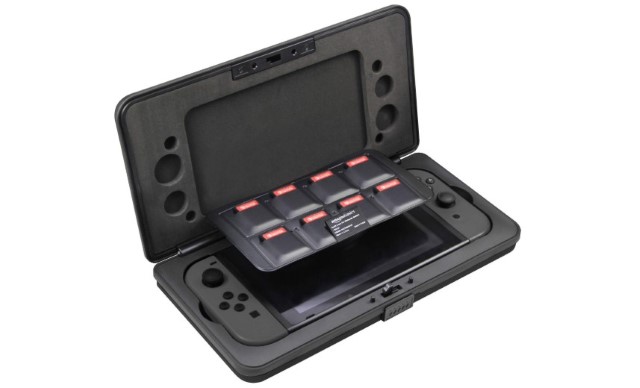 What I love about this case is that despite being really compact, it offers quite a good amount of storage space. You can easily store a Nintendo Switch along with its joy-cons and eight-game cartridges in this case. It also features a dual-layer design for extra protection.
There's a hard outer layer that brings protection against drops and a soft inner layer which prevents scratches and scuffs. I also appreciate the memory foam lining which ensures a tight fit for all the accessories. This is one of the must-have Nintendo Switch accessories if you travel a lot.
Pros: 
Dual-layer design for extra protection
Heavy-duty hard shell
Memory foam lining
Cons: 
Buy From Amazon: $24.50
7. Surge Nintendo Switch Grip Kit
The Joy Con controllers in the Nintendo Switch are great. They are new, fun to use, and quite portable. You can use them with Switch or separately for a more comfortale experience. You can even attach to various other accessories to get more features.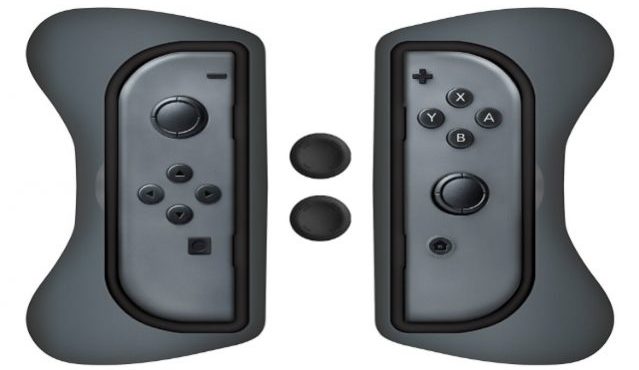 They are ideal for two players as well. When in portable mode, each player can use one of the Joy Cons to control their character. But the portability of the Joy Cons means that they can be too small or slippery for some people.
This is where the Joy-Con Grip comes in to play. It is a little grip, which makes the overall experience more ergonomic. It has better thumb caps and adds more dimensions to the Joy Con.
Pros: 
Compact form-factor
Enhanced grip
Offers access to all the buttons
Cons: 
Tiny recessed shoulder buttons
Buy From Amazon: $14.99
8. Fintie Protective Case for Nintendo Switch
Another great accessory for the Nintendo Switch is the Fintie protective case which is perfect for users who are looking for a lightweight protective case for their Switch. The Fintie case is a multi-functional case which not only protects the back but also the front of Switch thanks to its fold-able design. 
When not in use, the front cover can be folded back to be used as a stand for the Switch which is far better than the finicky stand that Switch originally comes with. I also love the fact that the back cover magnetically attaches to the front cover to keep it in place.
This feature comes in really handy when you are using the Switch in the hand-held mode as you don't have to deal with a dangling cover. As I said, the Fintie protective case for Nintendo Switch is a multi-functional accessory that should be on the list of all Switch owners.
Pros: 
Protective design
A multi-functional accessory
Elastic strap
Cons: 
A bit inconvenient to install and remove
Buy From Amazon: $13.99
9. Nintendo Joy-Con Charging Grip
The Joy-Cons wireless controllers with the Nintendo Switch are quite unique to the gaming industry. Apart from just being controllers, they also include motion sensors and a unique vibrating system to make it more lifelike.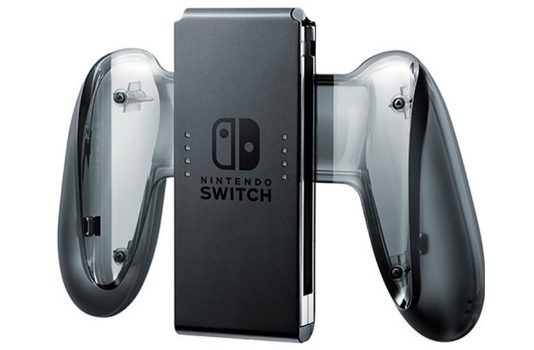 However, with all these sensors, they tend to run out of juice after some time. To aid them, Nintendo has a product called the Joy Con Charging Grip. It is a traditional-looking grip with a charging pad to charge the joy cons.
This is a great addition when using the Switch at home, as the joy cons are kept charged, and can easily be slid on the Switch when you would need to go out.
Pros: 
Lets you play while charging the Switch
Joy-con charging grip
Durable built
Cons: 
No battery in the grip
Buy From Amazon:  $29.99
10. Nintendo Switch Car Charger
You will be using the Nintendo Switch a lot, on the go and we have already talked about the battery performance of the Nintendo Switch. It will last you two to six hours before it dies. That is a pretty large delta, so to be always prepared for the worst, a car charger would be handy.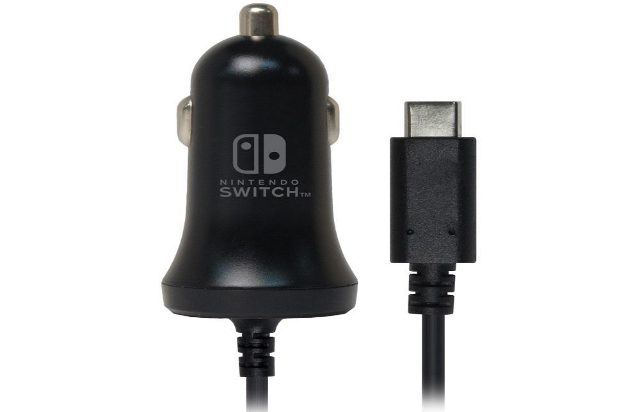 This Nintendo Switch car charger runs off the 12v supply of the car, so the charger would always have the energy to charge the Switch. In cases, where the large power bank we recommended is out of a charge, you can use this car charger to charge the Switch.
Furthermore, the power bank can also be charged if you decide to buy both of these items, which we do recommend. These charging solutions would translate to huge gaming times, making the Switch a truly portable masterpiece.
Pros:
LAN adapter
Stable wired connection
Durable cable
Cons:
Buy From Amazon: $29.25
11. UGREEN Network Adapter
This one is for the base Nintendo Switch station you are going to use at home. While wireless internet is convenient, easy to access, and fine for casual usage, when you need a high-speed internet connection with low latency, a wired connection is your best bet.
There's only one problem with that, which is the fact that Nintendo Switch doesn't have an Ethernet port. Well, this adapter solves this problem by introducing an Ethernet port to the Switch by using the USB port on Switch's dock. Once connected, you can plug your Ethernet in the dongle and achieve the best speeds that your internet connectivity has to offer.
That means you will experience less lag while playing multi-player online games and you won't be able to blame the internet for your abysmal gaming skills and will have to improve your game to win.
Pros: 
High-speed internet connection with low latency
RJ45 Port
Top-notch 10/100 Mbps fast Ethernet performance
Cons: 
Inconsistent internet speeds at times
Buy From Amazon: $16.99
12. Nintendo Switch Joy-Con Controller Pair
The Nintendo Switch comes with two Joy Cons out of the box, one intended for left-hand use, and the other for the right. However, the Nintendo Switch can be paired up with four different Joy Con controllers for either 4-way multiplayer matches or two-player modes. That's what creates the need to have an extra pair of Jon Con Controllers at the disposal.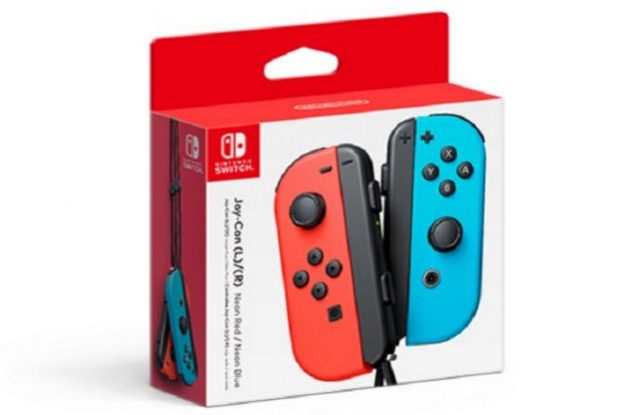 These Joy Cons controllers sports a lightweight and compact design. They come in two different colors: neon red and neon blue. Folks looking to color coordinate their setup might want these to bring more color to their setup.
Pros: 
Can be used separately or together
Full set of buttons
Buttons are tactile
Cons: 
Build quality could be better
Buy From Amazon: $66.63
13. PowerA Joy Con Charging Dock
The Joy Con controllers have a long battery life – about 20 hours, according to Nintendo. But, when you are gaming heavily, you lose track of time. Maybe you have extra Joy Cons and you want to charge all of them at the same time. This is where the Joy Con Charging Dock comes into play.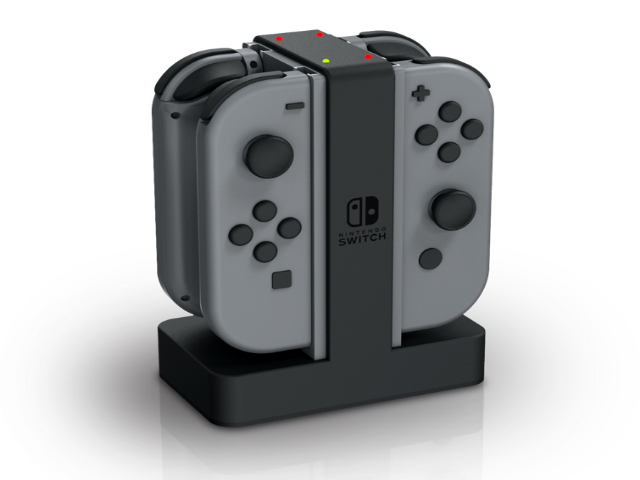 The charging dock is a well-built charging dock that can charge four Joy Con controllers. It has power LEDs and also indicating LEDs to notify you about each controller's charge. It is easier to charge your controllers on this dock than to slide the controllers on the Switch. And, it also makes for a great desk accessory. Keeping everything in mind, it's the best joy con charging dock.
Pros: 
Can charge up to 4 joy con controllers at once
Shows charge level for each joy con
Convenient slide-in design
Cons: 
Buy From Amazon: $24.99
14. SanDisk 128GB microSD Card
The Nintendo Switch comes with a mere 32 GB of onboard storage. This is not much by today's standards, and if you are someone who will be downloading a lot of stuff from the Nintendo eShop, then you should invest in a microSD card.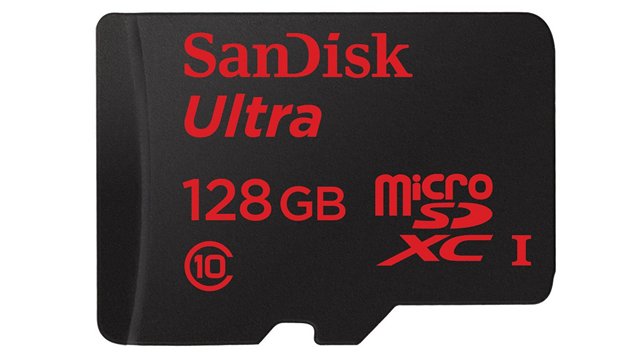 We picked the 128 GB version from SanDisk because it is fast and offers a decent amount of space. Game titles can be quite large and some games might completely eat up that 32 GB storage. Having more storage would mean more titles and who wouldn't love extra titles?
Pros: 
Class 10
Fast transfer speeds of up to 80MB/s
Comes with SD adapter
Cons: 
Buy From Amazon: $20.99
15. PDP Nintendo Switch Elite Player Backpack
While the Nintendo Switch is essentially a portable console, when put together with its accessories, it isn't as portable. If you want to carry the dock, your headphones, the charger, then packing everything together can be quite tedious.
Thankfully, Nintendo has rolled out an official backpack – the PDP Nintendo Switch Elite Player Backpack. Not only does the backpack look stellar on the outsides, but it also has enough space inside for all your accessories. It can pack the console, 15″ laptop, dock, cables, games, headphones, pro controller, and personal accessories, all together under a nice black and grey package.
Pros:
High-quality material
Plenty of space for accessories
Padded straps and carry handle
Cons: 
Lacks dedicated pocked for standard Switch accessories
Buy From Amazon: $59.95
16. Nintendo Labo
Nintendo Labo is one of the best and most interactive gaming products to hit the market in a while. If you are someone who is annoyed because your kids are spending all the time playing games, why not introduce them to something which is both fun to play and create. Nintendo Labo is that product and you should definitely consider buying it. It allows kids to build and play with their own cool creations.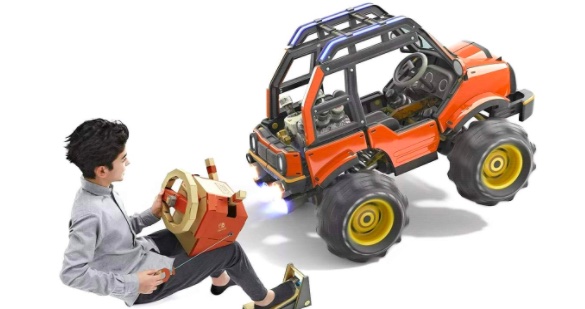 There are different kits available that can be used to create different toys which then can be used in conjunction with the Switch's hardware to play games online. Both the idea, and the execution are pretty cool and you should definitely check it out. You can read more about Nintendo Labo by visiting its official website.
Pros:
Family-friendly DYI kits for Switch
Lets kids create customizable cardboard creations
Includes a variety of creations
Cons: 
Requires some learning curve
Buy From Amazon: $38.99
17. Talkworks Steering Wheel
If you are looking for a top-notch steering wheel controller for your Nintendo Switch, this offering from Talkworks could easily fit into your taste. Whether you want to take on the Nintendo Switch Mario Kart game or other Switch wheel racing games for an exciting head-to-head driving competition, it can come in really handy.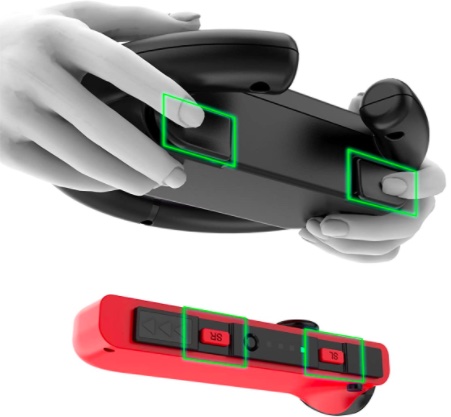 It's quite lightweight and comfortably fits in your hands. As a result, you will relish playing switch racing wheel games. The wheels are joy-con L and R which make it fully compatible with open button space. Priced at $11.17, Talkworks steering wheel comes in two-pack which make it quite affordable.
Pros:
Great asset for Switch Mario Kart game and wheel racing games
Comfortably fits in the hands
Responsive buttons
Cons: 
Build quality seems below par
Buy From Amazon: $11.17
18. PXN 0082 Arcade Stick
Featuring turbo and macro function, PXN 0082 stands out as probably the best arcade stick for Nintendo Switch. With the low-latency USB connection, it delivers consistent performance by keeping stuttering at bay. It comes with a long 7.2ft/2.2m USB cable to let you play your favorite game comfortably, especially when connected to a smart TV.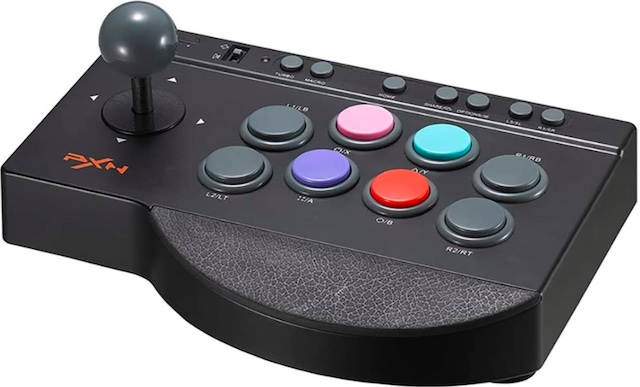 The directional joystick has the support for joystick and D-pad interchange, which ensures you can play a variety of games – from fun-filled racing or action-packed shooting. As for the build quality, it has a rugged construction that enables it to endure shock. So, you can bank on it to be a long-lasting arcade stick for your Switch.
Pros:
TURBO and MACRO Function
A low-latency USB connection
Supports multiple platforms including Xbox One, Switch, and PS4
Cons: 
Fight stick may not work consistently
Buy From Amazon: $39.99
19. Battery Charger Case for Nintendo Switch from YOBWIN
For more than one reason, the Yobwin battery charger case is a huge asset for Nintendo Switch. For starters, it comes with a massive 10000 mAh battery that can extend the game playing time up to 8 hours. Thanks to the 18W fast charging technology, it can juice up your video game console pretty fast.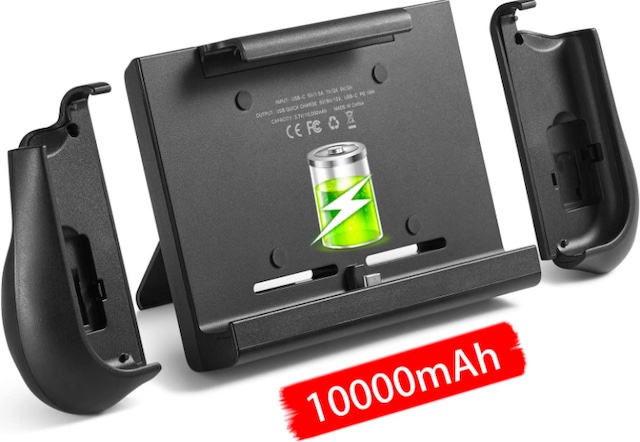 What's more, Yobwin battery charger case also works as a super handy power bank to let you charge other devices. Equipped with safety protection, it safeguards your game console against overheating and short-circuiting. Featuring 4 LED lights, it also allows you to keep a track of the power status.
Additionally, it includes a game card slot and two detachable joy-con grips. Considering these features, the $39.99 price tag seems reasonable.
Pros:
1,0000 mAh battery
Also works as a power bank
Game card slot and two detachable joy-con grips
Cons: 
A bit heavy for extended travel
Buy From Amazon: $39.99
20. Jamont Switch Dock Sleeve
Carved out of high-quality soft fabric, Jamont Switch Dock Sleeve showcases a professional-looking design. With a slim profile, it wraps around the Nintendo Switch precisely. And with the sophisticated exterior, it provides a secure grip, ensuring it fits comfortably in the hands.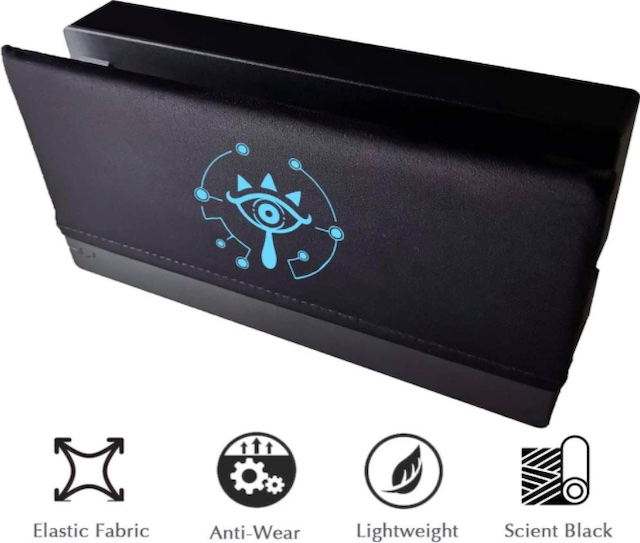 Beyond design, Jamont Switch Dock Sleeve can also resist minor impact and prevent scratches. Being anti-dust, it retains the good-looking profile for long. Keeping in mind these qualities, the $9.99 price-tag puts this dock sleeve in the affordable category.
Pros:
Professional-looking design
Soft fabric
Anti-fabric
Cons: 
Buy From Amazon: $9.99
Some of the Best Nintendo Switch Accessories
Well, if you have already bought yourself a shiny new Nintendo Switch then it's only appropriate if you buy all the necessary accessories for the Switch as well. Just buy the Nintendo Switch accessories that you require like a carry case, charging case, or whatever you want. Let us know if there are any other cool Nintendo Switch accessories out there. Sound off in the comments section below.