Android is a beautiful platform but there are minor problems that actually annoy an average user on daily basis. One of the biggest drawbacks is the fact that there are many apps that keep running in the background without the user's knowledge. These background processes eat up all the system resources and hog your Android device's battery which means that your Android phone or tablet runs out of battery juice way sooner than it should. It doesn't mean that you shouldn't download apps on your Android device but you should never let any app eat all your system resources. In order to keep apps from hogging down on your Android device's battery juice and resources you should download a Task manager app to kill all the processes in the background and improve your Android device's performance as well.
Below we list the 10 best task manager apps for Android.
1. ES Task Manager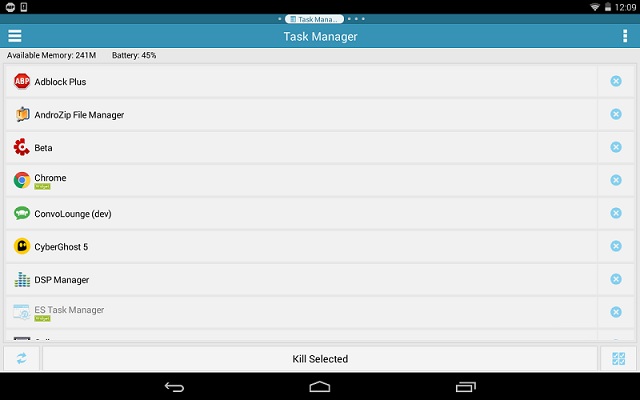 If you are already using the ES File Explorer app on your Android device then you know how good these developers actually are. That is why the ES Task Manager is one of the best task manager apps available for Android at the moment. This app is completely free of charge and offers all the features that you would want in a task manager. This task killing app will let you identify all the apps that are running in the background, hogging on your system resources and then kill them with just a single tap. You can also uninstall unwanted apps directly from inside the ES Task Manager app to save space in your phone's memory. If you don't want to kill certain apps then you can add them to the whitelist so the app doesn't kill those apps automatically.
Install (free)
2. SystemPanelLite Task Manager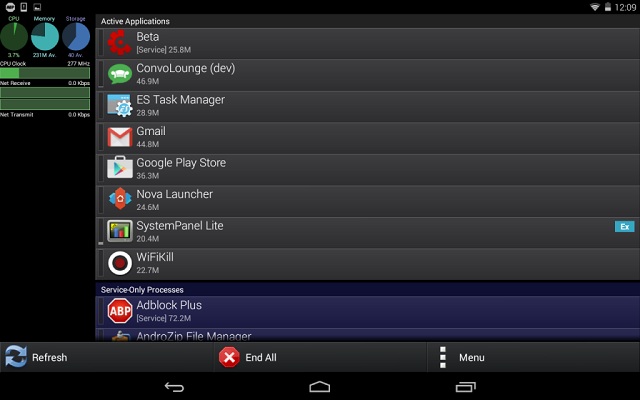 If you are a geek or a big fan of sci-fi movies then you will fall in love with this amazing task manager app. The best thing about the SystemPanelLite Task Manager is its UI which resembles something out of a sci-fi movie. With detailed statistics, charts, and data regarding your device's resources SystemPanelLite Task Manager looks like a great tool for every power user on Android. This task manager not only helps you identify and kill resource eating apps but also provides detailed information regarding your Android system. This app monitors your system and notifies you whenever something looks out of place. The paid version ($2.99) of the app also provides app installed/uninstaller feature and battery monitor to ensure maximum battery life on your android device.
Install (free and paid version available)
3. Greenify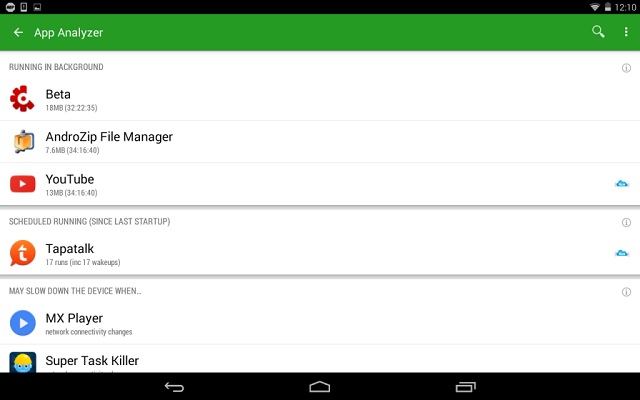 One of the best Android utility and task manager app. Greenify lets you manage all your apps with a unique new way. You don't have to kill all the apps that are eating up your system's resources instead Greenify lets you hibernate such misbehaving apps with a single tap. Hibernated apps do not run in the background thus saving your precious battery life and your device runs smoothly as well. However, whenever you want to use the hibernated app, all you have to do is open it and the app will function as usual but as soon as you close the app, it goes back to hibernation. Greenify saves you a large chunk of your device's battery life and boosts the performance speed as well.
Install (free)
4. Watchdog Task Manager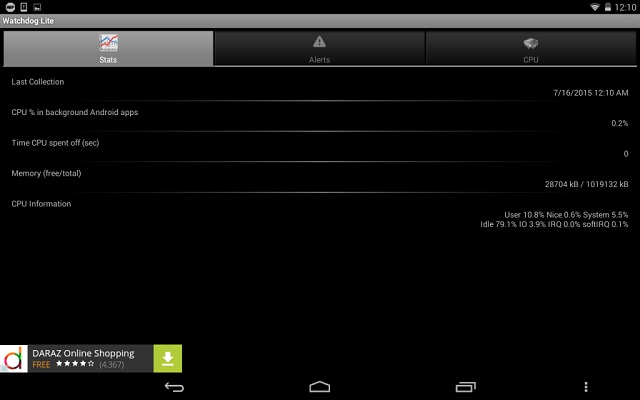 Watchdog Task Manager is not entirely a Task killer instead it offers a full monitoring system for your Android smartphone or tablet. This app won't just kill all your apps and processes with one tap instead it will keep a close eye on all the apps and processes running in the background. As soon as any one of the app goes out of control and start running down all your system resources, Watchdog quickly comes into action and notifies you of the resource hogging app. You can then easily kill the app with just one tap and keep your resources safe.
Install (free)
5. GO Cleaner & Task Manager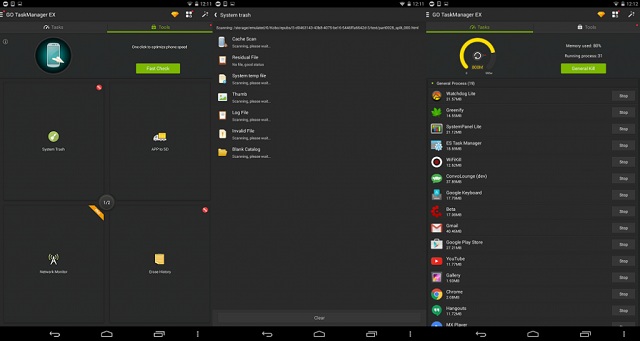 GO Launcher is one of the most popular launchers for the Android and the same developers have also released the full-fledged task manager comfortably named as GO Cleaner & Task Manager. If you are looking for a slick user interface then you will find this app very appropriate. This task manager not only helps you kill background apps instead it gives you a plethora of new features as well like getting rid of cache, removing unwanted folders left by uninstalled apps, clearing your browsing history and data, and boosting your phone's performance. All these features and a full functional task manager for free. Definitely one of the best task manager apps for Android.
Install (free)
6. Zapper Task Killer & Manager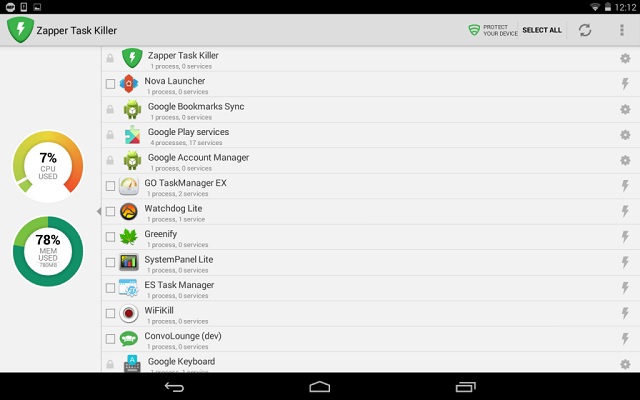 Just like the name suggests Zapper Task Killer & manager actually zaps all the tasks and processes that are causing lag on your Android smartphone. If you ever suspect a specific app that is causing slow downs on your Android device and drinking your battery juice like Gatorade then Zapper will come into action and zap that certain app. The user interface is top notch and you will see percentage rings for the memory usage and CPU usage in the app. You can kill specific apps by clicking on them and zapping them, or you can choose to go on a zapping spree and kill all the apps with just one tap. Real time charts show you all your phone's resources that are being used by different apps and processes.
Install (free)
7. Super Task Killer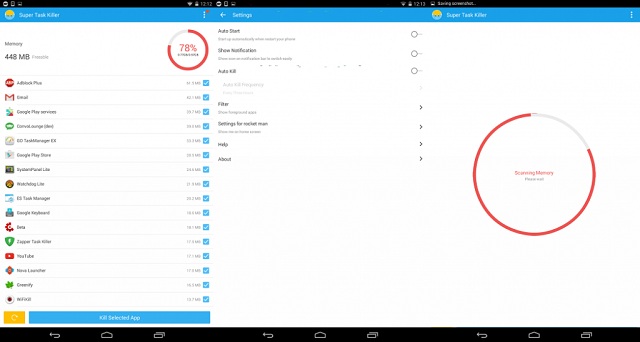 If you don't want your task manager app to eat up a lot of storage space on your Android device then you need to download Super Task Killer. It's the most lightweight task manager app available on the Google Play Store. Being the lightest app doesn't mean that it compromises on features. It provides almost the same feature as other top task managers out there. This app can kill different background process and actually boost your Android phone's speed by up to 50%. You can also specify certain times and this app will automatically kill different apps on set times specified by you.
Install (free)
8. Advanced Task Killer
Back in the days when task managers and task killers were actually a necessity for the Android platform, Advanced Task Killer was the number one task killing app and a featured app on the Google Play store. It still maintains its superiority in terms of functionality. Offers all the basic and advanced task management options in a simple and easy to navigate user layout. You can kill apps directly from the app or turn on auto-killing feature to automate the whole process. The developers recommend that you kill each app manually to ensure that important system processes are not killed during the auto kill process. You can also put apps in the ignore list so that these apps are never killed.
Install (free)
9. Smart Task Manager
If you want all the premium task management features without paying a single dime for the app then you better download the Smart Task Manager because it's one of the most feature rich task manager with a zero price tag. You get a real time process list in the app that shows you exactly how much CPU and memory is being used used by different apps in real time. You can then kill apps that are not useful and keep apps that are important. The best app management features in the app include the ability to backup all your app data to your phone's SD card. You can backup all your apps and then restore them at any time directly from the app. This is definitely one of the best features in Smart Task Manager.
Install (free)
10. Clean Master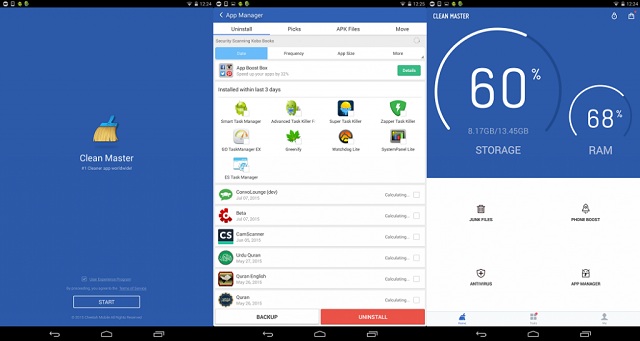 If having a lot of features is necessary for a task manager app then Clean Master definitely blows Smart Task Manager out of the water. This app comes with a large number of features that you won't be able to find in any other task manager app out there. Clean Master offers a basic task killing and mobile optimization functionality but on top of that you also get an app lock features that lets you lock all your personal apps with a password, an antivirus features to keep your Android device safe and secure from rogue apps, duplicate photo remover to find and remove all the duplicate photos on your android phone's memory, and a game booster feature that boosts game performance by up to 30%. All these features packed in this single task manager app and it still costs you nothing at all.
Install (free)
SEE ALSO: 10 Best Antivirus Apps For Android 
If you want your Android phone or tablet to perform the same way as it used to when it came out of the box then you should download one of the task manager apps from our list. Newer versions of Android have a built-in task manager but it does not provide as many features as the apps we have mentioned in the above list. Let us know which task manager app is your favorite in the comments below.