Sticky Notes was one of the best features of Windows which had a simple objective and the app excelled at it. No matter where you are — browsing the internet or deep inside a program — you could always access your notes and add new tasks then and there. However, with Sticky Notes gone from Windows 10, many are looking for an alternative that is simple to use and one that actually works. So we took the task upon us and curated a list of best Sticky Notes alternatives for Windows 10 that is lightweight, has a modern interface, comes with cloud-syncing capability, and supports hotkeys. With that in mind, let's go ahead and find a suitable alternative to Sticky Notes for Windows 10.
Best Sticky Notes Alternatives for Windows 10
Here are the best alternatives to Sticky Notes for Windows 10. We have included those apps which are easy to use, has a simple UI, supports keyboard shortcuts on Windows 10, and does not require much tweaking. You can click on the link below to quickly jump to the corresponding app.
Top Alternatives to Sticky Notes in 2020
1. Notezilla
If there is one Sticky Notes alternative that truly offers the same level of experience as the original Windows Sticky Notes then Notezilla is the one. It offers Always-on-top feature which gives you access to your existing notes all the time. Simultaneously, you can jot down your thoughts and tasks easily using a one-click button or keyboard shortcut.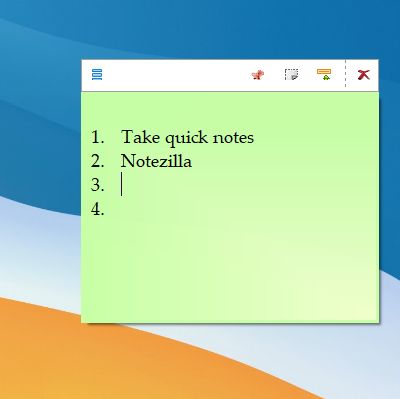 The Sticky Notes are available in various colors and themes and you can customize it according to your preference. What's more, there are options for reminders and cross-platform syncing too. No matter which OS you are using, you have apps for Android, iOS, web, and more. So go ahead and download Notezilla– the best Sticky Notes alternative for Windows 10.
Download (Free, $29.95)
2. Microsoft Sticky Notes
Since Microsoft killed the original Sticky Notes, it has brought a more advanced and feature-rich alternative called Microsoft Sticky Notes on Windows 10. It appears on the desktop and does not stay on top of all windows which is disappointing. However, you can bring the pin functionality through a third-party app. You can follow our article and learn how to keep a window appear on top.
Apart from that, you can quickly add your tasks and reminders. The great part is that it now offers cross-device syncing which can be accessed from OneNote Mobile, Microsoft Launcher, and Outlook. What I like more is that it has multiple text formatting options including bulleted points, strikethrough, and more.
Having said all of that, the highlight of Microsoft Sticky Notes is that it offers smart insights based on your input. For example, if you add an address to Sticky Notes then it offers a clickable link to open the place on the Map. That's cool, right? Summing up, while Microsoft Sticky Notes is surely advanced, the lack of stay-on-top feature is an elementary mistake which the company should have fixed long back.
Download (Free)
3. Simple Sticky Notes
Simple Sticky Notes is another alternative to Sticky Notes that is clean, lightweight, and powerful. It offers the option to keep your tasks appear on top of all windows which is great. So you can continue browsing the web and add tasks as you go forward. You can also drag and drop texts directly on the sticky note which is great.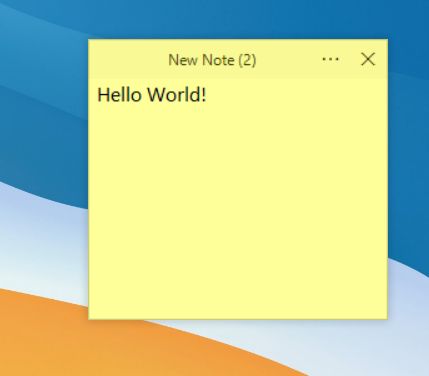 The only con is that it does not support images which I think is passable. Other than that, you can edit the title, change colors, adjust opacity, share notes via email, and more. All in all, I would say, Simply Stick Notes is the perfect alternative to the original Sticky Notes on Windows 10 that just works without any fuss.
Download (Free)
4. Stickies
Stickies is another advanced alternative to Sticky Notes that comes with always-on-top feature and the ability to create new sticky notes with a simple keyboard shortcut. It has multiple hotkeys for creation, deletion, hiding notes, pasting directly from the clipboard, and more. You can even customize the hotkeys according to your preference.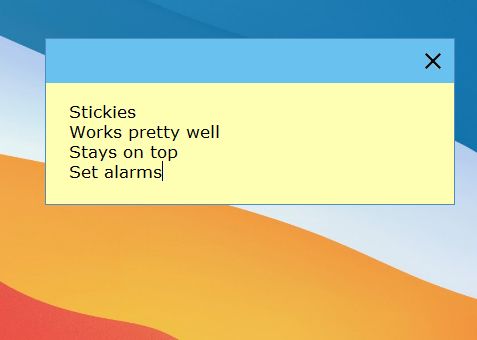 Apart from that, you can create alarms for your tasks, create a network of friends for sharing notes, define skin color, and much more, In fact, it has so many features that you might get overwhelmed.
Having said that, it works flawlessly out of the box without having to tweak the settings. So Stickies can be used by both pro and general users who are on the lookout for a simple yet powerful Sticky Notes alternative.
Download (Free)
5. Zoho Notebook
Zoho Notebook is not strictly a Sticky Notes replacement, but you can make it so. The app is actually more like Evernote, but you can resize the window and make it look like a Sticky Note. In addition, you can use third-party apps like TurboTop (Free) to keep the window on top of everything.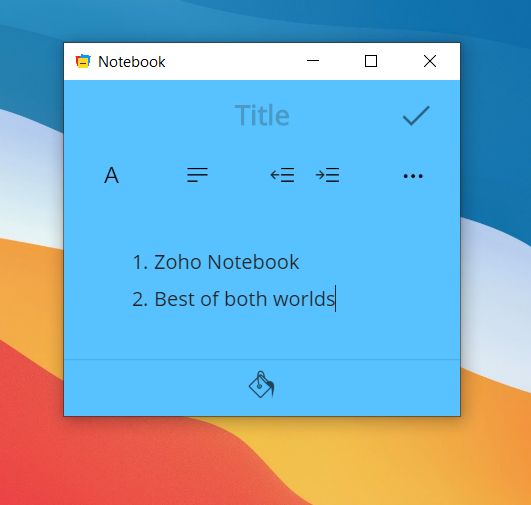 The reason I am recommending Zoho Notebook despite the lack of key features is that it has a full-fledged note editor with support for text formatting, checklists, image support, color profile, indentation, reminders, and much more. Further, you can sync your notes and access all your data on the web or mobile using its dedicated app.
Basically, Zoho Notebook brings two essential features– notes and tasks — in one place which can make your workflow much more productive. So go ahead and download Zoho Notebook to replace Sticky Notes on Windows 10.
Download (Free)
6. Google Keep
Lastly, we have Google Keep which is again not a dedicated Sticky Notes alternative, but with a bit of tweaking, you can make it a potential app for quick note-taking. You can create a PWA of Google Keep by clicking on your browser's Settings -> More tools -> Create Shortcut -> Enable Open as Windows -> Create. This will create a standalone Google Keep app on your Windows 10 computer.
After that, you can resize it and with the help of TurboTop (Free), make it appear on top of everything. This way, you will get a full-fledged note-taking app that syncs across all your devices in real-time. I think, if you are an Android user then this is a much better option than other Sticky Notes alternatives mentioned on this list.
Visit Website (Free)
Find the Best Sticky Notes Alternatives for Windows 10
So these are our picks for the best Sticky Notes alternatives for Windows 10. While four of them are standalone sticky notes apps, two are more of a hacky solution– but great nonetheless. Depending on your use case, you can choose any one of them and I am sure you will find a suitable pick for quickly taking notes. Anyway, that is all from us. If you found the article helpful then do comment down below and let us know.