The Apple Watch is a great companion for your iPhone, allowing you to check notifications at a glance, take calls, send walkie-talkie messages, and even check heart rate variability and heart rate recovery to keep a track of your fitness levels. Plus you can make it even better with some great third party apps for Apple Watch. However, as much as the Apple Watch can help with productivity and fitness, it's also surprisingly good for playing some games every now and then. Well, if you're looking for some fun watchOS 8 games, here are the 15 best free Apple Watch games you should definitely try out.
Top Free watchOS Games (Updated 2022)
1. Infinity Loop: Blueprints
If you are a fan of puzzle games, you should definitely check out Infinity Loop: Blueprints. The game basically puts a bunch of pieces on your watch's screen, and you have to tap on them to rotate them and connect them together to form a closed loop.
It starts off really simple, as you can see from the screenshots below, but soon becomes quite challenging. Infinity Loop is definitely an amazing way to kill a few minutes on your Apple Watch with a slightly challenging game that is bound to wake your brain right up. It's not exactly a brain training game, but it is fun, and it's free, so check it out right now.
Download Infinity Loop: Blueprints from the App Store (Free)
2. Dare the Monkey
Dare the Monkey is a fun little casual game that comes with easy controls and difficult gameplay. When I say easy, I mean you just tap to jump, and tap longer to jump higher for making those bigger jumps when needed. The monkey runs by himself so all you really have to do is make sure you jump on time and avoid the wooden stakes someone has carelessly put in the ground. It's honestly kind of nice to see a cute little platformer running on the Apple Watch.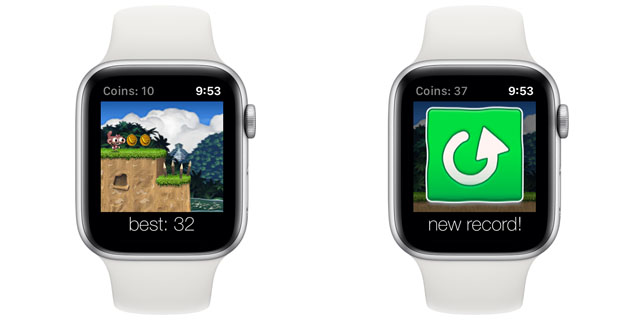 Download Dare the Monkey from the App Store (Free)
3. Ping Pong (with Multiplayer Support!)
Pong is a game that needs no introduction. Almost everyone has played some version of the game on old gaming consoles, PCs, and portable gaming devices. Now, you can play the game straight on your wrist with Ping Pong! You can either play against the watch, in which case you just use the Digital Crown to control your paddle. Or, you can challenge a friend or family member to a game using your iPhone and Apple Watch in tandem. Basically, your friend can play on your iPhone while you play on the watch. The game is synced together so it is a real-time multiplayer experience, and it can be a lot of fun.
Download Ping Pong from the App Store (Free)
4. Par 72 Golf Watch
Golf fans, this one is for you! You can now play golf on your Apple Watch with ease. Par 72 Golf is a fun little game that works entirely on your watch. It features realistic graphics, aerodynamics and true-to-life physics to make an actually fun and challenging golf game for you. The game features 3D graphics, wind and distance indicators, two kinds of player views, and more. The free version lets you play one hole in all three of the game's courses, and you can unlock all 18 holes across the 3 courses by paying $0.99.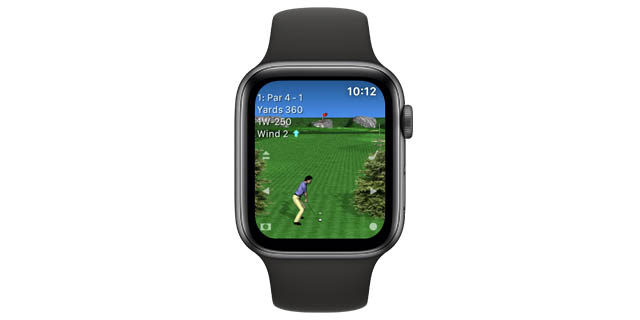 Download Par 72 Golf Watch from the App Store (Free)
5. Pocket Plants
Pocket Plants is a fun take on helping you stay healthy. Unlike most virtual plant games, you don't have to spam tap on the screen to water and grow your plant. Instead, the plant grows as you take more steps every day with your Apple Watch. In fact, similar to Pokemon Go, you can also unlock new plants by walking around, and create your own little garden. The game also features a merge mechanic, where you can merge different plants together to find new species of plants for your collection. This is definitely a great game for people who want a bit of gamification to their waking habits.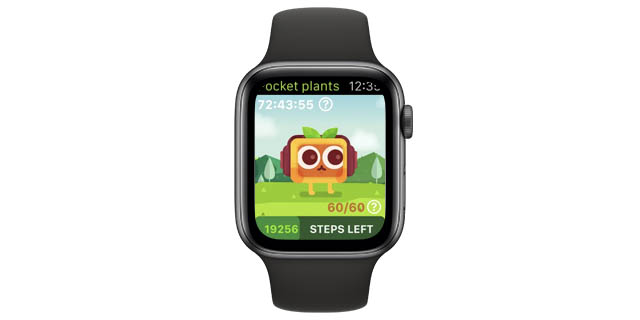 Download Pocket Plants from the App Store (Free)
6. Touch Round – Watch Game
Looking for a racing game of sorts for your Apple Watch? Touch Round is a fun take on car racing which is available for free. In this game, you use your Digital Crown to turn your car as it speeds through tracks. Your aim is to beat the clock and control your car so that it doesn't go off the road.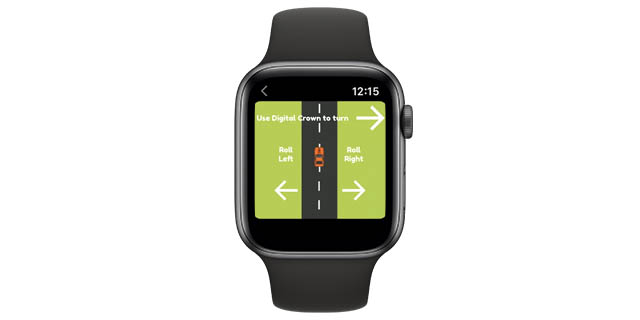 Download Touch Round from the App Store (Free)
7. Jellyfish Tap
Jellyfish Tap is a game I wouldn't recommend to the easily annoyed. Think 'Flappy Birds' but on your watch. In this game, you have to tap the screen to control a jellyfish as it makes its way through levels. Your aim is to ensure that the fish doesn't hit any of the bars blocking the way. Still, the game is not as difficult as the infamously irritating Flappy Birds. That said, do bear in mind to not smash your watch in frustration if you die one too many times.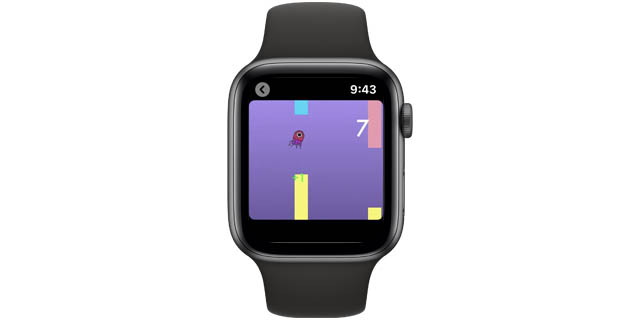 Download Jellyfish Tap from the App Store (Free)
8. Solitaire the Game
For all the card game lovers out there, this one is perfect to play on your Apple Watch. As the name suggests, Solitaire the Game is a solitaire game where you have to tap on cards and they automatically get placed on the deck they can go to. You can also pick new cards from the deck if you want, and the aim is basically to create groups of cards from ace to king, separated by card type. It's fairly easy to play, and is great when you're looking to play a game during a quick 5 minute break (or 6 minutes and 15 seconds, because that's how long it took me to finish one game).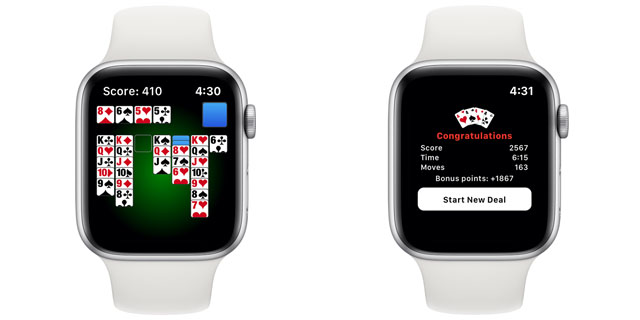 If you ever get stuck, you can just firmly press on the screen to get options like Undo and New Deal. Plus you can also check your statistics by firmly pressing the screen and choosing the statistics option.
Download Solitaire the Game from the App Store (Free)
9. Wordie
Word games are definitely fun, and their format kind of makes them a great fit for a small screen like the one on the Apple Watch. Wordie is a pretty great word game that works on a simple premise — you're shown four images and you have to guess the word based on the theme of the images or the contents of the images shown. As is usual with games like these, it starts off fairly easy and gets progressively more difficult.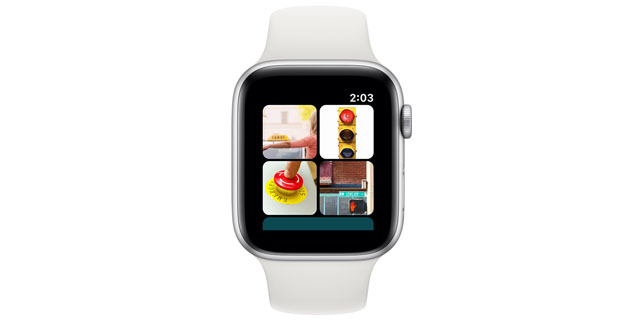 Download Wordie from the App Store (Free)
10. Micropolis
Micropolis is a great game for the Apple Watch because it doesn't really require user interaction beyond a tap or a rotation of the digital crown, and that too not very frequently. It's an idle game where you grow a city in your watch, upgrading buildings to earn more money, building new ones from that earned money and basically repeating the process until you have a glorious metropolis in your smartwatch. It's a tiny metropolis though, which is why the name of the game is "Micropolis", in case that wasn't abundantly clear.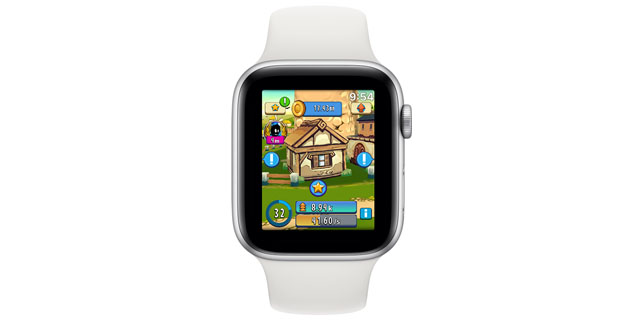 Anyway, the game is a lot of fun, and is a great way to pass time without actually having to put much thought into what you're doing in the game because there's really no deadlines or boss fights here, just you, your idle time, and the beginnings of your very own city; so enjoy!
Download Micropolis from the App Store (Free)
11. Sudoku
Who doesn't know Sudoku? I'm sure I don't have to explain the concept behind this game, and that's exactly why I added this to the list — this is a game that a lot of people love playing and for good reason. It's challenging, it's fun, and it fits perfectly within the Apple Watch's screen so it's not annoying.
Plus the game allows for text entry really easily. You just tap on the empty blocks and choose the number you want to place there. From that point onward you just repeat the process until you have finished up the entire puzzle and viola! Fun times!
Download Sudoku from the App Store (Free)
12. Mimic the Game
For some reason a lot of Apple Watch games have "the Game" in their name. I don't know why that is, but I do know that if you are a fan of memory games, this one will be right up your alley.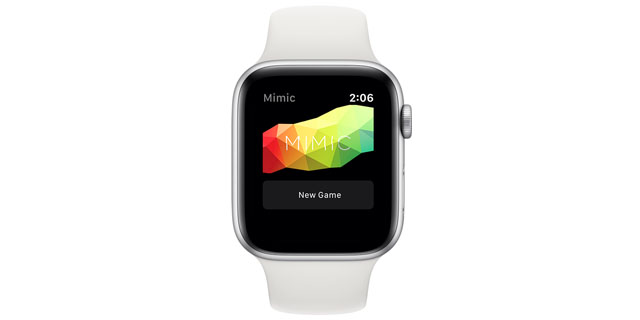 The game puts four different coloured buttons on your screen and lights them up in a pattern. Then, you have to tap the buttons in the same pattern in order to unlock the next level. After a few levels, the game adds more buttons to the mix, and sometimes changes up the location of the buttons to confuse you. All it takes is one wrong move, and you'll have to start from the beginning. It's a lot of fun, but it can also be very annoying so make sure you're playing this when you're not already stressed out.
Download Mimic the Game from the App Store (Free)
13. Space Buster X
Space Buster X is basically brick breaker, but it has some space themed levels as well. The game involves you moving around the paddle ensuring the ball doesn't drop off the screen, while destroying all the bricks in the level. Paddle movement is controlled by the digital crown, which is great, but it also makes it very easy to accidentally move the paddle too quickly or too slowly, and lose the game.
Download Space Buster X from the App Store (Free)
14. Time Unit
Time Unit is another idle-ish game for the Apple Watch that I personally found to be quite a bit of fun. The game starts off with a short backstory that's displayed in the form of a comic strip, and then you're thrown right into the play-zone. Basically, you have to explore various areas in the game, upgrade your character, and take on enemies in order to earn more upgrades. New areas take time to unlock, which is where the idle part of the game comes into play; but once they have been unlocked you will get waves of enemies coming at you that you have to tap to fight and defeat in a turn-based combat system.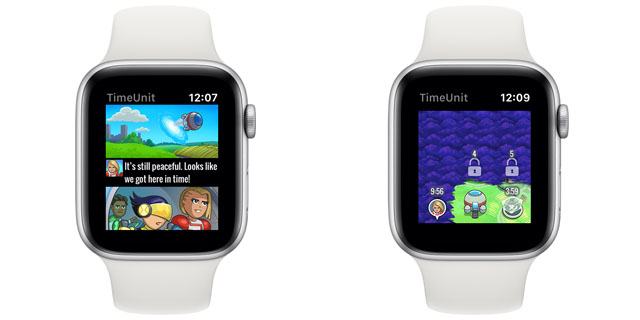 The game is definitely fun, but like most idle games it requires a bit of patience, especially while you're unlocking new areas to explore.
Download Time Unit from the App Store (Free)
15. Field Day
Field Day is a farming game that touts itself as the tiniest farm in the world. To be fair, it really is tiny because it fits right in on your Apple Watch (for the most part). The game works on both the Apple Watch and the iPhone and your progress is synced across both devices, so you can play wherever you like and pick up on whichever device you want.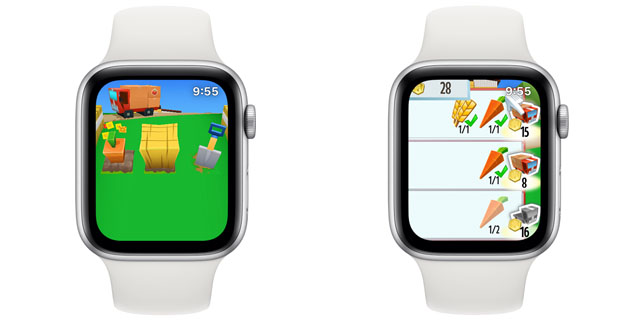 It's fun to play on the watch because all you have to do is tap to grow plants, rotate the digital crown to access different buildings, and sell your crops. However, when it comes to certain missions (such as the one in the beginning where you have to sell carrots to a baker in the city) you will need to use your iPhone because navigating to the city isn't possible in the Apple Watch version of the game. Still, Field Day is a fun farming game, and if you have ever played Hay Day on your phone, you might actually love this one.
Download Field Day from the App Store (Free)
Play These Fun Free Apple Watch Games
Well, those were 15 fun and free Apple Watch games that you should definitely check out. I have tried to include all types of games in this list including puzzle games, platformer games, card games, and more so no matter what kind of watchOS games you're looking for, you should find something that fits your needs. So what games are you playing on your Apple Watch? Also, if you know of any other free Apple Watch game that you think should be included in this list, let me know in the comments and I will definitely check them out.