Smoking is one of those habits that is tough to ditch, despite people having a strong determination to curb it. Consider an average person for instance, who is a heavy smoker & breathes in a considerable amount of CO2 from his 5 cigars of the day, knowing that smoking has its own set of problems to add to life's usual problems. He wants to quit this habit of puffing in those toxic gases but knows that simply saying "No" to those gas tubes from the next day would need some serious determination, similar to a saint's.
So, how can we help our average person lead a smoke-free life? Well, we went on the web and found some great Android apps to quit smoking:
1. Smoke Free
Recommended by thousands of quitters, Smoke Free is a very useful app to help you quit smoking. This well-designed app has a clear layout, showing all the data that you would need to see frequently & upkeep your motivation. It calculates your yearly savings, the number of cigarettes you avoided, the number of smoke-free seconds and even how much life you have regained! It also uses the data to tell you how much of a non-smoker you have become, in various bodily parameters like pulse, Oxygen levels, Nicotine ingestion, breathing, energy levels & so on.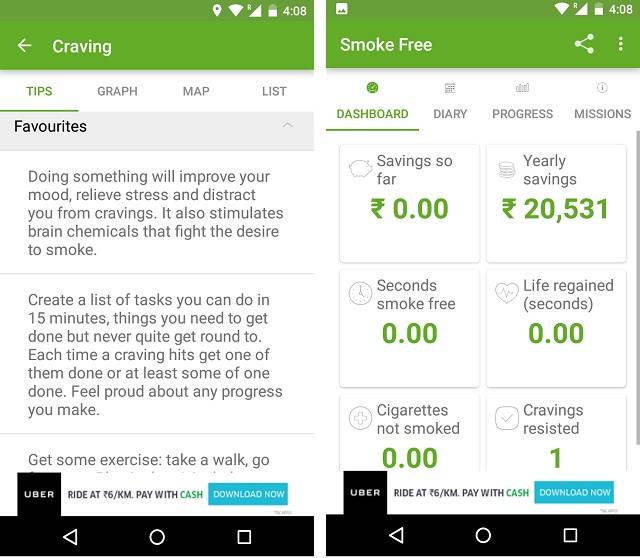 You also get various missions each day with a personalized GIF message to keep you going. It is available as a free app with some in-app purchases, if you need some more motivation.n
Install: (Free with in-app purchases)
2. Quit Now
If you want an app that's simple & sorted, you can use Quit Now. It presents all your information in a well laid out manner, which is very easy to navigate. The home screen of the app shows you some unique details like the day you started the process and shows you the exact time in seconds for the same. But, what sets this app apart is the ability to chat with a community of people like you, who are willing to give up smoking. You can chat with them, discussing your feelings & challenges during the course and even reply to someone's specific comment.
There's also a Twitter-esque Mentions tab that shows if someone tagged you in their comment. The app also awards you with achievements upon meeting a certain goal, as well as shows your health gain in percentage.
It has a free version, which packs in the basic features and it should be good enough for most people. However, there is also a paid version, if you want to go into a bit more depth with your motivation. Go for this if you want your quit smoking app to make your life easier, with an interesting presentation of your health data.
Install: (Free version) (Pro version $3.95)
3. Quit Smoking Now: Quit Buddy
You might look at this app & immediately say that this isn't so matured, compared to the previous apps on this list. The app's UI is from the pre-Lollipop era, the algorithms aren't perfect & it doesn't retain itself in the device memory once you lock it. However, this app takes the third spot because it takes on this serious issue in a not-so-serious way. You have your usual achievements & health goals presented in percentage bars, with an option to improve them to a more detailed report by upgrading to the Pro version. But the differentiating feature is your personal coach in the app, which is represented by either a cartoonish lady or a man.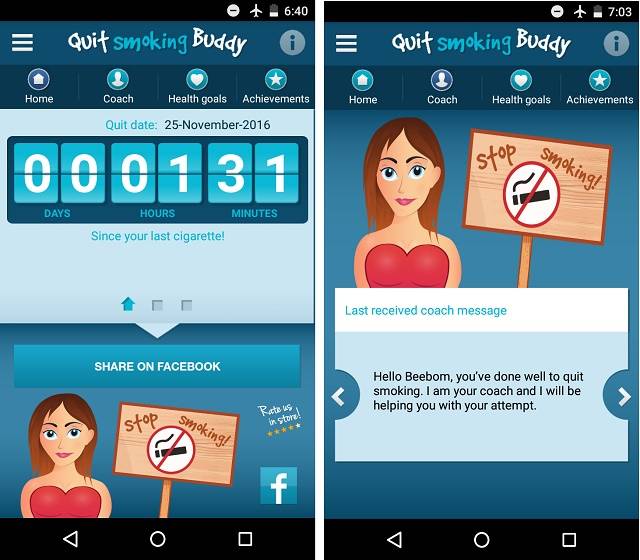 The coach will guide you towards a healthy smoke-quitting timetable with personalized messages that are basically combinations of achievements & health goals sentences. You can choose the level of support you need and receive daily support from your personal quit smoking coach. Try this one out if you feel quitting smoke should be a bit fun & interactive.
Install: (Free) (Full version $1.99)
4. Quit Smoking: Cessation Nation
Just like the previous app, even Quit Smoking houses an old UI but has got the algorithms all correct. It will show you all the necessary data in the most simple (actually, boring) way. But, it becomes interesting when you get to see how many people in your country are quitting smoking & saving their lives. And it gets more fun when you beat your urge for a dose of nicotine with the built-in games. Yes, you have several simple yet addictive games to distract you from your uncontrollable craving for nicotine. Plus, you have an online community, discussing benefits of quitting smoking.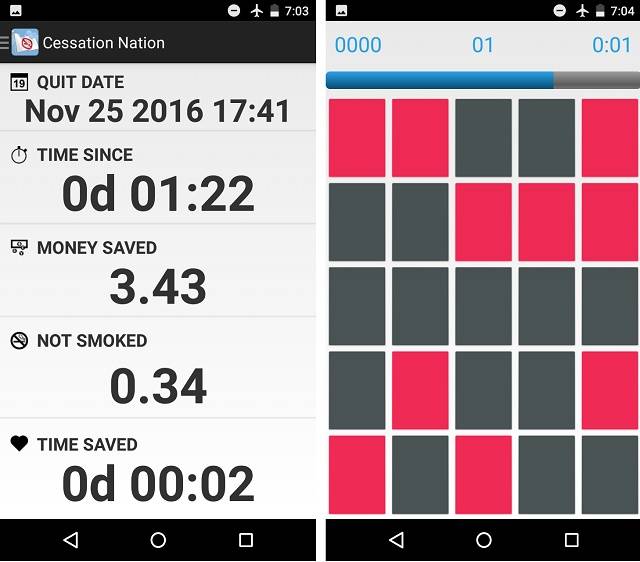 Install: (Free)
5. Kwit – stop smoking cigarette
Kwit claims that quitting smoking is a game and we agree. So, to make it look like a game, it comes dressed in flat design, displaying your improvements in quitting smoking in the form of levels. You start as a novice and go to different levels, based on various parameters like health, well-being, time, money & so on. The usual data like money saved & time avoided is shown with the help of graphs.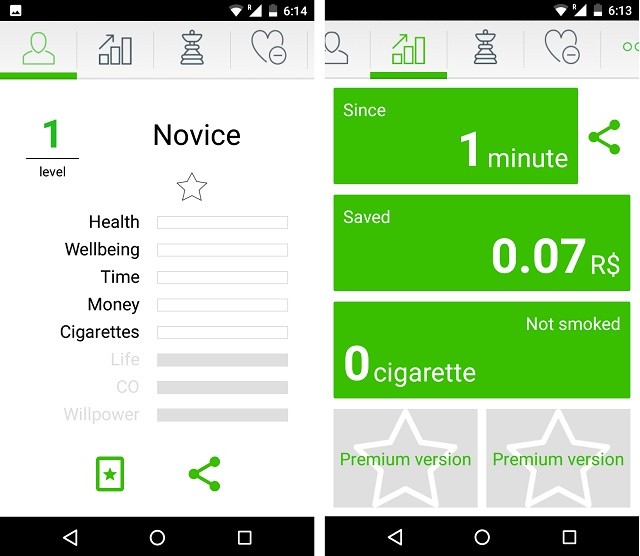 There are also 60 achievements to unlock over the course of your quitting period. And, if your craving for a cigarette becomes unbearable, how about some motivational message by shaking the phone? Kwit is available in a free limited version and you will have to get the paid version if you want to unlock all the features.
Install: (Free version) (Premium version $1.99)
6. Drop It! Quit Smoking
If you want a quit smoking app that has been designed to assist you & not bother you with all the nonsensical stuff like messages & games, then this one will surely appeal to you. Bathed in Material Design goodness, it shows you your data that matters, like time without smoking, numbers of cigarettes avoided, money saved & so on. The health data is shown in bars & is surprisingly pleasing to the eyes, in comparison to the overly-detailed presentations of the previous ones. But then, it has nothing else to keep you engaged or distract you from your cravings. Go for this one only if you want something simple or are short on storage space on your Android device.
Install: (Free)
SEE ALSO: Top 10 Health And Fitness Apps For Android Devices
Motivate yourself with these apps to quit smoking
Nothing can make a person drop an addiction like smoking, overnight. It is their will power & dedication that can help them overcome life threatening habits. These are some apps that we think can help our "average" person motivate himself/herself daily to shed smoking. And if it's good enough for our average person, it can be good enough for you as well. So, try out these quit smoking apps and let us know if they helped you in the comments section below.