Procreate has been one of those iPadOS-exclusive apps that didn't find its way on Windows 10. It's perhaps because Windows 10 is not seen as a tablet-friendly OS. That said, there are a number of laptops in the Windows ecosystem that comes with touchscreen capability in a convertible form factor. Anyway, if you want to sketch on your brand new Windows 10 laptop with an SSD using a powerful program like Procreate then you have come to the right place. Here, we have selected the 10 best Procreate alternatives for Windows 10 that you can use for drawing and graphics designing. So on that note, let's go ahead and find a suitable program similar to Procreate.
Best Procreate Alternatives for Windows 10 and Windows 11 (2022)
Here, we have mentioned the top Procreate alternatives for Windows 10 for both beginners and professional users. Before curating the list, we have put special emphasis on finding free programs like Procreate that don't cut corners in terms of feature sets. To easily navigate, you can click on the link below and move to the corresponding app.
One of the best Photoshop alternatives, Procreate is a widely popular graphics editor and digital painting and drawing program which is available on iOS and iPadOS. In comparison to other similar apps, Procreate has a special standing. It has intuitive controls that are aimed at recreating the natural feel while drawing or sketching. Apart from that, Procreate packs more than 130 types of brushes, advanced layers, masks, digital art tools, and a lot more.
Why You Need a Procreate Alternative for Windows 10?
As I mentioned above, Procreate is quite popular because of its natural feel of the physical drawing, but the app is exclusive to iOS and iPadOS. In tandem, Windows users can't use the app and that's why we need a Procreate alternative for Windows 10. We have curated the best alternatives which offer a similar zero-latency experience with a huge set of digital drawing tools.
List of Top Procreate Alternatives for Windows 10
1. Autodesk Sketchbook — Tried and Tested
Autodesk Sketchbook is a widely popular program for digital drawing and it's recommended as the best Procreate alternative for Windows 10. The best part is that this powerful program is now available for free to everyone, unlike Procreate which costs $9.99. You just need to sign up for a free account and you can use the fully-featured version of Sketchbook on Windows 10 without any limitation. It runs phenomenally well in full-screen mode with a huge canvas having multiple tools, and layers.
You can even use an active stylus on this app and it supports palm rejection too, in case you have a touchscreen Windows 10 device. Simply put, Sketchbook by Autodesk does not need much introduction when it comes to drawing and sketching. The only thing you need to know is that you can get the same Procreate experience on Windows 10 through Autodesk Sketchbook.
Pros
Free to use
Supports Palm Rejection
Infinite canvas
Supports third-party stylus
Cons
Download (Free, Enterprise License starts at $85/year)
2. Krita — Overall the Best
Krita is another powerful Procreate alternative that you can use on Windows 10. It's a professional-grade drawing program which is completely free and open-source. You can create conceptual art, comics, and complex illustrations using many of its powerful tools. Recently, it got a huge update and the user interface has been significantly improved giving stiff competition to Procreate.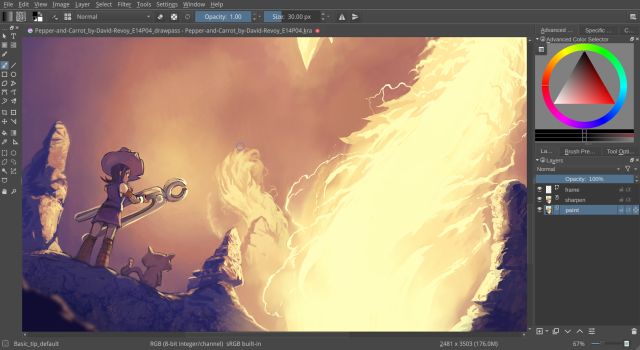 In case you are not aware, Krita is one one of the best Linux apps and many professionals use it for digital painting. So, if you are looking for the best drawing app like Procreate on Windows 10 which competes with the best tools then Krita is the program you need.
Pros
Free and open-source
Create art and comics
Supports Raster graphics
Advance layers
Cons
Tools can be overwhelming
Download (Free)
3. Adobe Illustrator — For Adobe Users
When it comes to graphics designing, how can we miss Adobe's feature-rich Illustrator program? It has one of the best UI and packs intuitive controls for touchscreen devices. Sure, Adobe Illustrator primarily deals with vector graphics but you can also play with rasterization similar to Procreate. You can create everything from web icons and product packaging to book illustrations and billboards.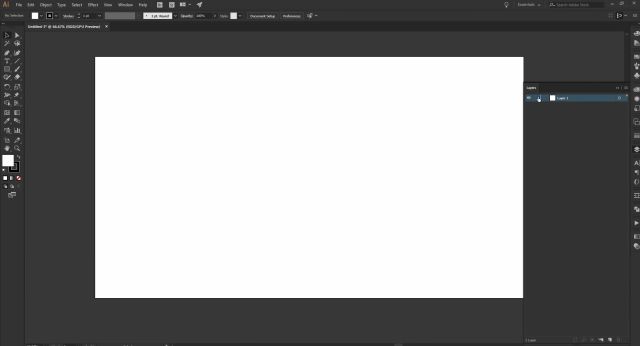 With Illustrator, you will get all the tools that you need to turn simple shapes and colors into sophisticated logos, icons, and graphics. Since you are working with vector graphics here, your artwork can scale anywhere from a small smartphone to a billboard.
You also get access to gorgeous typography and freehand drawing tools. I would say Adobe Illustrator is among the best Procreate alternatives for Windows 10 and you should definitely check it out.
Pros
Clean UI
Huge library of assets
Beautiful Typography
Create anything you want
Cons
Download (Free trial for 7 days, Subscription starts at $239.88/yr)
4. Concepts — Great New Illustrator for Windows 10
Concepts is one of the few Procreate alternatives that offers a similar level of touchscreen controls on an infinite canvas. It's specially optimized for the Surface Pen, Surface Pro X and other ARM64 based Windows 10 devices. The best part is that if you have a touchscreen Windows laptop then you can access unique tools like the color dial. Further, Concepts offers almost zero latency just like Procreate.
You get a huge canvas where you can create illustrations, sketches, and design plans. Besides that, Concepts supports tilt and pressure modes which will help you while sketching intricate details with high precision. And just like other drawing apps, you get many kinds of pencils, brushes, and pens.
There is also this different canvas type where you can select the background from various textures and preset papers. If you are using an active stylus like Wacom (or another Apple pencil alternative), you can leverage its velocity feature for flexible sketching and drawing. Simply put, if you are looking for the best Procreate alternative for Windows 10 then do take a look at Concepts.
Pros
Optimized for Surface devices
Flexible brushes
Best for illustrations and sketches
Unique Dial
Cons
Experience differs on other Windows laptops
Download (Free, Paid plan starts at $4.99/month)
5. Corel Painter 2022 — For Advanced Users
Another great Procreate alternative for Windows 10 is the Corel Painter 2022 which brings a plethora of graphics tools to help you get the job done. Corel Painter markets itself as a tool for pros, created by the pros. Fortunately, that description is not far from the truth. You get a vast selection of brushes (more than 900), exclusive particles, pattern pens, thick paintbrushes, and much more.
Corel Painter is supported by its huge library of video tutorials which is great for beginners to get started. All in all, if you're looking for the best Procreate alternative on Windows 10 then I suggest you try Corel Painter.
Pros
More than 900 brushes
Feature-packed
Tutorials for beginners
Extension support
Cons
Download (Free trial for 15 days, $199 per year)
6. Affinity Designer — Simple and Powerful
Affinity Designer is generally not recommended for drawing and sketching, but you can get the most out of it if you know how to use it. Using its vector illustrator, you can create some of the best graphic designs.
The app brings a complete graphic design solution for all of your needs, no matter if you are a beginner or a pro. My favorite thing about Affinity Designer is that all its tools and features are built keeping end-users in mind. That means they are easy to access and easy to learn and use.
Apart from illustrations, you can create icons, branding materials, printing projects, mockups, and more. Considering all the points, I would say, Affinity Designer certainly ranks among the best Procreate alternatives and it's good at both vector and raster-based graphics designing.
Pros
Best for vector illustration
All-in-one graphics editing program
Create all sorts of graphics
Simple UI
Cons
Download (Free trial for 30 days, Costs one-time fee of $49.99)
7. MediBang Paint — Create Comics and Manga
MediBang Paint is another great Procreate alternative for Windows 10 especially if you are a manga or comics creator. The app offers various tools including over 800 tones/backgrounds, brushes, over 50 brushes, and 20 fonts style. It's a simple and powerful tool for people who are just getting started with their comics or manga creator's journey and want a tool that can help them learn and improve.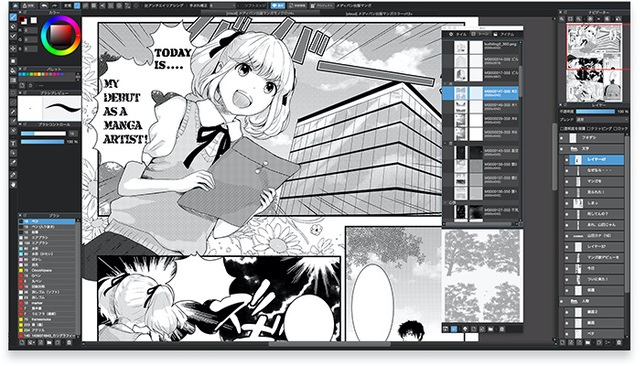 The app also offers cloud syncing across platforms. To sum up, for budding and professional comic creators, MediBang Paint can be a great tool, more so when it's completely free to use.
Pros
Best for Manga and Comic creators
More than 50 brushes
Over 800 backgrounds
Beginner-friendly
Cons
Download (Free)
8. ArtRage — Best for Beginners
ArtRage might not be as popular as Procreate or other programs mentioned on this list, but it's surely one of the potential painting apps that you can use on Windows 10. It has a range of realistic painting tools to craft amazing paintings and artworks. From neatly designed pencils to oil painting brushes, the software has checked off most essential boxes to make sketching a pleasing experience for both beginners and pros.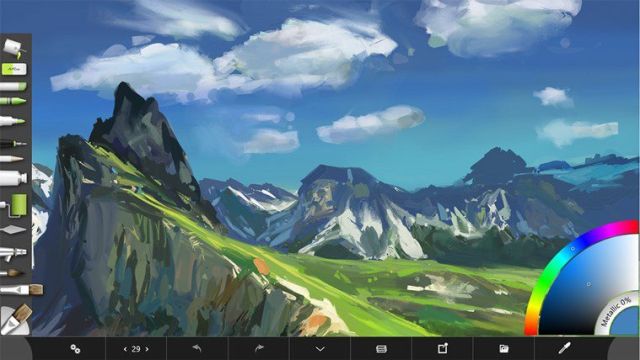 Furthermore, it also allows you to fine-tune all of your favorite tools for more flexibility. As for the user-interface, I think ArtRage has kept everything minimal so that beginners can easily get started with the app. I think if you are a beginner in drawing and looking for a Procreate alternative on Windows 10 then ArtRage might be the one you need.
Pros
Best for beginners
Simple UI and controls
Realistic painting tools
Cons
Download ($47)
9. Clip Studio Paint — Lightweight and Feature-rich
If you like the natural brush feel of Procreate then Clip Studio Paint would be a suitable pick for drawing on Windows PC. First and foremost, the software comes with a robust brush engine that enables you to create beautiful artworks with pinpoint precision. Thanks to the much-improved control, you can craft every stroke with its long line of creative tools.
Besides, the app has one of the biggest libraries of brushes, allowing you to pick and choose your tools based on the art you wish to create. And if you want to have even more control, you can also personalize your tools so that they can stay in sync with your particular style of drawing. All in all, Clip Studio Paint is a feature-packed alternative to Procreate and you should give it a shot.
Pros
Features powerful brush engine
Lightweight, but feature-packed
Cross-device syncing
Huge range of brushes
Cons
Download (Free trial for 3 months, Costs one-time fee of $49.99)
10. Inkscape — Free and Open-source
Inkscape is our final app on this list and we have mainly included it for the reason that it's completely free and open-source. You can use Inkscape for vector drawing on your Windows 10 laptop. Not to mention, just like Procreate, you get pro tools like flyout, anchor, and smart navigate.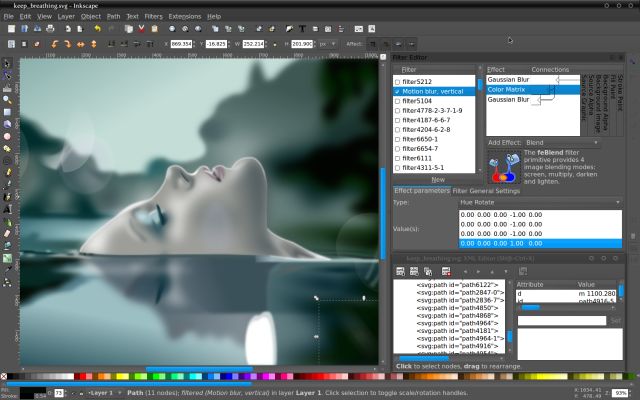 The program is quite advanced and comes with all the controls that you need for creating complex paintings, arts, logos, and more. Further, you have access to tools like bezier and spiro curves, layers, color profiles, and a powerful text tool. To conclude, Inkscape may not be the very best in terms of raster graphics editing, but it's a solid program for vector designing.
Pros
Free and open-source
Advance color profiles and layers
Powerful text tool
Cons
Not best for raster graphics editing
Download (Free)
Frequently Asked Questions
Q. Is There Something Like Procreate for Windows?
Yes, Autodesk Sketchbook, Krita, and Adobe Illustrator are some of the apps that are similar to Procreate and they are available on Windows.
Q. Which is The Best Alternative to Procreate?
In my opinion, Krita is the best alternative to Procreate on Windows 10. It's free, open-source, and supports raster graphics editing.
Q. What is Equivalent to Procreate?
If you are looking for a Procreate equivalent on Windows 10 then I would suggest Krita and Autodesk Sketchbook.
Q. Which App is Like Procreate But Free?
Both Autodesk Sketchbook and Krita are completely free to use and they are very similar to Procreate.
Q. Is Procreate Better Than Sketchbook?
I think Procreate offers a better experience than Sketchbook since it takes advantage of the ProMotion display on the iPad. Apart from that, the Valkyrie engine on Procreate ensures you experience zero latency while drawing. In terms of digital tools, both are quite on the same line.
Q. Is Procreate Free on Computer?
No. Procreate is not available on Mac or Windows, to begin with.
Q. Is Procreate Better Than Photoshop?
For digital drawing, Procreate is certainly better than Photoshop.
Pick the Best Procreate Alternative for Windows 10
So these are our curated picks for the best Procreate alternative for Windows 10. As you can see, we have tried to include both free and paid programs which can be used by both beginners and professionals. So no matter your expertise level, you can go ahead and start drawing by choosing the best app from the list above. Anyway, that is all from us. If you want to find a list of the best apps for Windows 10 then go through our linked article.