Podcasts are my favorite way of consuming media. Whether I want to listen to the latest news, get opinions on a new product, or just want to pass some time listening to my favorite shows and interviews, podcasts allow me to do all that without requiring me to pay undivided attention to the programs. That means I can listen to them while I am traveling for work or cleaning my kitchen or doing anything else. Another thing that I love about podcasts is that 99% of podcasts are free and available on any app that you want to use. Since your experience of podcasts also depends on the app you are using, it becomes paramount to choose the right app. In this article, we are going to help you with that problem by showing you the 12 best podcast apps for iPhone that you should use.
Best Podcast Apps for iPhone and iPad
1. Pocket Casts
I will start this list with one of the best podcasts apps that you can find on the App Store, and that's Pocket Casts. In fact, the app is so good and popular that it was recently acquired by a collective group of some of the biggest names in the world of podcasting which include NPR, WNYC Studios, WBEZ Chicago, and This American Life. The app was also recently updated to version 7 which brings a plethora of new features. Now, not only you can search for podcasts but also for episodes inside podcasts.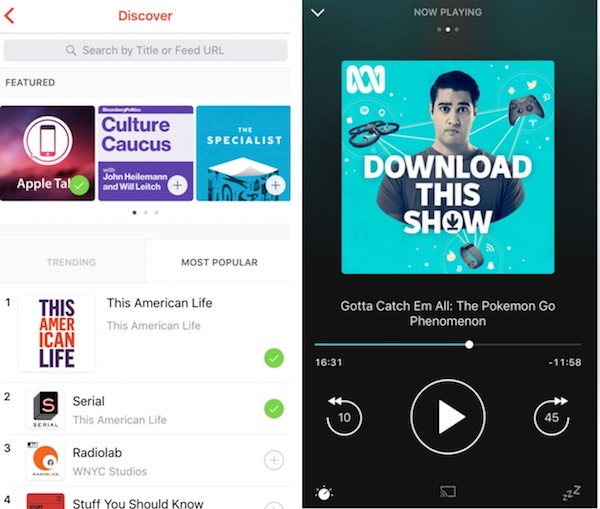 In fact, the search is so good that you can use any term whether it's in the title or in the show-notes and it will bring the right result. It also allows you to play podcast episodes without having to subscribe to podcasts which is a good way to check out new podcasts without crowding your feed. Apart from these new features you also get a completely redesigned UI which is native to iOS and looks really good. You also get all the other features like queue episodes, smart speed, silence removal, and more.
What's best is that now you get all these features for free. Pocket Casts used to be a paid app but now it's totally free. There is a Plus subscription that costs $0.99/month, but it's only for people who want advanced features like a desktop app, the ability to upload your own media, and more. The mobile app and all its features are free without ads. Now that's a good deal that you cannot ignore.
Install: Free, $0.99/month
2. Overcast
Overcast is possibly the most popular podcasting app on the App Store. Created by Marco Arment, Overcast is an app which is always on the front of podcast technology. From smart speed to Voice Boost to better Apple Watch support, Overcast is always one of the first if not the first app to support these features. I love the simplistic design of Overcast which makes it possible to use even by users who have just downloaded the app and haven't used any other podcasting app before.
Talking about the features, the app offers a great discovery platform which makes it easier to discover new podcasts. You can even connect your Twitter feed to find the most trending podcasts and give them a try. There's also a dark theme which users with new iPhone X series of phones will enjoy. My favorite feature of the app is its ability to create "Smart Playlists". While most of the other podcast apps offer this feature, no one does it better or faster than Overcast. The app is also completely free to use if you can digest non-intrusive ads. If you don't like ads, you can sign up for the premium version.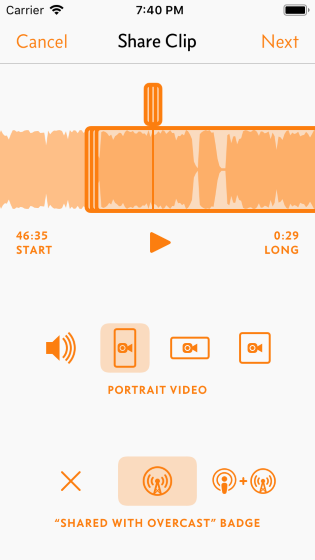 One of the newest features of Overcast is its unique ability to create sharable audio clips of the podcast. While I love the de-centralized nature of podcasts, it makes it hard to recommend them to anyone or share your favorite moments. With Overcasts's new clip sharing feature, now it is possible. I use Overcast for this feature alone. It is one of the best podcast apps for iPhone and you are going to love it.
Install: Free, $9.99/year
3. Castro
If you are someone who subscribes to a ton of podcasts and is finding hard to manage the feed then Castro 3 is for you. Castro 3 brings a unique triage feature which is not available on any other podcast app. This feature allows you to see all the new episodes and then either place them in your listening queue or discard them within seconds. Castro does that by using the concept of "Inbox" which hosts all the new episodes of podcasts to which you are subscribed. From here, you can use taps or drag and drop to sort through these episodes. You can either put them in your queue list or archive them. The whole process is pretty easy and I love it.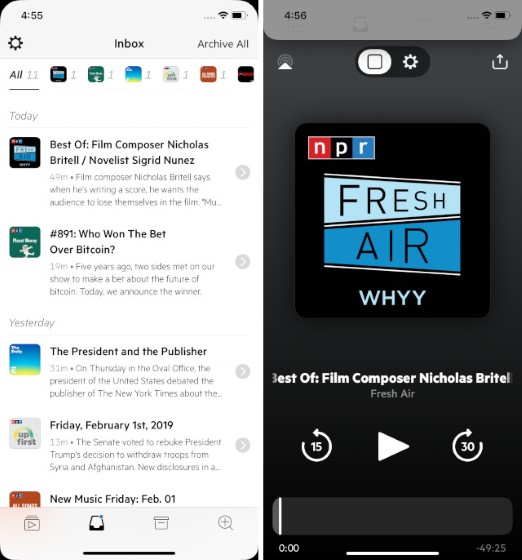 Apart from its exceptional podcast management feature, Castro 3 also brings other features such as a clean dark mode, support for Apple CarPlay, an excellent Apple Watch app and more. Of course, there are also features that you want from a podcast app such as variable speed, silence removal, chapter support, and volume boost among other things. Castro 3 is free to download and use with some restrictions including things like support for trimming silence, sideloading episodes, chapter support, and more. If you want to use those features, you'll have to get a premium subscription starting at $2.99/quarter or $8.99/year.
Install: Free, $18.99/year
4. Stitcher
Stitcher is a great place to find and listen to exclusive podcasts and episodes which you cannot find anywhere else. Remember when I told you that 99% of podcasts are free, well, if you want to find that missing 1%, Stitcher is the place you need to go to. While the free app of Stitcher is like any other podcast player on this list and allows you to subscribe, download, and listen to podcasts, it is the premium version which excites me.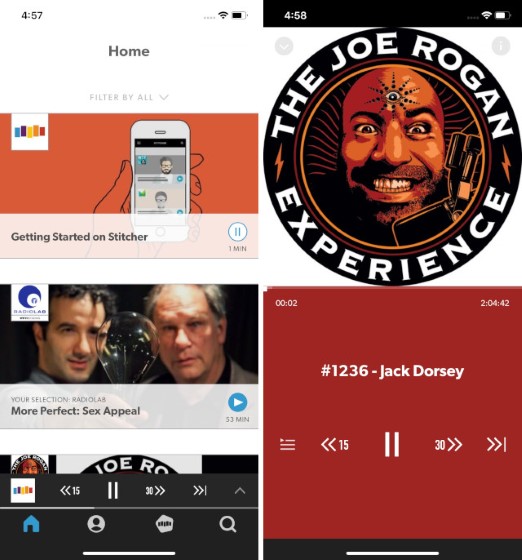 Once you subscribe to "Stitcher Premium" you will not only get access to premium podcasts but also things like bonus episodes of your favorite podcasts, early access to new releases, and more. Many podcast creators also only allow you to access the last 3 or 4 months of released episodes for free. If you want the entire library, you can get it via Stitcher premium. As I said, Stitcher is a great place to discover and listen to podcasts you cannot find anywhere else and that's its USP. If you are ready pay for premium content, Stitcher can be the podcast app for you.
Install: Free, $4.99/month / $2.92/month (billed annually)
5. Breaker
Breaker is a very capable podcast player which is specifically targeted at people who like a social community. The app basically has a built-in community where everyone is allowed to comment and review podcasts and podcast episodes. The app is community driven which means you already find content that is curated for you. You can see the ratings and read the reviews before trying a podcast which can save you a lot of time. I also love that Breaker allows you to follow your friends so that you can see what they are listening to and vice versa.
In fact, if there's a podcast that you are running, you can claim it on Breaker and then interact with the community to see what your fans like and don't like. Apart from the social features, Breaker is also just a great podcast player. The overall design is really good with elegant UI elements and the features like downloading and streaming podcast, removing silence, dark mode, and more are all there. If you want to add a social twist to your podcast listening experience, check out Breaker.
Install: Free, in-app purchases
6. Downcast
Downcast is a powerful podcast player which gives you a lot of control over how you want to consume your favorite podcasts. The podcast app is very powerful and works pretty well. From searching for your first podcast to streaming your 100th one, the app never seems to slow down. Talking about the features, the app lets you discover new podcasts, download episodes offline, create smart playlists, speed up playback, set sleep timers, control playback using AirPods, and more. The app even supports video podcasts if you are into that.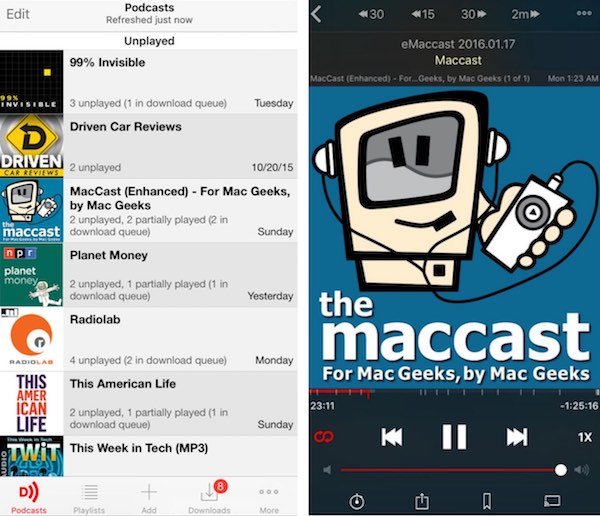 However, the most defining feature of Downcast which is not something you will find on most of the apps on this list is a separate Mac app ($4.99) and progress-sync across devices. The best part is that you don't have to pay any syncing charges. Once you pay for the application, all your progress will sync across devices using iCloud sync. Apart from that you also get features like "Start Up" view which allows users to open the app at a specific location, location-specific app refresh, chapter support, and more. So, if you enjoy listening to podcasts on multiple devices, Downcast can be a great option for you.
Install: $2.99
7. Castbox
Castbox is yet another popular podcast player which brings a happy medium between a social media platform and podcast app. On Castbox, not only can you listen to your favorite podcasts but also add your comments and likes. On the other hand, you can read user comments to find a popular podcast or a popular episode within a podcast. I also love that apart from podcasts, Castbox also gives users access to free and classic audiobooks. They come in really handy when I am traveling and have a lot of time to kill.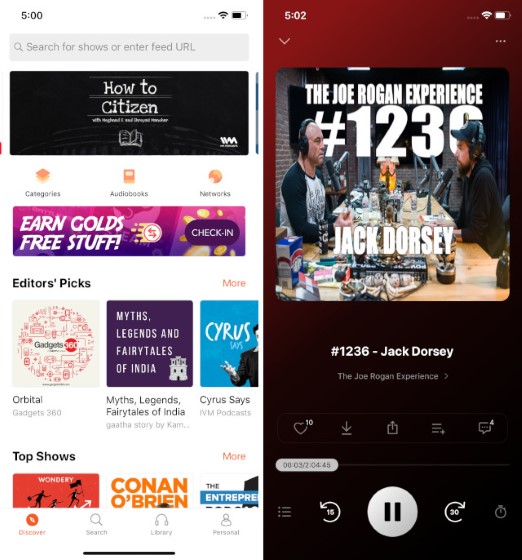 One of the unique features of Castbox is that it allows users to create their own podcasts and release episodes. Just create an account, record your episode, and release it to the world. Another unique feature of Castbox is the in-Audio search which matches your phrase to the content of episodes to give you most relevant results. The search learns from your usage so the more you use the app the smarter it will become. Overall, I quite like this app and you should definitely check it out.
Install: Free, $0.99/month
8. Apple Podcasts
Believe it or not, Apple Podcasts is the biggest podcast player on iPhone by user statistics. It might come as a surprise to some users as the app lacks many advanced features, however, it has many things going for it. And if you don't need all the advanced features that are on the market, you can easily make do with the Apple Podcasts app because there are things that Apple Podcasts can do which no other podcast player can, no matter how powerful it is. Let's start with the fact that Apple Podcasts is native to iOS, tvOS, and macOS (through iTunes) so you can use it to listen to your podcasts on all your devices.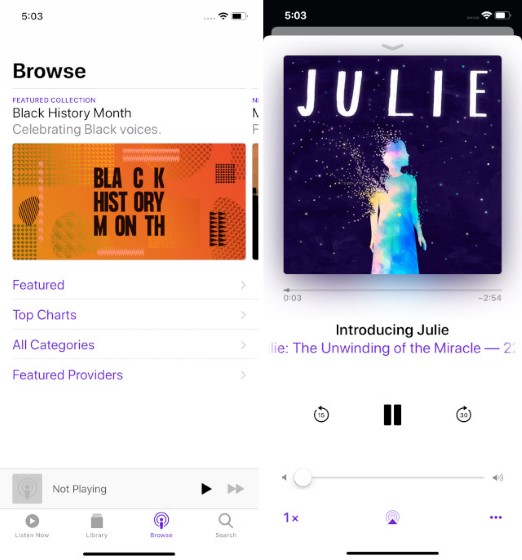 Since your progress is also synced across devices, you don't have to worry about anything. Another benefit of using Apple Podcasts app is its integration with Siri. You can just call the voice assistant to listen to podcasts on your iPhone, Mac, or even HomePod. Another awesome feature of Apple Podcasts is "Stations" which allows you to create your personal stations of favourite podcasts and listen to them using your iPhone or Siri. Overall, as far as compatibility goes, Apple Podcasts is still the king and if that's something you want, you don't have to install any app. However, the app does lack a lot of advanced features like the ability to trim silences, support for dark mode, and the search isn't as good as it's on apps like Pocket Casts and Overcast, but if that doesn't bother you, Apple Podcasts should have you covered.
Comes Pre-installed
9. TuneIn Radio
TuneIn Radio is a little different than all the other podcast players mentioned on this list. It not only lets you listen to your favorite podcasts but also over 100,000 radio stations around the world. This is the biggest power of TuneIn Radio. With this app, you can listen to both your local radio stations and all the popular radio stations from around the world. If you are a sports fan you will also enjoy the direct integration of NHL, MLB, NBA, and other sports platforms.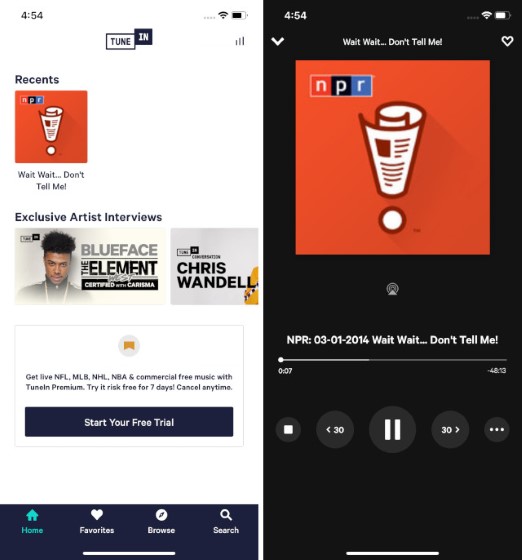 There's also a library of more than 40,000 audiobooks which is perfect for long travels or days where you have a lot of time kill. Do note that not all the radio stations are free and you will have to pay a premium subscription to avail all its features. That said, even the free version has more than enough content to last you multiple lifetimes. If you enjoy listing to radio stations, this is the one to get.
Install: Free, $9.99/month
10. Spotify
Spotify is not necessarily a podcast app as it primarily a music streaming service. That said, it's great for users who just enjoy occasional podcast episodes here and there and don't want to download another dedicated app for that. Spotify lets you access all the podcasts that you can from any other dedicated podcasting app on this list so it's not that you are losing out on anything. It's just that its UI is not meant to bring podcasts in the foreground.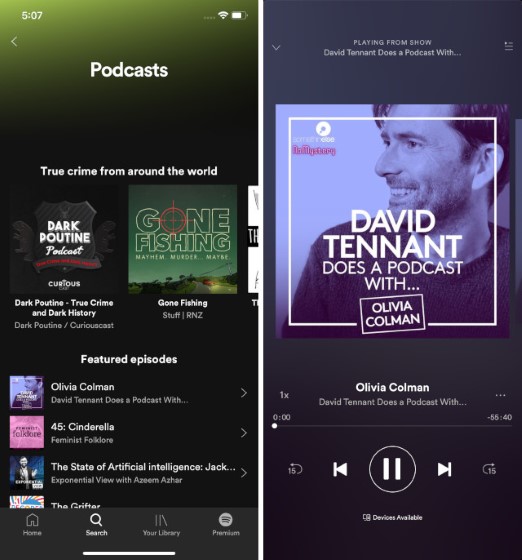 However, that might change in the near future as the company seems to be in talks to acquire Gimlet Media for a reportedly 200 million US dollars. For those who don't know Gimlet Media is one of the biggest podcast producing studios in the world with hit shows like Start-Up, Reply All, Homecoming, and more. If Spotify is considering buying this awesome podcast company, it might be taking the podcast game more seriously than we thought.
Install: Free
Note: While Spotify Premium costs money, you don't need it to listen to podcasts.
11. The Podcast App
For a fully personalized podcast listening experience, you can bank on "The Podcast App". Boasting an ever-growing catalog of over 500, 000 podcasts, it has got both a wide variety and huge library to let you listen to all sorts of programs including comedy, politics, education, news, and more. Moreover, it also provides curated lists of podcasts based on your interest. So, you won't have to spend a lot of time to find out the sort of podcasts that you prefer to catch up with.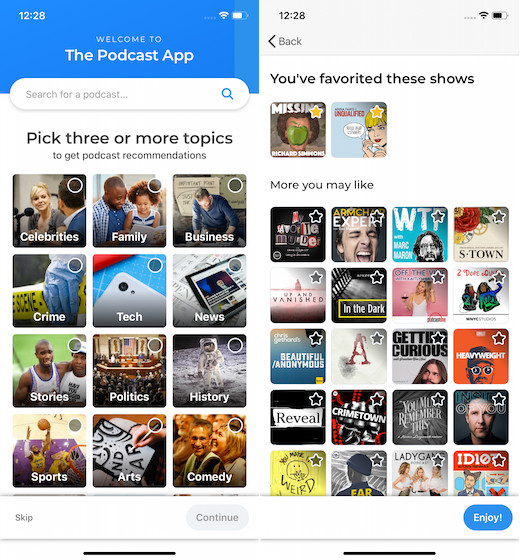 In terms of user-interface, The Podcast App has kept everything neat. One of my top picks of this app is the ability to create an episode playlist, which is great for a seamless listening experience. Another feature that's worth taking note of is the multiple organizing tools that make it easier to keep podcasts organized for quick access. Plus, the option to adjust playback speed also comes in handy when you want to skip certain portions or listen to some segments with a bit more attention. Everything considered; it's one of the most user-friendly podcast apps for iOS and iPadOS.
Install: Free, $9.99/year 
12. Podbean
Frankly speaking, "Podbean" has never failed to impress me as a handy podcast player. One of the reasons why I have always found it quite good is the availability of a host of cool features that offer plenty of customization. For starters, it provides fully customizable playlists so that you can fine-tune each aspect as per your taste. Plus, it also comes with a sleep timer so that you can fall asleep while listening to your favorite episodes. To ensure your personal catalog always has some interesting podcasts to catch up with, the app offers recommendations based on the play history.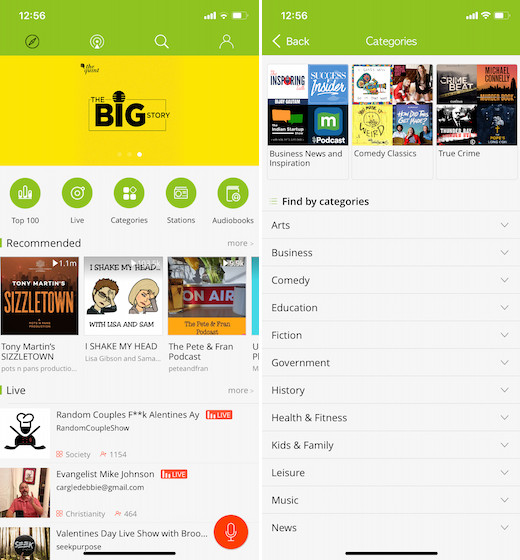 But my favorite Podbean feature is the CarPlay support which comes into play during a long drive. As I prefer to listen to some of my top picks on the drive to prevent boredom from creeping into the journey, I really appreciate this feature. Another feature that has called for my attention is the built-in audio recorder with a variety of sound effects. And with some easy-to-use tools like editing, splitting, merging, and exporting, you also have the flexibility to craft the post-production. Considering these notable features including a massive library of more than 50 million episodes of podcasts, Podbean becomes really hard to overlook.
Install: Free, $9.99/year 
The Best Podcast Apps on the App Store
That concludes our list for the best podcast apps that you can use on your iPhone. Whether you are a casual listener or a hardcore one, you will find an app that will satisfy your needs here. Do check out the list and let us know which is your favorite podcast player for iPhone amongst them all. Also, if you have any suggestions, drop them down in the comments sections below.
---
Load More