Along with ultra-portable power banks and wallet cases, car mounts are my favorite travel accessories for the iPhone. Thanks to the rotatable design, car mounts offer the flexibility to hold the iPhone at the desired angle for an enhanced viewing experience during a drive. Unlike before, they are no longer one-dimensional and super easy to install and remove. You can use car phone holders to keep your device steady for easy navigation as well as juice it up wirelessly on the go. But what's more, many of them now also support MagSafe for secure attachment and faster charging. So, if you are looking for a modern car mount-cum-charger, here are the 10 best MagSafe wireless charging car mounts for iPhone 13 and 13 Pro.
Best MagSafe Wireless Charging Car Mounts for iPhone 13 and 13 Pro (2021) 
Even though I'm more fond of a compact design, I prefer to have a rugged car mount with a secure locking mechanism, especially during bumpy rides. It holds the smartphone tightly, ensuring there is no accidental fall-off. The other essential feature that I like to check off is the flexibility to hold the iPhone 13 anywhere I want. I mean, it's better to have the convenience to attach the device to the windshield, air vent, and even on the dashboard. Again, it all boils down to personal preference, or for that matter, what suits your needs better.
For secure attachment and hassle-free charging, compatibility with iPhone 13 and 13 Pro cases and covers is a must. Or else, you will have to take the pain of removing the case before attaching the device to the car mount. But bother not, all the MagSafe car charger mounts for iPhone 13 and 13 Pro listed below support MagSafe compatible cases, which is a big plus from a convenience perspective.
Spigen OneTap Pro MagSafe Car Mount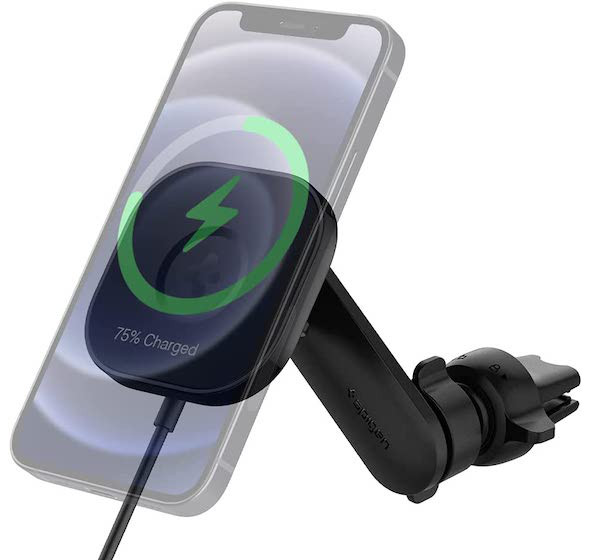 Pros:
Rugged construction
Fully adjustable swing arm
Strong built-in magnets
Convenient one-handed operation
Equipped with rugged construction and a fully adjustable swing arm, Spigen OneTap Pro is a top-notch wireless car charger mount for iPhone 13 and 13 Pro. The car mount has strong built-in magnets that enable it to securely hold your iPhone 13 and 13 Pro even on bumpy roads. Thus, you won't have to worry about unwanted fumbling.
Being fully compatible with MagSafe, OneTap Pro also offers faster charging (when paired with the 20W USB-C power car charger). Besides, you can also trust it to safeguard your smartphone against threats like overheating and short-circuits. Note that Spigen OneTap Pro comes in two styles – air vent ($41) and dashboard ($42). While the price is comparatively higher, it has the solid specs to prove its worth.
Andobil Wireless Car Charger Mount
Pros:
Automatic lock/ release
Robust build, durable
360-degree rotation
If you prefer to have a heavy-duty construction for enhanced durability, there is a good chance that Andobil wireless car charger mount will impress you at the very first glance. The best part about this MagSafe car mount is the automatic sensor that lets you easily mount and remove your iPhone 13 and 13 Pro with one hand. Courtesy of the strong locking mechanism, it ensures your smartphone doesn't fall even on rough roads.
Andobil features a suction cup base that allows you to install it on almost any surface, including the dashboard and windshield, which is great from a flexibility point of view. Plus, there is also a clip that lets you mount your iPhone 13 or 13 Pro on the air vent. You can extend the telescopic arm from 4-6.5 inches and pivot it on a 260-degree arc for different mounting positions.
For faster charging, it also comes with a durable USB-A to USB-C cable, which is another reason why Andobil deserves to be on this list. I rate this offering as a solid MagSafe car charger mount for your iPhone 13 and 13 Pro.
ESR HaloLock Magnetic Car Charger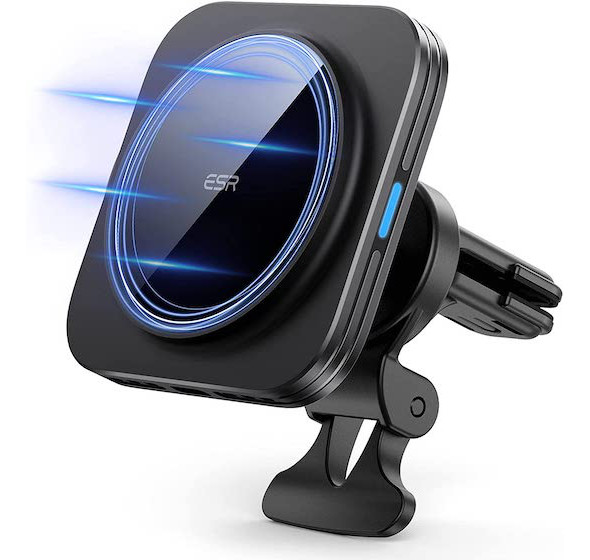 Pros:
Ultra-compact design
Efficient heat management
Fully rotatable clip
Cons:
Less durable construction
Featuring an ultra-compact design, ESR HaloLock is an ideal MagSafe wireless charging car mount for iPhone 13 and 13 Pro. Thanks to the strong magnetic lock, the car mount keeps your smartphone steady even on the bumpiest roads. Depending on your needs, you can install your device in both landscape and portrait orientations for a more convenient viewing experience on the drive.
Even in terms of wireless charging (18W QC adapter required), ESR HaloLock is up to the mark. Apart from charging the iPhone faster, it also manages heat efficiently to prevent overheating. Thus, you won't have to worry about unwanted overheating. Add to that the compatibility with the most MagSafe compatible cases, and HaloLock leaves little room for complaints.
ZeeHoo Magnetic Car Charging Mount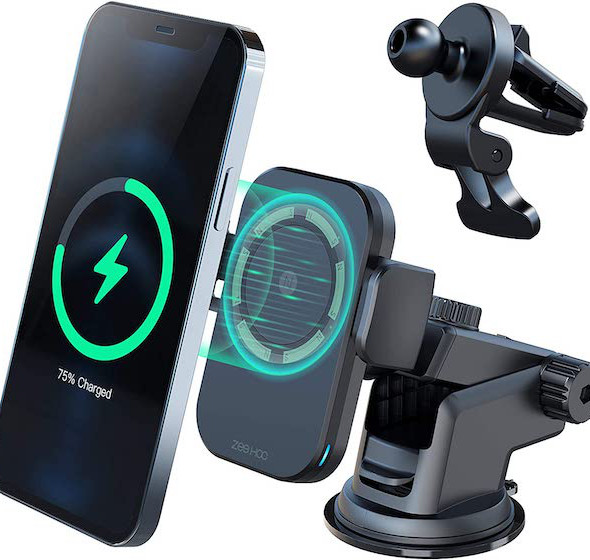 Pros:
Comes with suction cup
Supports 15W charging, MagSafe cases
360-degree rotation, automatic clamping
Cons:
Vent clip may not work consistently
ZeeHoo is the sort of magnetic car charging mount that ticks off all the essential boxes without costing an arm and a leg. For starters, the car mount features automatic clamping to ensure installing the iPhone always remains a painless experience. Taking advantage of the built-in magnets, ZeeHoo tightly attaches to the smartphone. Since it works with MagSafe compatible cases, you do not have to worry about removing the case before installing your iPhone 13 to this MagSafe charging car mount.
The inclusion of a suction cup means you can install the car mount on the dashboard as well as the windshield. ZeeHoo also allows you to align the iPhone for efficient wireless charging. The support for 15W, 10W, and 7.5W fast charging makes it a versatile charger. Plus, it also facilitates the much-needed 360-degree rotation for an improved viewing experience on the go. When you take all these features into account, you wouldn't mind paying the relatively low $16 price.
Antank Magnetic Wireless Car Charger Mount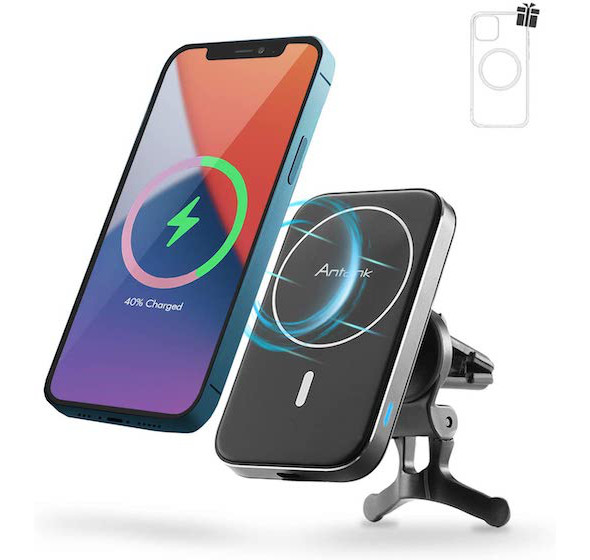 Pros:
Built-in auto-alignment magnets
Charges iPhone 30% faster
Air vent clip, rotatable design
Cons:
Could face heat management issues
For a snap-on attachment and faster charging, auto-alignment is key. The Antank wireless car charger mount has built-in strong magnets that allow for steady auto-alignment. Hence, your iPhone 13 will remains perfectly aligned even on bumpy roads. Besides, the automatic adsorption also enables one-handed operation, so you can install and remove your device without putting in much effort.
Moreover, the Antank wireless charging car mount claims to power up iPhone 13 models up to 30% faster than standard chargers. Furthermore, it comes with a USB-C cable and USB-C to USB-A converter and supports most vehicle interfaces. Couple that with the ability to work with MagSafe compatible cases, and Antank takes care of all the basics to be your go-to wireless car charging mount for iPhone 13 and 13 Pro.
Spigen Mag Fit MagSafe Car Mount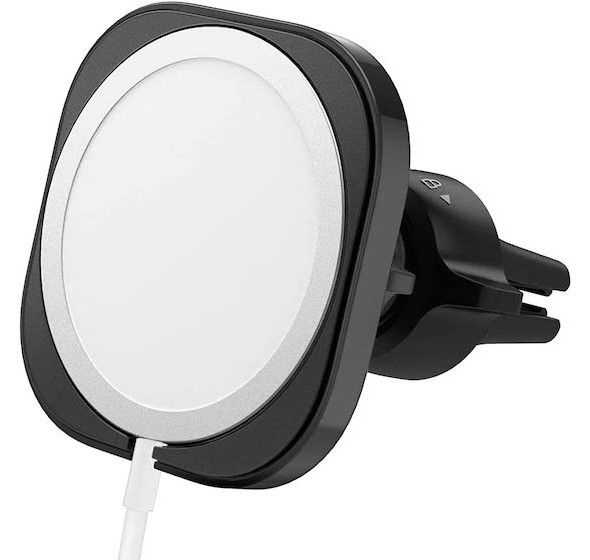 Pros:
Ultra-compact design
360-degree viewing
Cons:
Really basic
Doesn't include Magsafe charger
If you are looking for a high-quality compact MagSafe car charger mount for your iPhone 13 at a low price point, Spigen Mag Fit could be a preferred choice. This MagSafe car mount sports a tiny form factor for a hassle-free carrying experience. Besides, the lightweight design also enables it to fit any vehicle vent.
Another feature worth taking note of is the ability to hold the iPhone at multiple viewing angles (360-degree rotation), which makes Spigen Mag Fit a reliable asset for travel. As for wireless charging, well, there's a caveat here. It's merely a MagSafe charger holder, and it doesn't come with its own charging coil and magnets. You will need to buy a MagSafe charger and 20W adapter for fast-charging speeds separately.
WAITIEE Magnetic Wireless Car Charger Mount
Pros:
Air vent clamp design
Secure magnetic attachment
Supports 360-degree rotation
Cons:
Only up to 7.5W charging speed
Both in terms of design and charging capability, the WAITIEE wireless car charger mount looks like a complete package to me. This car mount has an air vent clamp design that allows you to clamp it securely. Moreover, it is also fully adjustable and supports 360-degree rotation, so you can hold your smartphone at the preferred viewing angle.
As someone who admires a comfortable one-hand operation, I have found its quick installation and removal mechanism handy. Talking about the charging efficiency, WAITIEE delivers up to 7.5W wireless charging. The ability to manage heat and fight out dangers like short-circuits and overcurrent puts it in good stead. With these impressive features in mind, WAITIEE magnetic car charger mount is a safe bet for on-the-go charging and navigation.
UUTO Magnetic Wireless Charging Car Mount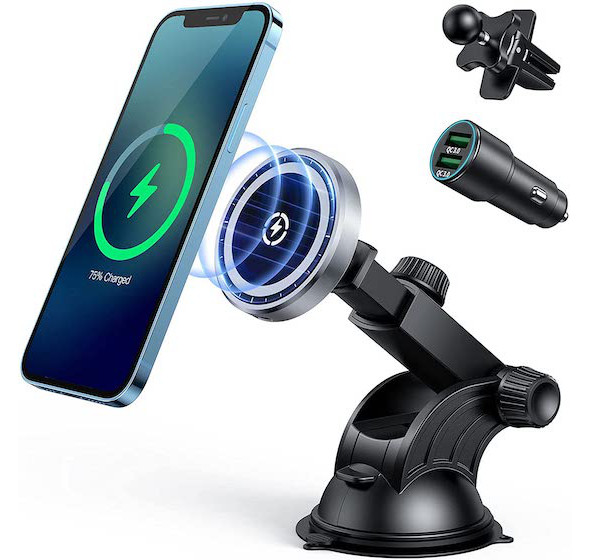 Pros:
Four mounting options
Auto-lock magnetic charging
Built-in N50 magnet ring
Includes suction cup base
Cons:
Heat management is below par
What makes this offering from UUTO different from other magnetic car charger mounts are the four mounting options – dashboard, windshield, air vent, and desk. It is exactly what you need to mount your smartphone in the desired way. With a strong suction cup, you can install the telescopic adjustable mount almost anywhere with enhanced security.
Moreover, UUTO offers 360-degree rotation. So, you can flip your iPhone to the vertical and horizontal orientation, depending on your convenience. With the closed magnetic field, the car mount also doesn't obstruct the phone signal. UTTO's car mount also comes with an N50 magnet ring that enables you to firmly attach the iPhone 13 and 13 Pro for up to 15W fast charging. Besides, the magnetic ring also automatically aligns the iPhone's charge coil for seamless charging.
Grownado MagSafe Car Charger Mount
Pros:
15W fast charging support
High-grade N50 magnet ring
200-degree adjustable telescopic arm
Cons:
Ball joint could be tighter and stronger
The Grownado MagSafe car charger mount features a strong N50 magnet ring that plays a vital role in not only offering a secure hold but also a highly proficient wireless charging solution. Notably, this MagSafe car charger features four output power modes, including 15W, 10W, 7.5W, and 5W, to suit different smartphones. The auto-lock aligned with the charging coil allows it to deliver up to 15W magnetic fast charging for iPhone 13 and 13 Pro.
Notably, the Grownado MagSafe car charger mount features a multi-protection system to safeguard your iPhone against overheating and overcurrent issues. Just like other MagSafe car mounts in this roundup, it also allows 360-degree rotation to prove you the flexibility to hold your device at a preferred viewing angle. It also comes out on top in terms of durability, courtesy of the rugged construction and the telescopic coupling rod.
OTAO Magnetic Car Charger Mount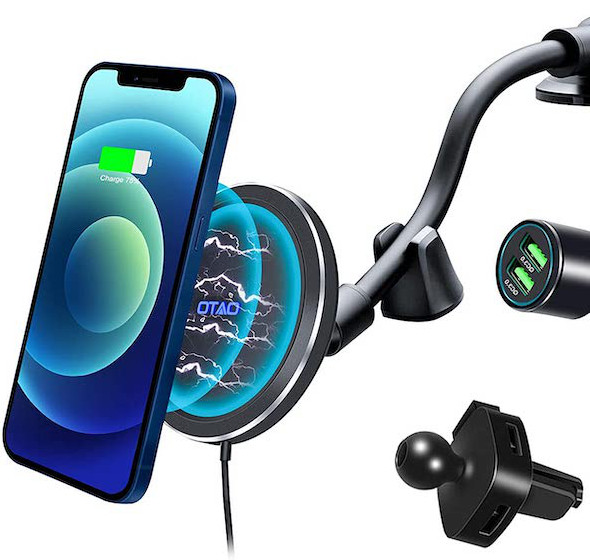 Pros:
Powerful magnet ring
360-degree adjustability
Auto-clamping air vent clip
Better temperature control
Cons:
Only supports ordinary MagSafe cases
The OTAO car mount includes a robust suction cup to keep your iPhone 13 and iPhone 13 Pro stable while also offering fully adjustable viewing angles. So, whether you want to attach your phone to the windshield, dashboard, or air vent, it has you covered.
OTAO magnetic car charger mount comes with a built-in power magnet ring that provides auto-lock alignment for snap-on charging. The included USB-C cable also plays its part in boosting the charging speed. And with the multi-protection system, it is equipped to ward off overheating as well. What I have personally liked about this car charger-cum-mount is the PCB separation from the main body, which prevents overheating. Hence, you can count on it to let you power up your iPhone with the required safety.
Top MagSafe Car Mounts for iPhone 13 and 13 Pro
So that concludes our roundup of the best MagSafe compatible wireless car charger mounts for iPhone 13 and 13 Pro. I believe you would have found a suitable travel companion for the all-new iPhone. Is it the most sturdy car mount or the one that features a compact profile? Do not forget to let us know your top pick in the comments below. If there is an equally good MagSafe wireless charging car mount missing from the roundup, make sure to let us know about that as well.