One of the newest feature additions to all the new iPhone 12 series phones is MagSafe. It not only enables faster wireless charging but opens the doors for new types of MagSafe accessories, such as magnetic wireless chargers, cases, wallet, and more. We will cover all these in different articles. For now, let's focus on the best MagSafe cases for iPhone 12 and iPhone 12 Pro that you can buy today.
Best iPhone 12 and iPhone 12 Pro MagSafe Cases
Since both iPhone 12 and 12 Pro have the same dimensions, the cases we are featuring on this list will work with both of them. You can find the full list of MagSafe cases in the table of content below. Click on the button to reveal the cases, and then tap on a name to move to the corresponding case.
1. iPhone 12 | 12 Pro Silicone Case with MagSafe
Currently, my favorite MagSafe case for the iPhone 12 and iPhone 12 Pro is the silicone case by Apple. I love thin cases, and the new Apple silicone cases are thin and lightweight. They don't add any noticeable bulk to the device. The case ensures that your phone can easily handle drops and falls.
There's also an internal microfiber lining in the case that keeps scratches and scuffs at bay. The case feels premium and feels nice in hand. It's available in eight different colors, so you have a lot of options. Yes, the pricing is a bit premium, but so is the case.
Buy from Apple: $49.00
2. iPhone 12 | 12 Pro Clear Case with MagSafe
Alongside the silicone MagSafe case for the iPhone 12 and 12 Pro, Apple has also launched a clear MagSafe case. If you have used Apple's clear cases in the past, you will know what you are getting here. It's a thin case made using clear polycarbonate and flexible materials.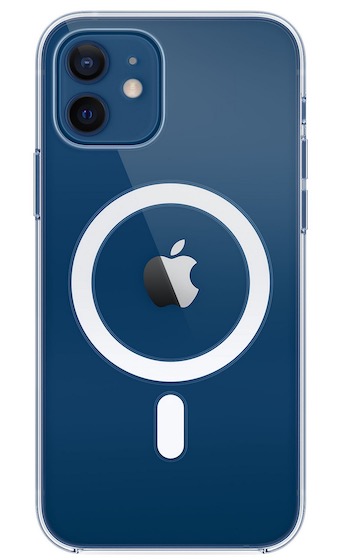 My favorite thing about Apple's clear cases is that they maintain their transparency over time. Many clear cases take on a yellowish hue, but that's not the case with Apple's clear cases. That said, many people are going to forgo the clear case this year, thanks to the white circle design at the back that houses the magnet.
To be frank, I think it doesn't look that bad, but many of my colleagues think it looks hideous. I would suggest that you see it in a store if possible, to get the right feel for it.
Buy from Apple: $49.99
3. OtterBox Figura Case with MagSafe for iPhone 12 and 12 Pro
The OtterBox Figura MagSafe case for the iPhone 12 Pro and iPhone 12 is best for people who want that extra protection. Despite sporting a thin profile, the case brings ample drop protection thanks to a padded bumper and raised lips around the display and the camera cut-outs.
It uses a flexible soft-touch material that not only improves the grip but also feels nice in hand. I also love the water-paint look at the back. It makes it look like a bit artistic and separates it from your run of the mill cases. I love OtterBox cases and can recommend this to anyone without any qualms.
That said, if you don't like the painting style, you can buy the OtterBox Aneu series case that comes in single solid colors.
Buy from Apple: $49.95
4. ESR iPhone 12/12 Pro Cloud Soft Case with MagSafe
ESR has become one of my most favorite accessory makers for the iPhone, and their new cloud Soft case with MagSafe is awesome. The case is thin and light and sports a soft-touch matte finish that feels premium in hands. The raised lips around the camera and the screen, along with a soft inner lining, ensures that the case provides adequate protection.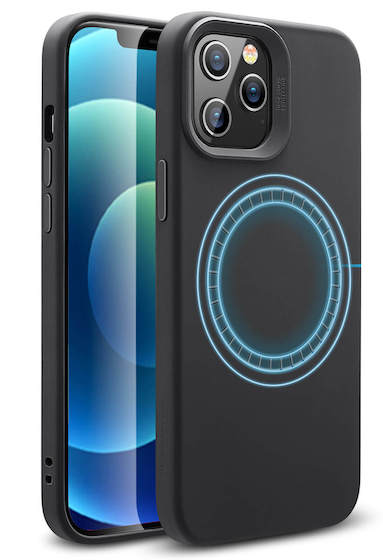 Currently, the case is available in only two colors, with more colors to follow soon. I love the black one right now as the blue feels too blue. If you are not ready to spend $50 on a case, this is a great option for you.
Buy from ESR: $35
5. iPhone 12 and iPhone 12 Pro Symmetry Series with MagSafe
Another good MagSafe case for the iPhone 12 Pro and iPhone 12 is the symmetry series case from OtterBox. The Symmetry cases are thin and protective and provide ample protection against drops, bumps, and fumbles. It offers clicky buttons and easy access to all the ports.
One unique feature of this case is that it is infused with a silver-based additive that continually blocks microbial growth. So the phone remains clear of microbes, and you won't need any phone disinfectants to clean it.
Buy from OtterBox: $59.95
Best MagSafe Cases for iPhone 12 and iPhone 12 Pro
So, these are the best MagSafe cases that you can buy for the brand new iPhone 12 and iPhone 12 Pro. Remember, both these phones are of the same size, and hence, you can interchange cases between them. We will add more cases as they are released, so if you didn't find anything satisfying, keep checking back to explore more options.
---
Load More