During the iPhone event, Apple introduced something called Ceramic Shield that brings 4x drop protection to iPhone 12 Pro and other 12 series devices. Apple claims that the new-gen iPhones can withstand drops and scratches without major damage. That said, the fine print says that the Ceramic Shield is only available on the front display and the back is covered by the usual Textured matt glass. So if you want to protect your iPhone 12 Pro then you still need a case. To make things easier for you, we have curated the best iPhone 12 Pro cases that you can buy right now. So without wasting any time, let's explore the top cases for iPhone 12 Pro.
Best iPhone 12 Pro Cases and Covers in 2020
Here, we have mentioned a range of cases including leather cases, folio covers, protective cases, kickstand, clear cases, etc. for the iPhone 12 Pro. You can take a quick look at the list below and click on the link to move to the corresponding case.
Best Cases for iPhone 12 Pro
1. Official iPhone 12 Pro Silicone Case by Apple
Generally, I recommend cases from third-party manufacturers because they cost much less and offer great protection from all sides. However, with MagSafe introduced on iPhone 12 Pro, it's important that you buy a MagSafe-compatible case for faster wireless charging and other accessories support.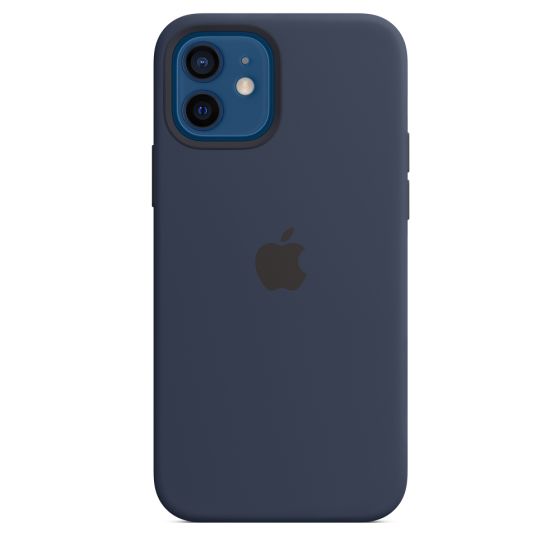 This silicone case is available in 8 different colors which looks amazing. As always, the case is made of silky silicone exterior and brings soft microfiber lining for inside protection. Apart from that, it has built-in magnets that align perfectly with iPhone 12 Pro.
The best part is that you will be able to charge your iPhone 12 Pro not just with MagSafe compatible charger, but also with Qi-certified chargers. To sum up, the official Silicone case by Apple is the best iPhone 12 Pro case you can buy right now.
Buy from Apple: $49
2. Spigen Liquid Air
Spigen offers a range of cases for iPhone 12 Pro, of which I particularly love the Liquid Air case. It has a sleek and slim profile and feels great in the hand. The unique texture on the back ensures that you get a solid grip while also maintaining the thinness of the device.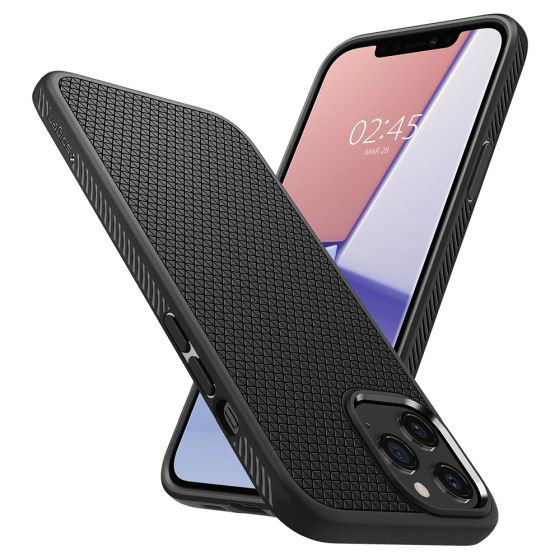 The material used here is high-quality Thermoplastic polyurethane (TPU) which is known for its flexible and shock-absorbent quality. In addition, the case has tactile buttons that feels very responsive. Lastly, the built-in Air Cushion Technology protects your device from hard drops which is awesome.
Not to forget, the case is compatible with both wireless and reverse charging. In summation, Spigen Liquid Air is a great case for iPhone 12 Pro and you simply can't go wrong with it. There are also other Spigen cases including Ultra Hybrid, Tough Armor and more. You can take a look at all the Spigen cases from the link below.
Buy from Spigen: $24.99
3. Caseology
Similar to Spigen, Caseology has brought a number of sturdy iPhone 12 Pro cases. If you want all-around protection with a reliable grip then just go for Caseology Dual Grip. It prevents scratches and damages from hard drops, all the while maintaining a slim profile.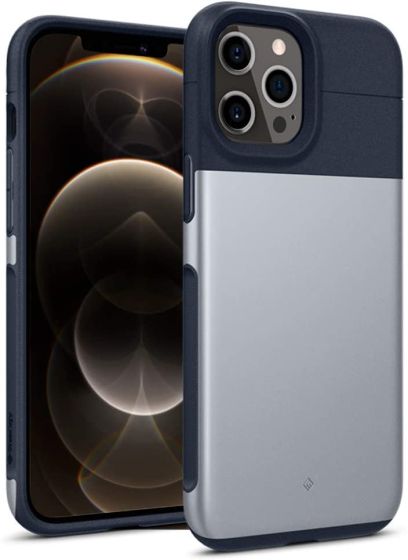 Next, you have the Legion case for iPhone 12 Pro that comes in a blend of two unique colors on the back. Finally, you have Caseology Calin which is a great Folio case for iPhone 12 Pro. Basically, Caseology has you covered with all sorts of cases and covers for iPhone 12 Pro. Be assured, all the cases offer you top-notch protection and wireless charging support.
Buy from Amazon: $13.99 (Dual Grip)
Buy from Amazon: $14.99 (Legion)
Buy from Amazon: $15.99 (Calin Folio)
4. Dbrand Grip Case
Dbrand is known for making the popular tough case called Grip. It's engineered using shock-absorbing polymers that offer military-grade protection from severe drops and scratches. And unlike other protective cases, this one does not sacrifice the looks and aesthetics for protection.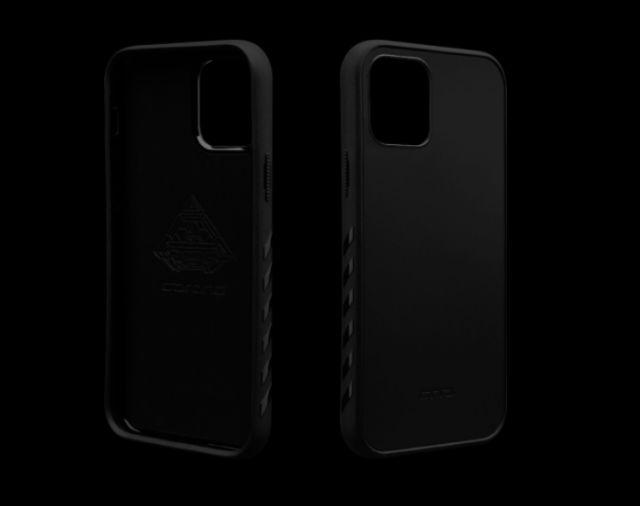 The Grip case is just 2mm thin so you won't feel any bulk on your iPhone. Most importantly, the buttons are tactile and responsive which is very important to have in a protective case.
And the raised edges around the screen and camera minimize damages from drops. All in all, if you want a bumper case for 360-degree protection then Dbrand Grip is the best value for iPhone 12 Pro.
Buy from Dbrand: $29.95
5. OtterBox Defender Case
OtterBox is another popular case maker for iPhones and this time too, they have brought their signature Defender case for iPhone 12 Pro. It delivers advanced protection to your device using the rugged Polycarbonate shell. And the best part is that the Defender case adds an antimicrobial additive to the case which blocks out microbial growth and many kinds of bacteria.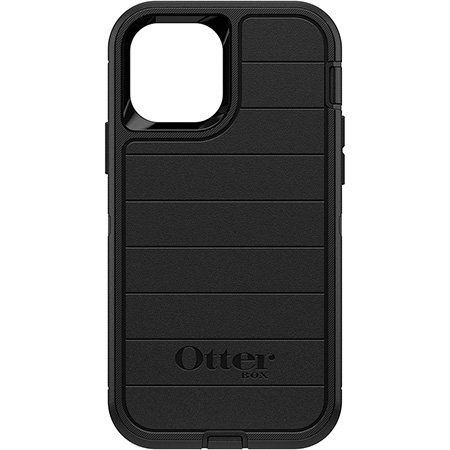 In this time of the pandemic, this is surely a great feature to have. Other than that, you will have a solid grip with the case, and the raised edges offer camera and screen defense against all odds. Simply put, the OtterBox Defender Case is a tough case for iPhone 12 Pro that can withstand any kind of damage.
Buy from OtterBox: $69.95
6. Totallee Matte Case
If you are looking for a thin case for your iPhone 12 Pro that also brings enhanced protection then Totallee is the one you should get. It comes in multiple colors and finishes, but I like the Froster Clear case. If you want, you can also customize the case and make it transparent. Sure, the case does not offer solid protection against drops, but it can prevent scratches and scuffs on your iPhone.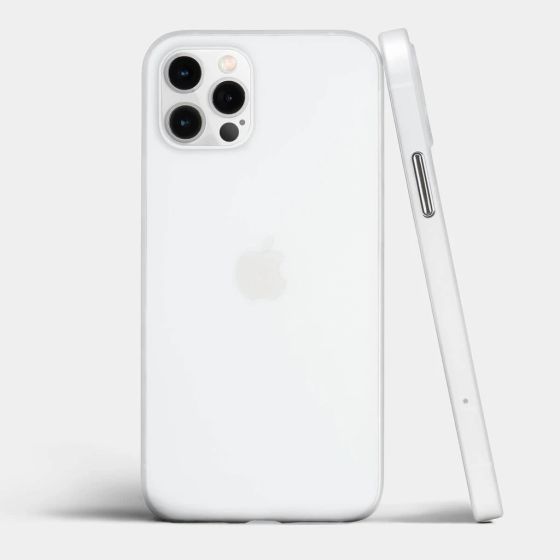 On top of that, the case has a raised lip around the camera module so that is an added defense. Not to mention, the case is compatible with wireless charging on the iPhone 12 Pro. To conclude, Totallee Matte is an ultra-thin case for iPhone 12 Pro that looks pretty cool and also offers decent protection.
Buy from Totallee: $35
7. ESR
Among the many cases for iPhone 12 Pro, I like ESR because it offers a great range of covers at an affordable price. I have used ESR cases for iPad before and I can vouch that the quality is top-notch with fine alignment and tactile buttons. First off, the ESR silicone case for iPhone 12 Pro is excellent with soft-lining in the interior and shock-absorbent material on the exterior.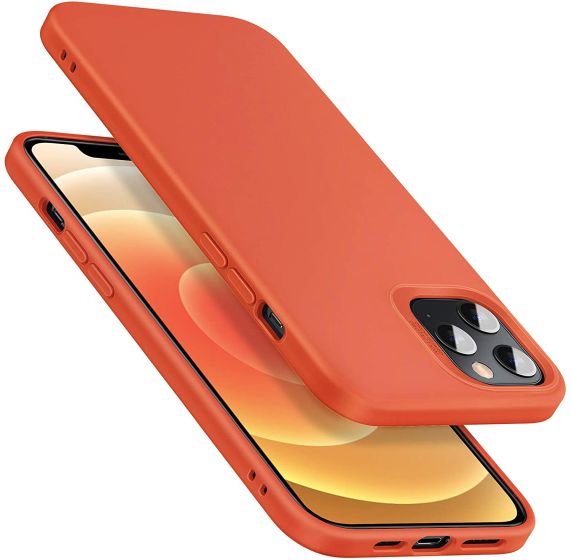 Next, you have the leather case for iPhone 12 Pro which looks premium and also adds a protective layer against scratches. ESR claims that the leather case is crafted with high-quality leather that has a soft touch so that is nice. Finally, we have the ESR Metal Kickstand Case for iPhone 12 Pro.
It allows you to freely adjust the kickstand and create both vertical and horizontal stand for FaceTime or movie watching. Not to forget, all the ESR cases are compatible with wireless charging. So if you are looking for versatile cases for iPhone 12 Pro at a cheaper price then take a good look at ESR cases.
Buy from Amazon: $12.99 (Silicone)
Buy from Amazon: $25.99 (Leather)
Buy from Amazon: $16.99 (Metal Kickstand)
8. Nomad Leather Case
If you want a leather case for iPhone 12 Pro then there is no better option than the Nomad Leather case. Nomad is popular for using renowned Horween leather of Chicago which is America's oldest tanneries. And as you expected, the raw leather also develops a patina over time which makes the device look even more premium. Other than that, the Nomad case has a rugged character that protects the device against drops and scratches.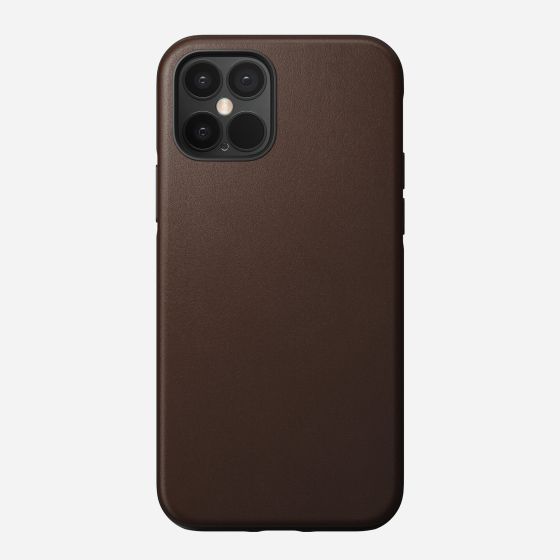 Nomad claims that the case can survive 10ft of hard drop without any damage to the device. For added protection, the case includes an internal shock absorption bumper which is nice to have on a leather case. So to sum up, you are not just getting a premium leather case for iPhone 12 Pro, but also a protective case that is as good as other rugged ones on this list.
Buy from Nomad: $49.95
9. Mujjo Leather Wallet Case
Mujjo is another company that makes premium leather cases for iPhone 12 Pro. It uses high-quality vegetable-tanned leather which looks terrific on the iPhone. And yes, the leather develops a patina over time and makes the case look rich and premium. Mujjo case for iPhone 12 Pro also has a distinct quality.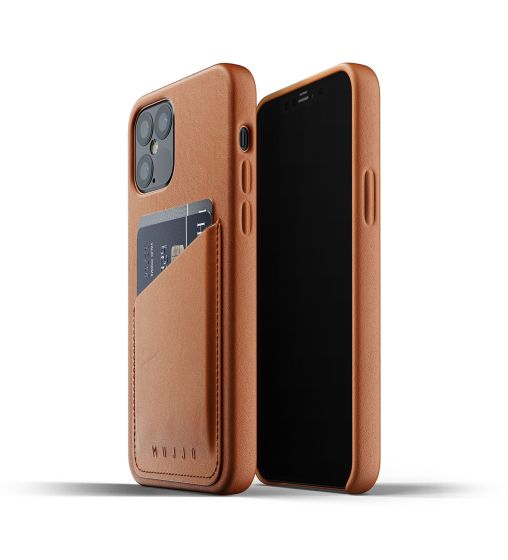 Every stain and scratch on the case is blended with the leather which helps in building a unique character of the case. Besides that, it also offers a back pouch to store your cards to make your daily life convenient. Considering all the points, I would say, the Mujjo case is a perfect leather case for iPhone 12 Pro and you should give it a shot.
Buy from Mujjo: $46.19
10. Mkeke Clear Case
Lastly, we have a clear case for iPhone 12 Pro which has been created by Mkeke, another popular case maker. With this transparent case, you can show off your iPhone 12 Pro in its distinct color. The clear case is made of TPU material and hard polycarbonate to offer a decent level of drop protection.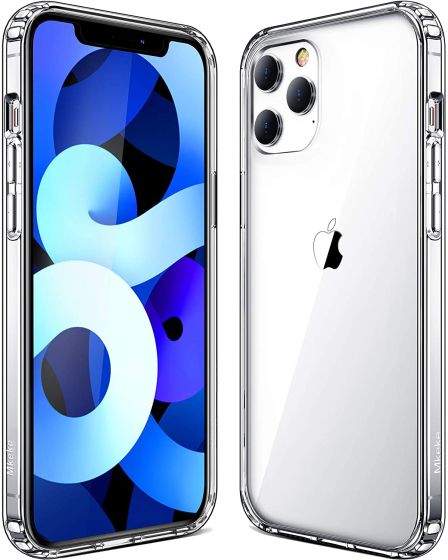 Be assured though, it does not add any bulk to the device and keeps your iPhone just as thin as the original dimension. Moreover, the case has precise cutouts for volume buttons, charging port, and side buttons. I would say if you are someone who takes good care of your phone then Mkeke Clear Case is a good choice.
Buy from Amazon: $12.99
Pick the Best iPhone 12 Pro Case From the List
So these are the cases we have carefully curated for iPhone 12 Pro. We have tried to include all kinds of cases and covers including silicone, leather, folio, clear, hard TPU cases, and more. So just go through the list and find a suitable iPhone 12 Pro case based on your need. Anyway, that is all from us. If you found the list helpful then do comment down below and let us know.