The inclusion of MagSafe on the iPhone 12 and iPhone 12 Pro has opened a new avenue for magnetic accessories which are both easier to attach and remove. That means now you can have detachable MagSafe cases, chargers, wallets, along with a plethora of other MagSafe accessories. Of all these, my most anticipated accessory is the MagSafe wireless charging car mounts.
I hate the traditional car mounts where I have to use clips to hold my iPhone. Not only that makes the process unwieldy, but for people like me who use no cases, it's also a heaven for scratches. If you also hate traditional car mounts, here are the best MagSafe wireless charging car mounts for iPhone 12 and iPhone 12 Pro.
Top MagSafe Wireless Charging Car Mounts for iPhone 12 and iPhone 12 Pro
These car mounts are well-built, compact, and offer hassle-free one-hand installation. Most of them support multiple installation functionalities so that you can install them not only on the dashboard but also air vent depending on your convenience.
Moreover, these wireless charging car mounts take full advantage of the MagSafe technology to deliver optimal wireless charging speed (15W). And with the 360-degree rotation on offer, you can prop up your iPhone in the preferred orientations for a more convenient viewing angle. That said, let's explore the roundup of the top car wireless charging mounts for the iPhone 12 Series.
1. ESR HaloLock Magnetic Wireless Car Charger Mount
ESR some of the best cases for iPhone 12 Pro and iPhone 12. And the company has just launched its HaloLock MagSafe wireless charger car mount. Unlike the not-so-strong magnets that you find on MagSafe cases, this car charger mount comes with powerful magnets that lock onto the built-in magnets of iPhone 12 and 12 Pro to provide a secure hold even through the roughest terrain.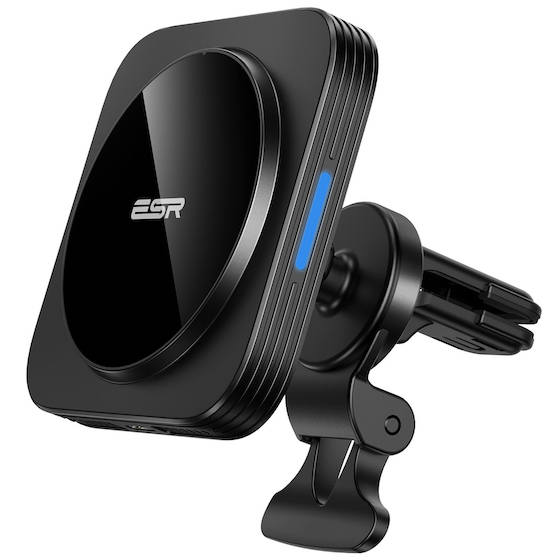 The magnets keep the phone perfectly aligned and allow you to place the phone in both landscape and portrait orientation. The only downside is that although the charger outputs 15W power, as of now, it only supports 7.5W charging for iPhone 12 series. If you are looking for a fast wireless charger for the car, this is the one to get.
Buy from Amazon: $39.99
2. Belkin Car Vent Mount Pro with MagSafe
If you just want a MagSafe car mount and don't need wireless charging to go along with it, you should check out the Car Vent Mount Pro. It's a small iPhone mount that you can attach to your car's vent. After you attach the car mount, place your iPhone 12 or 12 Pro, and it will magnetically attach to the mount.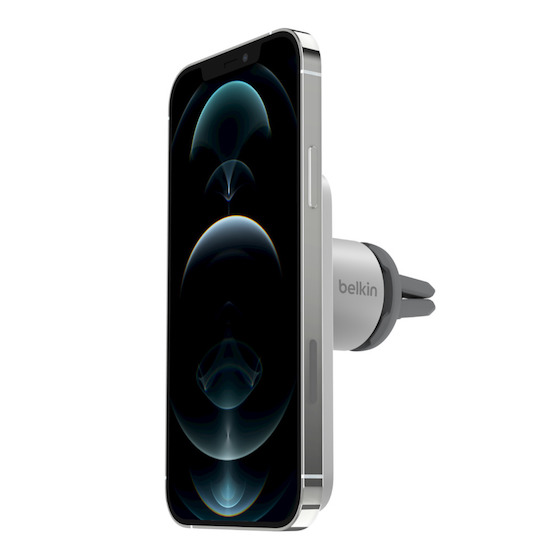 The mount not only features the rounded magnetic circle, but also the vertical alignment magnet at the bottom. That means you don't have to adjust the phone. It will automatically align itself. The mount has a rotation hinge, allowing you to use your smartphone in both portrait and landscape.
You are not getting wireless charging here, but it keeps the charging port open so you can always plug in your iPhone. I think the best thing about this mount is its build quality. It both looks and feels premium, and I highly recommend this.
Buy from Belkin: $39.99
3. IDOLCO
This offering from IDOLCO is fully equipped to work both as an efficient wireless charger and car mount. The wireless car charger mount comes with built-in magnets which enable it to deliver up to 15W charging speed. Besides, it also supports 5W, 7.5W, and 10W standard wireless charging.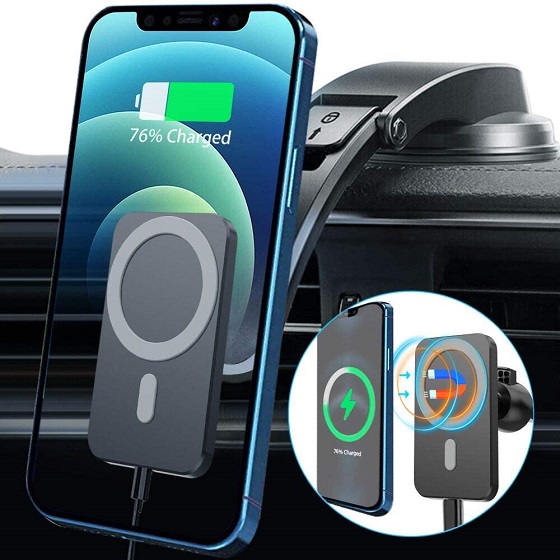 Featuring a suction cup base and air vent clip, the car mount is securely installed on the dashboard and air vent. Thanks to the sticky gel and anti-shake stabilizer, it remains steady while holding your device. Moreover, IDOLCO allows 360-rotation so that you can hold your device in the desired orientation for a more convenient viewing angle.
Buy from Amazon: $34.99
4. Lemail wig
Sporting a compact yet durable construction, Lemail wig is an ideal car mount-cum-wireless charger. It features built-in magnet absorption that allows it to securely attach to the back of the iPhone 12/12 Pro and deliver optimal charging (15W). Apart from offering fast charging, it also provides the required protection from hazards like overcharging and short-circuiting.
With the anti-slip silicone design, the car mount ensures that the iPhone remains securely placed. Another notable feature of this wireless charging car charger is the one-hand installation and removal, which is a big plus from a convenient perspective.
Furthermore, it also supports 360-degree rotation, ensuring you have a convenient viewing angle. Taking everything into account, it deserves to be rated among the best MagSafe wireless charging car mounts for iPhone 12 and 12 Pro.
Buy from Amazon: $29.98
5. WAITIEE
If you are looking for relatively affordable wireless charging car mount for your iPhone 12/12 Pro, WAITIEE could be one of the better options. The wireless charging car mount is well-built and provides a secure magnetic attachment. Thus, your smartphone remains intact even on bumpy roads. And with the easy rotation, it also offers the flexibility to hold the device in the preferred orientations.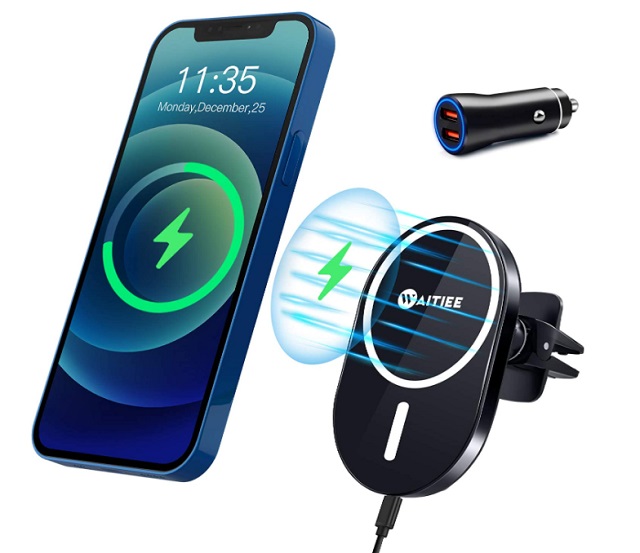 That aside, WAITIEE is equally up to the task when it comes to wireless charging. With the support for 15W/10W, 7.5W/5W, it allows you to power up your smartphone fast. Add to that the ability to safeguard the device against threats like overheating and it becomes a reliable wireless charging car mount for your iPhone 12/12 Pro.
Buy from Amazon: $21.43
6. FONGWAN
Featuring rugged construction, FONGWAN is designed to be a long-lasting wireless charging car mount. It supports one-hand operation to make installation and removal a painless exercise on the go. Plus, the strong magnet absorption plays a vital role in making a solid connection and also preventing the fall-off. Thanks to the silicone design, it also wards off scratches.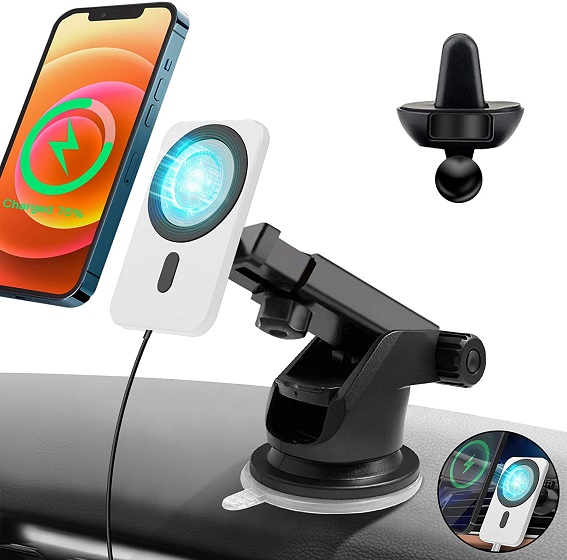 Beyond the impressive mounting functionality, FONGWAN is a reliable wireless charger as well. The ability to provide 15W Qi fast charging along with multiple safeguards against dangers like overcharging and short-circuiting makes it a complete wireless charging car mount. Notably, it also lets you rotate your device up to 360-degree to make sure you get fully adjustable viewing angles.
Buy from Amazon: $26.99
7. ZeeHoo M1
What makes ZeeHoo M1 apart from other wireless charging car mounts is the case-friendly design. That means you won't have to remove the case from your iPhone before the installation. Courtesy of the automatic magnetic alignment, it accurately aligns the charging coil to kickstart wireless charging.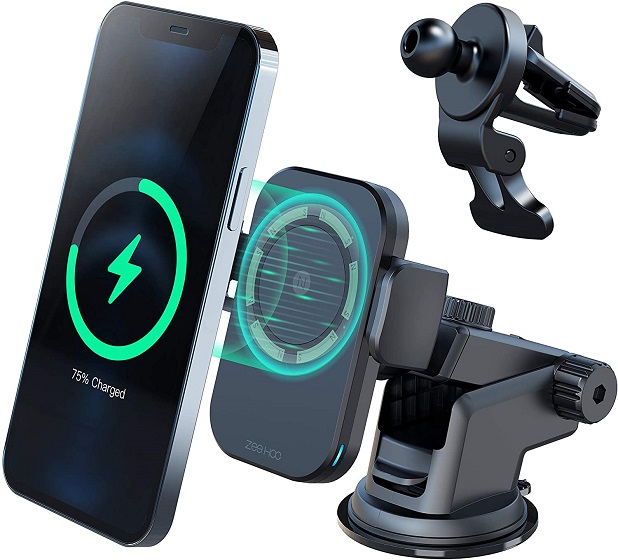 Apart from supporting the 15W fast Qi wireless charging, it is also compatible with 10W and 7.5W wireless charging. Equipped with a strong suction cup, the car mount keeps your device secure and also prevents shaking. Additionally, it also allows adjustable viewing to let you prop up your smartphone at the desired angle. At $27, ZeeHoo M1 is also among the affordable wireless charging car mounts for iPhone 12 and 12 Pro.
Buy from Amazon: $25.99
8. UUTO
Boasting a powerful N50 magnet ring, UUTO is a top-notch MagSafe wireless charging car mount for iPhone 12 Series. The magnet ring enables the car mount to hold the iPhone firmly so that it doesn't fall off. The auto-lock alignment functionality with the charging coil helps it provide up to 15W fast wireless charging.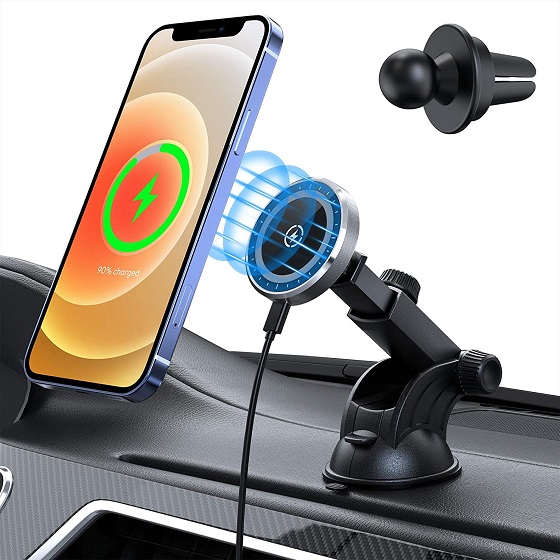 UUTO comes with a suction cup base and air vent clip so that you can install it on not only the dashboard but also the air vent. The sticky gel along with the anti-shake stabilizer ensures the phone doesn't wobble. Just like other car mounts, it also provides 360-degree rotation to offer a comfortable viewing angle. Overall, UUTO has got everything covered to be one of the best wireless charging car mounts for iPhone 12 and 12 Pro.
Buy from Amazon: $33.99
Best MagSafe Wireless Car Charging Mounts to Buy
That's pretty much it! So, these are the top MagSafe wireless charging car mounts for iPhone 12 Series. They are well-built and boast impressive 2-in-1 functionality to work both as a car charger and car mount proficiently. Thanks to the multi-protection system and 360-degree rotation, they offer a complete solution to be super handy accessories.
---
Load More