Apple's September launch event brought about the iPad mini 6 alongside the iPhone 13 series and the Apple Watch 7. Redesigned from the ground up, the iPad mini 6 is now much more handy and attractive. It now has a larger display, Touch ID, and a USB-C charging port. So if you are planning to buy one or have already placed an order, you must be looking to protect your iPad mini 6's screen. New iPad mini 6 owners will be glad to know that many screen protectors are already available for sale and waiting for you. We have made your job easier by compiling a list of the best iPad mini 6 screen protectors you can get right now. Without further ado, let's get to it.
Best iPad mini 6 Screen Protectors (2021)
The screen protectors for the latest iPad mini model listed below are affordable and provide a solid set of features for their price. While a few of them come with an easy installation case and a cut-out for the selfie camera, the others feature 9H hardness and good oleophobic coating for a smooth experience. Go ahead and check them out.
ESR Screen Protector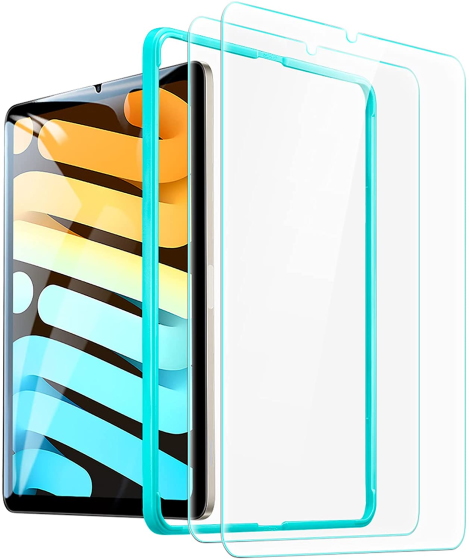 Pros:
Easy-installation frame
Ultra-thin design
Scratch-resistant
The ESR screen protector for the iPad mini 6 will make your life easier. This screen protector comes with an easy alignment frame that will make your installation effortless. All you need to do is clean your screen with the provided cleaning kit and place the frame over your iPad mini 6. Besides this nifty feature, the ESR iPad mini 6 screen protector is a robust product paired with scratch-resistant material to ward off any damage.
If you are worried about the added thickness, don't be since this screen protector has an ultra-thin design with higher sensitivity. You can go about using your iPad mini 6 without smudges since the ESR screen protector comes with a fingerprint-resistant coating. Combine that with HD clarity and full Apple Pencil compatibility, and you have yourself an iPad mini 6 screen protector that makes it to the top of our list.
iVoler Bubble Free Screen Protector [2 Pack]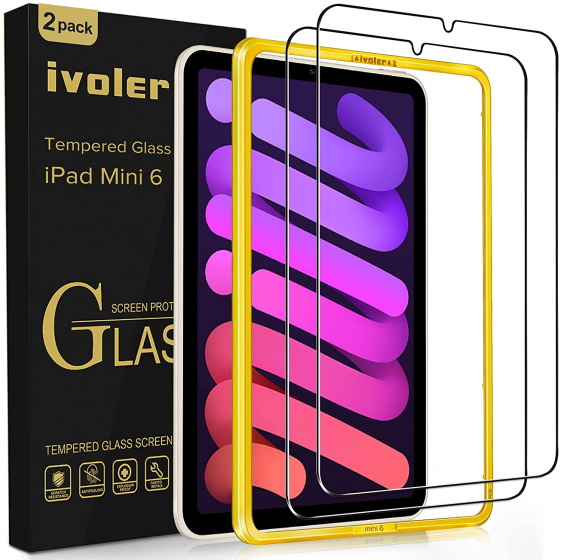 Pros:
Easy installation
All-around protection
Apple Pencil friendly
If you are looking for an iPad mini 6 screen protector with easy installation steps, go for the iVoler bubble-free screen protector. Just like the ESR one, it comes with an alignment frame for hassle-free installation. This screen protector is not only reasonably priced for a two-pack but also features specialized technology. The iVoler screen protector is treated with a plasma oleophobic coating, which makes it smoother than other anti-fingerprint measures and lasts much longer.
On the security front, the iVoler screen protector comes with 360-degree 9H all-around protection. It offers the iPad mini 6 screen complete coverage from shocks, drops, dust, and even water on the screen. You also get a 2.5D rounded corner design, which helps in a neat installation and ensures your screen has no air bubbles. Like before, this screen protector is Apple Pencil-friendly, so artists can outfit their iPad mini 6 with it too.
EUEHIE Paperfeel iPad mini 6 Screen Protector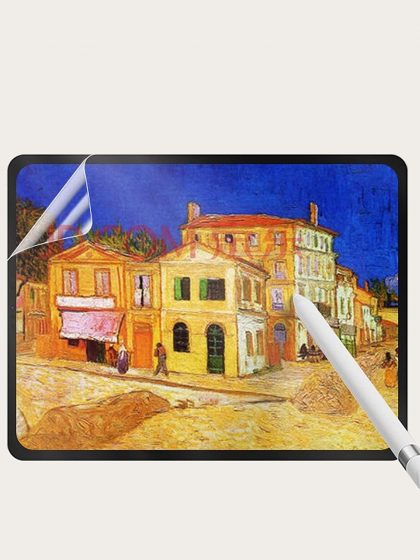 Pros:
Perfect for Apple Pencil users
Ultra-thin design
Scratch-Resistant
Cons:
No 9H hardness
Might be too thin for regular users
If you use an Apple Pencil regularly with your iPad mini 6, this screen protector is made for you. The EUEHIE Paperfeel screen protector possesses the company's own nanodots surface technology, which is intended to provide the ideal friction and stroke resistance for your Apple Pencil. EUEHIE promises that the experience of using this iPad mini 6 screen protector will be just like drawing or paper. Plus, it will even help reduce your hand fatigue.
Besides this innovative feature, the screen protector features scratch resistance for extended Apple Pencil use along with a thickness of just 0.23mm. iPad mini 6 users also get an anti-glare and finger-resistant coating made possible by a premium Japanese PET film. It helps elevate the experience even further. The EUEHIE Paperfeel screen protector for the iPad mini 6 is made for budding artists and professionals.
MoKo Anti-Reflective Screen Protector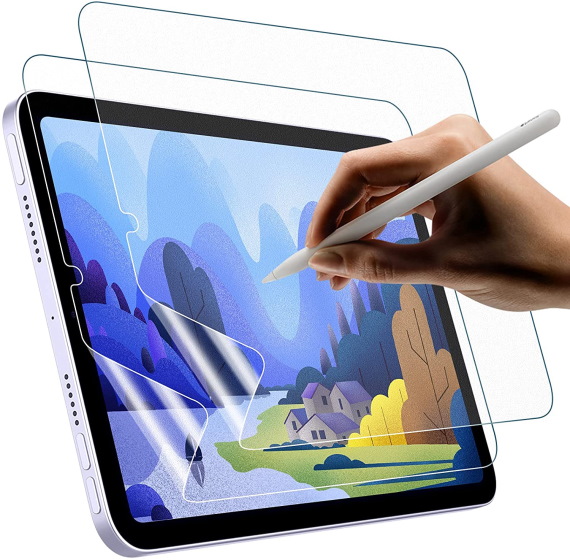 Pros:
Premium PET material
Scratch-resistant
Designed for Apple Pencil users
Cons:
Not designed for rough use
The MoKo anti-reflective screen protector is yet another one designed for iPad mini 6 users who use the Apple Pencil to take notes or draw regularly. While the company doesn't detail its tech, MoKo does promise paper-like writing, sketching, and drawing on the iPad. The screen protector comes with premium PET material and a matte surface to reduce reflections from the sun.
While this screen protector is perfect for artistic iPad mini 6 users, it also offers decent overall protection. The 3H hardness makes this product scratch-resistant, along with an anti-fingerprint coating. Don't worry about installation either. The MoKo iPad mini 6 screen protector comes with a full kit to make your life easier. However, users looking for something extra-tough should consider other stronger options below.
ProCase Anti-Spy Privacy Screen Protector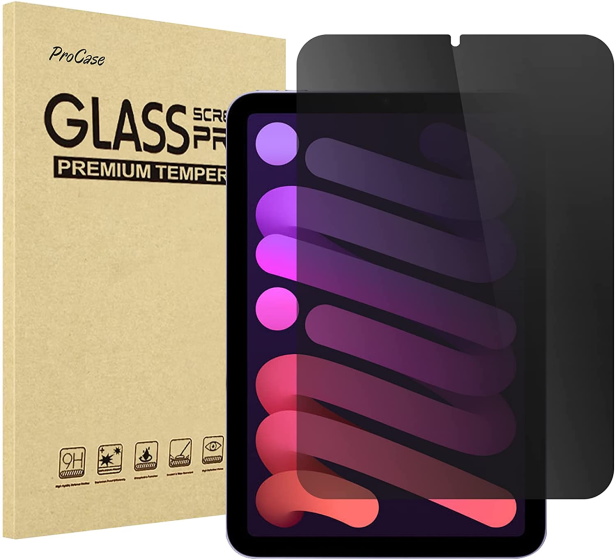 Pros:
Anti-spy privacy protection
Durable 9H hardness
Feature-rich thin design
Cons:
Reduces overall screen brightness
Not suitable for watching content
Are you an iPad mini 6 user who loves their privacy? Well then, the ProCase anti-spy tempered glass is the one you should get. This screen protector features an anti-spy coating that only makes the iPad mini 6's screen visible from the front. While this screen protector will admittedly reduce your device's overall brightness a little, the trade-off is worth having no side-snoopers trying to see what you are doing on your device.
The ProCase tempered glass comes through even when we take protection into account. The screen protector has a 9H hardness surface, and that makes it extremely durable against scratches and bumps. The screen protector maintains protection while adding only 0.33mm of thickness to your iPad mini 6's screen. It ensures a perfect balance of protection and responsiveness. You also get anti-fingerprint coating as a cheery on this privacy-laden cake.
OMOTON iPad mini 6 Tempered Glass [3 Pack]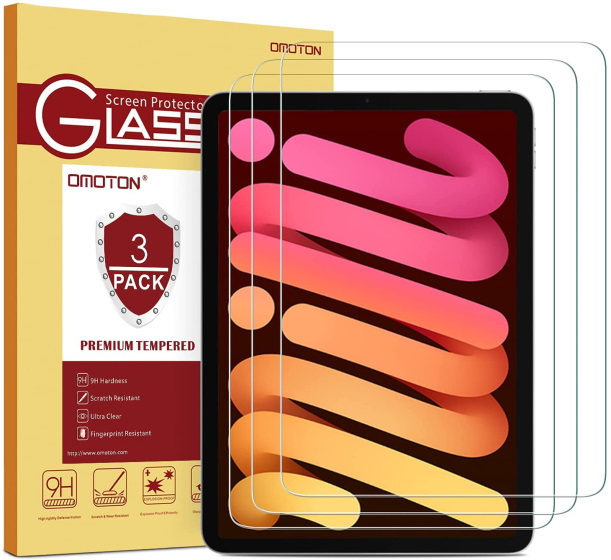 Pros:
Affordable multi-pack
Can withstand 20kgs of force
Apple Pencil support
Cons:
Might be too sensitive for some
No anti-glare coating
Let's face it, applying screen protectors is a headache in general. Unless you do it for a living, it's a nightmare to align the corners perfectly and avoid bubbles. The OMOTON iPad mini 6 partially solves that problem by making its pack of 3 screen protectors extremely affordable. This way, you can go ahead and mess up once (or maybe twice) without feeling really bad about it. However, don't let the low price fool you into thinking that is iPad mini 6 screen protector is weak.
The OMOTON tempered glass comes with scratch-proof 9H hardness combined with a diamond coating that can withstand an impact of up to 20kgs. So even if you drop your iPad mini 6, this protector will keep your screen safe and sound.
The product also serves well for Apple Pencil users as the 0.3mm thickness makes it ideal for sketching. Even finger lurkers can use their iPad mini 6 without smudges, thanks to the provided hydrophobic and oleophobic screen coating, which is ultra-sensitive. The OMOTON screen protector could be a durable pick to protect your iPad mini 6.
LK iPad mini 6 Screen Protector [2 Pack]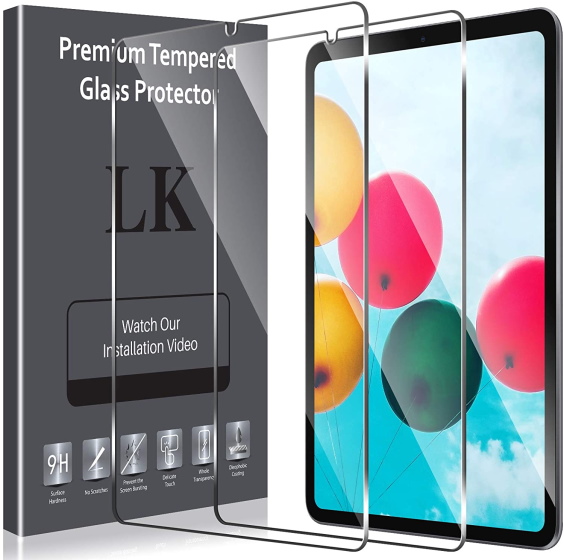 Pros:
Case friendly design
Premium 9H hardness
Anti-fingerprint coating
A common problem that arises between third-party screen protectors and cases is fit compatibility. While we are sure screen protectors for the iPad mini 6 listed above will fit cases and covers without problems, the LK screen protector is an extra failsafe. Explicitly made with a case-friendly design in mind, this iPad mini 6 screen protector leaves extra space around the borders. That means any iPad mini 6 case or cover can wrap around the edges without issues. It will ensure that your screen protector won't be unduly lifted with air bubbles.
However, that does not make the screen protector any smaller, and the LK protector still covers the entire iPad mini 6's screen and does it well. Besides the coverage, you get premium 9H hardness that makes the glass scratch-resistant and safe against high-impact drops. The safety formula has been further combined with an oleophobic anti-fingerprint coating to ward off any fingerprint smudges.
This screen protector even provides full Apple Pencil support along with good touch sensitivity. Designed for users seeking a foolproof fit, the LK screen protector is the one to get for your iPad mini 6.
IVSOTEK Anti-Fingerprint Tempered Glass [2 Pack]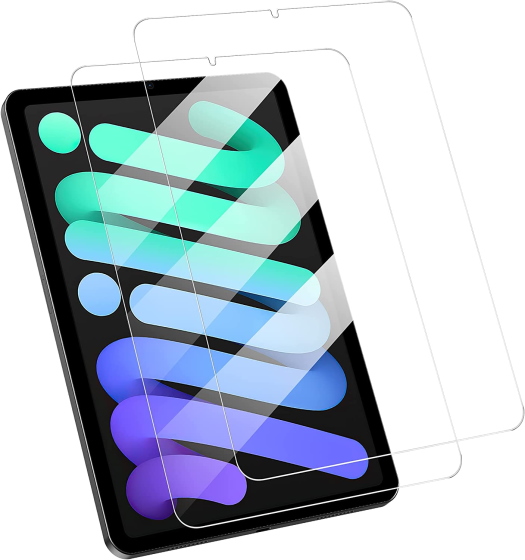 Pros:
Special anti-fingerprint lubricated surface
9H hardness
Affordable
While there are users who plan on pairing their iPad mini 6 with an Apple Pencil, you might not be one of them. If you use the iPad mini primarily with your fingers, pick up the IVSOTEK anti-fingerprint screen protector. This screen protector for the iPad mini 6 has gone through a special oil-resistant treatment process that makes its surface lubricated. IVSOTEK promises it will help avoid grease, fingerprints, stains, and water from the glass surface. It makes the screen protector ideal for iPad mini 6 users trying to keep their screen away from any elements.
This screen protector comes rated with 9H hardness, which makes it the perfect pick for folks looking for a solid product that will shield their iPad mini 6's screen. Special attention has been paid to the area around the iPad mini 6's front camera notch that makes this protector compatible with most of the cases out there. And if you are feeling all these features come at a high price, you will be happily disappointed as it's affordable.
MoKo HD Clear Premium Screen Protector [2 Pack]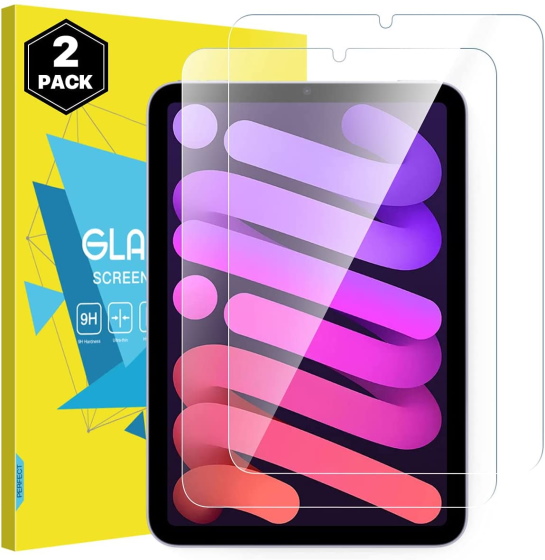 Pros:
99.99% HD clarity
9H hardness
Anti-fingerprint coating
Cons:
No installation case
Cheaper options available
While most screen protectors promise everything, the MoKo HD gives transparency the highest priority. Designed to be extremely subtle, the MoKo HD screen protector for the iPad mini 6 offers 99.99% clarity. The company has decided to provide this level of transparency to make the iPad mini user 6 feel like they haven't installed a screen protector at all. Furthermore, it makes the MoKo HD extremely thin (0.3mm), and lightweight.
However, screen protection is still a priority as the MoKo HD clear screen protector for the iPad mini 6 comes with the much loved 9H hardness, thereby lending it premium scratch and drop protection. However, that won't take anything from your experience as the screen protector still delivers responsive touch and an anti-fingerprint and dust coating. Made for the ones who want something soft and subtle, the MoKo HD clear screen protector is a fine choice for the iPad mini 6.
Mr. Shield Screen Protector [2 Pack]
Pros:
Clear ballistic glass
9H hardness
Affordable
Lifetime free replacement
Cons:
No anti-fingerprint
No anti-glare
If you are a clumsy user and have trouble putting on screen protectors, Mr. Shield is here to the rescue. Designed to protect the iPad mini 6, the Mr. Shield screen protector comes with a clear ballistic glass that will protect your device from scratches and high-impact drops. The protector tops that off with 9H hardness that brings on even greater security. While you won't find an anti-fingerprint coating here, this company has an interesting feature up its sleeve.
The Mr. Shield company provides a no-hassle lifetime replacement that will cover your product against almost anything. So if by any chance you mess up while applying this screen protector, the company will send you a replacement pack for free. This also applies to any defective and incompatible products. Users looking for something affordable that they can effectively try and buy should go for Mr. Shield screen protectors.
Protect Your iPad mini 6 with The Best Tempered Glasses
No matter which screen protector you choose from the list, we are confident it will protect your iPad mini 6 for a long time. You can bolster the protection even further with these best iPad mini 6 cases and covers. Users looking for a taste of the upcoming iPadOS 15 can read our best iPadOS 15 features article to learn about all of the amazing new additions.
Besides the iPad mini 6, Apple excited fanboys with various other products announcements. Mobile users have the iPhone 13 series with a smaller notch and better cameras to look forward to, while the wearables market is about to get another boost with the Apple Watch Series 7 and its impressive health-centric features. Coming back to screen protectors, do you think we missed out on any good options for the iPad mini 6? Let us know in the comments below, and we will update the list accordingly.