Let's face it, no matter whether you have the M1 iPad Pro or the new iPad mini 6, most of us are hopelessly in love with the Apple Pencil. However, nobody is a stranger to how expensive it is. If you have got yourself the newest iPad mini 6, you will be glad to know it supports the 2nd-gen Apple Pencil. However, if you are looking for something a bit more affordable than Apple's stylus, we have you covered. We have compiled a list of the best affordable Apple Pencil alternatives for the iPad mini 6.
Best Apple Pencil Alternatives for iPad mini 6 (2021)
All the products included in this article feature one-touch connectivity and an easy tip replacement system. So no matter what type of stylus user you are, do yourself a favor and have a look at these best Apple Pencil 2 alternatives to use your iPad mini 6:
JAMJAKE Stylus Pen
Pros:
Magnetic stylus connection
Durable design
Long battery life
Trusted brand
For a long time, JAMJAKE has remained a company that users looking for an Apple Pencil alternative can rely on. The original JAMJAKE pen was such an immense success that it received over a 4.5-star rating from 60,000+ reviews on Amazon. Well, iPad mini 6 users are lucky as the JAMJAKE stylus pen has been updated with even more features. This sleek Apple Pencil substitute has everything your iPad mini 6 could need.
The stylus pen features a magnetic design that lets you attach your stylus to the iPad (no wireless charging support) to carry it around conveniently. The JAMJAKE stylus also has all the usual features, including writing, drawing, and note-taking support. It even supports Scribble and a palm rejection design for an effortless experience.
The stylus is made out of premium aluminum alloy, which makes this pen durable and still lightweight. While you would think only the Apple Pencil is fast, the JAMJAKE stylus promises a lag-free experience with the iPad mini 6 and all the other models as well. The stylus has a battery life of 20 hours and can last up to 180 days in standby mode. Overall, it is an excellent choice for iPad mini 6 users wanting an all-around Apple Pencil alternative.
SWITCHEASY Stylus Pen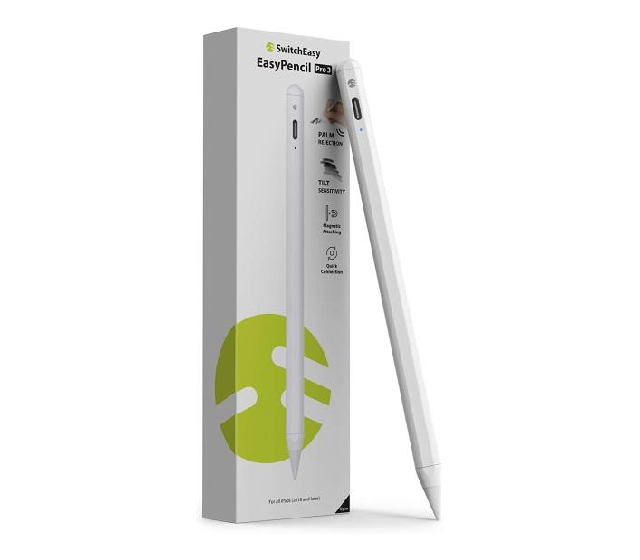 Pros:
Palm rejection and tilt sensitivity
Fast charging battery
Magnetic function
Cons:
Added cost for extra features
This Apple Pencil alternative for the iPad mini 6 is for users who love JAMJAKE but want access to even more features. The SWITCHEASY stylus pen is another beautifully designed stylus with tons of features. This alternative sports a tilt design with a magnetic function so you can easily attach it to your iPad, and it won't ever roll out of reach.
Besides full scribble compatibility, the SWITCHEASY stylus supports palm rejection and tilt pressure sensitivity. These features make it perfect for artists looking for an affordable Apple Pencil alternative for the iPad mini 6. SWITCHEASY has incorporated 'fantastic sensitivity' to make it feel like you are working on real paper.
If you are worried about the battery life with all these features, then don't be. The SWITCHEASY pen hosts a fast-charging battery that will give you 10 hours of life after 30 minutes. It even has a power-saving function and a touch switch to turn it on easily. Designed for artists and everyday users alike, this alternative will ensure iPad mini 6 users make their stylus game professional without having to spend a buck over the $40 mark.
MoKo Universal Active Stylus Pen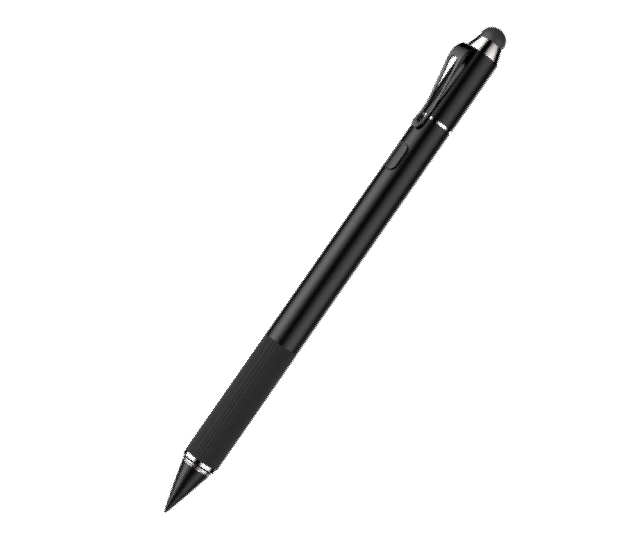 Pros:
Distinctive premium design
Integrated carrying clip
Additional soft rubber tip
Cons:
Average battery life
No tilt-sensitivity or palm rejection
Liked the stylus listed above but find it too shiny? The MoKo universal active stylus will solve that concern of yours. Featuring a fountain pen design, this stylus has a 1.5mm metal point tip that promises to deliver a realistic pen-to-pad experience. The design, no doubt, is intended to simulate the physical feel of a pen as you go about your creative business. The pen also features an integrated clip that you can use to set it into your pocket.
While the pen is not pressure-sensitive or palm rejective, it does feature custom rubber grips for more control, along with an additional rubber tip on the back. The pen is easily rechargeable and will last up to 8 hours after one hour of charge. While the battery life isn't the best, it makes up for that with its power-saving feature and distinctive design. iPad mini 6 users looking for something different yet subtle should consider this Apple Pencil alternative.
Adonit Note Stylus Pen
Pros:
Native palm rejection
Premium aluminium design
Accurate sensor
The Adonit Note is an ambitious Apple Pencil alternative that combines fashion with functionality. Taking on a premium approach, this Apple Pencil alternative features a slim rolling structure that has been made out of premium aluminum. The design choices made here keep it in sync with the natural flow of writing with a real pen while on your tablet.
The Adonit Note complements the design by adding native palm rejection, ensuring you will be able to rest your palm on the iPad mini 6 without worries. While the pen doesn't have pressure sensitivity support, it does feature an accurate and responsive sensor which will make your writing/ sketching process delightful. The battery isn't too bad either with this Apple Pencil alternative. It can dish out 12 hours of battery life, and you can get 1 hour of use with just 4 minutes of charging. You can even use the pen while charging if you want to.
And like our other selections above, you don't even need Bluetooth to use the pen. Simply tap the on button, and you are good to go. If you are an iPad mini 6 user looking for an affordable stylus like the Apple Pencil, get this one from Adonit. It will also look great while getting the job done.
JIPINRUI Stylus Pen for iPad mini 6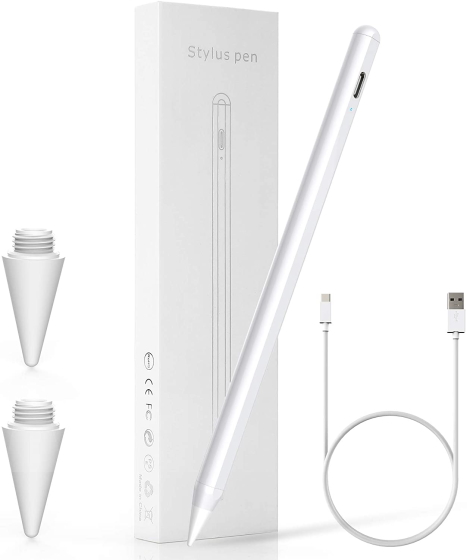 Pros:
Palm rejection and tilt-sensitivity
High precision sensor
Magnetic attachment
If you are someone who doesn't care about aesthetics and wants to get down to being creative, this stylus is for you. The JIPINRUI stylus pen offers the perfect combination between features and price. It serves as the perfect Apple Pencil alternative to the iPad mini 6 for many reasons. For starters, the design almost perfectly emulates the 2nd gen Apple Pencil. You even get a magnetic attachment feature to attach the stylus to your iPad.
The stylus is loaded with functions that make it worth your money. The JIPINRUI pen features complete tilt pressure sensitivity, along with palm rejection, so professional artists will encounter no problems while sketching. The pixel-perfect sensor works in complete tandem with the iPad mini 6, and you can scribble away without any worries.
The JIPINRUI stylus pen backs all this up with a decent 8 hours of battery life, but it can last up to 365 days in standby mode. With a beautiful design, a slew of professional features at such an affordable price, we highly recommend getting this Apple Pencil alternative for your iPad mini 6.
MEKO 2-in-1 Precision Disc Stylus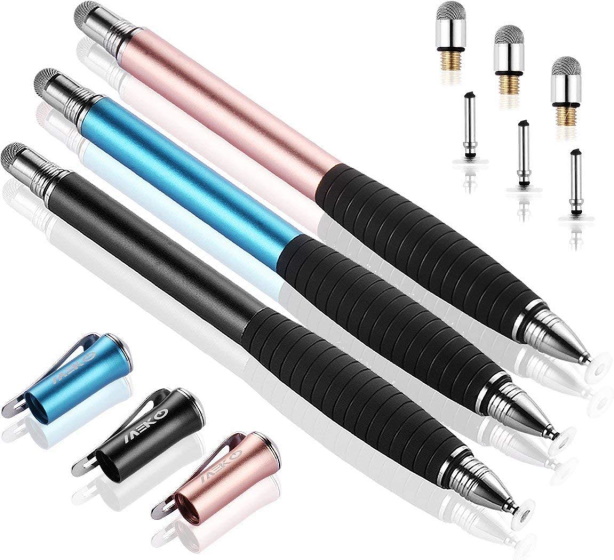 Pros:
Extremely affordable
Clear disc tip for accuracy
Large grip on the pen
Requires no charging
Cons:
Average design
Can scratch screen
While all the above Apple Pencil alternatives for the iPad mini 6 are great, we agree there might be potential buyers looking for an even cheaper but functional product. The MEKO 2-in-1 precision solves that problem. The design choice for the MEKO stylus simulates a pen with a fat middle grip at the front end. While we are not a fan of this specific design, it lends an air of nostalgia for when we used pens like these.
The MEKO stylus employs a 3mm clear disc tip that makes sketching and writing accurate and quick as you can see what you are doing. However, a clear disc nib is also prone to scratching the screen, so make sure you get one of these best iPad mini 6 screen protectors.
Besides the clear nib, you get wider compatibility across apps and an overall great stylus with a neat grip. Naturally, there is no pressure sensitivity and palm rejection present. The MEKO precision stylus is a no-nonsense batteryless Apple Pencil alternative that is made for users who want an extremely affordable option for taking down notes. Artists, however, should steer clear and consider other options on this list.
Get One of These Apple Pencil Alternatives for iPad mini 6
We hope you find the perfect Apple Pencil alternative for your iPad mini 6 from the list above. If you even want even more variety and can extend your budget past $50, go check out these best Apple Pencil alternatives. If you already have an Apple Pencil, check out how to use Quick Note, which is one of the many new iPadOS 15 features announced by Apple. Once you are done here, outfit your device with a good protective iPad mini 6 case or cover. Got suggestions for more Apple Pencil alternativIf you have any suggestions for more Apple Pencil alternatives, let us know in the comments section below.
---
Load More