Among all the new announcements at Apple's California Streaming launch event, one of the biggest was the brand new Apple iPad mini 6. It comes with a complete design overhaul, Touch ID, USB-C support, and more new features. Now, if you are planning to buy the new iPad mini 6, you must already be thinking of protecting it with a case or cover as well. To help make your life easier, we have compiled a list of the 10 best iPad mini 6 cases and covers you can get your hands on right now. So, check them out and buy one to safeguard your tiny new iPad against scratches and drops.
Will the New iPad mini 6 Fit in My Old Case?
While it would make sense to assume that you might be able to use your previous iPad mini's case for the newest generation, that is not the case this time.
Since Apple has redesigned the iPad mini to match the latest iPad Air and iPad Pro, the distinctive features of the previous-gen iPad mini models have been removed. The new all-metal chassis now encompasses flat edges, which means only specific covers will work with the device. However, don't fret since both official and third-party accessory makers have already started releasing some of the best iPad mini 6 covers and cases. So go ahead, peruse through the list below and get your favorite one.
Best iPad mini 6 Cases and Covers (September 2021)
Soke iPad mini 6 Cover with Apple Pencil Holder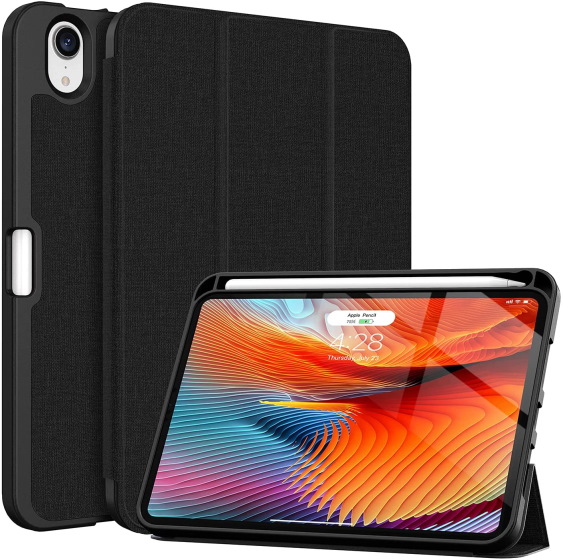 Pros:
Attractive matte design
Sturdy construction
Apple Pencil holder
The Soke iPad mini 6 cover has been designed like your run-of-the-mill iPad case but with some improvements. Starting by design, this cover has a soft TPU back shell to protect against drops and shocks. And the front of the iPad mini 6 is protected by a cover with the sleep/ wake function for comfort. Like other cases, the Soke iPad mini 6 case has corner bumpers to protect the iPad at times when you might drop the device from a weird angle.
However, what we especially love about this case is the soft microfiber lining that gives it a stylized matte look. This ensures the case won't stand out unnecessarily while looking sleek and minimalistic. However, since this case covers up the entire iPad mini 6, so you won't be able to see any of your device's design, save the screen. Another plus point of the case is that you get an Apple Pencil compartment with charging and an all-around protection case.
Bokeer Translucent Frosted Case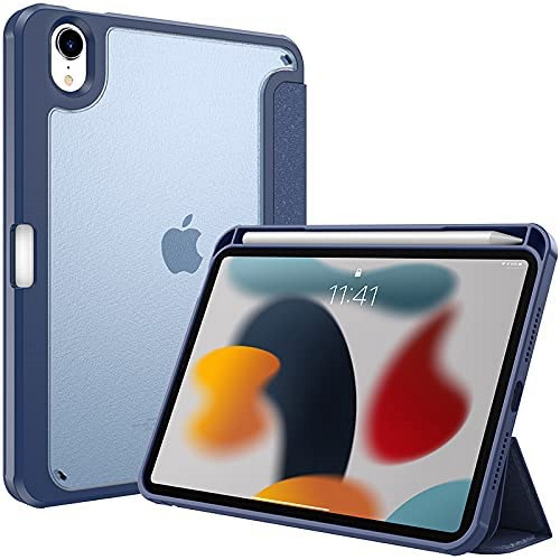 Pros:
Unique frosted design
Apple Pencil compartment
Thickened bumper edges
Cons:
Looks bulky
Design not for everyone
The Bokeer frosted case offers decent protection coupled with minimal style. Trying to achieve the best of both worlds, this case is made out of a combination of durable PU front cover with thickened soft edge bumpers. The thick corners will ensure your iPad mini 6 will remain safe against scratches and impacts even when it's dropped. The front cover has the auto sleep/ wake function, and Bokeer claims it has a response time of 0.1 seconds.
The back of the cover has been kept mostly transparent but frosted, thereby creating quite a likable design. If you are an Apple user who likes to show off their devices, you will love this iPad mini 6 case. However, the downside here is the design is specific and might not appeal to everyone. Besides that, the Bokeer iPad mini 6 case has some impressive features, including an inside compartment for the Apple Pencil and two viewing modes for a comfortable experience.
Spigen iPad mini 6 Ultra Hybrid Pro Case
Pros:
Air Cushion technology
Attractive hybrid design
Durable front cover
Cons:
Apple Pencil slot outside
Might feel bulky
Expensive
The Spigen Ultra Pro case for iPad mini 6 is the company's answer to users who want durability while not compromising on style. Made out of durable PC and TPU material, this case has a hardback and side linings that have been bolstered with Air Cushion technology. So matter which angle you may drop your iPad mini 6 from, it will remain safe and sound. There is also an exterior Apple Pencil slot you can use to hang your stylus from, which is okay.
The front cover is folio-like and can be folded in various areas while remaining attractive. As the back cover, the front is durable and will protect your iPad mini 6's screen from scratches and bumps. While the back is transparent, Spigen has incorporated raised edges around the cutout of the camera for enhanced protection. If you are an iPad mini 6 user who values looks with protection, the Spigen Hybrid Cover is something you should get in advance right now.
ZtotopCases Leather Folio Smart Cover
Pros:
Premium design
Apple Pencil loop
Back cover with elastic band
Cons:
Leather color might fade
Decent protection
While there are users who value durability, there are times when you are looking for something a touch simplistic yet regal. This iPad mini 6 leather cover from Ztotop seeks to accomplish just that. Made out of premium synthetic leather lined with an anti-slip interior, this iPad mini 6 cover looks attractive while offering ample protection. The back of the cover has been reinforced with hardened material and features an elastic strap for easy holding.
The Ztotop leather cover also benefits from a front shield that makes it full 360-degree protection, including your iPad mini's camera. Furthermore, the front cover has the ever-needed auto sleep/ wake function with a magnetic closure. So for times when you need to quickly unlock your screen, you only need to lift the cover, and you are in. You also get an Apple Pencil loop and a front pocket that can hold tiny things. The cherry on the cake is that the cover also comes with two stand slots with adjustable angles. It helps make sure your iPad mini 6 can be placed anywhere with ease.
Apple Smart Folio for iPad mini 6
Pros:
Sleek and attractive
Can fold into various angles
Great color collection
Cons:
Not built for rough use
Sides not covered
Expensive
At the end of the day, if you want the most reliable accessories for your iPad mini 6, why not stick to Apple? The official Apple Smart Folio cover will be the perfect choice for you. It covers both the front and back of the iPad mini, thereby, giving the tablet good protection. While the sides are not covered to leave room for flexibility, you can stick your Apple Pencil magnetically there if you wish.
The Apple Smart Folio cover is a sleek and stylish piece of accessory that manages to provide decent protection to the iPad mini 6 in 2021. The cover has the auto sleep/ wake function and can be folded into different positions for various scenarios. So whether you are reading, typing, or watching the best Netflix movies, it can accommodate all your needs. However, be aware that the cover falls short of extreme protection and is only advisable for general use. You can pick up the Apple official iPad mini 6 cover in five different attractive shades.
MoKo Magnetic Folio Case
Pros:
Soft microfiber lining
Lightweight design
Full Apple Pencil compatibility
Affordable
Cons:
Doesn't provide robust protection
iPad mini 6's sides are left out
If you like the Apple Folio cover but find it too expensive, the MoKo case is here to your rescue. Based on the same lightweight design, this iPad mini 6 case is made out of smooth-textured PU leather for protection against everyday scrapes and dust. The innermost layer touching the iPad mini 6's screen is lined with a soft microfiber to ensure your device is safe from harm. While the cover lacks any solid corner protection, it will hold its own in everyday usage.
The MoKo magnetic folio case has all the other features you would expect from such a product. From the sides being left open for easy access to the Apple Pencil to the auto sleep/ wake function, it has it all. The case even contains a trifold stand so you can angle your iPad mini 6 every which way, just like the official iPad cover. The MoKo case is a cost-effective solution for new iPad mini 6 users wanting to outfit their device with lightweight yet durable protection.
Spigen Rugged Armor Case
Pros:
Offers robust protection
Attractive design
Slim form factor
Cons:
No front cover
May feel bulky to some
Can attract dust at the sides
Spigen has long remained the industry standard when it comes to making top-notch cases for devices. And well, this iPad mini 6 case is no exception. Encompassing a rugged armor style, the iPad mini 6 case is bolstered with extreme durability and protection. However, the company also recognizes fashion and has stylized the case to fit an attractive profile required in 2021. It ensures you can show off your new iPad mini 6 through the sides, and the Apple logo at the back will be visible at all times.
While it will tack on some weight to the device, the case compensates for that by having a lightweight frame and still bringing shock absorption technology to your iPad mini 6. You can even go and attach your Apple Pencil magnetically if you so wish. A definite buy for those who want to keep their iPad mini 6 safe while remaining stylish. This Spigen Rugged Armor Case is our first recommendation among this list of best iPad mini 6 cases and covers.
IVSOTEK Clear Case for iPad mini 6
Pros:
Extremely lightweight design
Raised edges for protection
Inexpensive
Cons:
No front protection
Not very robust
No Apple Pencil slot
Apple users who value minimalism and want to show off their latest purchase, this iPad mini 6 clear case is designed for them. Made of soft and flexible TPU, the IVSOTEK clear case only covers the back of the device. The case itself is completely transparent and hence reveals the device's entire design from underneath. While there is no cover here, the clear case wraps around the entire frame of the iPad mini 6 and has specially raised edges to protect the device against drops.
The IVSOTEK clear case is made for iPad mini 6 users who want bare minimum interference with their device. While this clear case might protect your device from a bump or two, be aware that the entire front is left exposed. However, the flip side is that your iPad mini 6 will remain lightweight and unobtrusive while you work and play.
Soke Premium PU Leather Folio Stand Case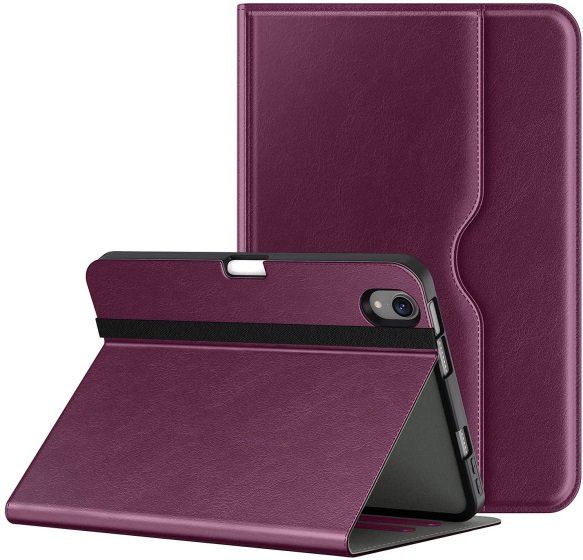 Pros:
Premium synthetic leather
Multi-angle stand support
Built-in Apple Pencil holder
Cons:
More expensive than its counterpart
Users looking for leather cases for their iPad mini 6 can check out this product. While charging a bit more than its counterpart, the Soke Leather Folio stand case makes sure to offer you value for money. The case's design is a combination of an attractive synthetic leather exterior that has been based on a hard TPU shell inside. It makes sure your iPad Mini will give that premium look while remaining safe.
The Soke case also has all the other bases covered. Artists can use the built-in Apple Pencil holder to store their stylus. If you are in the habit of using your iPad while standing, make sure to hold on to the back elastic band for balance. And for ones working on a desk, the magnetic smart cover with sleep/ wake function doubles up as a multi-angle stand fit for doing all kinds of work. You also have access to a large front pocket to store your documents. So yeah, the Soke case makes an amazing addition to our list of the best iPad mini 6 cases and covers.
Supveco Trifold Stand Cover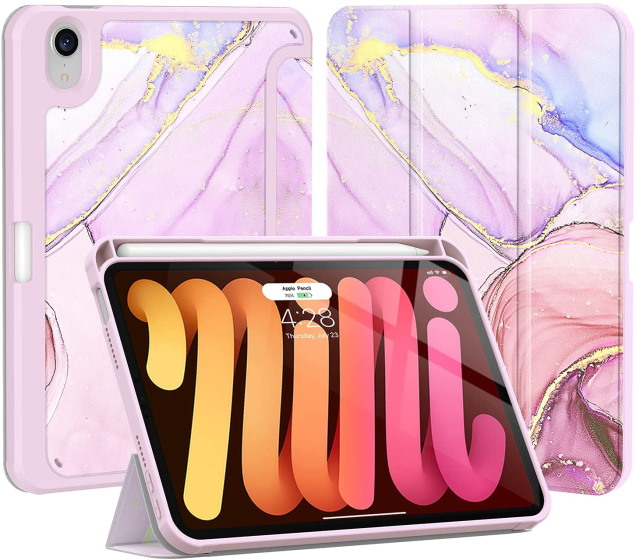 Pros:
Aesthetically pleasing design
Inner Apple Pencil slot
Various adjustable angles
Cons:
Not suited for rough users
This case is for iPad mini 6 users who value aesthetics over anything else. Exclusively designed for the latest iPad mini, this case provides seamless protection while remaining functional. The cover's back has been fused with a soft TPU frame and a hard shell. It protects the iPad mini 6 against shocks and drops. The front cover is similar to other good recommendations on this list and contains a microfiber lining to prevent scratches.
However, the highlight factor is the aesthetic appearance of the case itself. Designed with beautiful hues of pink and purple, the case looks attractive. If you are an iPad mini 6 user who plans to use the device for artistic purposes, this case could prove to be a source of inspiration every time you feel stuck. Complementing that factor is the inner slot for the Apple Pencil and the trifold design that allows you to use the iPad at various viewing and sketching angles. Go ahead and buy this case to unleash your inner artist.
Outfit Your iPad mini 6 with The Best Cases and Covers
We hope you will find the perfect cover for your new iPad mini 6 from the list above. Besides the iPad mini, Apple announced a ton of new products, including the new iPhone 13 series and Apple Watch 7. The new iPhone 13 series brings a smaller notch and bigger batteries to the table while the Apple Watch 7 is here to make your workouts even easier. If you are confused about the latter, check out our detailed comparison of the Apple Watch 7 vs Apple Watch 6 to make a buying decision. Indian users looking forward to the iPhone 13 lineup can now know how much the iPhone 13 series will cost in India right here. Got any suggestions for more iPad mini cases or covers? Do let us know in the comments below.