Life is long and can be too unpredictable at times. To go through such a long journey, we all need partners who can offer us support and stand by us through thick and thin. Even if you are not looking for a long-term partner, a little bit of dating is always good for your physical and mental health. After all, we all are social animals by nature. So, whether you are heartbroken or in a quest for true love or just looking for casual dating, the best dating apps for Android and iPhone in 2022 can help you discover the person you have been waiting for long. So, instead of letting yourself down and out, keep the fingers crossed and go through our list of the best dating apps for iOS and Android.
Note: If you are looking for India specific dating apps, click on the link to check them out.
Best Dating Apps for Android and iPhone in 2022
There are a lot of dating apps out there, and we have tested them all and included the best ones on this list. So, whether you're looking for a serious relationship, casual meet ups, or even just friends, you'll definitely find an app that meets your needs.
Best Apps for Finding a Date
1. Tinder (Android, iOS)
Whenever the word "Dating app" strikes my mind, Tinder is the one that comes into the picture instantly. And rightly so as it's been one of most loved dating apps for long. It claims to have played a crucial role in providing 30 billion matches so far and touts to rekindle over 26 million matches each day. These record numbers just go on to suggest how prevalent and dominating it is.
Talking about features, I find Tinder to be pretty good in most aspects. The interface feels quite intuitive and so does the match-making process. All you need to do to get hooked with a nice person is just swipe right on his/her profile and if you receive the "like" in return; the match is on. After that, you can strike up a conversation.
One feature that I like a lot in this app is "double opt-in" which ensures two people will match only when both of them have a mutual interest. Moreover, Tinder Plus and Gold come with plenty of additional features including unlimited likes, five super likes, better profile controls, and more. So, if you can spend some bucks, you will have more chances of finding a perfect match or the one you are craving to meet in your life.
Availability: Tinder is available in more than 190 countries in the world making it effectively a worldwide app. So you can use it anywhere.
Pricing: Free, in-app purchases available
2. OkCupid (Android, iOS)
Whether you are on the lookout for casual dating or wish to embrace a long-term relationship, you can't go wrong with OkCupid. What makes this app so adorable is the ability to smartly highlight your interest and the things that turn you off. As a result, you are able to discover a person who can get along with your taste.
The app shows you the singles who are near you and have similar passions. And if someone catches your eyes, you can express your like straight away. Just in case, you want to have a bit detailed info about a person, you can dive into the in-depth profile. Another thing that makes OkCupid a cool wing-man is the private messaging system that ensures your conversation remains secure and private.
As for user interface, the app feels familiar right from the moment you dive into it. So, you won't have to go through a long learning curve to master it. Furthermore, you also get a chance to boost your profile through in-app purchases.
Availability: OkCupid is available in many languages and parts of the world, including Asia, Europe, Africa, the Middle East, and Central and South America.
Pricing: Free, in-app purchases available
3. Coffee Meets Bagel (Android, iOS)
Though "Coffee Meets Bagel" had always been a good bet for those who seek long-term relationships, the app has taken a lot of strides in recent times. To me, the best part about CMB is the intelligent matches that are delivered every day at noon. With the in-depth profiles, it's a bit easier to know who can mingle with your passion. When you decide that a person looks promising for your life, ice-breaker is always there to let you break the silence.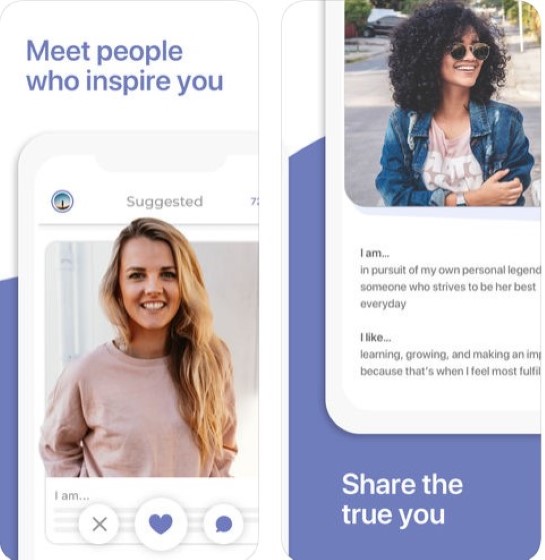 Regarding the interface, CMB has a plain look and appears pretty light to the eyes as compared to many of its noted rivals. The premium version of "Coffee Meets Bagel" offers several appreciable features which could play a vital role in boosting your chance. For instance, the read receipt will let you know when your match has read your messages and the activity reports provide you with a much better view of the potential matches.
Availability: Coffee Meets Bagel is available in most popular countries including USA, UK, Canada, Germany, Indonesia, India, Italy, Japan, Korea, and more.
Pricing: Free, in-app purchases available
4. Bumble (Android, iOS)
Apart from being a top-notch dating app, "Bumble" is also a great platform for boosting network. So, if you are willing to try out the app that can help you not only find love but also empower your network, this one can be right on the money.
Bumble features three modes to live up to different tastes and demands effectively. There is a Bumble Date where women get a chance to make the first move, which is quite intriguing, to say the least.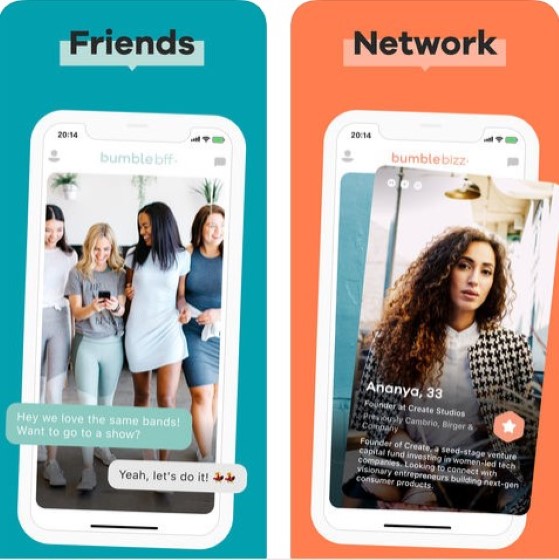 In the Bumble BFF, you can make adorable friends to bolster your circle to make your life more pleasing. And then there is Bumble Bizz which allows you to network, discover mentors, and even get to know better career opportunities.
Keep in mind, you will need to respond quickly as matches expire within 24 hours. Beyond the usual features, Bumble also lets you share your favorite music with your matches and even connect to Instagram to allow others to find out what you are up to.
Availability: Bumble is available in most popular countries including USA, UK, Canada, Germany, India, Italy, Japan, Australia, and more.
Pricing: Free, in-app purchases available
5. Hinge (Android, iOS)
If you are looking for a long-term and committed relationship, I would recommend you keep Hinge in your mind. The reason why I find this app so handy is that it's more focused on helping people get into a valuable relationship. Based on what appeals to your passion, the app will display matches. Then, you can go through the profiles and if someone appears to your taste, you can like their profile or comment on specific parts.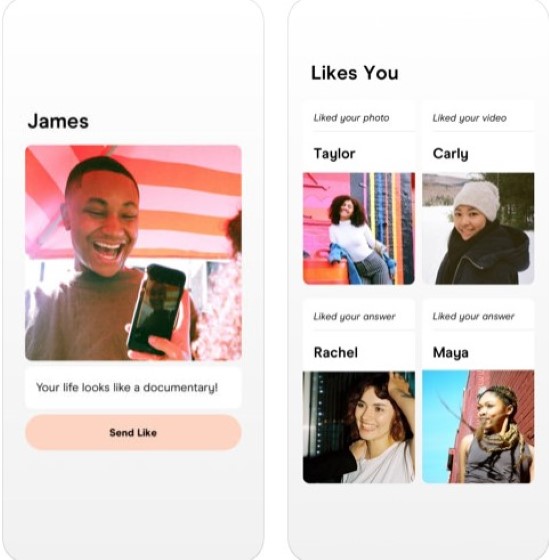 When your proposal is accepted, you will be able to exchange phone numbers and start a conversation. The app doesn't stop there. It will ask you about your date and provide more suitable recommendations in the future. Not to mention the personal messaging that's fully geared to let you chat with the desired freedom and privacy. Besides, you can go for the pro version of this dating app to unlock many features like advanced controls over your profiles.
Availability: Like other dating apps, Hinge is available in many countries. That said, as far as I can tell, it's only available in the English language.
Pricing: Free, in-app purchases available
6. POF Dating (Android, iOS)
Well, it all starts with a conversation! And with "POF Dating" app at your disposal, triggering a romantic relationship will no longer be a big deal. The app recommends you tons of good-looking matches depending on your preference and location. To get started, simply comment on any part of someone's profile and then wait for the response.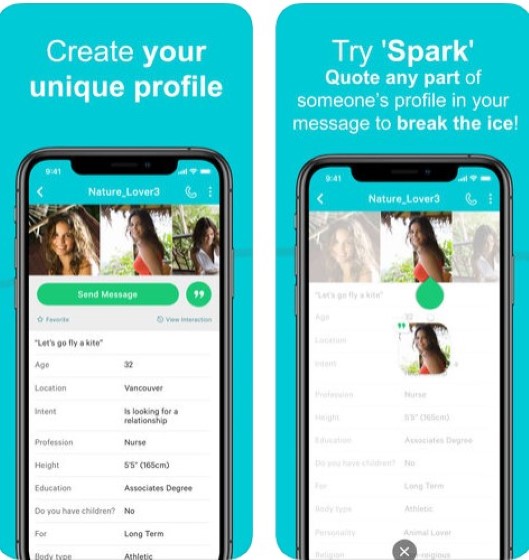 With the help of the advanced matching algorithm, you can quickly discover more suitable matches. For instance, you will be able to sort them based on the last online and new users. Moreover, unlike many dating apps, it allows you to send and receive unlimited messages, which can be extremely handy when you want to have a freewheeling conversation.
Availability: POF is popular primarily in Canada, the United Kingdom, Ireland, Australia, New Zealand, Brazil, and the United States. That said, it is available in nine languages across many other countries.
Pricing: Free, in-app purchases available
7. happn (Android, iOS)
There is a lot to like in happn as it is a unique dating app. What makes it stand out is the ability to recommend the matches you have crossed paths with in real life. It is this great aspect that will boost your chance of discovering an ideal partner.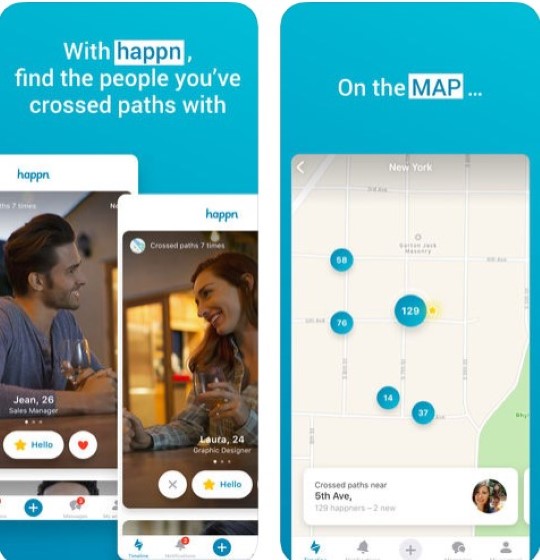 On the interaction front, it keeps everything quite straightforward. Simply like your crush and when you get the answer in affirmation, you are ready to go for an interesting conversation followed by romantic dating. What's more, happn comes with a cool feature called CrushTime, a fascinating game where you will have to guess who liked you among the four profiles who have just come across.
Availability: Available in 15 languages, happn works in more than 40 countries in Europe, Asia, Oceania, and North and South America.
Pricing: Free, in-app purchases available
8. Badoo (Android, iOS)
Very few dating apps for iOS and Android could be as fascinating as "Badoo". Though I find it a complete package that can assist people to find matches of all types, it looks a bit more geared for the folks who are hunting for casual relationships.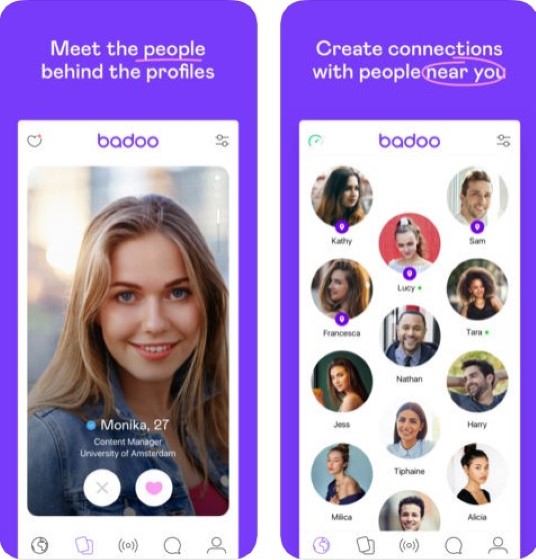 The app has a very strong verification system that ensures only reliable people can stay on its platform. Besides, it makes the process of expressing likes pretty easy. And with the full-fledged messaging feature, you can chat your heart out. There is also a video calling functionality so that you can go face-to-face. On top of all, Badoo can let you discover and date celebrity lookalikes as well. So, what are you waiting for?
Availability: Badoo is available worldwide and supports more than 27 languages including English, French, Russian, German, Finnish, Arabic, Greek, and more.
Pricing: Free, in-app purchases available
9. Pure (Android, iOS)
So, are you up for a short-lived adventure? If your answer is yes, "Pure" is the way to go. The app works elegantly in letting you discover the person who is looking for a one-night stand or casual relationship.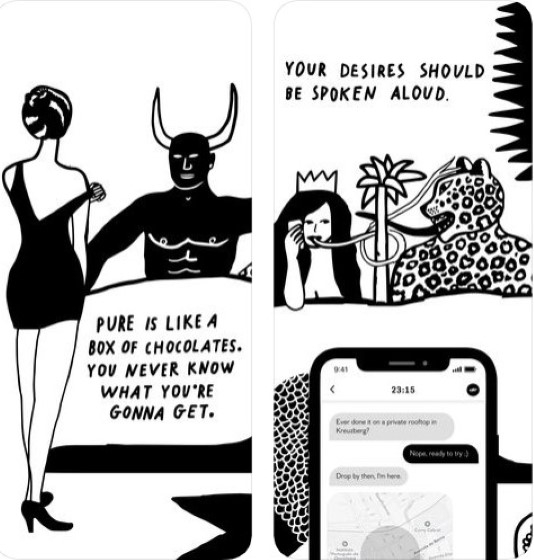 When you come to know the right person, you can chat with him/her for one hour. Do not worry, your entire conversation will be safeguarded by end-to-end encryption. Moreover, the entire conversation thread will be automatically wiped out after an hour. Even though the app comes for free, you will have to take the membership to take advantage of all the features.
Availability: Pure is available in most countries including the USA, UK, Canada, India, Germany, Japan, and, more.
Pricing: Free, in-app purchases available
10. TrulyMadly (Android, iOS)
When it comes to reliability, TrulyMadly is second to none. The app is feature-rich and boasts all the ingredients to bring your romantic life back on track. Unlike many other dating apps where you have to send your likes and wait for the response to arrive your way, it allows you to send a spark along with a message. Therefore, you have a bit more freedom and a chance to learn about the person on the other side.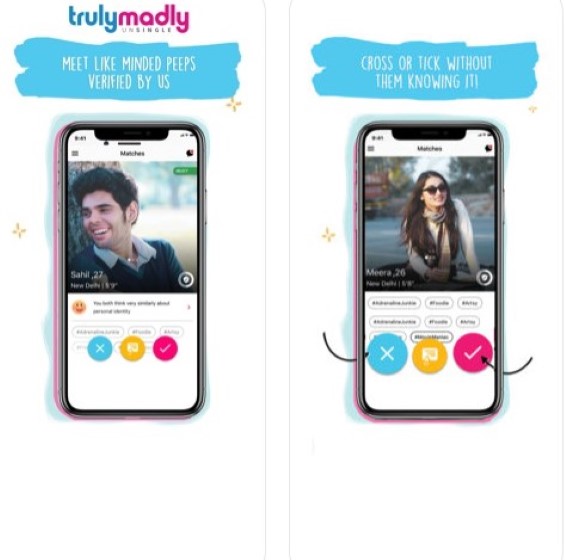 The app doesn't let anyone take the screenshot of the photos you upload to safeguard your privacy. Besides, it offers you recommendations based on your trust score, which can be increased by the verification of your LinkedIn, Facebook photo ID, and phone number. That's not all, you can also take part in fun quizzes to know more about your matches.
Availability: While TrulyMadly will work anywhere in the world, it's made with Indian users in mind.
Pricing: Free, in-app purchases available
11. The League (Android, iOS)
As the name itself makes it crystal clear, "The League" is designed for the people who dream for a special person to embrace their lives with full glory. So, you can choose to skip this one, if you are not willing to look for a long-term committed relationship.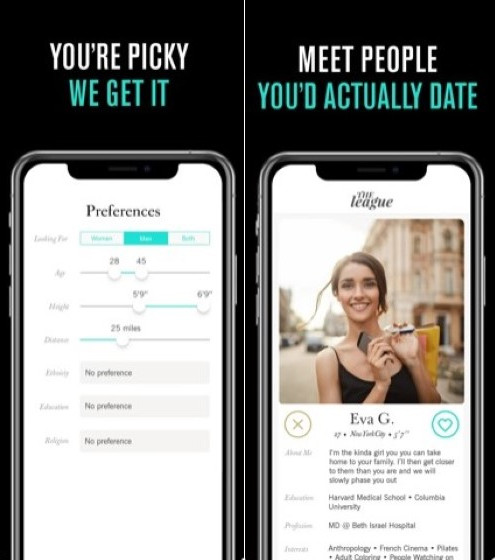 In terms of features, The League sports a clean user-interface. Moreover, it allows you to ideally set your preferences so that it can offer you the desired match. One thing worth noting is that the free version of this dating app is limited in functionality. So, you will have to spend some bucks to use features like full-on customization, invites to exclusive events, better prospects, and more.
Availability: The League is available in countries like USA, UK, India, Canada, and more.
Pricing: Free, in-app purchases available
12. Match (Android, iOS)
Match.com has long been a trusted dating app and therefore, it deserves to have a special mention in this coveted roundup. It doesn't matter whether you are searching for a gay or lesbian partner or simply fall in madly in love with a nice person, it's a great platform for you.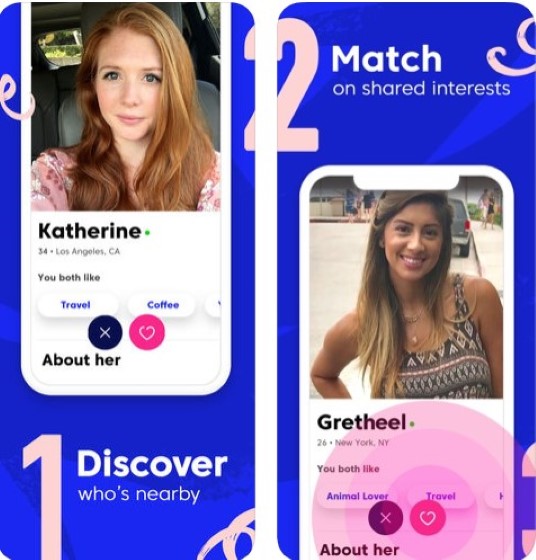 The app provides you potential matches every day so that your search doesn't continue for too long. Thanks to the advanced filters, you can also narrow down your hunt to easily discover more suitable people based on your demand. To let you get into conversation straightaway, it has a native chat feature with all the bells and whistles to let you express your feelings vividly.
Availability: Match.com is available in more than 25 countries in 8 different languages.
Pricing: Free, in-app purchases available
13. Facebook Dating (Android, iOS)
Slowly but steadily, "Facebook Dating" is catching up. Instead of rolling it out as a standalone dating app, the social networking giant has integrated it right inside the Facebook app. The company has offered much-needed privacy so that your best-kept secret about your romance-profile will stay under the wrap until you decide to take off the lid. It lets you secretly express your feelings for a friend which can both be a boon or a disaster so use it with caution.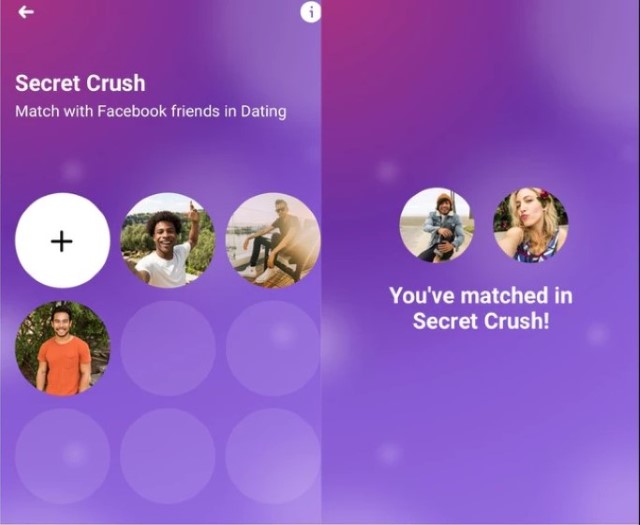 Facebook Dating has an interesting feature called Secret Crush that goes well beyond strangers and friends-of-friends. When you like someone, they get a notification (provided they are using Facebook dating). And if they also add you as a secret crush, you can chat via Facebook Messenger.
Do note that Facebook Dating is currently live in only a few countries including Colombia, Thailand, Canada, Argentina, Mexico, Philippines, Vietnam, Singapore, Malaysia, Laos, Brazil, Peru, Chile, Bolivia, Ecuador, Paraguay, Uruguay, Guyana, and Suriname. The social networking giant is expected to roll it out in the US by the end of this year.
Availability: Facebook Dating is currently available only in a few countries including the US, Colombia, Thailand, Canada, Argentina, Mexico, Philippines, Vietnam, Singapore, etc.
Pricing: Free
14. eharmony (Android, iOS)
Claiming to be the number one ranked trusted dating app, eharmony has got the profile to be your next dating app. Notably, the app has helped over 2 million people find love. It has a smart matching process to create meaningful connections.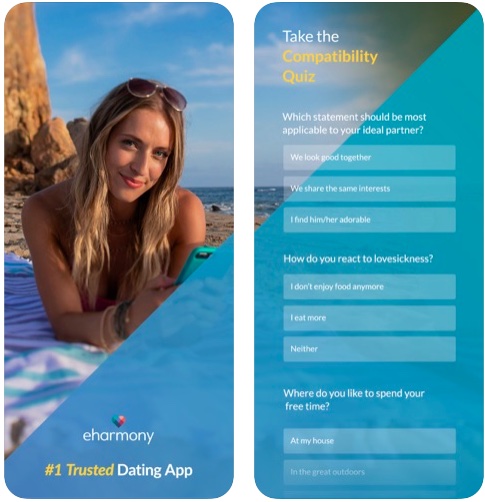 While setting up the profile, the app asks compatibility questions to find the right match as per your requirements. It sends timely alerts to keep you notified whenever matches visit your profile. You can easily keep a tab on who has visited your profile to find out who is interested.
With the multiple communication options like smiles and icebreakers, it lets you kickstart the conversation with your prospective partner on the right note. Interface wise, eharmony has looked quite simple to me. So, it doesn't involve a lot of learning curve. Even in terms of privacy, it's rated very highly. Thus, you can count on this dating app to keep your secret connections under wraps.
Availability: Being a popular dating app, eharmony is available in several countries including the U.S., Canada, United Kingdom, and Australia.
Pricing: Free
Best LGBTQ Dating Apps for Android and iOS
If you are a member of the LGBTQ community, you might find the above apps to be a little lackluster. Well, fear not as there are several apps that are made specifically for you and they are listed below.
15. Grindr (Android, iOS)
"Grindr" has emerged as one of the most popular social networking platforms for not only gays but also bisexuals and transgenders. As per your location, the app shows you the people who have a similar interest. With the integrated chat, you can begin a conversation with your mate and even share private photos. To ensure you can easily meet your partner, it allows you to send your current location as well.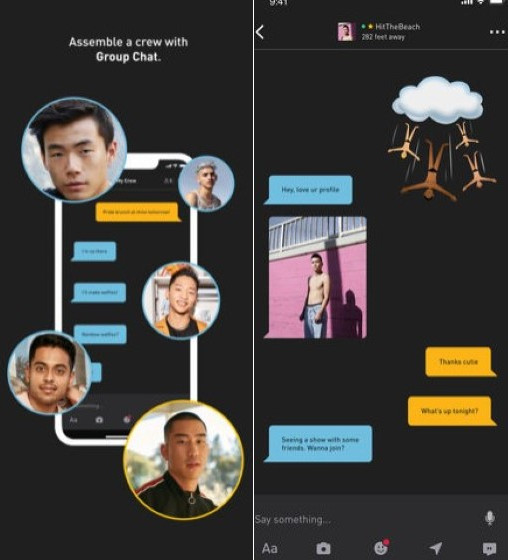 Thanks to plenty of customization, you have the freedom to make your profile stand out. You can star your favorites to quickly access them. And just in case you don't like someone, you have the option to block them as well. It's worth noting that the free version of Grindr is quite limited and therefore you will have to go for the premium version to use all the features without any restrictions.
Availability: Grindr is available in more than 192 countries in the world. That said, do note that it is partially or completely blocked in several countries like Turkey, Russia, Saudi Arabia, Iran, and more. So be careful how you use this app if you are traveling to these countries.
Pricing: Free, in-app purchases available
16. Jack'd (Android, iOS)
To discover a good gay or bisexual partner, "Jack'd" is highly recommended. The app provides tons of customization options so that you can present your profile in style and have more chances of being liked. With multiple customizable profile sections, you can express more about your passion and what turns you on. There is an option to share some private photos on the profile as well so that your prospective partner can easily spot your true charm.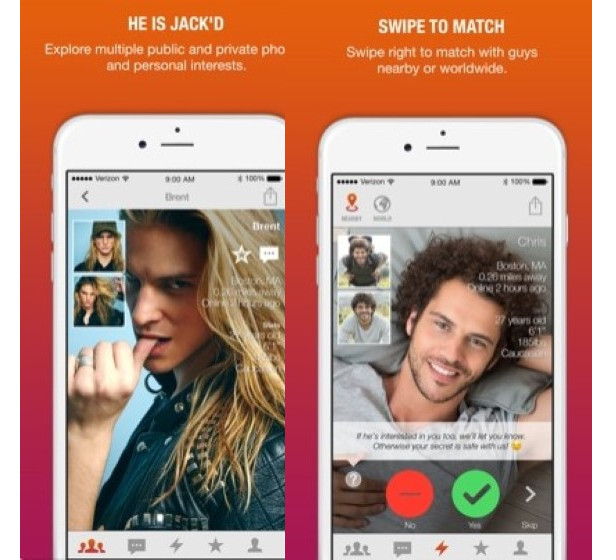 Just like many other dating apps, it also has handy messaging functionality that lets you chat freely. If you can spend some money, you can use this app without ads and have more chance of seeing smart guys. Furthermore, the pro version will also let you see who has shown interest in you.
Availability: Jack'd is available in more than 180 countries.
Pricing: Free, in-app purchases available
17. Zoe (Android, iOS)
If you are pinning for a lesbian partner, look no further than Zoe. The app has got a fairly good reputation and shows verified matches. You can explore the profiles of tons of beautiful women and like their profiles. As is always the case, when your move has got a thumbs up, you will become a match.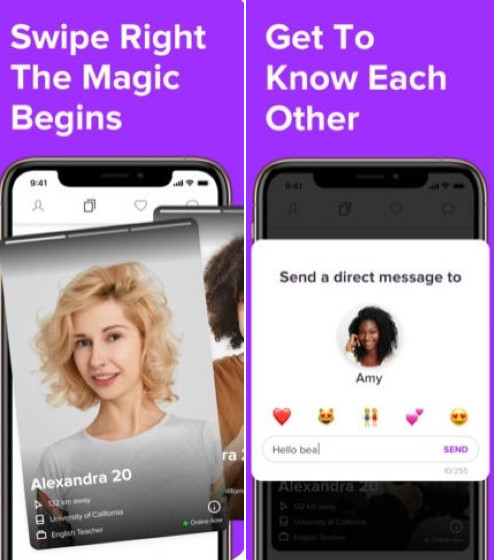 With the addition of personal messaging functionality, you can communicate securely and privately with your loved one. As far as interface is concerned, it looks more elegant than many of its counterparts. You can track your profiles, chat with the women you are in love with, and also stay in sync with the ever-growing community. This is a great dating app and you should definitely try it out.
Availability: Zoe is available in most countries and supports multiple languages including English, Czech, French, German, Korean, Russian, and more.
Pricing: Free, in-app purchases available
Frequently Asked Questions
Q. What are the Best Dating Apps in 2022?
Going by the sheer numbers, Tinder has always been by far the most loved dating app. And unsurprisingly, it remains the best dating app in 2022 as well.
Q. Which Dating App is Completely Free?
Facebook Dating is completely free. So, if you are on the lookout for a dating app that can let you use all the features without having to make in-app purchases, you shouldn't fail to try it out.
Q. Do Dating Apps Really Work?
Yes. Dating apps have proved to be quite helpful. So, whether you are looking for a lifelong companion or a casual relationship, you can count on a trusted dating app to live up to your expectation.
Q. Which Dating Site is the Best for Serious Relationships?
According to many users, OkCupid is the best for serious relationships. Though Coffee Meets Bagel is also rated very highly for being a great platform for those looking for long-term relationships.
What's Your Favorite Dating App?
By now, you may have found your favorite dating app and already started the hunt for your love. But before you begin to like profiles or get into an interesting conversation, be sure to share your thoughts about the app that has lived up to your expectations. All the apps mentioned on this list are quite good and you should definitely check them out.
---
Load More