Handwriting fonts are an easy way to add a personal touch to your content. Designers use them to create eye-catching logos and pull quotes on websites because they contrast sharply against the body text. While handwriting fonts aren't particularly appropriate for corporate contexts or in professional documents, they are a great choice for personal blogs, arts & crafts websites, comics, restaurant menus and ads, as well as for small businesses in the creative industry. Handwriting fonts are especially popular thanks to the lettering trend in web design, because the hand lettering effect can be achieved by using decorative fonts. You can even create your own handwriting fonts for free!
The list brings a selection of 30 handwriting fonts which are all free for commercial use. While these aren't all new, they are tried and tested handwriting fonts that we like. Font repositories categorize handwriting fonts differently, so some of them might be tagged as "script", "calligraphic" or "decorative", depending on the website.
1. Teen Idle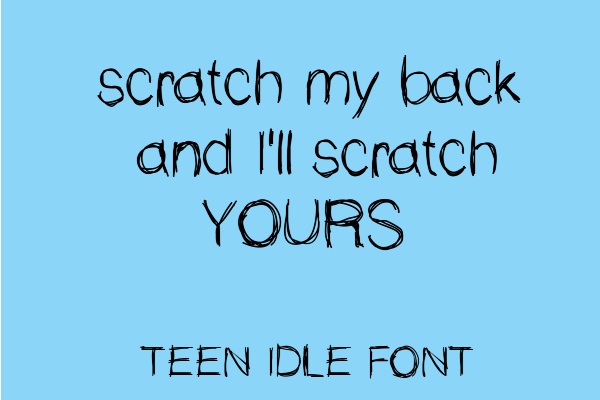 Teen Idle is a casual script type font with thin lines accentuated by an "overwrite" effect. This gives it a realistic handwriting vibe and makes it great for titles or image captions on personal blogs.
2. Antique Book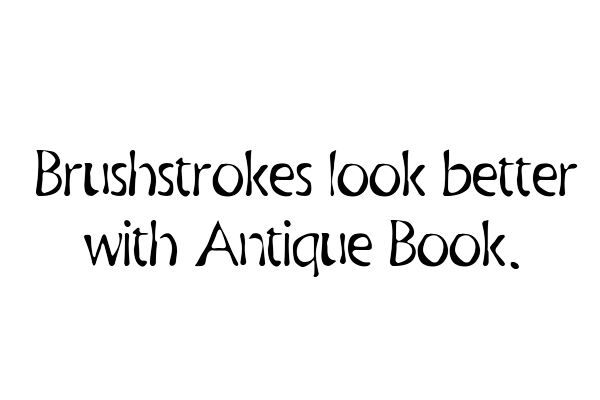 Antique Book is a very neat brush handwriting font with thin, straight lines that combines fine calligraphy with readable glyphs.
3. As Cute As…
As the name says, this is a cute font that comes in four weights (regular, bold, heavy and semibold). It supports extended characters and diacritical marks, and there's also a "Comic" version available for download separately.
4. DP Dork Diary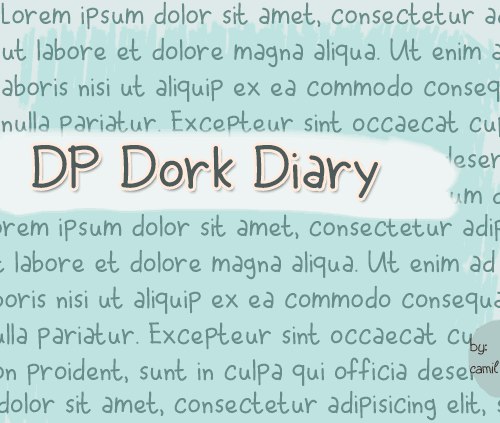 Another quirky informal font, DP Dork Diary is neat and quite readable for a handwriting font, so it's perfect for explanations and notes on a screenshot, or for personal websites and Tumblr blogs.
5. Handschrift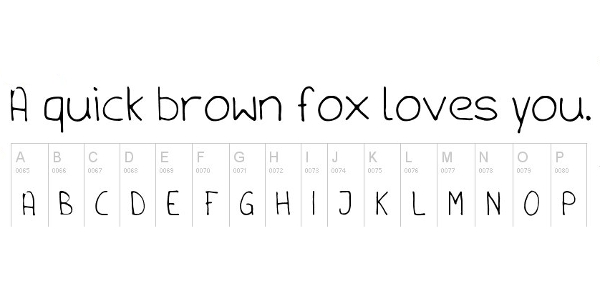 Handschrift is a blocky handwriting font with thin lines that give the impression of writing with a fine pen. Its high readability makes it suitable for image captions on Pinterest, for example.
6. Kalam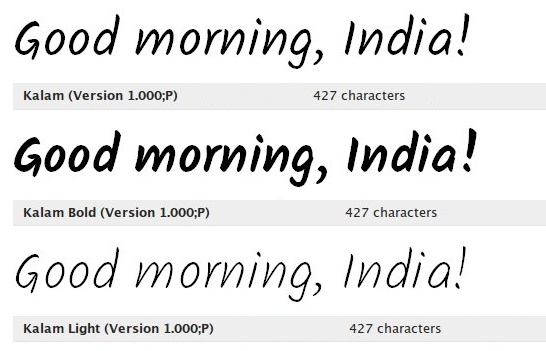 Kalam is an informal handwriting font developed by the Indian Type Foundry. It supports Latin and Devanagari scripts and it's optimized for screens, which gives it a smooth, balanced look. It's slightly slanted and great for titles, but also for body text and block quotes.
7. Tragic Marker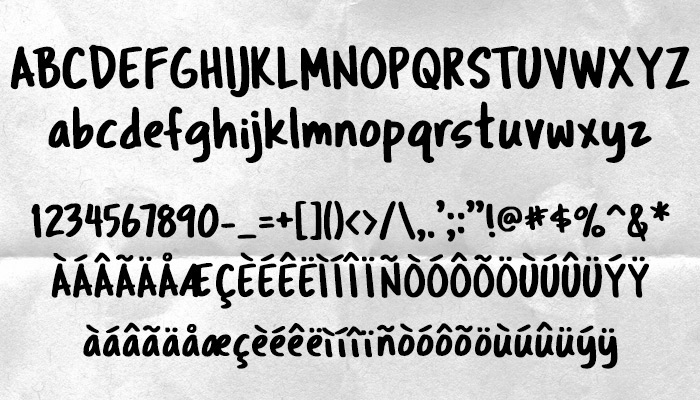 Tragic Marker is fat marker-style handwriting font which, as its name suggests, resembles the neat and bold handwriting of a thick marker. The font can be used in a variety of different settings, including headings, e-greeting cards, and designs that aim to be playful yet professional.
8. Shrag Script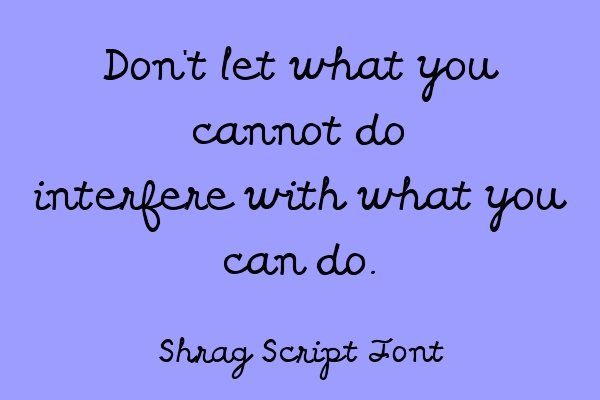 Shrag Script will look equally good on a DIY website or in designs for schoolchildren – it looks warm and friendly, but more importantly, it's neat and readable.
9. Mervale Script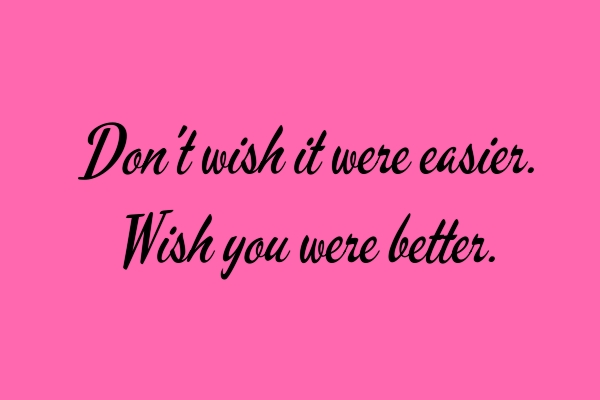 Mervale is a script font with a distinctive retro feeling, perfect for vintage designs, bold titles and quotes. It combines wide and thin brush strokes and has a great flow, so it wouldn't look out of place even on a professional website or magazine.
10. Black Jack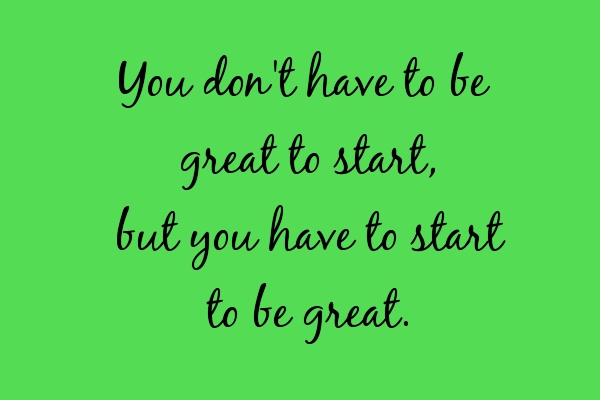 Black Jack is an informal handwriting font that looks light, fresh and simply effortless. It features a peculiar lowercase T glyph which is sure to catch everyone's eye. It's one of the oldest fonts on this list, but it's still incredibly popular and looks good in modern designs.
11. Blenda Script
Blenda Script is all about wide brush strokes and that retro feel. It has defined ligatures and is a good choice for titles in vintage designs and posters.
Download
12. Grand Hotel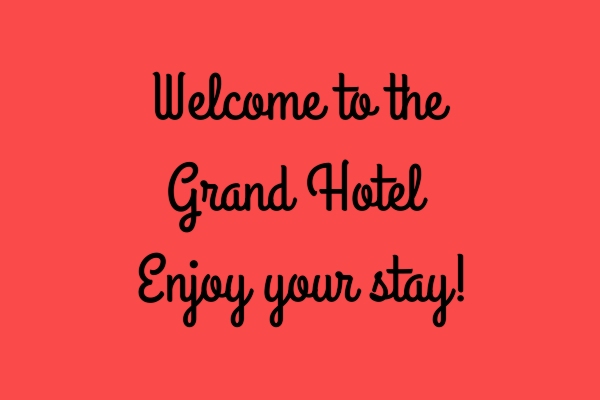 Grand Hotel is one of those versatile handwriting fonts that can be used for almost anything: from logos and headlines to image captions and quotes. It's a condensed upright script that works well both for vintage and contemporary designs.
13. Yellowtail
Yellowtail is a visibly slanted handwriting script with a fantastic flow. Web designers will appreciate the fact that Yellowtail's license allows @font-face embedding. You can choose subsets and font formats on the download page.
14. Admiral
Admiral is a brush script font with bold strokes and support for accents. It simply commands attention, so you can use it for titles or headlines on your website.
15. Belepotan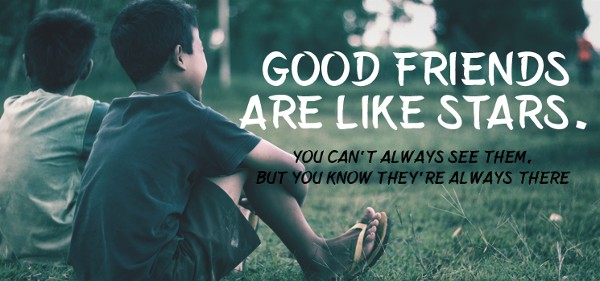 This handwriting font has thick brush strokes, so if you're going for a permanent marker look with a slightly Oriental touch, Belepotan is the solution. It supports accents and features small caps. An italic version is also available for download.
16. 99% Occupy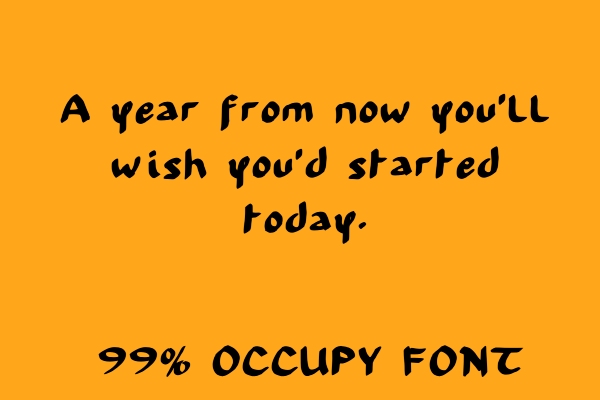 This brush handwriting font has a historical significance – it was created by the members of the Occupy movement that protested for freedom and human rights, and against the richest 1% of the population. However, you don't have to be an activist to recognize the beauty of this font. It has thick brush strokes with a tinge of calligraphy and offers support for several character sets.
Download
17. Oneer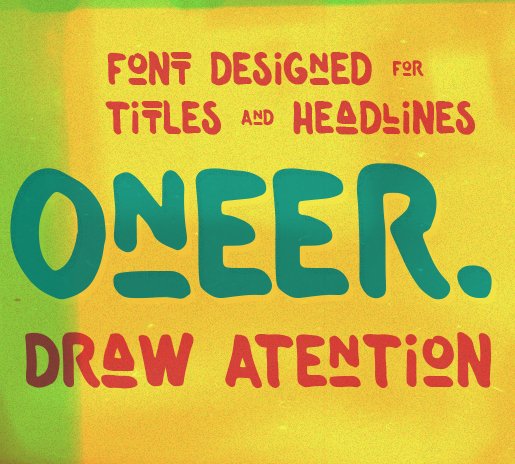 Oneer is among the most original fonts on this list. With extra thick strokes, it looks like it has been freshly painted with a brush, and its most prominent feature are the underlined and overlined small caps. Whether you use it on a poster or as a title, Oneer will definitely get noticed.
18. Alex Brush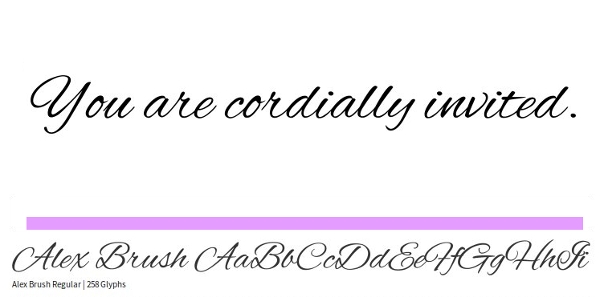 Alex Brush is a formal, very elegant cursive handwriting font perfect for invitations and Pinterest images. Thanks to variable line thickness, it's legible and has an excellent flow.
19. Anke Calligraphic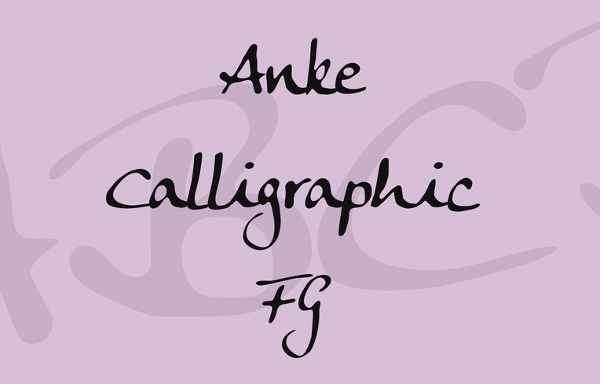 Anke is a neat calligraphic handwriting font with optimized kerning and support for accents. You can use it as a signature for a refined and unique look.
20. Dancing Script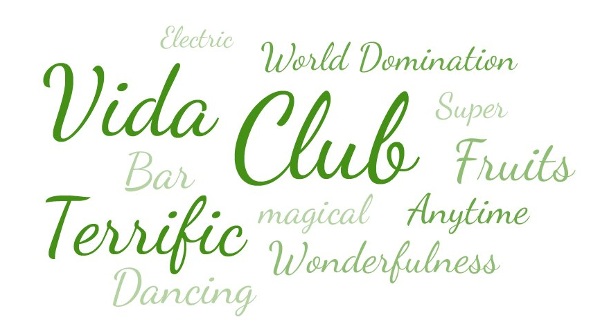 Dancing Script is a casual handwriting font that combines thin and thick lines for a calligraphy effect. It's great for retro and informal designs, and it's available on Google Web Fonts in bold and normal styles.
Download
21. Modeschrift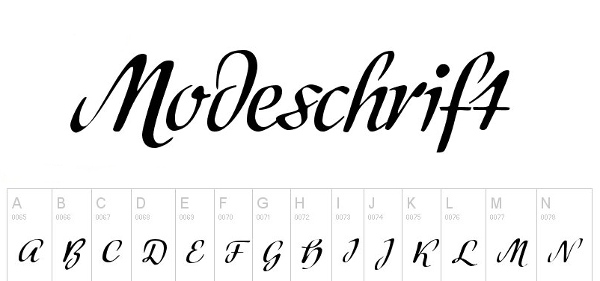 Modeschrift is a handwriting font with calligraphy brush strokes that give it a professional look. It supports accents and some extended characters.
22. Rundkursiv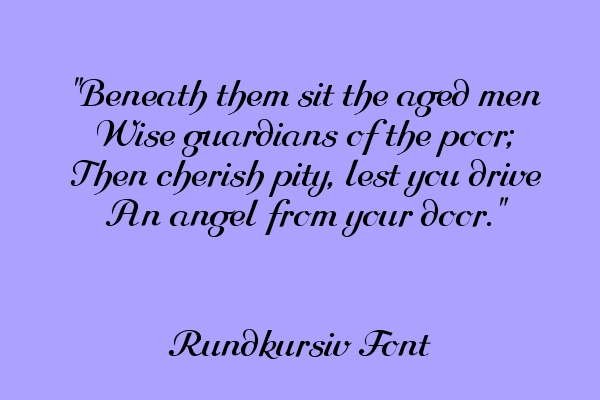 Rundkursiv would be just another formal handwriting font if it wasn't for the ornate swashes that give it a classic and refined look. It works best for quotes and has support for accents and extended characters.
23. Sevillana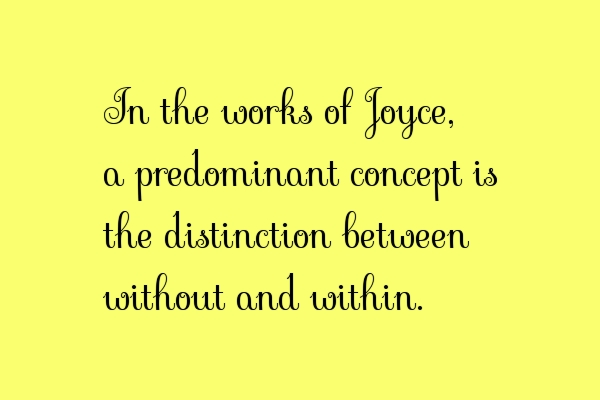 Sevillana is different from other cursive handwriting fonts in several ways: it's backslanted, has small curlicues and an interesting background story. This font is an attempt to recreate and preserve the lettering style used on handmade commemorative plates from the Spanish region of Andalusia.
24. Nikola Tesla's Handwriting
Here's another font with a powerful historical background. Tesla was (re)created from actual documents and notes written by the famous scientist and inventor Nikola Tesla. It's slanted but still legible, and it looks really classy, so you can use it for your own signature or as a way to honor Nikola Tesla in your design projects.
Download
25. Amatic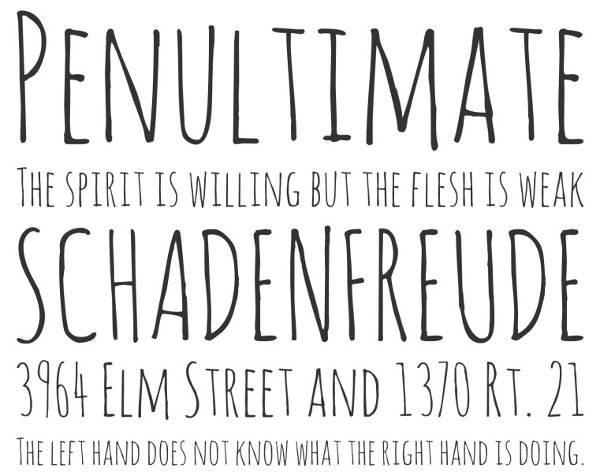 Amatic is a thin handwriting font that comes in two styles – regular and bold. It's a narrow, all-caps font that will give any design a fresh and modern look.
26. Beer Money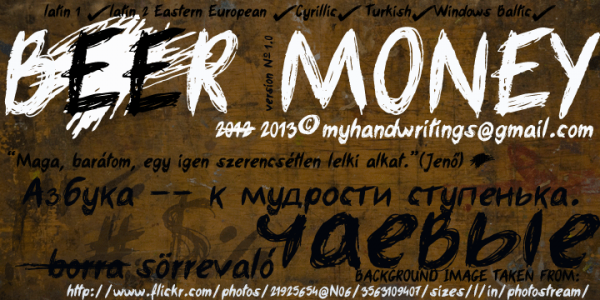 Beer Money truly stands out. It's a handwriting font with thick strokes that looks sketched and fits best in grunge, informal and poster designs.
27. Hentimps Circlet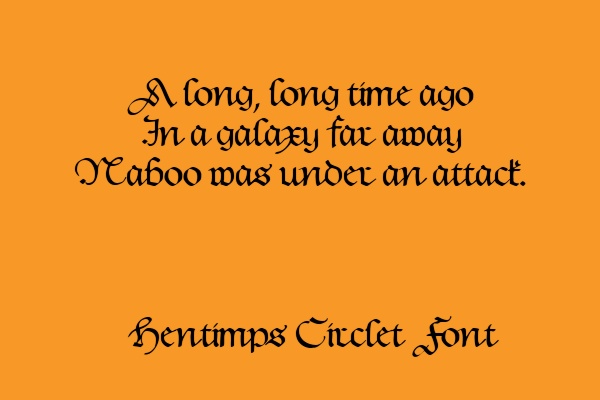 This blackletter font evokes old Gothic scripts. With its neat, ornate strokes and support for accents, Hentimps Circlet can give a touch of history to your designs.
28. Newbie Serif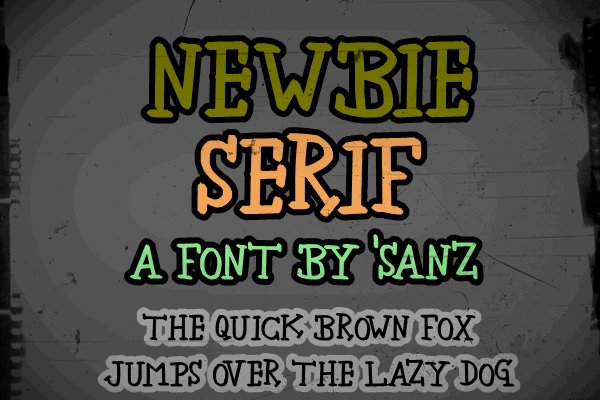 Newbie Serif is a graffiti-style handwriting font with thick strokes and outlines, perfect for posters, titles and anything that needs to arrest the reader's attention.
Download
29. Pecita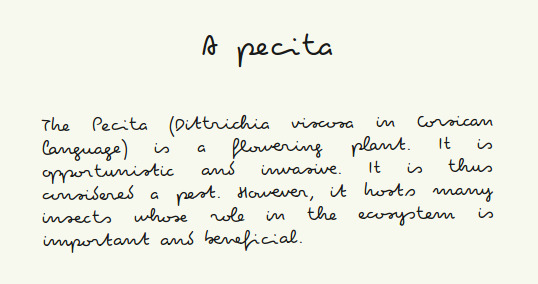 Pecita is a funky handwriting font with an outstanding character support – it features several sets of special symbols, Devanagari, Kannada, Thai and even Runic scripts, as well as support for Katakana, Vedic Extensions and more. It all comes to a total of five thousand characters – a really impressive font.
30. Something Wild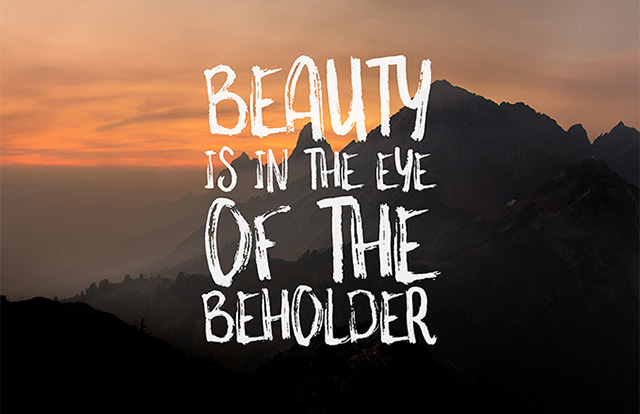 Something Wild is another great handwriting font that looks like something you'd write with a flat brush. The font, with its imperfect finish, has a rustic feel to it which makes it a great option for posters and flyers, and probably even for that gaming project you needed a title screen for.
SEE ALSO: 35 Best Free Tattoo Fonts
Do you use any of these fonts in your designs? What are your favorite hand drawn fonts? Share them in the comments below.