Even after so many years, Sketch does not have a native app for Windows or Linux. Sure, there is a web app now, but professional designers want to work on native applications for reliability and offline usage. So if you are looking for the best Sketch alternatives for Windows and Linux, you have come to the right place. On this list, we have compiled the 10 best Sketch alternatives that offer collaboration, design tools, prototyping, and more in 2023. On that note, let's jump to the list.
1. Figma
Figma is one of the best Sketch alternatives for Windows and it brings a robust and powerful UI/UX designing tool. The tool is browser-based which comes with its own advantages and disadvantages. The advantage of being a browser-based tool is that you can use it on any operating system including Windows, Linux, and macOS.
Also, you won't have to download any software or patch or update it, as everything happens in the background. On the flip side, you will need a constant internet connection to use its web app. Recently, the company has also launched native apps for Windows and macOS platforms, however, there's still no app for Linux users.
The UI of Figma is very much like Sketch so you will find yourself right at home. Coming to its features, Figma brings a feature-rich prototyping tool that allows you to quickly create beautiful prototypes and allows you to share them with your client with just one click.
Its pen tool is very powerful and uses vector networks. It also supports 60 FPS interactive editing with pixel-perfect previews and export. Another benefit of Figma is that all your work is automatically synced to the cloud with specific version history so you don't have to worry about saving or uploading your files.
Figma also works great for teams. There's a shared team library where all the assets are shared across the team members so they all have access to the same assets at all times. That said, this feature is reserved for professional users only. Figma has received a ton of praise from designers across the board and you should definitely check it out in 2023.
Features:
Cross-platform
Cloud Syncing
Pixel Perfect
Collaboration and asset sharing
Availability: Windows, macOS, and Web (Free, $12/month)
2. Lunacy
Lunacy is one-of-a-kind software that has everything that you are looking for. Just as Sketch is exclusive to macOS, Lunacy is exclusive to Windows and it works on the same principle. Great design and great tools mean great results. It's a free graphic design software without any bloatware, ads, or spam which is awesome.
On top of that, Lunacy offers you built-in assets including icons, photos, vector illustrations, and more. Not to mention, Lunacy is fully compatible with .sketch files and it can even process older .sketch files without any issues. Cross-compatibility, you see?
That is not all. Lunacy is very performative and light on resources too. In comparison to Sketch, it's 2X faster and hogs way less memory. Another notable feature of Lunacy is that it fully takes advantage of GPU acceleration just like Sketch and allows you to export code in just a click. To sum up, Lunacy is perhaps the best Sketch alternative that you can get on Windows computers.
Features:
Free and private
2X faster
Compatible with .sketch files
Built-in assets
Best for Windows machines
Availability: Windows, macOS, Linux (Free)
3. Adobe XD
Adobe is a giant in the creative industry and seems to offer a tool for all creative needs including video editing, audio editing, photo editing, and more. Similar to all of its other popular creating apps, Adobe XD is a powerful tool that can easily replace the Sketch app for Windows users.
The app offers powerful UI and UX designing tools which can help you go from wireframing to prototyping. The app also brings a familiar user interface and if you have ever used Sketch or any other such app in the past, you will find Adobe XD quite easy to get used to.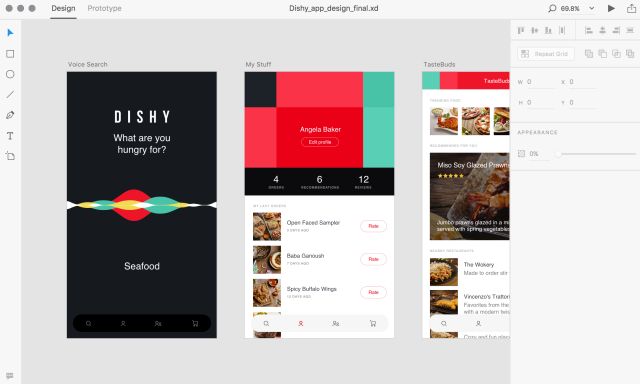 Adobe CD brings a plethora of features including fast and versatile artboards, modern and contextual layers panel, support for Illustrator and PSD files, interactive transitions, drag and drop controls, zero lag time while interacting with the canvas, and more. One of the biggest benefits of Adobe XD is that it also comes with mobile apps that allow you to preview files on your smartphone.
This means you will be able to see exactly how your designs look on a smartphone without having to code them. Other features of Adobe XD include voice prototyping, responsive resizing, auto-animate, and more. If you are looking for the best Sketch alternatives it should be on your list.
Features:
Very Responsive
Support for Illustrator and PSD files
Auto prototyping
Drag and drop controls
Export code
Availability: Windows, macOS (Free, $9.99/month)
4. Affinity Designer
The Apple Design Award-winning vector editor Affinity Designer was originally created as an alternative to Adobe Illustrator. That, however, does not negate the fact that depending on the use case, it is one of the best Sketch alternatives on the market. I have been a long-time user of Affinity Designer on Mac and I am happy to report that the Windows version is no different than the Mac version when it comes to features.
That means you are not essentially sacrificing any feature if you are buying it for your Windows machine. Affinity Designer brings in robust pen and node tools allowing users to create what they want with just a few clicks.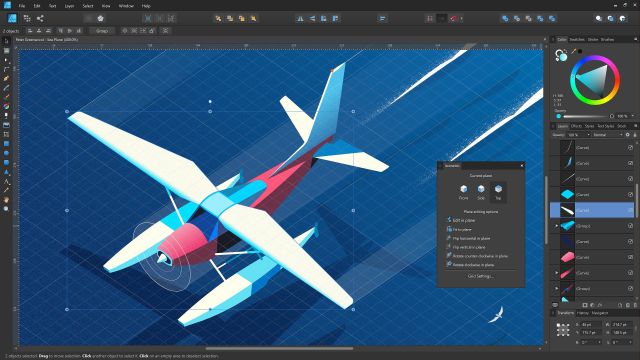 The software also supports custom keyboard shortcuts so you can customize how the app works according to your needs. Other features of Designer include tool and mode switching support, support for multiple artboards, symbols panel, constraints for UI design, corner and pencil tool, and more.
Another benefit of Affinity Designer is that when you buy it, you get a "Grade UI Kit" for free which brings over 1000 customizable elements, icons, panels. and buttons. While the software is not as powerful as Sketch when it comes to UI/UX design, it is a worthy alternative for Windows users.
Features:
Powerful graphic tools
Robust pen mode
Customizable elements
Built-in assets and UI kit
Simple UI
Availability: Windows / macOS ($69.99)
5. Vectr
Vectr is a free graphics designing tool that can be used to create graphics easily and intuitively. The app doesn't come with a massive learning curve and anyone including beginners can get up and running with the software quite easily.
Vectr also comes with both written and video tutorials which is a great place to start if you are just starting your design journey. Like Figma, Vectr can either be used online in a browser or using its native apps which are available for both Linux and Windows devices.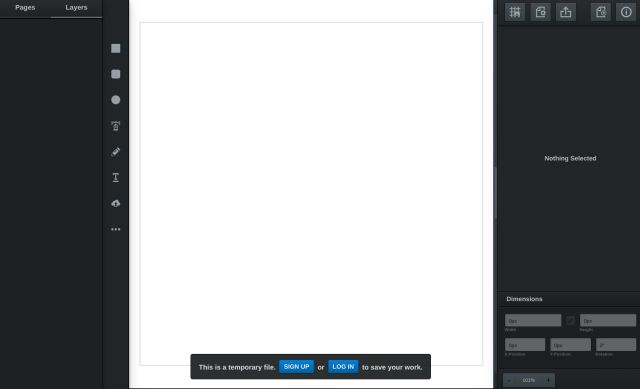 Apart from the normal UI/UX designing features which you can expect from such software, Vectr brings a ton of other cool features. My favorite is the real-time collaboration link feature. The feature basically allows you to send a link to the project you are working on to other Vectr users so that you both can work on the same project in real time.
Also, all your work is automatically uploaded and saved to the cloud so you don't have to worry about any of that. While Vectr is not as powerful as some of the other tools on this list if you are looking for an easy-to-use alternative to Sketch that can help you get started, this is the app for you.
Features:
Web-based hence cross-platform
Real-time collaboration
Best for basic graphic designing
Easy to use
Availability: Windows, Linux, and Web (Free)
6. Adobe Illustrator
Adobe Illustrator is easily the most well-known and feature-rich vector graphics editor in the world. From logos, icons, mobile, and web design to sketching, print design, and typography, Illustrator lets you do it all. Just like most other Adobe titles, the community for guides, tutorials, and resources, both free and paid is enormous.
Some of the features include perspective drawing tools, shaper tool, live shapes, dynamic symbols, smart guides, multiple artboards, transparency in gradients, and live gradient editing.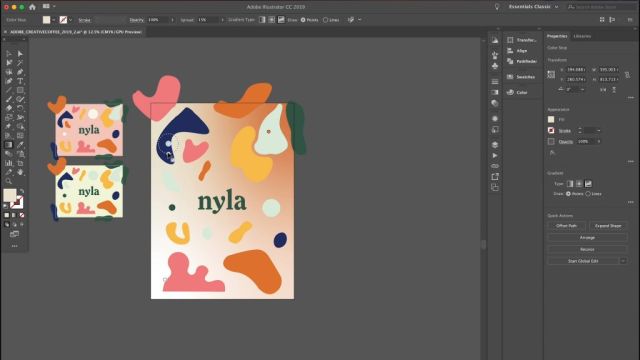 Using Illustrator through the Creative Cloud also brings additional features such as cloud syncing, which lets you access your designs from anywhere, companion apps for Android and iOS, and access to Adobe's collection of millions of royalty-free images, graphics, and videos.
While Illustrator is great for digital illustrations (hence the name), and general-purpose vector design, it does not have a workflow for product and interface / UX design. It is certainly doable but lacks the versatility of Sketch in this department.
Features:
Best for vector graphics designing
Cloud syncing
Royalty-free images
Plethora of design tools
Cross-compatible with many Adobe products
Availability: Windows, macOS (Free 7-day trial; $19.99/mo with Creative Cloud)
7. Corel Vector
Corel Vector, which was earlier known as Gravit Designer, has evolved a lot over the past few years. First of all, now the app is only available on the web. Talking about the features, Corel Vector not only includes tools for screen design, interface design, vector graphics, and logo creation but it also allows users to create high-quality icons, presentations, and illustrations.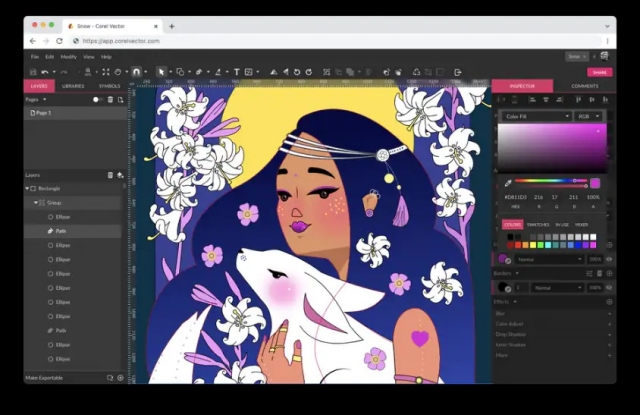 It comes loaded with preset canvas sizes, over 29,000 icons, more than 1,000 stock photos, a curated list of Google web fonts, and a community marketplace where you can purchase assets for your projects. Another benefit of using Corel Vector is that it keeps everything in sync with the cloud.
The new web app also brings a clean UI that adjusts itself according to your needs. Overall, Corel Vector is an excellent app and one of the best Sketch alternatives that you will find in the market right now.
Features:
Web-based
Huge library of assets
Customizable components
Cloud syncing
Clean UI
Availability: Web (Free trial for 15 days, Paid plan starts at $69.99 per year)
8. Inkscape
The venerable open-source tool Inkscape is a general-purpose vector graphics editor. While it is neither as feature-rich nor as powerful as Sketch, it makes up for the shortcomings by being cross-platform and extremely lightweight. It has support for importing the greatest number of file formats, including Illustrator, CorelDRAW, Microsoft Visio, and Sketch (using an extension).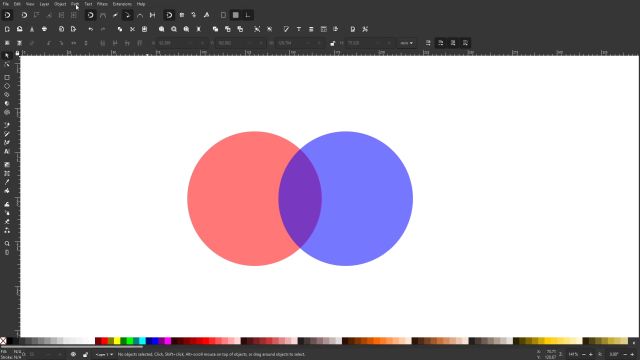 Inkscape packs in features such as flexible drawing tools, including a pencil tool for freehand drawing, a pen tool for creating Bézier curves and straight lines, a text tool, and other powerful tools for illustrations, web design, and general vector image editing. Due to it being free and cross-platform, it is a great tool for students, people with older computers, and beginners to vector graphic design.
Features:
Best for Linux users
Lightweight and feature-rich
Pencil mode
Compatible with .sketch files
Third-party extension support
Availability: Windows, Linux, macOS (Free)
9. Canva
Unlike Sketch, Figma, and other professional-grade software, Canva is a program aimed at non-designers who want to quickly design things without much hassle. Along with the web platform, Canva also offers desktop apps for Windows and macOS. The best part is that most of the features are free on Canva. In case, you want to access premium assets like fonts, graphics, templates, etc., you can subscribe to Canva Pro which costs just $12.99 per month.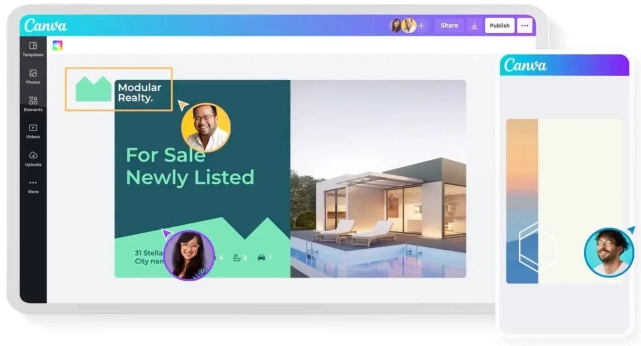 You don't get a lot of traditional design tools like pen, transform, etc., but lines and shapes can be added. If you want to effortlessly create Instagram Stories, banners for Facebook, YouTube thumbnails, and such, Canva is for you. Not just that, but with customized templates, you can design presentations, calendars, documents, whiteboards, and more. There are various elements including animations, graphics, audio, video, illustrations, and more. To sum up, for amateur designers, Canva is a great alternative to Sketch.
Features:
Best for amateur designers
Most features are free
Quickly create your design
Lots of templates and assets are available
UI/UX is much better
Availability: Windows, macOS, Web (Free, Paid plan starts at $12.99 per month)
10. Xara Designer Pro+
Xara Designer Pro+ is one of the most comprehensive solutions for graphics design. Other than basic support for vector design, it has tools for illustrations, web design, photo editing, and more. Some of the advanced features include Live Effects, non-destructive photo handling, vector masking, layer blending, website creation tools, and support for PDF and PSD file formats.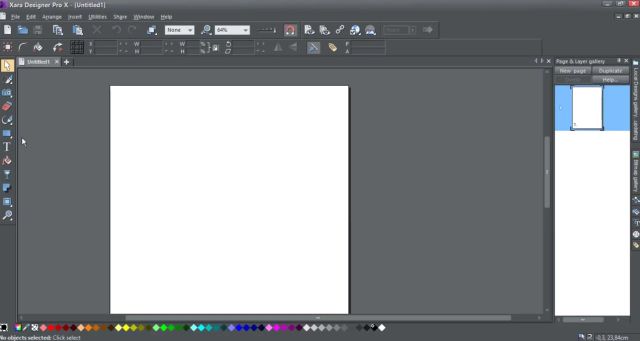 Compared to the UI / UX design bent of Sketch, Xara is more of a general-purpose graphic design application, offering something for nearly everyone. It is also much more conducive to web design. If all you need is a basic raster and vector image editing, Xara is overkill for you, both in scope and price. Fortunately, you can choose to buy only the Graphic Design, or Web Design components separately.
Features:
Basic vector designing
Layer blending
Customizable design elements
Live effects
Note: During installation, Xara offered to install a "PC cleaner" app called Simplyclean, marked to be installed by default. This qualifies as bloatware and is simply unacceptable for a program of Designer Pro's repute and price.
Availability: Windows, Linux, macOS (Free trial for 30 days, Paid plan starts at $14.99 per month)
Frequently Asked Questions
Q. Is There a Free Version of Sketch?
While Sketch does not offer a free version, you can get a similar level of tools on Figma and InVision Studio without paying a dime.
Q. Is Sketch for Mac Only?
Yes, Sketch is exclusive to macOS only.
Q. Is Sketch Better Than Adobe XD?
Many prefer Sketch because of its responsiveness and pixel-perfect layout. However, many designers like working with Adobe XD because it's compatible with other Adobe products. I won't say Sketch is better than Adobe XD, but it depends on your use case.
Q. Is Sketch Free for Windows?
The sketch is not available on Windows. If you want to use something like Sketch on Windows and for free then I would highly recommend Lunacy.