With so many great (and free!) fonts available online, there's really a font for every occasion. While you could technically use any font to make monograms, some fonts are specifically designed and better suited for that purpose. Monograms are large, decorative letters used to personalize different kinds of designs. You can use them to create elegant wedding invitations, professional business cards, sophisticated stationery, brochures, silhouette or even your own logo. Monogram fonts also look great in various DIY projects and as templates for machine embroidery, and you can even add them to your website to make the text more interesting.
Here are 35 free monogram fonts licensed for commercial use.
1. Apex Lake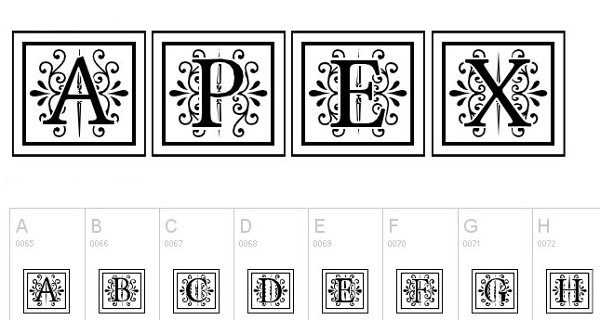 Apex Lake combines ornaments with readability for great results. With a slightly Victorian touch and a double frame around each letter, this font is great for any kind of clean design.
2. TrajanusBricks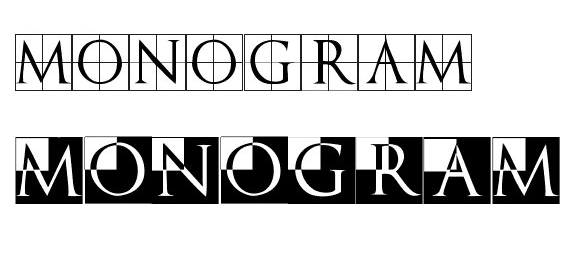 This monogram font proves that not all monogram fonts have to look like they just shipped from the 17th century. TrajanusBricks is a modern, geometric font that comes in two variants (pictured above). Lowercase characters don't have a border around them, so you can combine them with uppercase for some truly eye-catching effects.
3. FreeMonogram

Although it doesn't support many characters, FreeMonogram is a very popular monogram font, and I'm sure you can see why. It's a classic that looks great, whether embroidered on a pillow or printed on wedding invitations.
4. Square Caps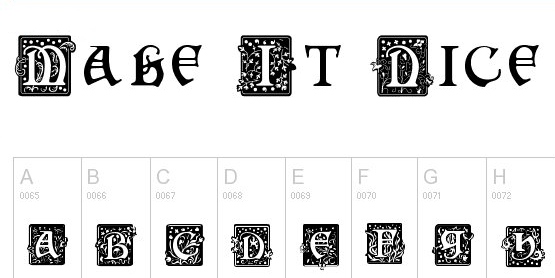 Similar to the previous font, Square Caps doesn't have many glyphs, but it makes up for it by adding a unique touch to its uppercase characters. They all have an illustrated background, and if you look closely, you'll see that they contain different details. Thanks to this creative feature, Square Caps would look great in a picture-book or in a printed collection of fairy tales.
5. Henry Morgan Hand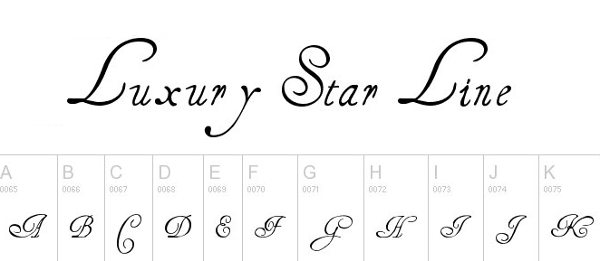 Henry Morgan Hand looks simple, but its curlicues and swashes make it great for monograms that have to be readable. It looks like a handwritten font, but it's a bit classier than your average handwriting.
6. Freebooter Script
With its elaborate swashes, Freebooter Script looks gorgeous and works great as a traditional monogram font. It's also very readable, so you can use it to write entire paragraphs instead of just initials. It supports some extended characters.
7. Exmouth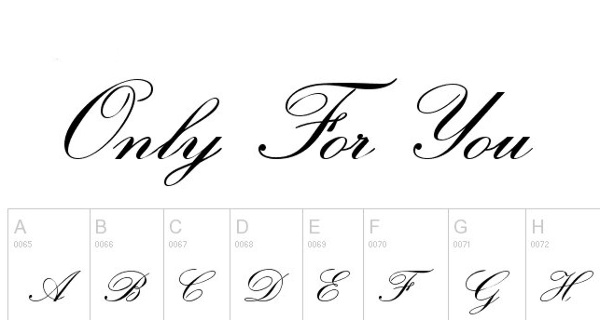 Another classic monogram font, Exmouth looks great both on screen and in print. It's a slanted font that combines thin and thick lines for an elegant handwriting effect.
8. Little Lord Fontleroy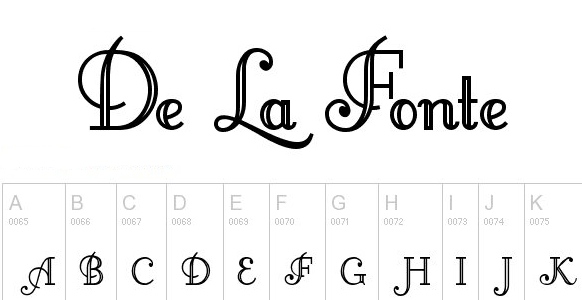 Little Lord Fontleroy is a popular favorite in DIY circles, most likely because of its outline effect that makes it easy to transfer onto textiles as an embroidery. Of course, you can also use it in your digital documents and projects, especially if you're going for a retro look.
Download
9. Sortefax
You'll get a lot if you choose Sortefax. This font supports a large set of characters and comes in three equally charming styles with thick strokes and thin swashes. It's a great font for titles and initials in a text.
10. Monoton
Monoton is a geometric font that's guaranteed to attract everyone's attention, whether you use it as a display font on your website or to design a logo.
11. Preciosa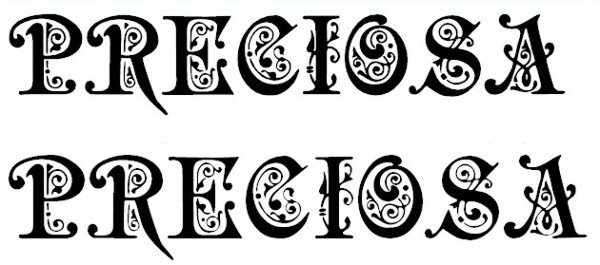 Preciosa offers a good balance between flowery ornaments and readability thanks to its thick strokes. The characters have decorations inside them, which is somewhat unusual for initials.
12. Debonair Inline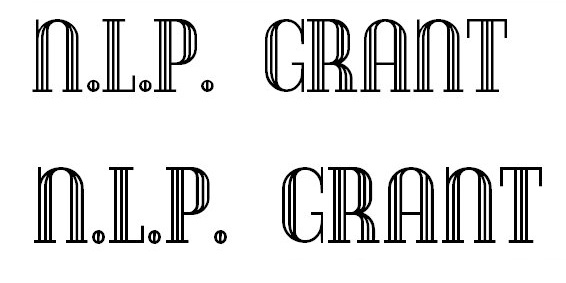 Debonair Inline is popular for its straight, clean lines that give it a geometric feel and a retro quality. Choose this font for professional designs to leave a strong impression.
13. Rothenburg Decorative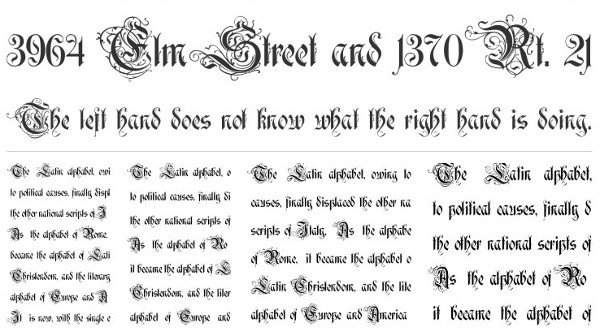 This decorative font has a distinct Gothic feel to it, and the initials really stand out in any kind of text. Rothenburg is great as a traditional monogram font, and quite appropriate if your design somehow relates to history or folklore.
14. Lovers Quarrel

Lovers Quarrel is a stylish script font with rich swashes on uppercase characters. It would look amazing in monograms for wedding materials despite its ominous name.
15. Sail

Sail is readable and appealing in its simplicity. Thin swashes make it a smart choice for monograms and initials, but you can also use it for titles and posters.
16. Itsadzoke
Itsadzoke comes in several styles and supports a great number of extended characters. It looks good both in headlines and initials, and the most interesting feature is the way it mixes lowercase and uppercase characters.
17. Riesling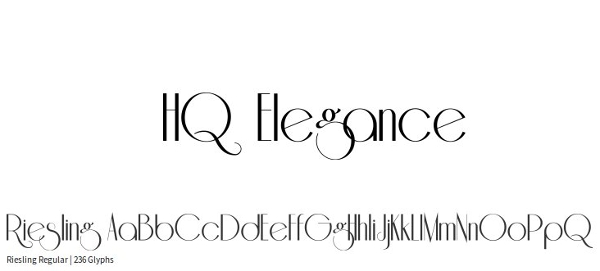 This classy, thin font simply radiates elegance. It's not too ornate, so it's great for minimal designs and clean initials, as well as headlines in magazines, for example.
18. Black Rose

Black Rose is thick, retro and its lowercase characters are very neat and readable. It would look great both in formal and casual designs.
19. Carrington

Carrington is a slanted font with retro swashes and curlicues. It's ornate and great for monograms, but also readable and perfectly suitable for titles and logos.
20. Caslon Initials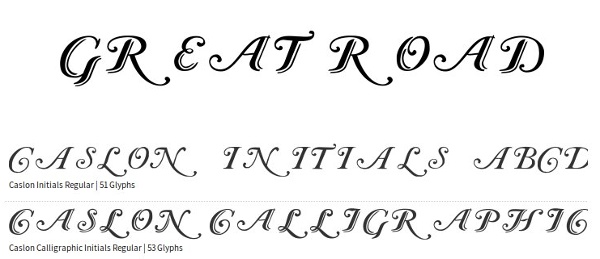 This popular monogram font comes in two variants – regular and calligraphic, so you can combine them for stronger visual effect. It's decorative, but not too ornate, so it will look good in all types of designs.
21. Cinzel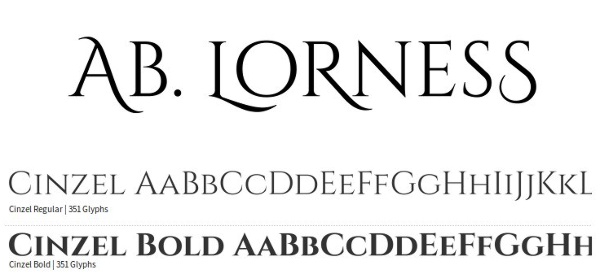 Cinzel is a sophisticated, clean font with swashes, perfect for professional designs like business cards and formal invitations. It comes in six different styles (including Decorative and Bold), and supports extended characters.
22. Dearest

Dearest is one of those ornate monogram fonts that look like they came straight out of a medieval manuscript. It's a great choice for initials in a text because it'll surely catch the reader's attention.
23. Selfish

Selfish is a somewhat extravagant monogram font with flowing swashes and an "overwritten" effect that gives it a handwriting look. It wouldn't be easily readable in a text, but it looks beautiful in titles, initials, or signatures.
24. Maravilloso

A font for those who dare to be different, Maravilloso commands attention with its extra-thick strokes and encircled characters. It's perfect for logos and titles, but it would also work great for monograms in an unconventional type of design.
25. Park Lane

Here's another retro monogram font, but this one supports accents and extended characters. Use it for professional purposes, or in titles for websites and magazines.
26. Calendar Note

This modern font makes sure that every character gets noticed. You can use it for monograms, posters, titles and logos, or wherever you need simplicity and a stark contrast.
27. Chocolate Box
A sweet font with an even sweeter name, Chocolate Box is not too decorative, so it's great for monograms in simple and clean designs. It comes in two styles.
28. Black Chancery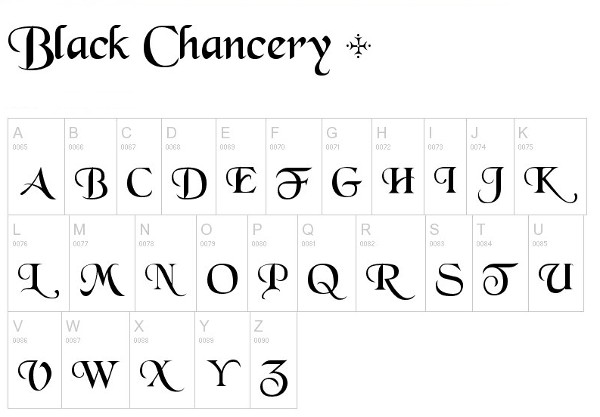 Black Chancery is a traditional monogram font that feels a bit Gothic, but without elaborate swashes. The lowercase characters are very readable, so you can use it for text as well.
29. Magic School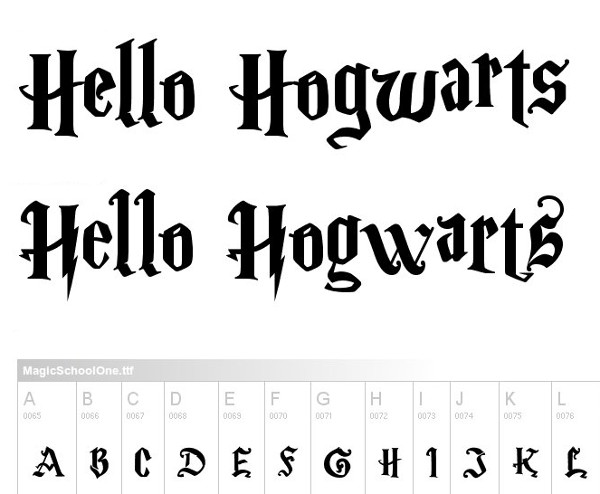 Does this font remind you of something? If you're a Harry Potter fan, it probably does. Magic School is a great choice if you want to capture the spirit of Hogwarts in your monograms.
30. Shangri La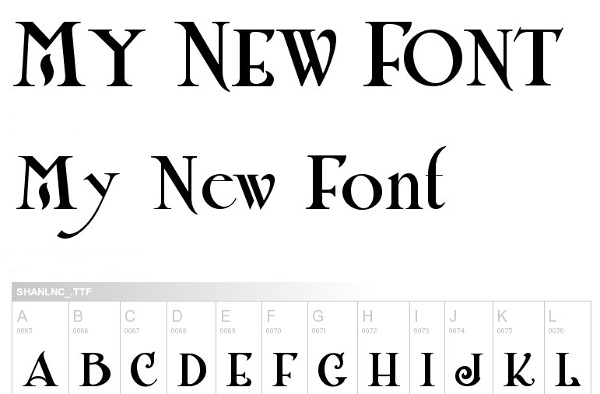 Compared to some of the monogram fonts on this list, Shangri La looks simple, but it supports accents and extended characters, so it's a good choice for monograms in foreign languages. The M glyph is a charming and original feature of this neat monogram font.
31. Simpla Font

Simpla Fonta is a union of floral patterns and tribal design which is prominently depicted in the form of thick waves that constitute the main letter body in order to create an enthralling font.
32. Cassandra

The Cassandra monogram appears to be the fruit of a collaboration between an architect and a calligraphy expert, and I have to admit, the thin parallel lines make up for the incomplete letter body in a stylish fashion which will certainly attract attention.
33. Paul's Celtic Font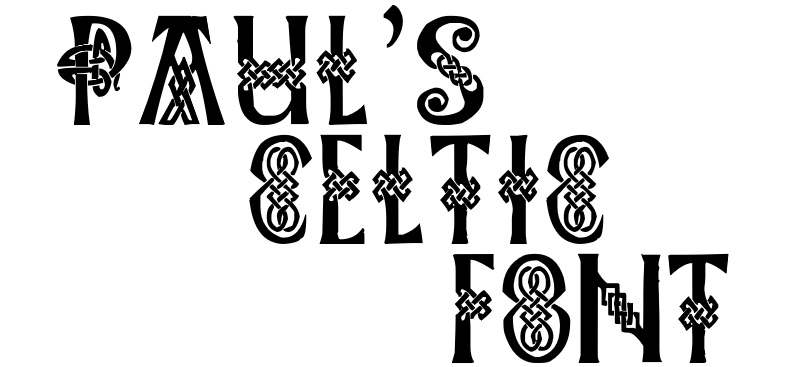 The Celtic design is a goldmine of artistic inspirations and it is expressed in a very captivating fashion by Paul's Celtic font which is ideal for a monogram. The overlapping chain-like design elements adorning the letters radiate elegance and make Paul's Celtic font an excellent option for creating monograms.
34. Leafy Shade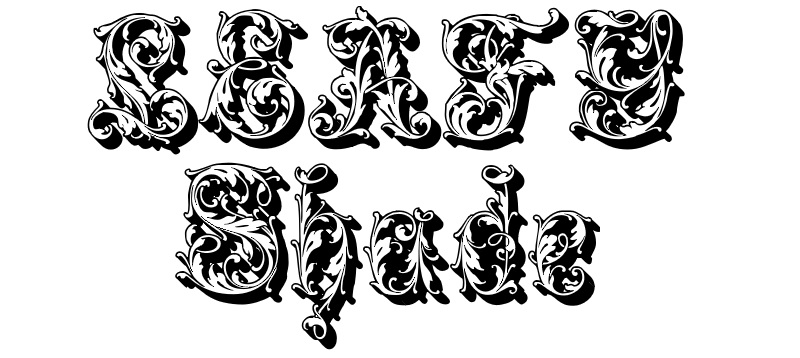 Looking for a monogram font with a combination of flora and a dash of regal appeal to it? Look no further than the Leafy Shade font which is an ink-heavy take on natural design blended with regal calligraphy with an equally impressive usage of shadow effect.
35. Zilap

Zilap is equal parts bold and equal parts futuristic. Just take a look at the clever use of lines in the letter body which resemble those running on a circuit board and the elegant way they merge with the surrounding space.
 SEE ALSO: 10 Free Tools To Create Your Own Fonts
Which font would you use for monograms and initials? Can you recommend other best monogram fonts? Let us know in the comments.