While you can design a tattoo with (almost) any font, there are some fonts that will give your tattoos a truly eye-catching touch. Tattoo fonts on this list vary from those containing exotic symbols and detailed, illustrated glyphs to elegant handwriting fonts. With a few exceptions, all fonts on this list are for personal use only, which means you can use them to design a tattoo for yourself, but for any kind of commercial purpose you'll have to contact the font designer and purchase a license. Of course, these fonts can be used in all kinds of graphic design projects, not just for tattoos, and who knows – maybe they'll inspire you to create your own font.
Best Tattoo Fonts in 2020
1. Ananda Namaste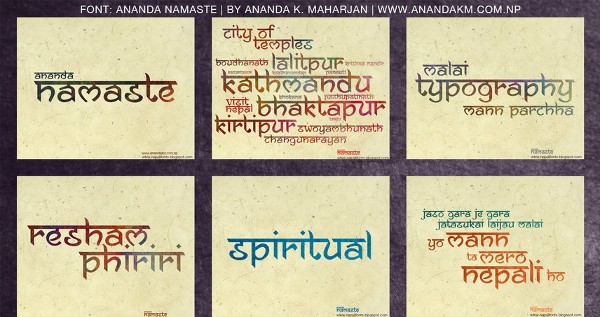 This beautiful font was inspired by Devanagari Sanskrit scripts and designed by Ananda K. Maharjan. It contains Latin characters, but the characteristic "overline" gives it an exotic look. Unlike other fonts on this list, Ananda Namaste is free for commercial use. You can download it from the designer's deviantART page in TTF format.
2. Blackletter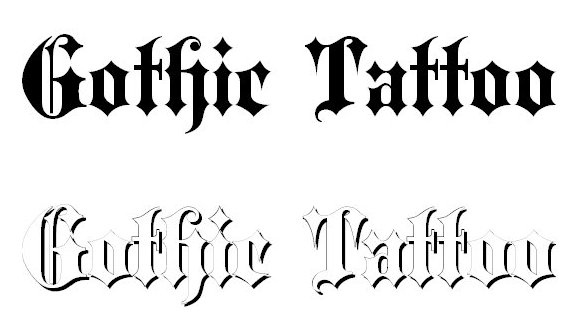 Blackletter is a bold, Gothic-style font that comes in two variants – standard and outline. It's also available for commercial use and can be downloaded in TTF format. Designed by Dieter Steffmann, Blackletter is a great font for anyone who wants a somewhat traditional yet visually arresting tattoo.
3. Tribal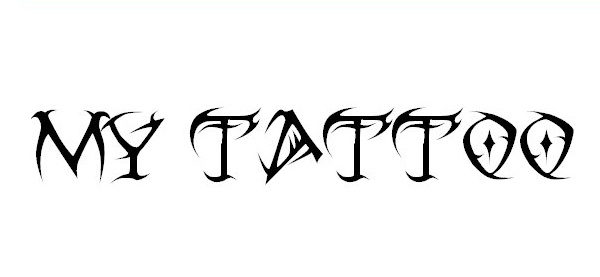 Tribal tattoos are always popular, so you can't go wrong with this tattoo font. It is a sharp-looking font also available for commercial use. It comes in two styles; both are TTF files. Your tattoo will be legible and interesting enough to get attention.
4. Bombora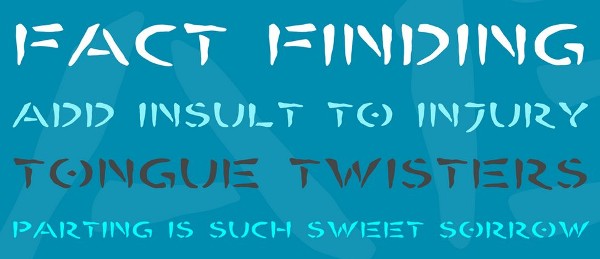 Bombora uses a style similar to tribal designs, but with thicker strokes that resemble a brush. It's an OTF font that will look equally great in tattoos, headlines, or on posters.
5. Nurkholis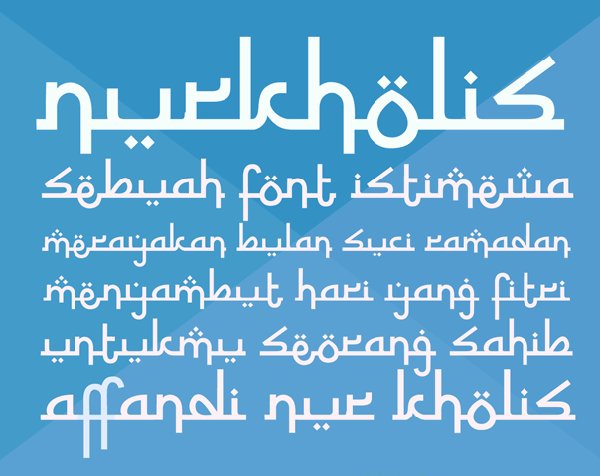 Nurkholis is a fantastic font that takes lowercase characters of the Latin alphabet and combines them in a creative way to make your writing look like Arabic script. If you're a fan of Arabic calligraphy, this font is perfect for you, whether you want to use it for tattoos or other projects. Nurkholis is a TTF font.
6. Delinquente
Delinquente is a professional-looking script font with rich swashes. It's great if you want to make your tattoo noticeable and readable. It's available as TTF, but only the demo version is free (it lacks some special characters).
7. Tattoo Heavy

Tattoo Heavy uses thick, unconventional strokes which result in really attractive glyphs. It's available in TTF format and suitable for short tattoos as well as poster designs, band logos and titles. However, for commercial use you'll have to contact the creator.
8. Mardian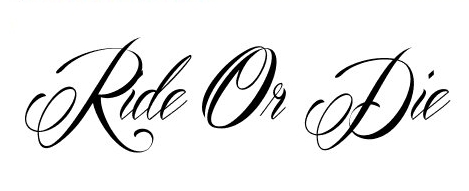 Mardian is a classic, sophisticated script font with ornamental initials, so it could very well be used as a monogram font, too. The demo version supports some extended characters and comes in TTF format. For commercial usage rights you'll have to purchase the full font.
9. Tribal Tattoo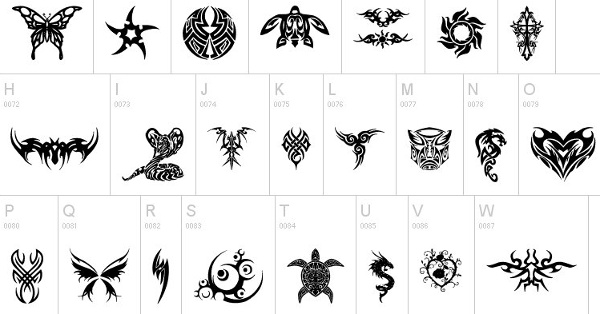 You might be thinking "what, another font with 'tribal' in the title?", but this one is completely different from the previous tribal tattoo font. As you can see, it's a dingbat font, which means it uses special symbols and shapes instead of numbers and letters. These symbols are popular tattoo motifs, and this font makes it easy for you to prepare a tattoo design – just pick a symbol, print it out and bring it to your tattoo shop. Tribal Tattoo is a TTF font and it's free for personal use.
10. Angilla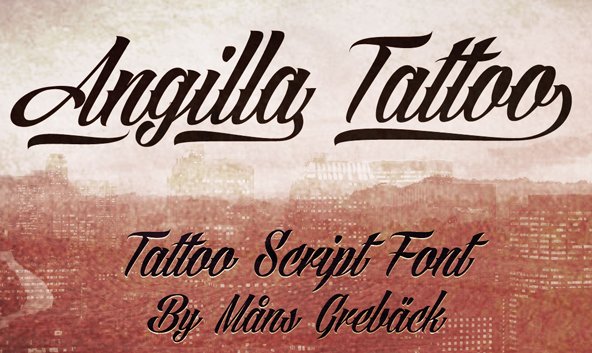 Angilla is a really attractive font with thick swashes reminiscent of calligraphic fonts. I can see it being used for headlines and poster designs as well as tattoos. You can download it in TTF format.
11. Medieval Scribish

Medieval Scribish is an all-caps tattoo font with an artistic and slightly medieval feel. Good news – it's free for commercial use! Download the TTF file and start working on your awesome tattoo design.
12. Unzialish

Unzialish looks classy, a bit exotic, slightly elvish and 100% appropriate for your new tattoo. This TTF font is also free for commercial use and it supports some extended characters.
13. Tengwar Annatar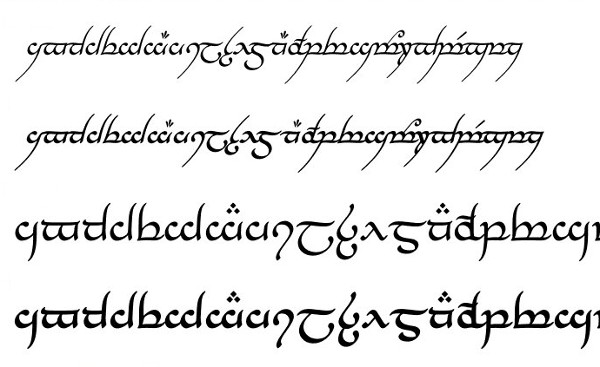 Speaking of elvish… Tengwar Annatar is a script font completely inspired by the Elvish language from the works of J.R.R. Tolkien. As such, it's a perfect font for all fantasy-lovers and Tolkien fans who are planning to get a tattoo. It's also free for commercial use and available as a TTF font in four styles.
14. Brother Tattoo

Brother Tattoo is a handwritten tattoo font with a strong retro feel. It features interesting swashes and supports extended characters. It's available as a TTF font for personal use only.
15. True Man Tattoos
True Man Tattoos is another dingbat font with popular tattoo designs. The glyphs are illustrated in great detail, and you can use them as templates for your tattoo. This is a TTF font for personal use.
16. Death in the Shadow

This font features thick brush strokes and wide swashes on uppercase characters. It's a TTF font that would look great as a tattoo, since it's very readable and quite attractive.
17. Vid's Norse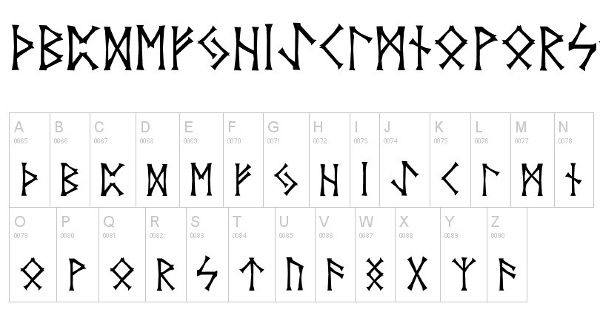 Vid's Norse is a TTF font that uses Nordic runes instead of Latin characters, so it's a perfect tattoo font for the Viking in you. It's also free for commercial use and looks sharp both on screen and, presumably, skin.
18. Crux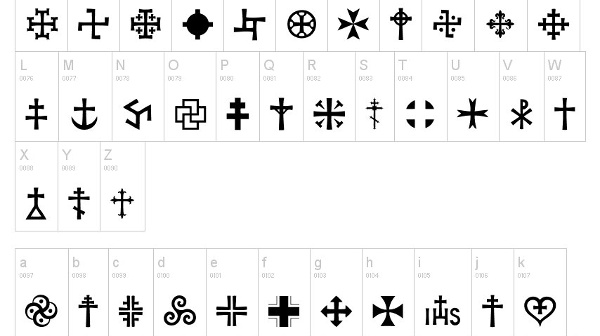 Crosses are a popular motif in tattoo design, and this font aims to collect them all to make creating tattoos easier. Who knew there were so many different types of crosses? Now you can try them all in TTF format.
19. Meroitic Hieroglyphics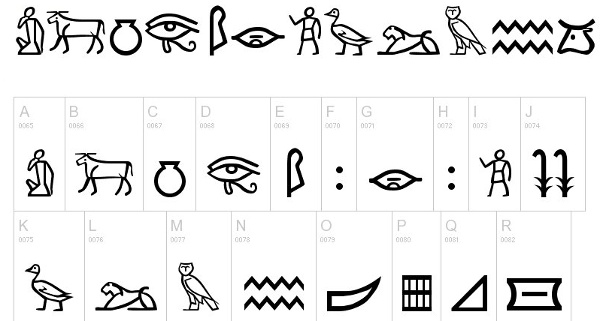 If you've always wanted a tattoo of Egyptian hieroglyphics, you're in luck, because there's a font for that, too. It's a TTF font that's free for commercial use and perfect for tattoos if you're into Egyptian mythology and history.
20. Glagolitsa

Another special font that will surely make people ask you what your tattoo means. Glagolitsa (spelled "glagoljica" in Croatian and Serbian) is an actual alphabet – in fact, it's the oldest Slavic alphabet that was used from the 9th century up until the Middle Ages. This font makes it possible to use the Glagolitic script in your designs and documents. It's a TTF font and it's free for commercial use.
21. Skullx
Roses, dragons, crosses and skulls – these are the most popular tattoo designs. Thanks to this amazing dingbat font, you can choose from a dozen skull designs, some more detailed than the others. It's a TTF font, only for personal use.
22. Genzsch Et Heyse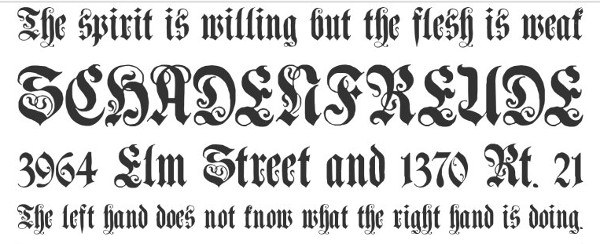 This is another blackletter-style tattoo font with elaborate curlicues and a medieval feel. It's a TTF font that's free for commercial use, and the license also allows @font-face embedding if you ever wish to use it on a website.
23. Kremlin Alexander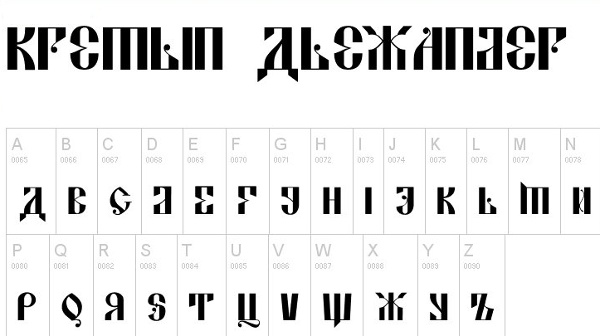 Kremlin Alexander is a font that uses Cyrillic characters and comes in TTF format with a commercial-use license. If you want to pay respect to Mother Russia with your tattoo, this is your font.
24. GoJuOn

GoJuOn is another in the line of non-standard fonts; this TTF font contains kanji characters instead of the Latin alphabet. You can use it in tattoo designs for an exotic effect, but first check with someone who understands the language to avoid unwanted phrases like "I'm a fabulous monkey" in your tattoo.
25. Silent Reaction

Silent Reaction is a handwriting font with clean lines and a great flow that makes it legible. This TTF font works well in tattoos, headlines and basically anything you want, but it's only for personal use.
26. Tattoo Ink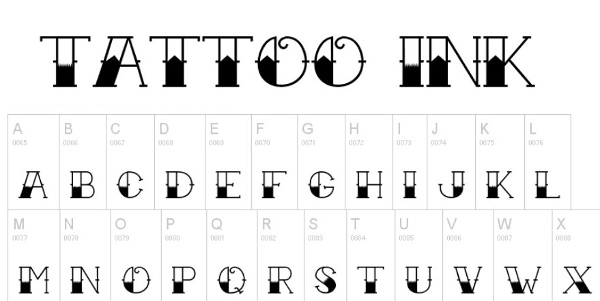 Tattoo Ink is visually interesting on several levels; the combination of thin lines and filled-in outlines gives it a retro quality, and it would look especially attractive in a tattoo design. It's an all-caps TTF font that's free for commercial use.
27. Hello Sailor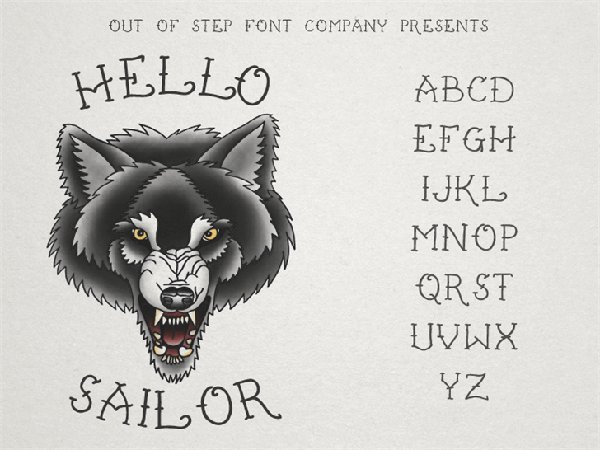 Hello Sailor is a simple-looking, thin all-caps font that evokes the traditional style of sailor tattoos. It works great in combination with illustrations because it's not intrusive. You can download it in TTF format for personal use only.
28. Tribal Butterflies

Butterflies are also common in tattoos, and this TTF font contains a dozen different designs for you to choose from. It's available only for personal use.
29. Dragon is Coming

This stylish script font with long, calligraphic swashes makes any tattoo look fancy, but it's especially appropriate for quotes or names of your loved ones in a tattoo design. It's an OTF font with support for extended characters.
30. Beech
Beech is an excellent choice for a tattoo font if you want to create a mysterious, exotic design. It's a decorative TTF font with very thick strokes. While the lowercase characters are mostly legible, the uppercase ones are quite tricky, so be prepared for questions like "What does your tattoo say?".
31. VTKS Rock Garage

If you are into rock and metal, VTKS Rock Garage will perfectly embody that spirit in the form of a tattoo that will turn many heads. The rough edges, dark theme and the overall styling with a bruised negative space make this font worth the attention. This tattoo font is free for personal use, and downloads as Zip file which can be extracted into the TTF format.
32. Schwachsinn

Even though Schwachsinn is a tough name to pronounce, the font is truly amazing with its uniformly thick brush strokes and the shadow effects to grant it an attention-grabbing character and serious appeal. Schwachsinn can be the ultimate font if you are looking to get a name tattooed on your skin. This tattoo is free for commercial use as well, and it's available in TTF format.
33. Visitation

If you are planning to get inked, you can't go wrong with religious themes for the design and quotes. The Visitation font further ups the ante with a design that blends Latin style with Christianity-themed letters which look elegant.
34. Celtasmigoria

Celtasmigoria is the second Celtic-inspired tattoo font on the list after KR Keltic One, but instead of adding symbols and arts to just the first letter of a word, Celtasmigoria adds the artistic elements to every letter. This one is the perfect choice for getting a name tattoo.
35. VTKS Tattoo

VTKS Tattoo is another tattoo font which utilizes shadows and negative space to create a very aggressive font that you'll see mostly in gothic art and death metal-inspired designs.
36. Angel Tears
If your projects demand to look a touch poetic, Angel Tears could be the right tattoo font for you. Sporting a tattoo-style that makes a striking match with ink, it appears pleasing to the eyes. The letterforms feature alternating thick and thin strokes which are elegantly colored-in to give the impression that they have been sketched out. And it's this sketchy design that makes it sport both vintage and rugged appearance simultaneously.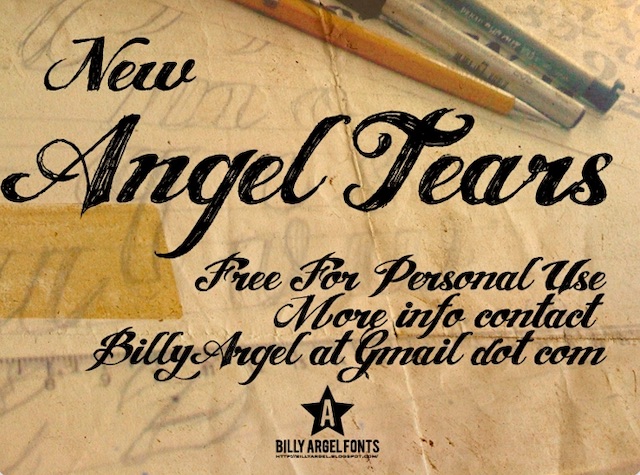 37. Lime Blossom Caps Font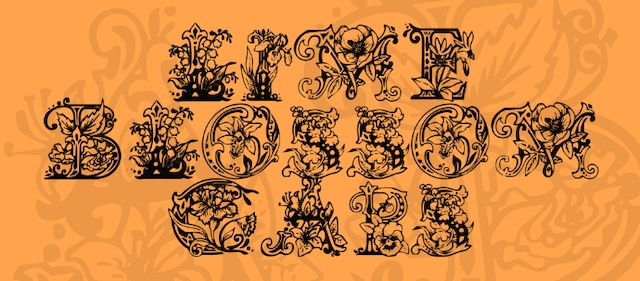 It's the fascinating design that separates "Lime Blossom Caps Font" from the rest. So, if you want your tattoo font to arrest eyes with little effort, you shouldn't fail to give it a chance. Due mainly to the slightly complex appearance, it's slightly difficult to read. However, it's more suitable for the projects that must have the charm to win attention.
38. Tuamotu

There are some tattoo fonts that seem to be timeless. And tuamotu is one of them. The South Pacific inspired tattoo font is designed by Imagex Fonts. Courtesy the attractive design, the font seems to be more suitable for the projects that need to be at the center of attention. Keep in mind, tuamotu is free for only personal usage. And if you want to use it for commercial purposes, you will need to buy it.
39. Always Beside You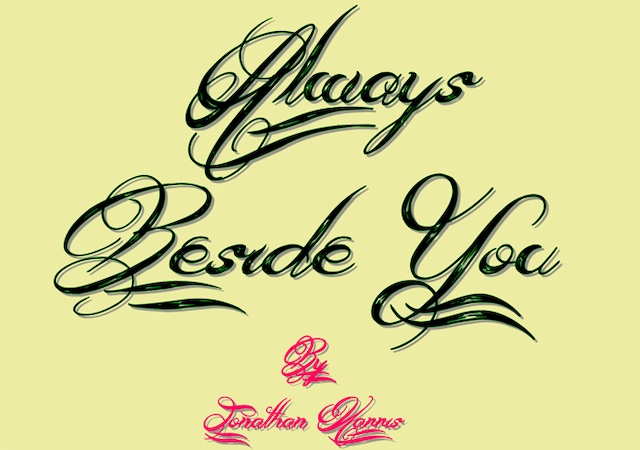 Times when you want your design to showcase elegance, a beautiful font like "Always Beside You" can come into play. For those unfamiliar, it's been carved out by well-known font master – Jonathan Harris. He has more than 433 top-notch fonts on FontSpace with over 11 million downloads. Whether you want your project to flaunt love or raise the fashion quotient, Always Beside You is the one you should use. Everything considered; it's one of the best free tattoo fonts out there.
40. Xanax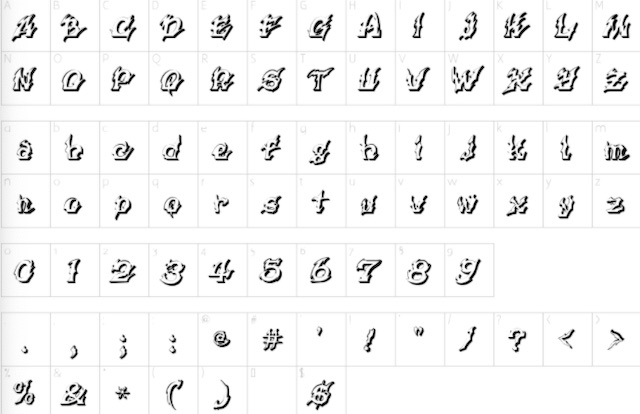 If you are after an eye-catching 3D tattoo font, Xanax could be the right pick. The font comes in both upper and lowercase characters to suit different designs. Aside from beautifully carved letters, it also offers a wide range of symbols which can play a vital role in adding the x-factor to the design.
Use These Tattoo Fonts for Your Next Body Artwork
That ends our article on the best tattoo fonts that you can use in 2020 to create your next inspiration. Check them out and let us know which one caught your fancy. Also, if there's a font you love and we missed it, mention its name in the comments below and we will check it out.
---
Load More