As a health-conscious person, I like to keep track of my heart rate variability (HRV). For those who don't know, HRV is a measure of the variation in time between each heartbeat. It offers better insight into the body's autonomic nervous system (ANS) and also plays a vital role in tracking stress levels. Thankfully, Apple Watch enables me to measure HRV data with both higher accuracy and convenience. If you are yet to get the most out of this health and fitness feature, now is the right time to learn how to measure and monitor heart rate variability using Apple Watch and iPhone.
Monitor Heart Rate Variability on Apple Watch and iPhone
Before starting with the step-by-step breakdown, it would be better to know how it all works on watchOS and iOS:
Some Insight into the Whole Process
Apple Watch takes advantage of the standard deviation of beat-to-beat measurements captured by the heart rate sensor to calculate HRV. As of now, watchOS only allows users to measure heart rate variability data using the stock Breathe app on Apple Watch. To check the HRV data, users have to take the help of the Health app for iPhone. As for compatibility, it requires watchOS 4 and iOS 11 or later. One more thing worth mentioning first up is that it's validated for users who are over 18 years old. With that said, let's get started with the guide!
Monitor Your HRV Manually on Apple Watch
Note: It's also worth noting that watchOS automatically mutes some notification when you are using the Breathe app. Do keep in mind that if you move too much or answer a call during the breathing session, watchOS won't give you any credit. 
1. To get going, make sure to stay still while you breathe for up to one minute. Then, open the Breathe app on your watchOS device.
Note: You can also turn the Digital Crown to set the session's length.
2. Now, hit Start.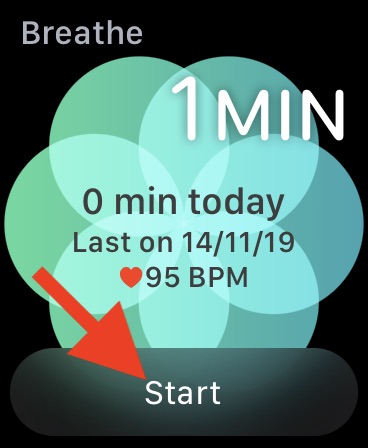 3. Next, it's time to kickstart the breathing session normally. Be still and bring your entire attention to breathing. Now, inhale as the app's animation gets bigger and the wearable device taps on your wrist. And when the animation shrinks, exhale slowly.
4. Be sure to breathe until the session ends and the smartwatch taps you twice and also chimes. When it ends, the app will confirm you with a compliment "Well Done".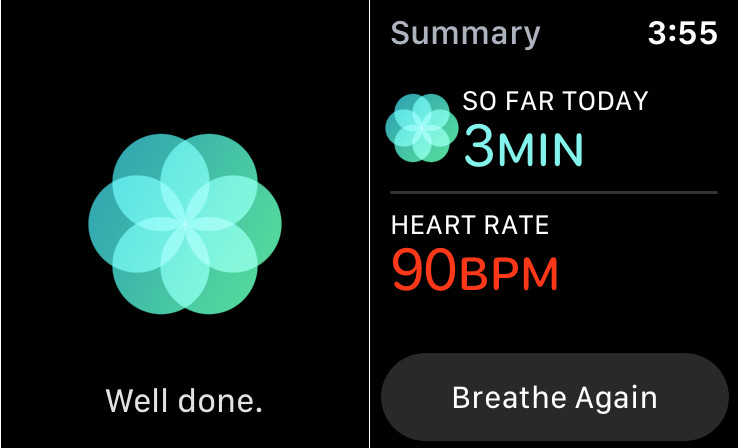 Note: When the breathing session ends, you will see your heart rate on the screen. Besides, there will also be an option to start breathing again. 
Now that the breathing session is over, you can use your paired iPhone to check the HRV score.
View Your Heart Rate Variability in Health App on iPhone
1. Launch Health app on your paired iPhone.
2. Now, tap on the Browse tab at the bottom.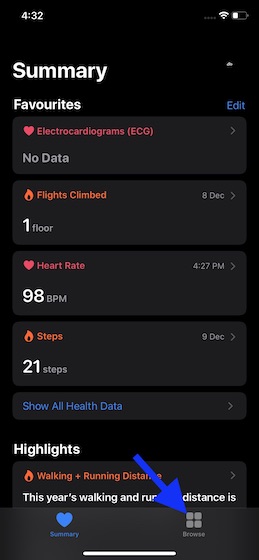 3. Next, select the Heart option located under Health categories.
4. Next up, choose Heart Rate Variability.
5. On this screen, you should see your HRV scores by day, week, month or even year. To check your daily scores and beat-to-beat measurements, tap on Show All Data.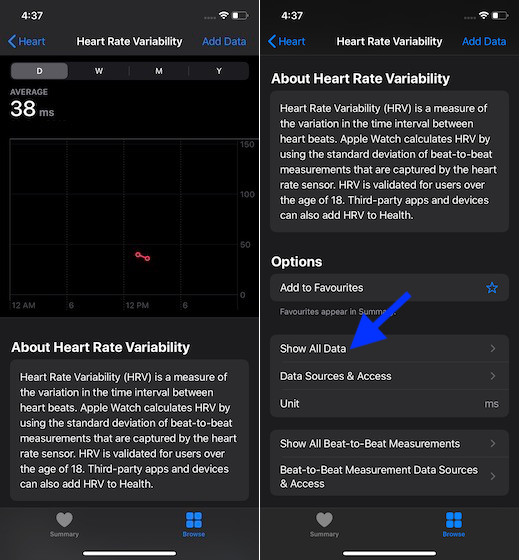 Delete Your HRV Data Using Health App on iPhone
If you don't want to keep the HRV data on your iPhone any longer for any personal reason, you can choose to wipe it out with ease. Apple lets you remove specific Health data from iPhone.
Open Health app > Browse tab > Heart > Heart Rate Variability.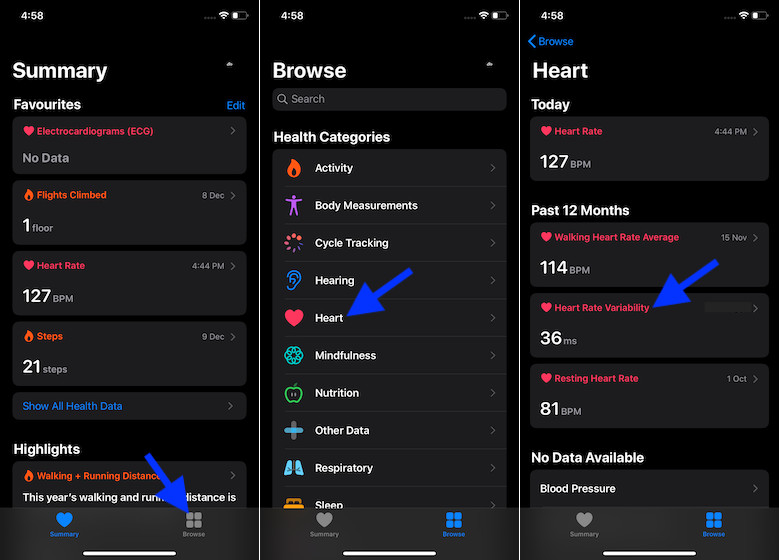 2. Scroll down and tap on Show All Data. Now, tap on Edit at the top right. Then, you can delete all the data at once. To delete individual HRV data, tap on the red button next to specific data and then tap on Delete.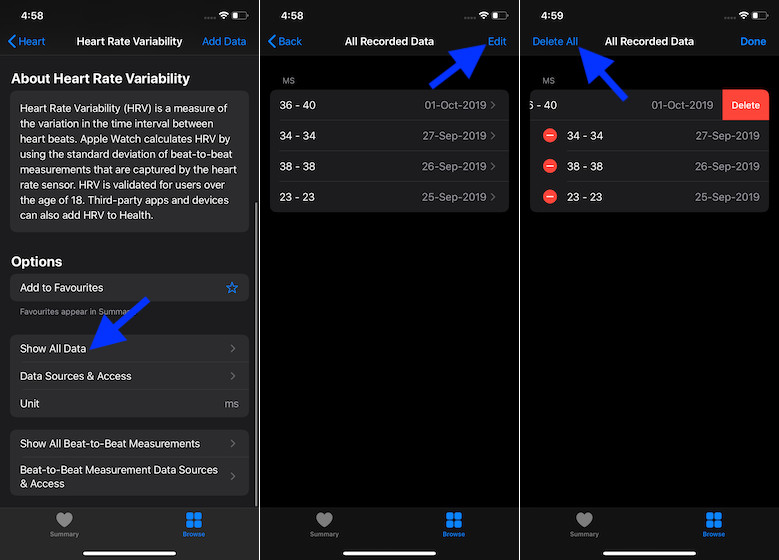 Check Your Heart Rate Variability on Apple Watch and iPhone
Now that you know how to keep track of HRV, make the most of this feature to stay fit and healthy in life. While there is no dearth of smartwatches in the market, none can come even close to the repertoire of the Apple Watch. Moreover, features like cycle-tracking, hearing health, and ECG have further enriched its profile as the most sought after smartwatch. What's your opinion about Apple's smartwatch? Do share it with us in the comments below.